WIPO Assemblies 2018 Open: Director General Francis Gurry Underlines Positive Results, Calls for Action on New Technologies
Geneva, September 24, 2018
PR/2017/820
Rapid technological change is driving demand for intellectual property rights and growth in WIPO's global intellectual property (IP) systems, while IP is increasingly important in policy making and international trade, WIPO Director General Francis Gurry said in opening the 2018 WIPO Assemblies.
Video: DG's opening address to the WIPO Assemblies Video (Watch on YouTube) | Full text
In an address to some 1,000 delegates at the opening the Assemblies of Member States of WIPO, Mr. Gurry outlined WIPO's excellent performance across the range of its activities and underlined its financial stability at the end of the 2016-2017 biennium, which concluded with a surplus of 55.9 million Swiss Francs.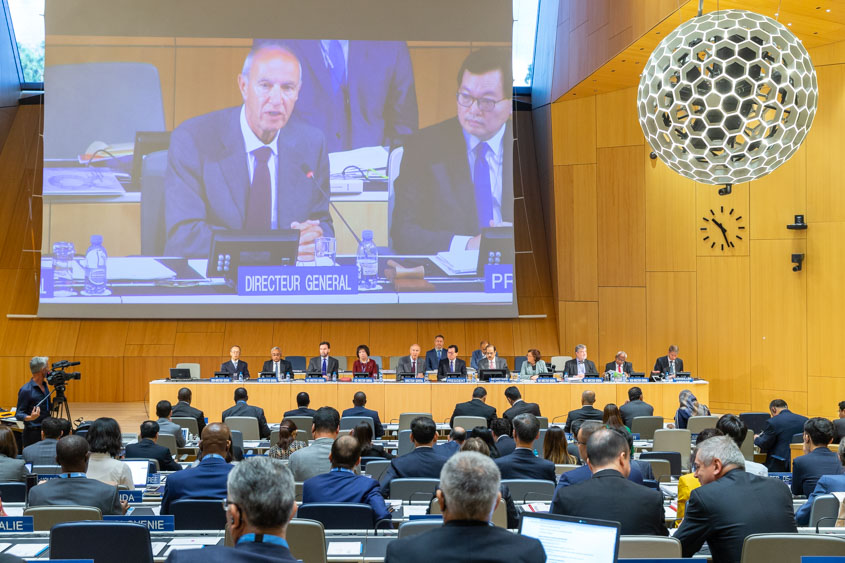 "Intellectual property continues to grow in economic and social importance around the world. This increased prominence is being driven by rapid, profound and pervasive technological change, which is shaping the future of the economy and placing increasing value on knowledge in its economic and commercial expression as intangible assets," said Mr. Gurry.
This, he noted, has resulted in increased demand for IP rights and the centrality of IP to innovation. "We see this change in the position of IP unfolding in many ways – in demand for IP rights, in attention to IP as a part of innovation and industrial strategy by both governments and enterprises, in trade discussions and in news and analysis within the media and the general public."
Mr. Gurry underlined the profound changes in the innovation scene, evidenced by increasing use of WIPO's global IP services: "There are numerous explanations for these huge increases, the most prominent being the domination of the economy by technology, the global nature of economic activity and the emergence of new actors through geopolitical change, which has resulted in innovation being more multipolar in nature." He observed that "Asia is now the dominant source of all IP applications filed worldwide, accounting, on average across the various IP rights, for over 60% of them."
This growth in demand for IP rights has had a positive impact on WIPO, Mr. Gurry said, noting: "The intensification of IP activity around the world has translated positively into the life of the Organization. This beneficial influence can be seen in a multiplicity of ways."
Membership and use of WIPO's Global IP Systems – in particular WIPO's Patent Cooperation Treaty (PCT), Madrid System for International Registration of Marks and the Hague System for the International Registration of Industrial Designs – had grown in the past year and are seeing similar trends this year, Mr. Gurry said.
Mr. Gurry also addressed the various challenges facing WIPO and indeed all international organizations in the field of rule-making. In this respect, he called for increased knowledge sharing on how IP systems can accommodate fast-developing technologies, like artificial intelligence (AI). "We could all benefit from sharing knowledge, views and perspectives on these issues so as to advance our common understanding," he said. "It is less about providing answers and more about attempting to pose the right questions."
While acknowledging the complex challenges of rule-making at the international level, he called on delegates to work toward resolution of a series of substantive issues contained in the agenda, including a proposed design law treaty and a path towards a possible Diplomatic Conference on broadcasting. He also referred to a few outstanding institutional issues, such as the composition of certain WIPO committees and the question of external offices.
"It would be a wonderful achievement and a positive signal for multilateralism if the Member States were able to end the Assemblies having resolved at least one, if not several, of these outstanding questions."
Mr. Gurry said WIPO-administered treaties continue to attract wider membership, with the Marrakesh Treaty to Facilitate Access to Published Works for Persons Who Are Blind, Visually Impaired or Otherwise Print Disabled being "the fastest moving of the WIPO treaties, not only in the past year, but most probably in the history of the Organization." With the expected accession of the European Union shortly, the number of countries embracing the Treaty will reach almost 70.
Mr. Gurry also welcomed member states' participation in numerous other programs, such as WIPO's IT systems and platforms, global databases and the network of Technology and Innovation Support Centers (TISCs), of which 642 now exist in 76 countries.
Global development activities have been streamlined into the range of WIPO programs, Mr. Gurry said: "The development dimension is present in all parts of the Organization's work."
WIPO programs support the Sustainable Development Goals (SDGs) in many ways, he said, highlighting innovative public-private partnerships such as WIPO Re:Search and the Accessible Books Consortium (ABC).
Mr. Gurry highlighted two new initiatives that were launched in the past year: The Advanced Technologies Applications Center (ATAC) and the establishment of a dedicated division on the judicial administration of IP, which coordinates the Organization's programs in relation to the judiciary.
The first initiative has already pioneered two new AI-based applications: a world class patent translation tool and an image search and recognition system to assist in the processing of trademark and design applications.
"We are working on further AI applications and believe that this is a very promising area for advancing international cooperation in the administration of IP through the sharing of knowledge and systems that will also have an important capacity-building dimension," Mr. Gurry noted.
The second initiative, situated in the Legal Counsel's Office, has already organized a master class on IP adjudication and an inaugural WIPO IP Judges Forum will be held at WIPO in November. The new initiative has been well received by member states, he said.
Mr. Gurry thanked WIPO staff for their delivery of positive results for the member states and underlined the Organization's commitment to a respectful workplace, including zero tolerance for sexual exploitation and abuse.
"The development of our human capital, the retention of talent and the flourishing of geographical and gender diversity are basic objectives of the management. In this respect, I should like also to re-affirm our fundamental commitment to the elimination of all forms of sexual exploitation and abuse and to the initiatives of the Secretary General and many others to put an end to such exploitation and abuse. Our support for a respectful workplace and working environment is unqualified," he said.
The WIPO Assemblies are meeting from September 24 to October 2, 2018. The General Assembly is chaired by Ambassador Duong Chi Dung, Viet Nam's Permanent Representative to the United Nations and other International Organizations in Geneva.
The Director General also presented a written report to the WIPO Assemblies.
About WIPO
The World Intellectual Property Organization (WIPO) is the global forum for intellectual property policy, services, information and cooperation. A specialized agency of the United Nations, WIPO assists its 193 member states in developing a balanced international IP legal framework to meet society's evolving needs. It provides business services for obtaining IP rights in multiple countries and resolving disputes. It delivers capacity-building programs to help developing countries benefit from using IP. And it provides free access to unique knowledge banks of IP information.
For more information, please contact the News and Media Division at WIPO:
Tel: (+41 22) 338 81 61 / 338 72 24