WIPO Media Center
Find out what's happening at WIPO and get background information on intellectual property (IP) issues.
The 2018 WIPO Assemblies will consider a range of action items and feature high-level negotiations on the norms that underpin the IP rights that are increasingly critical components of global business and trade.
This lively video gives a high-altitude overview of WIPO's work.
Learn how WIPO and intellectual property contribute to the success of the U.N. Sustainable Development Goals (SDGs), which provide an ambitious roadmap for human progress.
Contact Media Relations
Tel: (+41 22) 338 81 61 | 338 72 24
Fax: (+41 22) 338 81 40
Event media accreditation
WIPO's annual report shows that global demand for IP tools reached record heights again in 2017, with China driving the growth in filings for patents, trademarks, industrial designs and other IP rights at the heart of the global knowledge economy.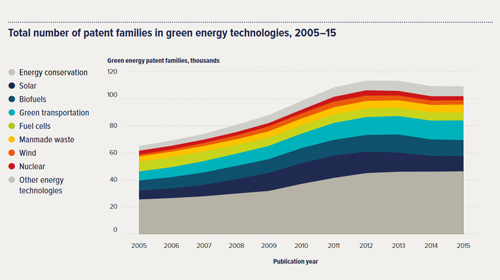 Worldwide energy needs are on the rise and policy shifts can promote the new green-tech innovations needed to fight climate change, according to the GII 2018. What else can be done to promote new energy innovation?
WIPO's newest treaty helps hundreds of millions of people living with visual impairments around the world.
Demand for WIPO's IP services for patents, trademarks and industrial designs reached a new record in 2017.
Which famous musicians are also listed as inventors on international patent applications filed via WIPO?
The rising rate of innovation means new challenges for adjudicating IP disputes. WIPO is helping by increasing its support for the world's IP judges.