Berries, beverages and branding
June 2013
By Catherine Jewell, Communications Division
"Sunshine in a bottle!" That's how Nobel Laureate Pablo Neruda described pisco. ABA Distil, a family-run business in Al Arenal, a small village in Chile's Elqui Valley, 500 km north of Santiago, has been producing pisco since 1921. In 2011, Alejandro Aguirre, who took over the company from his father 13 years ago, also began developing the latest addition to the company's product portfolio, Maquire®, combines pisco with the locally-grown maqui berry. Recently, external events temporarily halted the company's operations and could have devastated it were it not for the power of its brands. Aba Distil's experience offers a powerful message about the enduring value of brands and why it is important for companies of all sizes to invest in an effective brand strategy.
ABA Distil produces its hallmark pisco from the best muscat grapes grown in the Elqui Valley in the high Chilean Andes. "The grapes are harvested by hand at the end of the summer and, after crushing and destemming, they are turned into wine and double-distilled in small copper pots," Mr. Aguirre explains. "The alcohol obtained is aged for around 18 to 24 months to round up the flavors. Dilution and filtering are the next steps of the process, and finally the product is bottled, labeled and packed ready for shipment to markets in Canada, China, Japan, New Zealand and the UK."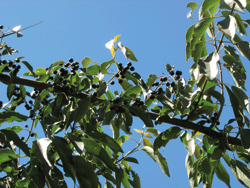 The maqui berry, also known as Chilean wineberry
(
Aristotelia Chilensis
), is rich in antioxidants and grows
wild in the fields and on the hillsides of the Araucania
region in southern Chile. (Photo: www.chileflora.com)
The company launched Pisco Aba, its first pisco brand, in 2001. It has since won international acclaim and currently accounts for some 60 percent of the company's export sales. In addition to Pisco Aba and Maquire®, Aba Distil has four other established product lines, each with its own brand.
About Pisco
Pisco production dates from the 16th century in what was then the viceroyalty of Peru, an area including present-day Peru and Chile. While Peru claims the exclusive right to use pisco as an appellation of origin, having registered it as such under the Lisbon Agreement for the Protection of Appellations of Origin and their International Registration, various countries that have concluded free trade agreements with Chile allow for the use of pisco in their respective markets, for products from Chile made in accordance with Chilean regulations for pisco designations. These are: Pisco tradicional (60 to 70 proof); Pisco especial (70 to 80 proof); Pisco reservado (80 proof) and Gran pisco (86 + proof). Fewer than 20 Chilean companies currently produce pisco.
In 2011, the company decided to expand its range of products. It developed a new alcoholic beverage, marketed under the brand name Maquire, that combines pisco with the dark-purple maqui berry, also known as Chilean wineberry (Aristotelia Chilensis). The fruits are harvested from the abundant maqui bush, which grows wild in the fields and on the hillsides of the Araucania region in southern Chile.
Maqui: a superfruit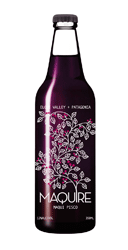 MAQUIRE 's modern design
motif, which includes an
illustration of the maqui bush
laden with berries, reflects the
idea of "the mighty maqui
berry". (Photo: Aba Distil)
For generations the Mapuche Indians used fresh and fermented maqui juice to treat stomach ailments, fever, sore throats and wounds. Legend has it that thanks to the berry's healthful properties, the Mapuche Indians were able to withstand the invading Spanish forces and remain the only unconquered people of South.
According to scientific research, the maqui is rich in antioxidants, containing significantly higher levels of anthocyanins and polyphenols than any known food or drink. These powerful compounds offer protection from free radicals and radiation which contribute to aging. The berry contains a high concentration of delphinidin, a potent anti-inflammatory that can help alleviate degenerative diseases, such as arthritis and heart disease. This succulent berry may also be useful in weight management due to its glycemic control characteristics.
In light of its high oxygen radical absorbance capacity values, which are between 4 and 30 times higher than those of other berries such as açaí, goji and mangostan, maqui berries have been billed as the quintissential superfruit, gaining popularity in the food and beverage industry, especially in the US.
ABA Distil is also working with a group of researchers from the University of Concepción to appraise the impact of the delphinidins in the maqui berry on Alzheimer's disease. "Our aim is to certify that Maquire® can have a positive impact on human health," explains Mr. Aguirre. By combining pisco with maqui berries, Maquire® is "a smart drink that not only promises fun but also a very convenient dose of anthocyanins," he says.
A brand is born
The brand name "Maquire" - pronounced "makwaier" - is made up of the words "maqui" and "Aguirre" and was chosen for its sophisticated ring. It was developed with the support of the Korean Intellectual Property Office (KIPO) in the framework of the One Village One Brand initiative of the Asia-Pacific Economic Cooperation (APEC). The project aims to spread understanding of the importance of using intellectual property (IP) rights to bring economic benefits to producers and the local community in developing economies. ABA Distil was one of two case studies used in the project as a basis for developing strategic branding guidelines and best practices for companies operating in both developing and least developed economies (see final report).
Within the framework of the One Village One Brand initiative, the company received advice and guidance in developing the brand name, symbol and bottle design for its new product. Together with a team of specialists from the Republic of Korea (ROK), the company began developing its new brand. "We started from scratch," notes Mr. Aguirre. "When our Korean friends visited our vineyards and production facilities, we thoroughly discussed our ideas. At first we didn't have a face or a name to bring the product to market, so we needed to develop all of the elements for the product to speak for itself."
The process involved a thorough analysis of the market, including identifying other commercially available maqui berry-related products and consumer preferences. ABA Distil is well placed to test the likes and dislikes of consumers, as the company's vineyards are visited year-round by thousands of tourists wishing to savor the region's products.
Various candidate names for the new product were evaluated on the basis of research, internal discussions and reviews by trademark experts, who checked for other similar trademarks and any negative meanings. "We discussed the concepts behind each of the names and design motifs. It was not easy because many of them were quite appealing, but we had to make a decision. Finally we came up with a wonderful design and a smart brand name which is intuitively attractive," Mr. Aguirre explains.
ABA Distil has now registered "Maquire" as a trademark in Chile and is seeking to do the same in the ROK.
The company also benefitted from guidance in developing a strategy to enhance the competitiveness of its brands, focusing on such issues as how best to position the product in target markets, as well as pricing and brand communication. For example, in terms of the company's aspirations to enter the ROK market, it was noted that, as "Maquire" bears some similarity to that country's "Bokbunja" drink, being sweet and smooth, the product would hold greatest appeal to consumers in the 40 to 60 age bracket.
Disaster strikes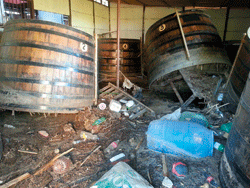 In October 2012, Aba Distil's production facilities were
destroyed by flooding. Their robust brand portfolio
sustained them. (Photo: Aba Distil)
In October 2012, the company's production facilities were put out of operation by a major flood caused by a breach in a nearby dam. "The water flooded our property, damaged the greater part of our facilities and a small area of the vineyards. It was like we had been hit by a tsunami," Mr. Aguirre explains. "It was a catastrophe for us as a family and as a business."
The power of brands
"Branding is a never-ending process, but it is of paramount importance to protect brands. It is a 'must' for anyone who creates and wants to protect the value of his or her creation. Some day that creation may become something that many people want and as such may develop into an extremely valuable commercial asset."
"We soon came to realize that these are moments when your brand, your trademark, comes to assist and sustain you. Even when our physical world had been destroyed and our business was in tatters, we still had our brands and the goodwill and reputation we had built up over the years. Although the flood was a major setback, we came to realize that it was simply the case that our activity was temporarily suspended. A catastrophe like this may mean you need to rebuild your production facility, but if you have taken the time to invest in and develop your brands, their commercial value and acquired prestige remain unchanged and, in fact, they enable you to get back on your feet more quickly," he explains. "Our efforts to expand our product range by launching Maquire also enhanced the possibilities for us to diversify, better manage commercial risks and expand our business," he added.
The WIPO Magazine is intended to help broaden public understanding of intellectual property and of WIPO's work, and is not an official document of WIPO. The designations employed and the presentation of material throughout this publication do not imply the expression of any opinion whatsoever on the part of WIPO concerning the legal status of any country, territory or area or of its authorities, or concerning the delimitation of its frontiers or boundaries. This publication is not intended to reflect the views of the Member States or the WIPO Secretariat. The mention of specific companies or products of manufacturers does not imply that they are endorsed or recommended by WIPO in preference to others of a similar nature that are not mentioned.