Uganda: Branding cotton, sesame and vanilla
June 2012
By Kristin Selleyfan, Freelance Journalist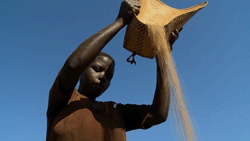 The local variety of sesame (simsim) grown in Uganda's
North Nile Zone is said to have the highest oil content
in the world. (Photo: Selleyfan/Dev.TV)
Enabling small-scale farmers and producers to leverage the commercial value of their products is key to enhancing rural livelihoods in developing countries. In the context of the "IP and Product Branding for Business Development" initiative under its Development Agenda, WIPO has been working with a range of government and private stakeholders in Uganda – including the Cotton Development Organisation (CDO); UNACOFF, a rural development cooperative; Farmnet Ltd., a company working with small farmers to produce quality sesame for the food and pharmaceutical industries; and the Mukono Vanilla, Spices and Horticulture Cooperative Society – to support their efforts to enhance the value of their products using various intellectual property (IP) tools relevant to branding (e.g. certification marks, collective marks and trademarks). WIPO Magazine invited Kristin Selleyfan, who has filmed a documentary on the project, to give her perspective on what this initiative means to producers of three high-quality Ugandan agricultural products -cotton, sesame and vanilla.
How is intellectual property (IP) useful to agricultural producers? I met with various Ugandan farmers involved in an ongoing WIPO branding initiative to find out.
Agriculture is the most important sector of Uganda's economy, employing 80 percent of its work force. In light of this, the country is taking steps to boost the value of three as yet underexploited agricultural products – namely, cotton, sesame and vanilla – to increase associated trade revenue using IP tools. "The special interest of this project, which is part of a WIPO initiative to promote business development in developing and least developed countries, is that through the use of appropriate IP tools and branding strategies, we will support local communities in their economic and social development," explains Francesca Toso, coordinator of the WIPO project.
For Agaba S. Raymond, from the Ministry of Tourism, Trade and Industry, cotton, sesame and vanilla are obvious choices. "As a country, we're looking at what we can market… and what can improve the incomes of the people. Uganda being agricultural, we are definitely looking at the agricultural products we have, asking if given products have a market – regional and international – and what potential they have to compete or even to develop."
Cotton farmers are raring to go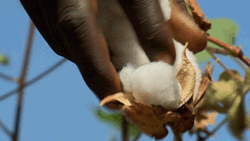 Cotton is Uganda's second most important export crop.
Use of the intellectual property system will help
transform Ugandan cotton into a high-value premium
product. (Photos: Selleyfan/Dev.TV)
Introduced to Uganda in the early 20th century, cotton is the country's second most important export crop, generating income for some 2.5 million people. Getachew Mengistie, an Ethiopian IP lawyer, former Director General of the Ethiopian Intellectual Property Office and WIPO consultant who was instrumental in obtaining trademarks for Ethiopian coffee producers, says that "Ugandan cotton is even, smooth as silk and has this bright, white bright color, which is demanded by customers. It doesn't need any chemicals to have that color." While these qualities are well known to buyers on the international market, Ugandan cotton producers do not benefit from the full commercial value of this quality good, which continues to be sold as a commodity rather than a premium product. Obtaining a certification mark for Ugandan cotton will go a long way in enabling producers to command higher prices on the international market.
The North Nile zone in northwestern Uganda is known for producing high-quality cotton. Richard Parwot, a lawyer, founder of the rural development cooperative UNACOFF, and cotton ginnery owner, explains that, in addition to its rich soil, the region boasts many farmers who are eager to develop. Mr. Parwot who, together with his partner Phillip Upakkrwoth, is helping the farmers open up new lands for cultivation, points out that in spite of their apparent poverty, these farmers are the actual landlords of Uganda. "That man and his family are actually rich, only they don't know it… When we begin to show them how to use their land, in a small way, they begin to expand it themselves, and the expansion is unstoppable."
I wanted to see if this was indeed the case. This is how I met with Aluma Gad, a young farmer who used to rotate cotton and sesame on one-acre plots, just like his forefathers. Mr. Gad has the distracted bearing of a man on a mission; and when he tells his story, it's clear that he is.
In 2009, after meeting with Mr. Parwot and his partners, Mr. Gad decided to clear 10 acres of land for cotton and maize production. He says the result was akin to a miracle, and that he earned like never before – some 4.5 million Ugandan shillings, nearly US$1,900. He hadn't thought such a return possible. Before long, his 10-acre field seemed too small, so he expanded to plant cotton on 22 acres. Although international cotton prices this year are low, Mr. Gad is undeterred, noting that patience is a virtue when it comes to agriculture. He aims to put 50 acres under cotton cultivation within a couple of years.
Mr. Gad says there are many farmers like him, and they are all eager to see Ugandan cotton become a brand and sell at better prices. "Farmers are excited. They want to know when the branding system will actually start," he says, "because we're hearing that in some countries, those farmers whose crops are branded have good advantages… that also enable consumers to know where products come from."
For Getachew Mengistie, branding will definitely increase the value of Ugandan cotton, and the use of branding and IP tools will enable Uganda to market its cotton differently. "By building the reputation and goodwill around a brand, you not only retain the customers that you have, you also create new customers and increase demand for Ugandan cotton," he says.
Sesame: "Big money in our homes"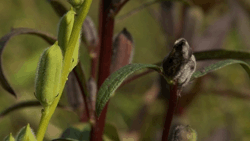 Branding Uganda's high quality sesame oil promises
to improve livelihoods. (Photos: Selleyfan/Dev.TV)
The oil produced from the sesame (sesamum indiccum L) grown in Uganda – one of Africa's largest producers - is distinctive in that it is grown organically and has a very high oil content. Referred to locally as simsim, practically every farmer in the North Nile zone grows it in rotation with cotton. For Aluma Gad, the pressure to grow sesame comes mainly from the women: "You know in agriculture you need to talk to women! My mom likes sesame so much, because it's food for consumption." Here, planting sesame is an age-old tradition.
Owere Charles, a 41-year-old farmer, plants two varieties on his four acres – a high-yielding, improved variety and a smaller, lower-yielding, more humble sesame known simply as the local variety. This variety of sesame, however, is said to have the highest oil content in the world. According to Mr. Parwot it is possible to extract 56 percent of the oil from the first pressing. Some even claim that the oil content of the local variety is as much as 72 percent. Mr. Parwot explains that most of the sesame oils found on the market are either mixed with other oils, or heated more than necessary. He believes the North Nile zone variety is unique and has the requisite qualities to be branded as a pure, cold-pressed oil.
For now, Mr. Charles is hanging on to his local variety. Whenever he needs money, he sells some to a middleman in his village for around 2,000 Ugandan shillings (less than a US dollar) per kilogram. He says the prices have gone down this year, but he has no other choice but to sell at buyer-imposed prices. He hopes that branding will change this, saying "if you brand the simsim we have, you know it comes from us, direct. You know that it is very pure, and it brings money – big money – into our homes." For Mr. Charles, branding his sesame promises to enable him to improve his standard of living and to "get something good for my children".
Mukono vanilla: "The grandfather of vanilla"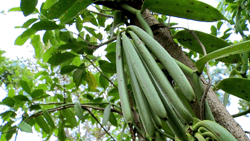 Ugandan vanilla has the highest vanillin content in
the world. Local producers hope that by acquiring a
certification mark they will be able to command higher
prices in the market and improve their living standards.
(Photos: Selleyfan/Dev.TV)

John Nviri, known as "the grandfather of vanilla", entered the car, and a subtle smell of vanilla filled the air. For the 79-year-old Mr. Nviri, vanilla has been a passion for well over 50 years. When Uganda regained its independence from British colonial rule in 1962, he says he was the only person in the country who knew how to grow vanilla. "I encouraged some of my farmers, some of my friends, to start growing vanilla," he notes, "because, by that time, vanilla was used as a flavor."
Today, Mr. Nviri is the chairman of the Mukono Vanilla, Spices and Horticulture Cooperative Society. Of its 6,000 members, 1,000 produce vanilla. Originally from Mexico, vanilla was introduced to Uganda in the 1950s. Although bourbon vanilla from Madagascar (previously known as the Ile Bourbon) currently reigns supreme on the world market, Ugandan vanilla is recognized as having the highest vanillin content in the world. Picked at its peak and carefully cured, Uganda's vanilla, its "green gold", has a rich, complex flavor with the cream soda and smoky notes associated with bourbon vanilla, but with spicy overtones.
Mr. Nviri took me to the vanilla gardens of a young farmer in Mukono, central Uganda, to show me what he calls the perfect product for branding. Mukono vanilla, which is 100 percent natural and organically grown, is, he believes, a name that deserves recognition on the world market.
Although the high quality of Ugandan vanilla is well known, the producers themselves reap little benefit from its reputation. Mr. Mengistie explains, "a farmer sells 1 kilogram of Ugandan vanilla for 8 dollars. The Ugandan exporter sells it for about 19 dollars, but foreign importers sell the same amount of vanilla for more than 120 dollars and the retailer sells it for more than 320 dollars. In fact, only 3 percent of the retail income comes back to Uganda."
For Mr. Nviri, branding is the tool that will push the next generation of farmers to produce vanilla. Better prices will entice them to grow more vanilla which, in turn, will help them pay school fees, build better homes and improve the lives of their children.
Translating plans into action
The process of obtaining IP rights for these three products - collective marks for cotton and vanilla and a trademark for sesame - is well under way. The IP and branding strategies that have been developed under the project "will guarantee the origin of the selected products, and establish the link between their unique and distinctive qualities and their geographical origin," Mr. Mengistie explains. "They will also make it possible to maintain and enhance the reputation and goodwill of the products by putting into place a quality control and certification system that will enable a range of actors involved in the supply chain to use the brand (be it protected as a certification mark, a collective mark, a trademark or a geographical indication) and to share in the benefits derived from marketing a unique, high-value product."
A law to protect geographical indications, which promises to bring additional opportunities to leverage the value of Uganda's cotton, sesame and vanilla, is currently before parliament. Juliet Nassuna of the Uganda Registration Services Bureau anticipates that the bill will be approved some time this year.
However, for her the biggest challenge in Uganda remains the lack of awareness - at all levels - about IP rights and branding. "When we brand these products, it will help us talk to the farmers so that they understand there are some rights that accrue as a result of the registration of IP rights which help marketing and improve their incomes."
Mr. Parwot, who works through UNACOFF with Uganda's sesame farmers in the North Nile zone, acknowledges that even he did not fully understand the power of branding until he became involved with WIPO in the context of this project. It dawned on him that there were unique products in Uganda that could be branded to increase their competitiveness on the international market. He asks, "how can civil servants who have no background in marketing understand branding if it is not explained to them?"
Expectations are high among the farmers who have heard about IP and branding. They want to see results – and fast. Mr. Mengistie, however, has a word of caution for them: branding doesn't happen overnight; results take time and resources. "Café de Colombia needed to be promoted for more than a decade to acquire the brand recognition that it enjoys now," he stresses.
Who knows? Maybe in 10 years Ugandan cotton, sesame or vanilla will become household references, just like Café de Colombia.
IP tools for branding
Trademarks
Signs used by a commercial entity to distinguish its goods from those of another entity.
Service marks
Signs used by a commercial entity to distinguish its services from those of another entity.
Collective marks
Signs used by members of an association to distinguish their goods or services from those of other entities.
Certification marks
Signs used to identify goods or services that comply with a set of standards and have been certified by a certifying authority.
Well-known marks
Marks considered to be well known on the market and that, as a result, benefit from stronger protection.
Geographical indications (GIs)
Signs used to identify goods that have a specific geographical origin and possess qualities, a reputation or characteristics that are essentially attributable to that origin. GIs are protected in accordance with international treaties and national laws, under a wide range of concepts, including laws specifically for the protection of GIs or appellations of origin (a special kind of GI), trademark laws in the form of collective marks or certification marks, laws against unfair competition, consumer protection laws, or specific laws or decrees that recognize individual GIs.
Appellation of Origin (AO)
The geographical denomination of a country, region or locality which designates a product originating therein that has qualities or characteristics that are due exclusively or essentially to the geographical environment, including natural and human factors.
Basic difference between
a GI and an AO
The basic difference between a GI and an AO is that the link with the place of origin is stronger in the case of AOs than for GIs. One way in which this has been expressed in national laws is to require AOs to source the raw material from the area of transformation or processing, whereas for GIs the raw materials can be sourced from outside the GI area with the requirement that transformation of the product take place in that area.
The WIPO Magazine is intended to help broaden public understanding of intellectual property and of WIPO's work, and is not an official document of WIPO. The designations employed and the presentation of material throughout this publication do not imply the expression of any opinion whatsoever on the part of WIPO concerning the legal status of any country, territory or area or of its authorities, or concerning the delimitation of its frontiers or boundaries. This publication is not intended to reflect the views of the Member States or the WIPO Secretariat. The mention of specific companies or products of manufacturers does not imply that they are endorsed or recommended by WIPO in preference to others of a similar nature that are not mentioned.