Panama: Three Marks for Development
April 2012
by Leire Otaegi, Freelance Journalist
A new series of articles will explore how WIPO is helping associations of small local farmers and producers in developing countries to add value to their outputs through product branding. This first article reports on the experiences of the producers of three of Panama's most culturally significant products: Café de Palmira; the Guna people's finely-stitched cloth "molas"; and La Chorrera pineapples.
Trademarks, one of the most powerful and effective instruments for strengthening the commercial value of products, are often beyond the reach of small producers or farmers. Through its "IP and Product Branding for Business Development" initiative, under the Development Agenda, WIPO is seeking to bridge this gap. The initiative's overriding objective is to make available to small local producers and farmers in developing countries and LDCs the tools they need to use intellectual property (IP) rights to enhance the value of their products, increase export revenue and reduce poverty.
"I'm convinced that it will be an extremely powerful tool. We have one of the best varieties of coffee bean in the world, but until now we haven't been able to get a fair price because we weren't united." With these words, Fernandino Quiroz, a small coffee producer from Palmira, sums up the hopes and expectations of those taking part in the initiative.

Palimira's rich volcanic soils and favorable micro-climate makes it ideas for growing coffee. The rich aroma of the region's coffee and its intense flavor owe much to the high altitude at which it is grown (around 1,200 meters
above sea level). (Photo: Dev. TV)



The mark "Piñas de la Chorrera – Panamá"
bears the distinctive symbol of the land in
which the pineapples are grown and
features the streaming waterfall from which
the town gets its name. (Photo: Dev. TV)


The collective mark GaluDugbis symbolizes the sacred
place where Guna women learn about mola designs. For consumers the mark is a guarantee of authenticity and for Guna craftswomen it is a stragegic tool that adds market value to their valuable product. (Photo: Dev. TV)
Veteran coffee producers become trademark pioneers
Palmira's rich volcanic soils produce a broad variety of cultivars - coffee, oranges, bananas, corn, rice, and beans – all of which grow in abundance. A favorable micro-climate also makes it ideal for coffee growing. The rich aroma of the region's coffee and its intense flavor – with hints of chocolate, nut and vanilla - owe much to the high altitude (around 1,200 meters above sea level) at which it is grown. WIPO's work with the Palmira Coffee Farmers' Association (ACCOR) over the past 12 months has sought to secure a better deal for the producers.
Alexis Bonilla, head of the coffee program of the Ministry of Agricultural and Livestock Development in Chiriquí, explains the problem facing the region's small coffee producers: "Small producers don't process or prepare their coffee; it's passed on to an entrepreneur or an intermediary. This means that the origin of the coffee is lost. Every time they hand over their produce, the farmers are deprived of the added value that special or single-origin coffees have."
Competing in a sector dominated by a few large coffee growers is also a struggle. Establishing "Café de Palmira" as a collective mark offered a means by which farmers could "get the benefits that derive from having a product which is different from other types of coffee", noted Ms. Bonilla. Growing recognition of the advantage of using the mark is already expanding ACCOR's membership. As Mr. Quiroz noted "We want to continue … we have already gone far. [WIPO] is helping us obtain a label to be able to sell either in local or foreign markets…If we succeed, we are going to survive."
The move to develop the Café de Palmira brand is also galvanizing support among all producers to obtain appellations of origin for Café de Boquete and Café de Volcán, both of which are produced in the Chiriquí province. This will help further ensure that a larger number of coffee producers are able to cash in on the enhanced market value of the region's coffee. It also promises to unify coffee producers in their efforts to resist the onslaught of property developers who are eating up land that could otherwise be used for coffee production.
"From a buyer's point of view, our product comes with a sure-fire guarantee of a job well done," noted Francisco Serracín, a medium-sized producer. "If we, as producers, organize ourselves, we won't have to keep selling our land. In the end, everybody involved – small, medium and large producers – will benefit from the support that WIPO is providing the coffee sector of Panama."
Guna molas make their mark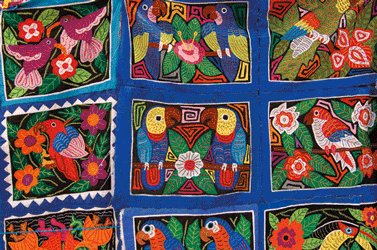 For the Guna people, the art of making molas is the most important form of artistic
expression. Molas are also a major source of income for Guna families.
(Photo: istockphoto © Alfredo Maiquez)
For the Guna, Panama's second-largest indigenous community, the art of making molas is their most important form of artistic expression. These elaborate cloth panels intertwine traditional culture with modern influences. This ancient art is passed on stitch by stitch and layer by layer from mothers to daughters and bears witness to the Guna vision of the cosmos and their harmonious relationship with nature.
Art and economy go hand in hand when it comes to molas, a major source of income for Guna families. "The money I make from selling molas helps me out a lot. Thanks to molas I managed to pay for my daughters' education," notes Betí Martínez, President of the Association of Guna Craftswomen.
During the 1980s, demand for molas increased, but with no marketing strategy or legal framework to protect this age-old art, imitations of Guna designs flooded the market. People "want to sell molas, but they want to sell us too," notes Betí Martínez. "Who loses? The producers, because they want to sell cheap, but we know how much the mola is worth – the fabric, the work, our damaged eyesight … they don't do this, they don't care. They just want to buy for resale," she explains. In order to protect their livelihood, Guna women called on the Guna General Congress to protect this ancestral art.
In cooperation with the Ministry of Commerce and Industry and with WIPO's assistance in 2000, the government passed Law No. 20 on the Special Intellectual Property Regime with Respect to the Collective Rights of Indigenous Peoples to the Protection and Defense of their Cultural Identity and Traditional Knowledge. "We embarked upon a joint project that is still ongoing", explains Guna lawyer Aresio Valiente. "The idea was to protect traditional knowledge, 10 instances of which we have managed to register. One such instance is the mola," he notes.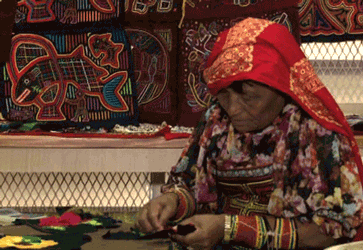 This ancient art is passed on stitch by stitch from mothers to daughters and
bears witness to the Guna vision of the cosmos and their harmonious
relationship with nature. (Photo: Dev. TV)
While Law 20 of 2000 protects the mola in Panama, it does nothing to protect them in other countries. Recognizing the need to bolster protection of this ancestral art form, the community, with WIPO's assistance, has developed the mark GaluDugbis. For consumers the mark is a guarantee of authenticity, an assurance that the mola bearing the mark has been made by Guna craftswomen and, for the community, it is a strategic tool that adds market value to their most valuable product. "We want the mark to be recognized at the international level, not just in Panama" emphasizes Guna craftswoman Liz Denis.
GaluDugbis symbolizes the sacred place where Guna women learn about mola designs, explains Miroslabia Dick, President of the GaluDugbis mola company. "It's an art that our grandmothers have blessed us with; we've inherited it from them, and we have to preserve this heritage," she notes, "we cannot lose it."
La Chorrera pineapples – pride in a collective mark
La Chorrera's markets are ablaze with colorful fruits, but the star among them is the pineapple. Pineapple growing is widespread in the district. Small producers sell their pineapples to packing houses (which also have their own pineapple produce) for export. As with Palmira's coffee producers, this system gives no visibility to La Chorrera's small pineapple producers. WIPO's work with the National Agro-Industrial Association of Pineapple Exporters and Producers (AANPEP) to establish Piñas de la Chorrera - Panamá as a collective mark promises to strengthen the hand of producers.
"In Panama, the first thing people ask when buying a pineapple is 'Where's it from?' Traders say that all their pineapples are from La Chorrera, because they know that these are among the best fruit in our country," says Edna de Vergara, owner of Finca Verba Odrec and President of AANPEP, which brings together a pineapple packing firm and pineapple farmers cultivating areas ranging from 1 to 100 hectares. In the past, without a certification mark the distinctive quality of La Chorrera pineapples was hidden from view. While some packing firms use their own agricultural marks, exported produce usually carries the mark of the foreign client, erasing any trace of the small local producer.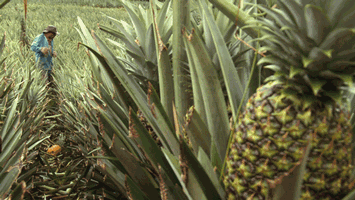 La Chorrera district boasts the best pineapples in the country.
(Photo: Dev. TV)
Establishing a collective mark, however, does present challenges. "You have to understand the idiosyncratic nature of the collective group that will hold the mark. Our interests as intellectual property experts do not necessarily always coincide with the needs of those to whom we provide a service." commented Pedro Bolívar, a lawyer working with WIPO on the project. "The idea is not just to generate a mark and complete a procedure. The mark must be sustainable, representative and a source of pride that will inspire others," he said. Pride in the mark Piñas de la Chorrera - Panamá is growing among farmers. "I would be very proud if the fruit being eaten abroad had my mark on it. The collective mark will bring with it a lot of growth, because it will enable us to promote and differentiate our fruit," notes Juan Carlos García, a small local producer.
The idea is that the brand will act as a magnet drawing producers together to increase their agricultural production and improve the export capacity of local farmers," explains Mr. Bolívar. "The trademark is the binding element, the thread linking the producer and the final consumer," he added.
While progress has been made in terms of obtaining the mark, Mr. Bolívar believes a great deal remains to be done. "We're only halfway there," he says, underlining the importance of government support in publicizing, registering and promoting the mark abroad. "I believe that the Government of Panama is committed to addressing this issue and that it will follow up on this project," he said.
Keys to success
These three cases highlight the importance of actively engaging with the community of producers in implementing a branding strategy for local products. Behind every collective mark lie multiple personal stories, and each community has its own characteristics and peculiarities. These all need to be taken into consideration in designing and implementing an effective branding strategy. The assistance of committed legal professionals who understand the challenges local producers face also makes a big difference.
Active government support is essential to the success of such initiatives. Building on the experience gained, the Government of Panama is "determined to support…many more businesses so they can brand their products with a collective mark", noted Yasmina Pimentel, Panama's Deputy Minister for Industry and Domestic Trade. "This is a major step forward", she added, noting that work is already under way to prepare a national initiative to support the development of new marks.
These three new marks promise to transform the livelihoods of small farmers and producers in Panama and to help support the country's economic development goals. The challenge now is to continue to increase the visibility of the marks at home and abroad so that they become truly global brands and to encourage other producers to follow suit.
The WIPO Magazine is intended to help broaden public understanding of intellectual property and of WIPO's work, and is not an official document of WIPO. The designations employed and the presentation of material throughout this publication do not imply the expression of any opinion whatsoever on the part of WIPO concerning the legal status of any country, territory or area or of its authorities, or concerning the delimitation of its frontiers or boundaries. This publication is not intended to reflect the views of the Member States or the WIPO Secretariat. The mention of specific companies or products of manufacturers does not imply that they are endorsed or recommended by WIPO in preference to others of a similar nature that are not mentioned.