Innovation Gender Gap: 5 Initiatives to Narrow the IP Gender Gap in Europe
Considering the growing global recognition of the significance of gender and diversity disparities in innovation, numerous countries have taken steps to address these gaps. A group of delegates from Spain, Poland, the United Kingdom, Lithuania, and Hungary convened to highlight the policies and programs adopted within Europe. Read about them here!
Estimated reading time: 3 minutes
Spain
In 2021, Spain adopted its first Feminist Foreign Policy as part of its commitment to further support the gender equality goals embedded in the 2030 Agenda for Sustainable Development. The policy builds upon Spain's longstanding legal and policy frameworks on gender violence, gender inequality in the workplace, and gender impact budgets. It then responds to a national coherence building effort to reflect gender equality commitments in foreign affairs and multilateral engagements. Spain's Feminist Foreign Policy aims to play a role in advancing the formulation of gender equality policies in other sectors and strategies for empowering women and girls.
Poland
Poland's Patent Office has a permanent series of events entitled, "Innovation and Creativity in the Economy", aiming to raise the visibility of women entrepreneurs, inventors, and designers in the marketplace by enhancing their business maturity, innovation, and competitiveness. These events have emphasized several design types used by entrepreneurs, such as industrial design, design thinking and UX designs. This year's conference theme was "Design in the Digital World" and addressed a range of topics, including:
Designs of products and services based on user needs
Digital fashion in the clothing industry
Digital brands
Intellectual property rights in art works, design projects and products of well-known brands
Legal challenges and business opportunities in the metaverse.
The United Kingdom
The United Kingdom counts with a Research and Development (R&D) People and Culture Strategy which supports the participation of women in the national innovation ecosystem. As women only make small proportions of the workforce in research and innovation industries, the R&D People and Culture Strategy aims to provide women with skills development and career path opportunities to thrive in these industries. In addition, the United Kingdom Intellectual Property Office (UKIPO) has been developing Gender Profiles in Worldwide Patenting to provide evidence on female inventorship rates by measuring the outputs of works undertaken by women across science, technology, engineering, and mathematics (STEM) fields.
Lithuania
Lithuania launched the Women Go Tech Program in 2017. By sparking potential career interest in IT and engineering sectors, the Women Go Tech Program aims to build a mentorship platform dedicated for women. As this platform connects experts from mixed tech backgrounds with women seeking to explore, start or accelerate their next career steps, the program provides a bridge to career knowledge and skills development gaps that hinder the participation of women in IT and engineering jobs.
Hungary
In Hungary, the Budapest University of Technology and Economics has recently adopted a Gender Equality Plan for the 2022 – 2025 period. With the objective of creating an enabling environment that boost creativity and innovation among women researchers, the plan addresses gender equality objectives around five themes:
Recruitment and career progression
Work-life balance
Leadership, decision-making and representation
Inclusive institutional culture and prevention of gender-based violence
Research and teaching content
Do you want to know about other initiatives or programs in the world? Check our selection of gender-related policies.
Do you know about other policies that are not listed? Please feel free to contact us and we will be happy to add it!
Related Stories
As nations around the world become increasingly aware of the importance of gender and diversity gaps in innovation, many have implemented policies to reduce these gaps.
As nations around the world become increasingly aware of the importance of gender and diversity gaps in innovation, many have implemented policies to reduce these gaps.
Related resources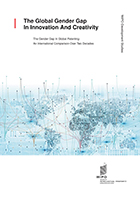 This report analyzes women's participation in international patent applications between 1999 and 2020 and finds that women are involved in only 23% of all applications, representing 13% of all inventors listed. Women's participation in patenting varies across regions, sectors, and industries, with higher representation in biotechnology, food chemistry, and pharmaceuticals, and lower in mechanical engineering. Women inventors are more prevalent in academia than in the private sector, and typically work in mostly-male teams or alone. Achieving gender parity will require significant effort, with an estimated target year of 2061 based on current trends.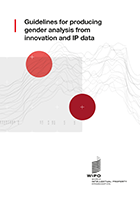 Understanding how women and men can access and use the intellectual property (IP) system equally is key to ensuring that their ingenuity and creativity translates into economic, social and cultural development. This short guide summarizes best practice for producing innovation and IP gender indicators.