WIPO Academy: delivering IP training for the 21st century
By Francis Gurry, Director General, WIPO
As the WIPO Academy, WIPO's training arm, marks its 20th year, there is no better time to reflect on the enduring need for education in the field of intellectual property (IP). In today's global, knowledge-based economy, IP rights play a critical role in both encouraging and leveraging the economic value of innovation and creativity in support of economic development. Enabling policymakers, businesses, academics and students to better understand how these rights work, and the benefits that can flow from their strategic use, is a critical part of efforts to promote more effective use of and respect for IP rights around the world.
Since its establishment in 1998, the WIPO Academy has played a leading role in expanding the global IP knowledge base and in strengthening the IP expertise of developing and least developed countries. Today, it is a global center of excellence for IP training, education and human capacity-building. Every year, its expanding portfolio of courses attracts growing numbers of participants. These include government officials, young legal professionals and students of all ages. But the evolving needs of a global talent pool, growing demand for high-quality, interactive learning tools, and rapid technological advances are fueling the development of IP curricula and a continued focus on delivering an innovative and affordable portfolio of courses and training materials.
Transforming the global IP education landscape
Over the last 20 years, the WIPO Academy has transformed the global landscape for IP education. The statistics are compelling. In that period, almost 600,000 participants from across the globe have benefitted from the IP education and training courses offered by the Academy.
Advances in AI promise to drive the next big leap in education and teaching across all disciplines, including IP.

Francis Gurry, WIPO Director General
Nearly 5,000 government officials from developing and least developed countries and countries in transition have taken part in more than 428 specialized professional development courses. Organized in close collaboration with member states, IP offices and IP institutions, these courses use case study materials to provide participants with the technical knowledge and practical training they need to support the development and implementation of effective IP policies and systems at home.
More than 1,250 students have graduated from the WIPO Joint Master's Programs, of which more than half have benefitted from WIPO-funded scholarships and have since returned to their home governments. By the end of 2018, such programs will be offered by ten top universities around the world, reflecting growing demand for specialization in IP higher education.
A further 3,500 or so young professionals and students have also taken part in almost 100 WIPO Summer Schools organized with partners around the world, again reflecting growing global interest in IP. Today, women make up more than 50 percent of participants across the Academy's portfolio of courses.
Targeted programs
In response to the expressed needs of WIPO's member states, the Academy is also delivering IP education and training solutions through a series of targeted projects. For example, the Judicial Training Institutions project provides tailored training for members of the judiciary. The recently launched IP4Youth&Teachers initiative is supporting efforts to ensure IP education is part of school curricula. And through the National IP Training Institutions, the Academy is working with member states to actively support efforts to establish national IP training institutions to further strengthen national IP training capabilities.
The positive impact that the WIPO Academy has had on the global landscape for IP education, however, would not have been possible without the active support of its strategic partners, namely, member states and academic institutions. These strategic partnerships and cooperation agreements provide a very solid foundation for the Academy to roll out its current programs and expand its offering in the future.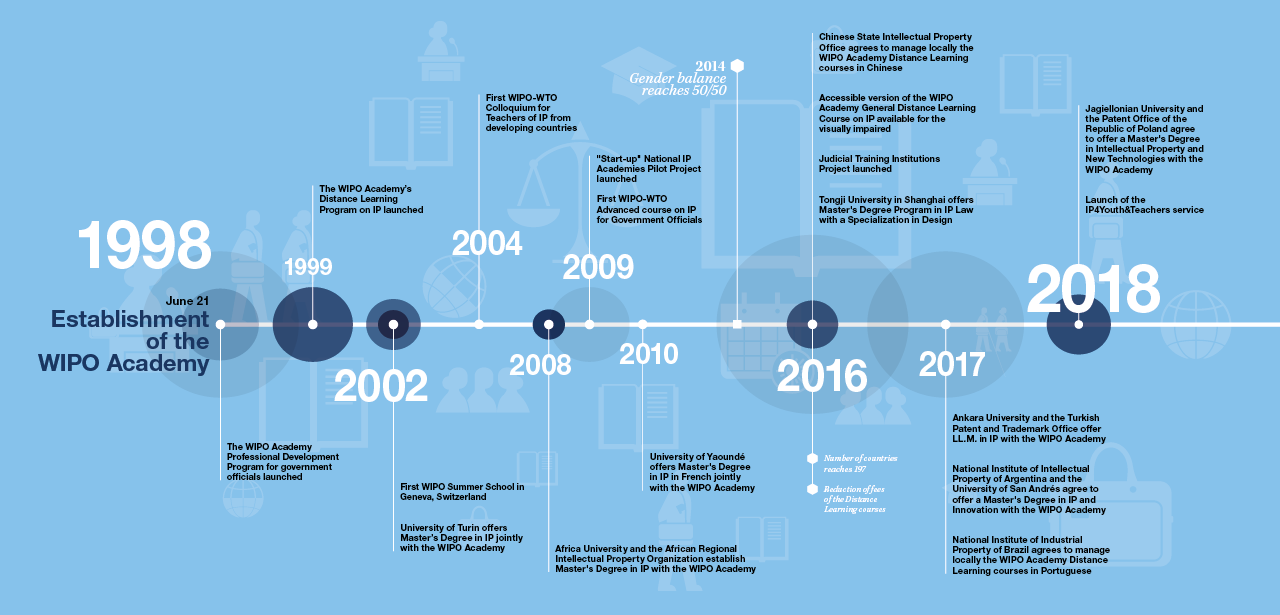 Distance Learning boosts participation
The WIPO Academy's Distance Learning (DL) program has made it possible to achieve high levels of course participation. The DL program, which accounts for the lion's share of course participants, means that geography is no longer a barrier to affordable IP education.
The Organization's ongoing investment in the Academy's information and communication technology (ICT) infrastructure means that IP-related distance learning courses are now available in over 190 countries through the Academy's e-platform. Currently, DL courses are available in Arabic, Chinese, English, French, Russian and Spanish, and are supported in Croatian, German, Japanese and Korean. Customized versions of the courses help ensure students benefit from training modules and course materials that are relevant to needs both in terms of language and national circumstances. As demand for customized products remains very high, we anticipate that this area of the Academy's work will continue to expand in the coming years.
Toward IP education for all
Widespread access to ICTs has made the transformation in IP education and teaching a reality. It offers anyone interested in learning about IP and its role in the commercialization of assets an easy and affordable pathway to the learning resources they need.
The rapid evolution of these technologies is also making it possible to continuously improve the way in which students can access a rich source of IP learning: not just through the use of electronic devices, which make "learning on the go" a reality, but also by connecting with peers, IP experts and a plethora of IP learning resources via the Internet and cloud-based computing solutions, webinars and a growing number of online fora.
The WIPO Academy has taken advantage of these technologies to help make IP education globally accessible. We recognize that some developing and least developed countries continue to face connectivity and bandwidth challenges and have adapted our offering accordingly. It is clear, however, that as the digital divide becomes ever narrower, more people from developing and least developed countries will be able to take full advantage of the IP education opportunities provided by the WIPO Academy and its partners. And with advances in artificial intelligence (AI) coming on stream, this is likely to be a reality sooner rather than later.
The future of IP education: a role for AI
Advances in AI promise to drive the next big leap in education and teaching across all disciplines, including IP. The opportunities afforded by its widespread use in IP education are truly exciting. For tutors, AI promises to make the mundane and rather laborious task of grading papers a thing of the past. We can foresee AI-assisted solutions that will enable teachers to design and deliver learning tailored to the specific needs of students and AI-driven education programs that give specific and detailed feedback on work submitted by students.
This doesn't mean that academics will suddenly find themselves without a job; it means they will have more time to focus on students who most need their support. AI-assisted programs will help to improve the quality of teaching, student-teacher interactions and learning outcomes. And, of course, it will carve out more time for university professors and lecturers to engage in their academic research.
Better data analysis with AI
AI and other advanced ICTs will also make it possible to better capture, manage and analyze data, with dividends in terms of capturing academic research findings, as well as improving the practical administration of educational courses with respect to course design, marketing, registration and certification.
Perhaps the greatest potential practical benefit to flow from the application of AI-based tools to IP education lies in their ability to improve the way we monitor and evaluate the impact of the work we do. With better tools to gather data on how participants apply the knowledge and skills they gain from Academy courses, we will be better placed to ensure courses are relevant to real-world needs, improve learning outcomes and assess the impact and value of the investment we are making. That is why, as we look to the future, the WIPO Academy is exploring ways to harness AI to support its work.
In concrete terms, this will involve the introduction of digital tutors to all distance learning courses. This, combined with plans to decentralize the management, administration and delivery of these courses, will enable the Academy to manage ever-increasing demand for customized course materials. It will also enable the Academy to expand its reach and respond to growing demand for accessible, high-quality and personalized IP educational tools and services.
Future-proofing IP education
The use of AI to enable more effective and efficient delivery of IP education is just one part of the equation for delivering IP educational services fit for the 21st century. As the pace of technological innovation continues to gather momentum, IP systems will need to be responsive to emerging concerns and adapt to future challenges. This, in turn, will generate a need for new IP knowledge and for research into possible new approaches and responses to emerging IP issues to inform how best to design and "future-proof" national and international IP frameworks. As has been the case since the inception of the international IP system in the 1880s, IP frameworks need to keep pace with rapid technological change. Policymakers need access to rigorous academic research in the field of IP in order to respond effectively to these changes, and all those involved in IP education need to equip future generations with the IP knowledge they need to rise to coming challenges.
So, as we look to the future, it is important that we not only focus on how we teach IP, but what we teach. Current debates surrounding blockchain, AI, personalized medicine, genetic engineering, precision agriculture, climate change, the need for adaptive and mitigating green technologies and concerns surrounding the ownership and management of digital content are examples of the issues that will occupy the minds of policymakers in coming years.
It is hard to imagine what the shape of IP and technology will be when the WIPO Academy marks its 40th anniversary. But as it embarks on that journey, the Academy will continue to design and deliver forward-looking programs in response to the evolving needs of IP students and professionals around the world. In so doing, it will continue to embrace new knowledge generated from diverse, high-quality academic research in all areas of IP and from all corners of the globe.
While what we teach today may not provide the answers to all of the questions that may arise tomorrow, it must, at a minimum, enable and inspire us to understand the possible implications of those questions and to find effective approaches that lead to satisfactory outcomes. In a similar vein, the research undertaken by IP academics and researchers should anticipate the types of IP challenges and issues that may emerge as new, transformative technologies come on stream and generate new opportunities to reshape the global innovation landscape and the IP rights that underpin it.