Spurring innovation in Africa: an interview with the President of Mauritius
December 2015
President Ameenah Gurib-Fakim of the Republic of Mauritius has a vision for Africa – leveraging the benefits of science, technology and innovation (STI) to build sustainable knowledge economies. How? Through effective use of intellectual property (IP).
In a keynote speech to the African Ministerial Conference 2015: Intellectual Property for an Emerging Africa, which met in Dakar from November 3 to 5, 2015, President Gurib-Fakim said the tools of the IP system should be used to unlock and promote the value of assets that are unique to Africa, such as local medicinal plants and traditional knowledge. Mauritius's first woman president said, "those nations that go all-in on innovation today will own the global economy tomorrow."
President Gurib-Fakim shares her vision of an Africa that prioritizes STI.
What was the significance of the African Ministerial Conference 2015?
The African Ministerial Conference 2015 was an excellent platform for African leaders to explore the relevance of IP to an emerging Africa, and to drive home the message that IP matters.
Africa is on the move. It is set to become the second fastest growing market over the next 10 to 12 years, with anticipated annual growth rates of 4.7 percent. Globalization, the integration of global markets and the advent of new technologies, particularly biotechnology and informatics, have brought about fundamental changes in national development strategies and international trade exchanges in Africa. These changes have revolutionized the way we do business, science and research and development.
If we are to maintain this growth momentum, we need to rethink our approach to innovation and take steps to create a supportive policy environment that makes it possible for Africa's wealth of inventors and creators to add value to their work. This involves promoting effective use of IP across Africa.
What are the main challenges facing African economies in the area of IP?
Africa has an underwhelming record in creating and protecting IP. Global IP statistics paint a rather bleak picture. For example, in 2013 not one African nation appeared among the top 20 countries filing international patent applications using WIPO's Patent Cooperation Treaty.
Not enough importance has been given to the protecting the ideas and data generated by Africans and African institutions. Protecting these valuable resources is an essential step towards creating wealth and securing opportunities for Africa's youth. The key question now is how we can best use the IP system to bring about lasting economic, social and cultural benefits for all Africans.
In the global knowledge-based economy, intangible assets are central to any country's productivity and competitive advantage. The creation, management and protection of knowledge are central to global economic integration and wealth creation. A strong IP regime provides incentives for producers or researchers to develop new products and technologies. We need an urgent public debate involving all stakeholders to frame new ways of promoting innovation and creativity and capturing their economic value in Africa.
What is required to improve Africa's IP landscape?
While some progress has been made, there is plenty of room for improvement. In Africa, we need to implement policies that build and strengthen our national capacity to use and benefit from IP. We need to raise awareness and understanding about how IP can be used to add value to our innovative and creative resources. We need to support start-ups and facilitate access to the capital they need for business growth. A fund that supports African innovators and enables them to test the prototypes they develop could be one way of doing this.
Innovation happens by construction, not instruction. By that I mean you cannot innovate to order. An innovative breakthrough in research, for example, is often more a result of serendipity than purpose. In our education systems and in our entrepreneurial sectors, we need to give innovators the space to tinker with things and to find new ways to tackle technical challenges. The creativity that takes place in this space leads to new ideas that spark innovation. Those sparks will drive the continent's innovation agenda.
Our Asian neighbors have focused on strategic use of the IP system to promote economic growth. Fifty years ago, the GDP of the Republic of Korea was on a par with the average African economy today. By investing in technology, building capacity and prioritizing the strategic use of IP, the Republic of Korea has transformed itself into an economic powerhouse. There is no reason why African economies cannot do the same. IP could be a major game-changer for Africa. By focusing on its effective use to bridge gaps in science and technology and to create opportunities for wealth creation and employment, we can transform the socio-economic prospects of the continent.
Today Africa continues to lag behind industrial countries. The paradox is that Africa spends on average around USD2.2 billion on IP for its businesses, but the revenue it generates from IP amounts to just USD266 million. In industrialized countries, IP-related proceeds amounted to around USD297 billion in 2013. We need to narrow this gap. African businesses and African universities and research institutes need to protect their IP rights. That is the only way that we are going to be able to leverage the benefits of our investments in STI and build sustainable knowledge economies.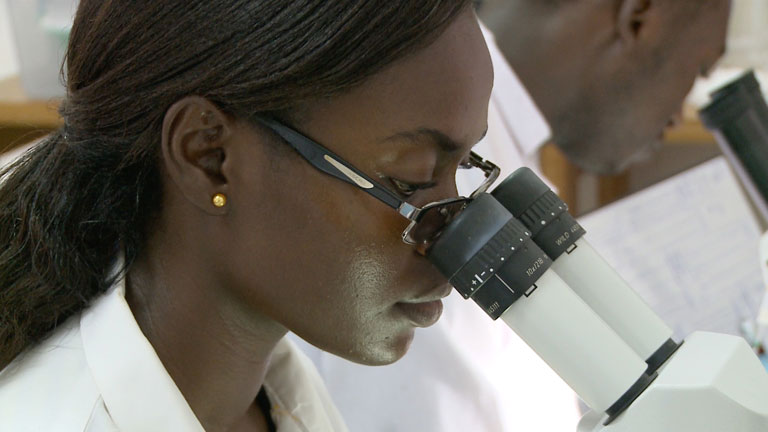 Why should African economies focus on STI?
The role of STI and knowledge as key drivers of economic growth is now widely documented. Only by focusing on STI will we be able to address Africa's many development challenges. Investment in STI will enable us to boost agricultural productivity, enhance the competitiveness of African businesses, create opportunities for wealth creation and strengthen the resilience and sustainability of our economies. It will enable African economies to catch up with high-income countries.
For Africa to sustain its growth momentum and for its peoples to enjoy improved living standards, we need to create an environment that supports the protection and value of the intellectual assets that are unique to Africa, for example, by protecting them with geographical indications. We also need to prioritize opportunities unleashed by the digital revolution in the areas of STI and creativity which offer significant opportunities for economic growth and social progress through the easy dissemination of knowledge.
Is international cooperation important?
Yes, work at both national and international levels is crucial. In Mauritius, we are investing in the development of our national IP ecosystem to foster innovation. But while well-designed IP systems can benefit national economies, poorly designed ones can harm them. National IP policymakers therefore need to be sure that they design and implement an IP system that is tailored to national circumstances. This entails a national policy-making process that involves all stakeholders and economic actors. IP is a cross-cutting issue that touches on all areas of economic activity, including sectors in which developing countries have a comparative advantage, most notably cultural heritage and traditional knowledge. I am convinced that IP rights are the key to enabling emerging countries in Africa to realize their innovative and creative potential and to generate wealth. But of course we cannot work in isolation. We are part of Africa and ultimately our success will depend on input from and cooperation with other countries.
Why do decision-makers need to invest in research and development?
While politicians are bound by their electoral promises, they are also responsible for improving the livelihoods of their people and creating opportunities for the young. As a continent, Africa is young. Eleven million graduates come out of African universities every year. The only way to make this talent work for our economies is to provide an enabling environment in which entrepreneurship can thrive. Government has a key role to play in developing such an environment through the implementation of effective policies.
Africa is a very rich continent and needs to move from being a net exporter of its raw materials to a creator of higher-value products. Only then will we succeed in expanding our manufacturing capacity, and in creating added value and economic opportunity for our young people.
Amid pressing frontline challenges, why make innovation a priority?
African countries are facing many frontline challenges, in particular in the area of health, but we are not alone in this. Strengthening our capabilities in the areas of science, technology and innovation offers the best hope of overcoming these ordeals. Initiatives like WIPO Re:Search – which seeks to catalyze research into neglected tropical diseases, malaria and tuberculosis, which are widely prevalent in Africa – are supporting this goal and are a fantastic complement to the work of others that are seeking to tackle Africa's heavy disease burden. Political leadership in this area is critical if we are to bring about any meaningful change in Africa's innovation performance.
Is the brain drain a barrier to Africa's economic development prospects?
In an average hospital in Chicago, most of the doctors are of African origin. How many of these brilliant minds could be brought back to Africa? Imagine what a difference that would make. But these people will only return if they are able to come back to an enabling environment in which they can perform effectively. It falls to governments to establish such an environment. Financial incentives alone are not enough. This has happened in China and in India, so why can't it happen in Africa?
What made you become a scientist?
Before I moved into politics I was a scientist. My teachers infected me with the science virus. They taught me that science is beautiful and has the answers to many of the questions we have. As a girl, I was discouraged from a career in science, but did it anyway. That is why I am a strong advocate for science and for girls in science.
What do you like most about politics?
If you do politics properly, you can really have an impact on people's livelihoods. At the end of the day, that is what politicians are mandated to do. If, for example, I can improve transparency in government, the quality of education and training, especially in the area of science, engineering and technology, and strengthen the IP landscape in my country – and Africa – that would be a great achievement.
What message do you have for girls with career ambitions and policymakers dealing with gender issues?
My message for girls: if you want to succeed, quality knows no gender. Focus on quality, quality and quality. That is the winning formula.
My message for policymakers: over 50 percent of Africa's population is female. The challenge is how to harness this female talent. It starts with education and it starts with encouraging girls to study science and to work in the sciences.
The WIPO Magazine is intended to help broaden public understanding of intellectual property and of WIPO's work, and is not an official document of WIPO. The designations employed and the presentation of material throughout this publication do not imply the expression of any opinion whatsoever on the part of WIPO concerning the legal status of any country, territory or area or of its authorities, or concerning the delimitation of its frontiers or boundaries. This publication is not intended to reflect the views of the Member States or the WIPO Secretariat. The mention of specific companies or products of manufacturers does not imply that they are endorsed or recommended by WIPO in preference to others of a similar nature that are not mentioned.