Global Innovation Index 2012
August 2012
by Catherine Jewell, Communications Division
Steering the global economy out of crisis towards growth and prosperity is a top priority for policymakers across the globe. This involves finding the right policy mix to ensure sustainable public finances on the one hand and economic growth and employment on the other. Innovation is a crucial element in this mix and key to generating sustained economic growth. But what factors determine a country's capacity to innovate? What elements need to be in place to enable a country or a company to transform ideas into commercially successful goods and services for economic and social development? Policymakers need tools to benchmark performance and refine and improve their policy choices. The Global Innovation Index (GII) offers a means of assessing innovation, evaluating related policy performance and refining innovation policies for optimal growth.
In early July 2012, WIPO along with leading business school INSEAD, published The Global Innovation Index 2012: Stronger Innovation Linkages for Global Growth. The GII, prepared in conjunction with knowledge partners Alcatel-Lucent, Booz & Co., and the Confederation of Indian Industry (CII), reports on the innovation capabilities and performance of 141 economies. WIPO Magazine takes a closer look at its findings.
About the GII
The GII measures the degree to which countries and businesses integrate innovation into their political, business and social spheres. The GII "contains a number of metrics which help us to provide a continual assessment of innovation and policy performance in relation to innovation," explained WIPO Director General Francis Gurry. "Intellectual property encourages investment in innovation and encourages those who innovate to be able to have a framework in which to trade their intellectual assets and the fruits of their innovation," he noted.
In highlighting good practices, the GII helps guide innovation policy development. It captures performance in two key areas: first, the capability of an economy to innovate (on the basis of five input pillars relating to institutions, human capital and research, infrastructure, market sophistication and business sophistication); and second, an economy's innovation performance in terms of the outputs generated (on the basis of two output pillars, knowledge and technology outputs and creative outputs).
The GII moves beyond classical indicators of science and technology and seeks to cover broader aspects of innovation. "The 2012 variables were broadened in an effort to find the right mix to capture innovation as it happens today," noted Soumitra Dutta, Roland Berger Chaired Professor in Business and Technology at INSEAD and GII's founder. This year's index features two new sub-pillars: ecological sustainability and online creativity. "The GII seeks to update and improve the way innovation is measured. Today's definitions must capture an environment that is context-driven, problem-focused and interdisciplinary," he said. The GII is "about improving the journey to better measuring and understanding innovation and identifying targeted policies, good practices and other levers to foster innovation," he explained.
Strengthening linkages in the innovation ecosystem
The GII 2012 stresses the crucial importance of building strong linkages among all elements operating in innovation ecosystems. Countries that top the innovation index have improved linkages among innovation actors, most notably in science and higher education and in the public, private and not-for-profit sectors. "You see remarkable consistency among the countries that come in the top 15," observed Professor Dutta. "The whole ecosystem connecting the different innovation actors functions more seamlessly and more efficiently in these economies." While many resource-rich economies have invested significantly in human capital in recent years, innovation gains have not been forthcoming because of poor coordination across sectors.

"Developed economies must continue to strengthen and develop linkages among stakeholders in the innovation landscape to stay ahead of strategic sectors," said Per-Ola Karlsson, Senior Partner, Managing Director of Europe, Booz & Co. "Similarly, developing economies must institute a national model that establishes coherent linkages in their innovation systems. By aligning cross-cutting policies and coordinating the efforts of all stakeholders, these coherent linkages drive the innovation process," he said. "New linkages between stakeholders are what turn ideas into successful outputs."
Key findings
A new innovation dynamic emerges
High-income economies dominate the rankings and have a significant lead in terms of innovation capability and outputs. In spite of deep and persistent innovation divides across countries and between regions, the report points to the emergence of a new innovation dynamic with a number of middle and lower-income economies pushing innovation frontiers. China, for example, ranked fifth on technology and knowledge outputs. India, also a low-income economy, ranks tenth on creative intangibles and is performing well in terms of creating innovative business models.
Top Performers
For the second consecutive year, Switzerland, Sweden and Singapore topped the GII rankings, followed by Finland, the UK, the Netherlands, Denmark, Hong Kong (China), Ireland, and the US. These "innovation leaders" have succeeded in creating innovation ecosystems that support human capital and stable innovation infrastructures.
Other so-called "innovation learners" (countries in which levels of innovation are rising as a result of notable but fragmented improvements in institutional frameworks and innovation infrastructure; a skilled labor force; and a more sophisticated business community) are also identified. These include – among middle-income countries – Latvia, Malaysia, China, Montenegro, Serbia, the Republic of Moldova, Jordan, Ukraine, India, Mongolia, Armenia, Georgia, Namibia, Viet Nam, Swaziland, Paraguay, Ghana and Senegal. Among low-income countries, Kenya and Zimbabwe stand out.
A third category features countries with income levels that point to a high innovation potential but where the performance of innovation systems is below that expected given levels of GDP per capita (in purchasing power parity in international dollars (PPP$)). Most resource-rich economies fall into this category, which includes a mix of high-income economies (such as Qatar, the United Arab Emirates, Oman, Brunei Darussalam, Kuwait, Greece and Trinidad & Tobago) and middle-income economies (such as Argentina, Belarus, Mexico, Botswana, Panama, the Islamic Republic of Iran, Gabon, the Bolivarian Republic of Venezuela, Algeria, the Syrian Arab Republic, Angola, Lao PDR, Yemen and Sudan).
The GII also shows how efficiently an economy transforms its input capability into innovation outputs. The Innovation Efficiency Ratio shows countries which display a strong capacity for innovation despite a less supportive environment. The top 10 rankings include a mix of high and lower-income countries: China, India, the Republic of Moldova, Malta, Switzerland, Paraguay, Serbia, Estonia, the Netherlands and Sri Lanka.
For Africa, Mr. Gurry said the main challenge is to achieve "long-term building of capacity to innovate and… to add value to the resource base that exists. Adding that value is going to come through innovation."
"Every country can aspire to be an innovation-driven economy," said Chandrajit Banerjee, Director General of the CII. "The more resource-constrained an economy is, the more prone to innovation it actually can be. Importantly, innovation is about acts that improve everyday lives and a journey towards faster, sustainable, inclusive growth," he said.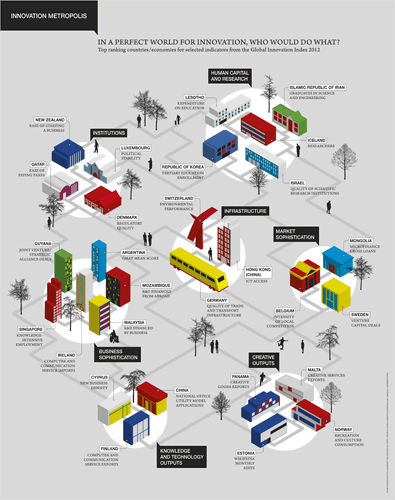 Top ranking countries/economies for selected indicators from
the Global Innovation Index 2012
(© WIPO 2012. Design: Largenetwork)
Continued investment in innovation is essential
The report underlines the fact that continued investment in innovation is crucial to securing sustainable growth and prosperity. It is "a timely reminder that policies to promote innovation are critical to the debate on spurring sustainable economic growth," said Mr. Gurry.
The data point to a slowdown in the rate of research and development (R&D) investment in some economies. "The downward pressure on investment in innovation exerted by the current crisis must be resisted. Otherwise we risk durable damage to countries' productive capacities," cautioned Mr. Gurry. "This is a time for forward-looking policies to lay the foundations for future prosperity," he added.
If rates of investment in innovation slow down, noted Professor Dutta, "it is often not easy to pull back and recreate the same kind of momentum once the current crisis becomes less accentuated." He said continued investment in innovation was key to emerging from the crisis on a stronger, more competitive footing.
Nonetheless, a number of countries, including Hungary, Ireland, Poland, the Republic of Korea, Slovakia and Turkey, have increased business R&D spending in recent years.
Multispeed Europe
Data show the emergence of a multispeed Europe and a growing disparity in innovation performance within the region. The landscape includes innovation leaders in northern and western Europe; some innovation learners in the rest of Europe, for example, Malta, the Baltic countries, the Republic of Moldova, and Ukraine, which are climbing up the ranks; with an innovation lag among most southern and eastern European economies. "Europe can do more to drive its innovation agenda, especially in competitiveness, or it risks falling behind the rest of the world," noted Mr. Karlsson.
Pressure points emerge in North America
In North America there are signs of weakness. While the US continues to be an innovation leader, the report reveals relative shortfalls in education, human resources and innovation outputs. Canada showed weakening positions in all the main GII innovation indicators. Professor Dutta urged these economies to invest in a number of key areas to further improve their innovation capacity and sustain performance.
BRIC economies must renew innovation drivers
The BRIC economies (Brazil, the Russian Federation, India and China) share a range of governance and institutional challenges and need to continue to invest in and strengthen their innovation capabilities to fulfill their potential and drive global economic growth. The Russian Federation advanced in the rankings this year while Brazil, China and India dropped, with Brazil experiencing the largest fall. However, China and India demonstrate a strong ability to translate pockets of excellence into valuable innovation outputs. China's performance on key knowledge and technology outputs is outpaced only by Switzerland, Sweden, Singapore and Finland.
The key importance of innovation
While there is broad agreement about the critical importance of innovation, our understanding of what it takes to improve innovation capabilities and performance and how to measure these variables remains limited. The insights generated by GII's evolving methodology will undoubtedly help all actors in the innovation ecosystem to tackle and overcome the many future challenges associated with enabling innovation. "An index showing where to go and for what reason is a very valuable tool," says Ben Verwaayen, CEO of Alcatel-Lucent. While there is no quick fix, with the right mindset, tools and knowledge, innovation is possible. As noted by Karim Sabbagh, senior partner at Booz & Co., "innovation is not the monopoly of any specific region, country, company or individual; it's open to everyone."
Related Links
The WIPO Magazine is intended to help broaden public understanding of intellectual property and of WIPO's work, and is not an official document of WIPO. The designations employed and the presentation of material throughout this publication do not imply the expression of any opinion whatsoever on the part of WIPO concerning the legal status of any country, territory or area or of its authorities, or concerning the delimitation of its frontiers or boundaries. This publication is not intended to reflect the views of the Member States or the WIPO Secretariat. The mention of specific companies or products of manufacturers does not imply that they are endorsed or recommended by WIPO in preference to others of a similar nature that are not mentioned.