Safeguarding Design Assets: A UK Perspective
February 2012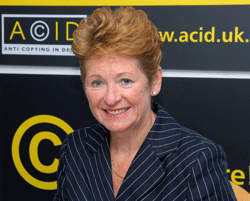 Dids Macdonald, CEO, ACID believes, "it is very
important that designers have the means to easily
protect their creative work, particularly in light of the
damage caused by unauthorized copying of their
designs. (Photo: ACID)
By Ms. Dids Macdonald, CEO, ACID (Anti-Copying in Design)
Design, whether iconic or "everyday", is everywhere. In the United Kingdom alone, there are an estimated 232,000 designers working in some 55 different design disciplines. Design is a major contributor to the UK economy. The many micro and small businesses that make up this highly productive sector generate some £33 billion a year, adding around 2.4 percent to the UK's economy.
These businesses form an important part of the buoyant creative industries sector which itself makes up 8.2 percent of the UK's gross domestic product (GDP) and is expanding by around 4 percent per year. Professional designers provide the unifying thread in all creative industry sectors. From advertising to computer and video games, from crafts and fashion to music and the performing arts as well as in software and engineering, design is a key element. The country increasingly earns more from designing successful products than from manufacturing them. Given their vital contribution to the UK economy, it is very important that designers have the means to easily protect their creative work, particularly in light of the damage caused by unauthorized copying of their designs.
Maintaining international competitiveness
The U.K. enjoys worldwide acclaim for its design and innovation excellence, and British designers lead in providing socially responsible and environmentally sustainable innovation. Communications design remains the dominant discipline in the country, followed by digital and multimedia design. Design is a catalyst for innovation and a key ingredient in gaining and maintaining a competitive edge. Design excellence is a hallmark of "Brand UK". Improving awareness of intellectual property (IP) within the two million organizations that make up the UK's creative industries sector is a must if the country's designers are to remain competitive.
Improving awareness and understanding of the economic potential of design and creativity among policymakers and design customers, both private and public organizations, is also a priority. There is currently a disturbing tendency to undervalue professional designers, as demonstrated by the practice of "free pitching" – the supply of design services without payment – in public and corporate procurement.
IP infringement is on the increase, but for micro or small and medium-sized enterprises (SMEs) there is little chance of effective enforcement.
ACID welcomes the UK Government's recent assessment of the need to reform the overly complex IP framework for design in the UK, following Professor Hargreaves report on "Digital Opportunity: A Review of Intellectual Property and Growth" (WIPO Magazine 2011 Issue 6 ). This report underlines the need for "a thorough reassessment of IP and design", in light of its economic importance as "the largest source of intangible investment in the economy".
Examples of designs by ACID members: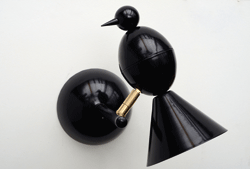 Black Bird Light designed by Atelier Areti.
(Photo: Atelier Areti)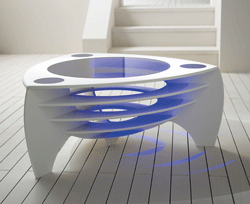 Apollo Table designed by Stuart Melrose, Ltd.
(Photo: Stuart Melrose, Ltd.)
Relevant legislation
In the U.K., design protection is a complex patchwork of different and overlapping rights. Different rights cover different forms of design, offering varying levels of protection, and differing in the requirements to prove infringement and the penalties for infringement. This makes it difficult for designers to effectively protect their interests.
The majority of designers rely on IP rights that arise automatically (copyright, UK and EU unregistered design rights and goodwill in a trade name or get up), but other formally registered rights (patents, registered designs or trademarks) are also available.
UK and EU design rights, registered and unregistered, offer protection for the whole of the appearance of a product rather than only its three-dimensional elements. Colors, materials, surface patterns, as well as shape can all be protected.
But designers do not enjoy the same advantages as other creators. In the UK, those who rely solely on unregistered design rights have 10 years of protection in the UK – licenses being available as of right during the last five years of the life of the design right - and three in Europe, whereas copyrighted works are protected for the lifetime of the author plus 70 years. The Digital Economy Act 2010 provides remedies for online copyright infringement and places obligations on Internet Service Providers (ISPs) to warn those using their services not to infringe copyright (such as illegally downloading music) and to hand over details of such infringement to copyright owners, if requested. The UK Home Secretary can also order ISPs to, for example, suspend services to infringers. Similar measures to protect the interests of designers would also seem appropriate.
Enforcement challenges
Under current UK law, the unauthorized copying of a design is not considered a criminal offense. The designer's only recourse is therefore to pursue a civil action, which is not the case for copyright infringement.
The biggest problem facing designers (both in the UK and globally) is that small design businesses have neither the time nor the financial resources to take legal action. On top of this, most designers rely on unregistered or informal rights. This David versus Goliath situation is compounded by low levels of IP awareness, making improved IP education and knowledge about IP rights an absolute must.
Designers are good at setting new trends and creating the "zeitgeist" of tomorrow; that's why good ideas are always copied. A recent survey by ACID indicates that 89 percent of product designers believe infringement is blatant and deliberate and certainly not inadvertent, as is sometimes suggested.
The future of design
Continued erosion of industrial design markets through illicit copying will have a devastating impact on economies worldwide unless we act now. While governments increasingly recognize the economic importance of IP, much remains to be done to ensure designers around the world are able to do what they do best - design and innovate – and receive a return on their investment so their work can continue, generating growth and development.
ACID believes that, in addition to ensuring favorable development of the IP legal framework, there is much to be gained from developing a more practical, hands-on approach to addressing the problems facing small, creative businesses. For example, this year it is re-launching its "Commission it, Don't copy it" campaign to encourage retail buying departments to support UK design by commissioning work directly from designers. In this "win-win" scenario, the designer receives a royalty; the retailer uses its purchasing power to produce the commissioned product cost-effectively while creating a unique UK design signature range; and consumers get an excellent deal knowing they are buying an original design and supporting British designers.
Improved IP education and outreach as well as communications campaigns to encourage companies to strengthen CSR strategies and expand IP awareness are areas ripe for action. After all, a broader understanding of IP rights is a key element in deterring design theft.
Innovation through effective design and creativity happens at an amazingly rapid pace. If we are to harness the full economic and employment potential of the creative sector, we must emphasize the role of creativity in innovation, business and commercialization. This translates design into tradable IP. To achieve this, designers need access to a user-friendly IP framework; damages must be set at levels that dissuade repeat offenders; and IP intermediaries need to be trained to support small businesses in implementing proactive IP strategies. These three steps alone would go a long way in encouraging growth and making jobs more secure. While design remains an unsung hero within the dynamic creative industries sector, ACID continues to use every opportunity to highlight the vital economic contribution designers make – both in the UK and beyond.
About ACID
ACID is a membership organization representing over 1,000 companies, mainly micro-enterprises and SMEs from 25 different industry sectors. It is committed to raising awareness of IP and encouraging respect for IP rights as part of corporate social responsibility (CSR). Its logo has become a strong symbol of design protection. ACID helps protect its members from the potentially devastating financial damage inflicted by IP infringement and works to influence future design policy to create a safe trading environment that enables the sector's continued growth. The organization works to encourage IP creation as a positive force for economic growth and employment.
Practical support
In practical terms, ACID helps designers by providing free access to a Design Data Bank, which currently contains some 300,000 copies of members' designs. While using the databank does not add to existing formal IP rights, nor will it ever replace formal registration, its use does provide independent evidence of a design's existence on a particular date. This can be useful in proving ownership in cases of infringement.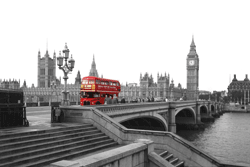 Temple Island Collection won a court action against
English Teas to protect their famous red bus design
with the help of ACID 's Design Data Bank. (Photo:
Temple Island Collection)
Recently, an ACID member, Temple Island Collection, brought an action against New English Teas for unauthorized copying of its iconic "Red Bus" image. The Design Data Bank was used as part of a design audit to back up Temple Island's ownership claims in the design. ACID provided the Court with a written statement confirming that the image had been recorded in the Design Data Bank on a given date.
ACID-accredited law firms have recovered over £3 million in costs and damages in over 450 settlements for its members. These are communicated in the sector trade press as part of an ongoing public education campaign.
The ACID IP Tracker offers designers a simple, cost-effective method for tracking delivery of confidential, IP-related information sent via e-mail to third parties. All too often, design ideas are vulnerable to theft at this stage. Designer Sebastian Conran notes, "an unintended consequence of digital technology is the dissemination and theft of identities, ideas and designs... Proving ownership of IP is the foundation of protecting it, and the ACID IP Tracker provides unequivocal evidence for files in digital transit - simply, efficiently and effectively."
Design professionals can take advantage of the one-to-one specialist IP advice available through ACID's IP clinics. Corporate members can benefit from IP strategy reviews along with advice on improving IP communication throughout the supply chain.
Recognizing that exhibitions are one of the most valuable, yet vulnerable, venues for new product launches, some 15 years ago the organization launched its Accredited Exhibition Organiser initiative. To date, over 2,500 mediations have been successfully concluded. When a knock-off is identified, ACID intervenes with an effective mediation protocol. Over 70 percent of disputes are settled on the spot and, of the remaining 30 percent, many are settled in writing before commencing any legal proceedings. This is clear proof that there are effective alternatives to costly court actions.
The WIPO Magazine is intended to help broaden public understanding of intellectual property and of WIPO's work, and is not an official document of WIPO. The designations employed and the presentation of material throughout this publication do not imply the expression of any opinion whatsoever on the part of WIPO concerning the legal status of any country, territory or area or of its authorities, or concerning the delimitation of its frontiers or boundaries. This publication is not intended to reflect the views of the Member States or the WIPO Secretariat. The mention of specific companies or products of manufacturers does not imply that they are endorsed or recommended by WIPO in preference to others of a similar nature that are not mentioned.