Shaggy: Dancehall Comes to WIPO
Biodata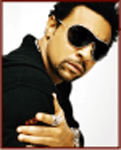 (Photos: (c) Jonathon Mannion)
Born: October 22, 1968, in Kingston, Jamaica.
Name: Orville Richard Burrell, Nicknamed "Shaggy" by childhood friends after the popular Scooby Doo cartoon character.
Career: Joined the U.S. Marines c.1988-92. First hit record was Oh Carolina in 1993. Other hits include Boombastic, In the Summertime, It Wasn't Me and Angel. The album Hot Shot (2000) sold over 15 million copies and made Shaggy the first reggae artist to top the U.S. Billboard 200 best selling album chart.
Awards: Grammy Award, Best Reggae Album for Boombastic (1995); Juno Award (Canada), Best Selling Album, 2002. In October 2007, he was awarded Order of Distinction with the rank of Commander for outstanding service to Jamaica.
---
"Yo, this is Mr. Lover-Lover, boombastic - upfront and personal. Say yea, pay attention! Utter Shaggy."
The greeting, delivered in a baritone growl, was not quite what we were used to hearing from ambassadorial visitors to WIPO. But then, this was not a usual WIPO visitor. Orville "Shaggy" Burrell, Jamaica's self-styled ambassador of reggae, had been invited to join speakers at WIPO's International Conference on Intellectual Property and the Creative Industries in order to share his own perspective as a top-selling artist.
With album sales of over 20 million since his first hit, Oh Carolina, in 1993, Shaggy's successful career in the music industry is testimony to his artistic inventiveness, and to his readiness to buck the trend. The hard-hitting rhythms and tongue-in-cheek lyrics of hits such as Boombastic (1995) broke through barriers, taking Shaggy's cross-over brand of reggae or dancehall1 music to the top of R&B, pop, and hip-hop charts worldwide. His addictive new release, Church Heathen, though aimed at a hardcore dancehall audience, looks set to be another major hit.
Before leaving the Conference, Shaggy took time out to talk to the WIPO Magazine about his music and his personal experience from within the creative industries.
The WIPO conference has been discussing the economic contribution of the creative industries. How do you see the contribution of the music industry to Jamaica?
Jamaica will probably benefit more from music than any other country because its whole cultural background is what sells Jamaica, more so than anything else. When you think Jamaica, you think Bob Marley. The minute you land in Jamaica you feel the essence of reggae. And for an artist who's trying to break out in the music business, Jamaica is one of the easiest places to show talent – there are so many outlets, you can just jump on a stage.
In your own music, what do you aim for when you are creating a new song?
There are too many six-week hits come out now. They get a lot of hype, but hype doesn't mean it's a good song. As a musician, you want to be more than just a trend. You want to be a part of history. Even the newer generation now are looking back at the older classics. So me, I strive for that song that's going to be a monster record – that lives on forever, forever. I probably have four or five of those. I don't always achieve it. Sometimes these songs choose you instead of you choosing them.
Kids who were singing Boombastic in kindergarten are now adults. How do you create fresh appeal to a changing audience over 15 years?
You have to reinvent yourself and reintroduce yourself to them. The way to stay fresh is to always be innovative and a little bit eclectic - go against the grain. It's a harder process because then not everybody is sold on it. I mean, people like to go with the current, not against the current.
And what happens if the record companies aren't sold on it?
Record companies because they're corporations, they tend to use the same formula: get a big producer and put him with a big star, and make sure he looks good. And the record might be mediocre, but at least you have a huge story you can sell. And we are a society that eats that up – just like we ate up Paris Hilton. The downside is you won't create classics. But hey, you probably make a ton of money. So it's a two sided coin.
You mentioned earlier that, when you started out, you had to be creative not just in writing the music, but in getting airplay. Tell us about that.
Dancehall music has now become part of popular culture. But when we released Boombastic in 1995 we couldn't get it played on mainstream radio. The stations were saying "it doesn't fit our format." It was only by sampling [Marvin Gaye's] Let's Get it On in the remix that we started getting airplay. So yes, we had to be creative in our marketing.
For dancehall music, there has never been that history of successful cooperation with the corporate sector – like between Justin Timberlake and Coca Cola. Pitching to a board of directors to persuade them to market a product with reggae doesn't work. But you can't just blame it on reggae being a "minority music." You've also got to blame the artists. We're like a shop. We've got to sell ourselves. Otherwise people just go into the more colourful shop with the nice shopkeeper…


"You have to reinvent yourself."
Copyright…is what you could call our pension, which is what we have been lacking in the reggae fraternity."
You have been talking at the WIPO Conference about the birth of a creative idea. Where do you look for the ideas for your songs?
The idea comes from wherever your career is at this moment. Like now with Church Heathen. I did not want this to be another cross-over record. After my [more mainstream hits] like It Wasn't Me, I knew I had to come out with something that was going to win my core audience back. - A monster underground local hit that they could play in any dancehall.
Normally there are three ways to do that: a gun tune, a dance tune, or a girl tune. Well, I don't do gun tunes, you don't want to see me dance, and a girl tune wouldn't be reinventing myself. So I needed a subject that they could all relate to – young or old, straight or gay, uptown or downtown. I looked around and I saw the church. And that was the birth of the idea. And that gave us that great cathedral sound of the chorus – then the rest, the funny lyrics, and the video and bringing in Ninja Man, it just came. So the idea, something that you know that is going to touch people, kind of transcends into this huge success of a song.
What does copyright mean to you as a working musician?
For me copyright law in Jamaica is extremely important. I mean, it is what you could call our "pension," which is what we have been lacking within the reggae fraternity, in my opinion.
You know, the first time that a copyright law was implemented in Jamaica was around 1993. For an island that survives off its music and its culture, it should have been long before. When I look at so many great artists from Jamaica whose recordings are owned by other people, and probably licensed out by other people, and they get nothing for it, well that saddens me. For the government to set in place certain laws that protect these artists and create our pension - that's the best we could ask for.
What, for you, has been the impact of illegal downloading?
We all are affected by illegal downloading. With technology, music is free. That is the harsh reality of it. But what download does do, is it makes it better for the consumer. I mean, how many times have you bought an album for one song and then when you listen to the rest of the album you hate it? With downloading you could listen before you buy it, - it's a dream for a consumer.
How about the effect on the artist when people download for free instead of buying the records?
If you're an artist that makes great records, you're still going to make great records. You won't make a lot of money from them, but you can have a career. One thing you cannot take away is the live performance aspect. So it can actually force the artist not to just be a studio artist, but to be an incredible live artist - to up the notch. The biggest losers are the record companies.
Though lower record sales also mean less money to invest in new artists?
You can't blame that all on downloading. It started a long time ago – when the corporations started owning the record labels. There are no labels owned by music moguls now – no Chris Blackwells2. Remember, Chris Blackwell believed enough in Bob Marley to stick with him until he had a hit –that was only after seven albums! It would be hard to sell that now to a bunch of accountants on a company board.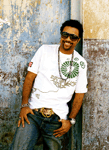 Shaggy – introduced by Jamaica's Minister of Culture, Mrs. Olivia Grange, as a highly professional artist "who is very special to us in Jamaica."
You were suggesting that artists have to find a new approach? To stop thinking mainly in terms of record sales?
If you have a ton of hits you're somebody - even if you didn't get paid for them. You're a brand, a force to be reckoned with. That is worth something. People were surprised when Prince gave away a million records through a newspaper. He knew why he did it. That and 21 nights in England - all sold out. He is using the
record as a promotional tool, promoting his "brand." Madonna is doing the same. Robbie Williams is doing the same. We've seen a lot more artists who are using the music as a marketing tool.
I think more artists are going to be moving, like Beyonce, from not just being artists but being celebrities. It is depressing to think that you can't just make a great composition and that be it. Unless you make that hit work for you - make some deals that can sell sneakers, cologne, clothing lines, whatever else - then that record isn't going to make a big profit for you because the profit margin is just so diluted at this point.
That works if you're already successful. But what about the kind of hurdles faced by new talent?
As a young artist you don't have much of a choice. You're nobody if you have no hits. That's just how it is! First you have to get so as you are in a bargaining position. So the main thing for a young artist right now is to somehow get their name out there, become a household name, because you have nothing to lose, so ride the wave, get to a point where you can then make some choices.
__________________
1. Dancehall, or ragga, is a derivative of reggae that developed in Jamaica in the 1970s. It is characterized by a DJ rapping (or "toasting") over raw, danceable, electronic "riddims."
2. Chris Blackwell, who founded Island Records in 1959, is largely credited with bringing reggae to international audiences. He signed Bob Marley in 1971.
WIPO International Conference on IP and the Creative Industries
Shaggy was among 20 guest speakers at the WIPO conference on October 29 to 30, who presented wide-ranging perspectives on the role of IP in the creative industries.
Following key-note statements by the ministers of culture from Lebanon, Jamaica and Nigeria, speakers addressed topics such as: the evolution of the creative industries in the digital environment, including protecting online content and collective management; best practices in the use of IP by innovative businesses in the music, book, film and online games industries; and measurement issues, including cultural economics as a tool for analysis, the creativity index and WIPO's experience in assessing the economic contribution of the creative industries.
 By Elizabeth March, WIPO Magazine Editor, Communications and Public Outreach Division.
Related Links
The WIPO Magazine is intended to help broaden public understanding of intellectual property and of WIPO's work, and is not an official document of WIPO. The designations employed and the presentation of material throughout this publication do not imply the expression of any opinion whatsoever on the part of WIPO concerning the legal status of any country, territory or area or of its authorities, or concerning the delimitation of its frontiers or boundaries. This publication is not intended to reflect the views of the Member States or the WIPO Secretariat. The mention of specific companies or products of manufacturers does not imply that they are endorsed or recommended by WIPO in preference to others of a similar nature that are not mentioned.