Celebrating the Role of Indigenous Women in Innovation and Creativity
March 8, 2021
The United Nations (UN) International Women's Day is a time to celebrate the tremendous accomplishments of women across the globe. It is also a time to recognize the need to further empower women everywhere in order to achieve a more sustainable and gender-equal future. WIPO's Traditional Knowledge Division strives to develop new and exciting capacity-building programs, which aim to unlock the creative and innovative potential of the world's indigenous women.
Across all sectors, communities and societies, women's leadership has a positive impact. However, according to a report by the UN Secretary General, women remain underrepresented in public life and decision-making. Indigenous women are even more marginalized in this regard, facing additional challenges in having their voices heard.
The theme for the International Women's Day 2021 is "Women in leadership: Achieving an equal future in a COVID-19 world, on the way to the Generation Equality Forum." In celebration of this year's theme, we would like to share some of the ways in which the Traditional Knowledge Division is working to empower indigenous women.
Supporting indigenous women entrepreneurs
In 2019, the Traditional Knowledge Division launched a practical training and mentoring program targeting indigenous women entrepreneurs with projects based on traditional knowledge and traditional cultural expressions. The WIPO Training and Mentoring Program for Indigenous Women Entrepreneurs supports indigenous women entrepreneurs by strengthening their capacity to make strategic and effective use of intellectual property (IP) rights.
The first round of the program received hundreds of applications from interested candidates. Out of these applicants, 24 indigenous women entrepreneurs were selected, including artisans, designers, performing artists, researchers, healers and small-scale farmers.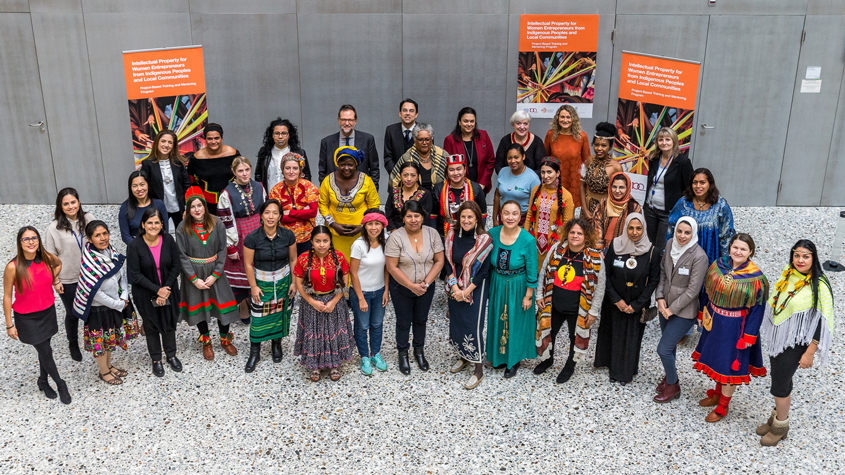 While the goal of the program is for indigenous women entrepreneurs to learn how to apply IP rights in the context of their projects, the long-term benefits are even greater. Since the training phase is conducted in a group format, the participants are able to form long-lasting bonds and provide each other support in overcoming their challenges through shared experiences.
Harnessing the power of our Indigenous Fellows
Launched in 2009, the WIPO Indigenous Fellowship Program is part of a series of WIPO initiatives seeking to involve indigenous peoples and local communities (IPLCs) in the work carried out by the organization on matters that are relevant to them. The fellows support WIPO in fostering legal expertise and skills within IPLCs.
Anna Sinkevich, our WIPO Indigenous Fellow 2020-2021, is using her fellowship to help strengthen the IP capacity of IPLCs around the world. Anna is an Evenki from Krasnoyarsk, Russian Federation, with an interest in the youth movement of indigenous peoples in her country. For her, the development of indigenous youth's capacities, and protection of traditional knowledge and the promotion of human rights go hand in hand.
The youth are the future of our people. If we are together and connected, we can move forward and our cultures and traditions can be transmitted to future generations.

Anna Sinkevich
Anna undertakes activities related to WIPO's cooperation with, for example, the UN Permanent Forum on Indigenous Issues and the Expert Mechanism on the Rights of Indigenous Peoples.
As a young, indigenous women, Anna is an asset to the Indigenous Fellowship Program. When it comes to our efforts to further engage IPLCs in the work we do, the perspective fellows like her bring to the organization is invaluable.
Looking for more information on WIPO's work?