Ciari Guitars is the USA based company behind the Ascender, the first travel friendly guitar that folds down mid-neck to fit into carry-on luggage or under-seat as a personal item.
Jonathan is an intellectual property (IP) lawyer who specializes in medical devices; he considers his job the opposite of school because he gets paid to learn about new things from leading experts all over the country. He came into IP by accident, introduced to it by a friend while he was studying engineering. After finishing his engineering degree he went on to study law and has been learning and tinkering with products ever since.
As well as being a CEO and a father, he has an IP strategy consulting business; "I don't think I have ever worked harder, but I have never had so much fun before," says Jonathan when discussing his regular 5 am starts.
What is a travel guitar?
The Ascender is a travel guitar that folds mid-neck so that it can fit into a backpack small enough to fit under the seat on a commercial airplane. The mechanism releases the tension of the strings to enable folding and then returns the strings to full tension when it is unfolded so it is almost immediately playable with minimal tuning.
A patent idea unfolds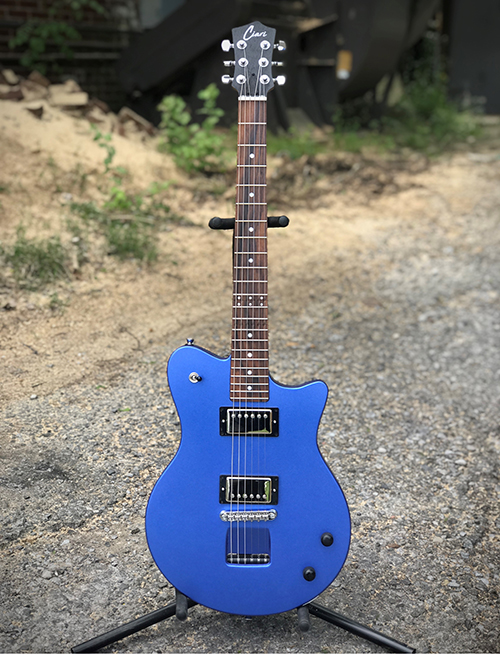 A problem Jonathan had when he had to travel all across the USA for work is what inspired the Ascender. His guitar travelled everywhere with him for work as well as a mental health tool, "Playing my guitar for a few minutes is more energizing than a nap for me." Due to the size of most guitars, they need to be checked baggage. When you are as attached to your guitar as Jonathan is, handing over a prized possession to strangers can be stressful. He thought to himself, "There has to be a better way to travel with a guitar." He went on to follow the advice that he gave all of his clients, "If you don't like your options, make what you want, maybe someone else will want it too."
Patent Search - a top priority as part of research and development
Jonathan started with a patent search before investing any time into the idea of a travel-friendly guitar. When he could not find anything similar, he started designing a prototype with the help of engineers and luthiers - master guitar makers - and founded Ciari Guitars.
It was important that the mechanism to downsize the guitar not affect the quality and overall look of the guitar. When the Ascender folds down it fits in a bag, but from the front, it looks like a normal electric guitar. In the back there is a window in the body so you can see all of the inner workings, "I wanted it to be like a high-end watch, also the mechanism is just cool."
"The degree to which it comes back in tune like that, it was totally by accident. It was something we had never anticipated or hoped for, but it has been a really nice surprise. I have to give credit to the amazing engineers we work with, because they made a super robust mechanism."
International Patent protection with the Patent Cooperation Treaty
Ciari now holds 6 US patents, has filed 4 international patent applications under the Patent Cooperation Treaty (PCT), 4 US provisional patent applications, and has 8 US non-provisional patent applications pending, "Filing for patents is something I like to do on the weekends." The folding guitar is not the first invention that Jonathan made. He has 23 US patents to his credit, ranging from innovations for cardiac surgery, spine surgery, anchor surveillance and, most recently, an in-airport guitar lounge called the Music Oasis™.
Ciari Guitars - A Family Affair
When asked about what kind of share in the business Remi, now ten years old, owns, the connection cut out, but we are certain she is fairly treated at Ciari Guitars.
What's the reason for choosing "the Ascender" as a trademark?
Jonathan chose the name the Ascender because using a travel guitar usually means you are going up in the air, as well as suggesting self-improvement as you can now practice guitar wherever you go, "Also it rhymes with Fender, Ok, I'm just teasing, it is a fun name."
A growing guitar manufacturer with roots in the Music City
Ciari Guitars currently has five full time staff and works with many consultants and contractors for advice and assistance on a variety of fronts. All of the guitars are built in Nashville, Tennessee – a city with a long history of guitar obsession – where Jonathan works closely with leading luthiers such as Joe Glaser, who has built and repaired guitars for rock and country legends alike.
In-Airport Guitar Lounge and new Travel Guitars in the making
Jonathan is not done with innovating. He is in the process of developing the Music Oasis™, an in-airport guitar lounge, where passengers can pick up a guitar and headphones to relax while they wait for their flight, as well as purchase musical instruments and related accessories. Their first kiosk will be installed in San Diego airport, with a potential for in-airport concerts where passengers can listen in to a session with headphones – like a silent disco.
As for new products, a carbon fiber acoustic travel guitar is in development and many Ciari Guitar fans will rejoice to find out that a bass guitar is scheduled for development. Jonathan can no longer hold off the many requests for one, the first of which came from Sinbad the comedian, an avid bass player who Jonathan grew up watching.
He is optimistic for the future of Ciari Guitars and guitars in general, "Because of the pandemic, people have had more time on their hands, so the number of people playing guitar has increased." Most guitar players own more than one guitar, "We don't want to replace someone's guitar, we want our product to be part of their collection."
A "Kool" Experience – From Patent to Performances
What started as a patent-focused journey has now transitioned to performances, such as the recent Kool & The Gang concert for 10K+ adoring fans at the Rady Shell at Jacobs Park in San Diego. The band featured not one but two Ascenders – an original Ascender Custom (launched July 2019 – white guitar shown below) and the all-new Ascender Standard (launched June 2022 – black guitar shown below). "It's hard to put into words, the joy of seeing something that started as an idea – based on a frustration – come to life on stage and bring people together through music," reflected Jonathan. "It's one of the most moving experiences of my life."