R&D-led Expansion in a Competitive Market
Name: Laboratorios Sophia S.A. de C.V.
Country / Territory: Mexico
IP right(s): Patents, Trademarks
Date of publication: July 28, 2009
Last update: July 11, 2012
Background
"Laboratorios Sophia" is a Mexican pharmaceutical company based in Guadalajara. It was founded in 1946 by Mr. Pablo Jiménez Camarena who named it "Sophia", after the name of his mother. The company now owned and managed by his son, Mr. Arturo Jiménez Bayardo, specializes in the development, manufacture and distribution of ophthalmological drugs.
Its most famous products include "Manzanilla Sophia®", a natural, purified and sterile solution that cleanses, refreshes and invigorates tired eyes, and "Modusik-A Ofteno®", an aqueous solution of cyclosporine-A for treating dry eyes.
Research and Development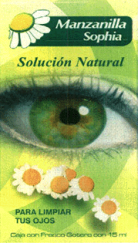 "Sophia" and the figurative elements above are registered trademarks in Mexico (marcanet.impi.gob.mx)
Laboratorios Sophia invests heavily in research and development (R&D), continually seeking to improve its processes, products and services. The company's top managers are convinced that the R&D which results in new, complementing product lines and enables entry into new markets is fundamental to the organization's survival.
Since 1991, the company's R&D department has striven to research and develop leading technologies in the ophthalmic sector, and to provide health and well-being for the human eye by covering the needs and expectations of doctors and patients.
Laboratorios Sophia has an R&D laboratory with areas designed for physicists and chemists, analytical instruments, microbiology, a storage area for samples as well as one for incubators, and a laminar flow room. It also has a team of analysts using high technology such as chromatographs for liquids and gases, spectrum photometers for ultra-violet and infra-red light, and differential scanning calorimeters.
The company's technology management model consists of different process stages starting with the identification of technological requirements and the subsequent selection of development projects. Once a project is approved, it undergoes the acquisition or development stage, during which work schedules are drawn up, and representatives and deadlines assigned.
After project completion, the next step is to launch the project or technology, exploiting it in the marketplace through appropriate marketing and sales strategies. Intellectual property (IP) protection for the research results is provided as the project advances and information is generated, via the registration of trademarks, patents, slogans, and promotional product designs.
Patents and Using Patent Information
Among the successes achieved by the R&D department is a novel system for transporting ophthalmic drugs (the "Sophisen®" drug carrier for ophthalmic application), which, in addition to improving the active ingredients' delivery and effectiveness, has the particular feature of minimizing burning sensation when applying ophthalmic solutions to the eye.
The development of Sophisen and its application in globally innovative ophthalmic products has allowed Laboratorios Sophia to become a leading actor in the ophthalmological market. Patents for Sophisen were granted in Mexico, the United States, Germany, and several other European countries via an application through the European Patent Office.
In addition, Laboratorios Sophia has filed and been granted several international patents, all of them for products in the field of ophthalmological medicine.
The organization's researchers monitor all new product developments in their scientific field by searching databases containing the latest technological information (such as patent databases). Laboratorios Sophia staff benefit from frequent training courses on industrial property issues, helping them better understand how to conduct patent searches and how to protect new products they develop.

"Sophia" is a registered trademark in Mexico and abroad (marcanet.impi.gob.mx)
Licensing
In 2006, Laboratorios Sophia granted an exclusive United States license to Florida-based Sirion Therapeutics, allowing it to develop and market a unique solution with the active ingredient cyclosporine-A for ophthalmic use employing the Sophisen ocular delivery system.
Trademarks
Laboratorios Sophia has registered Sophia® as a trademark both in Mexico and abroad. It also protects the names of specific technologies (e.g., Sophisen) and products ("Dexafrin Ofteno", "Modusik-A Ofteno", etc.) through national and international trademark registrations.
Business Results
The results of the research carried out by Laboratorios Sophia have earned the company a number of prizes including the National Technology Prize, the CONACYT national technological enterprise culture award, the innovation marketing prize from the Guadalajaran enterprise and marketing association, the CANIFARMA prize for its research work and technological innovation, and a trophy and a certificate from the World Intellectual Property Organization, which is awarded to innovative companies that use the industrial property system and place their inventions at the service of humanity.
With more than 60 products in distribution, Laboratorios Sophia is a leading ophthalmological company present in more than a dozen countries on the American continent and employer of over 500 people. In the domestic market, it is the main actor with a market share of well over 30%. Its main export markets include Central America, South America, the Caribbean, as well as certain countries in Europe.
In 2008, it started producing in a brand new US$ 55 million plant outside Guadalajara complying with the strict United States Federal Drug Administration (FDA) norms, allowing it to eventually extend its market to the United States.
Focus on Intangibles as a Company Strategy
The most important success factor of Laboratorios Sophia is its constant focus on well managed R&D and the protection of the results. The international protection of its intellectual property rights (patents and trademarks) ensures a competitive edge in the marketplace.
This case study is based on information from: