Devising a Smart Business Strategy
Name: ITL Limited
Country / Territory: Australia
IP right(s): Patents, Trademarks
Date of publication: July 23, 2010
Last update: September 16, 2015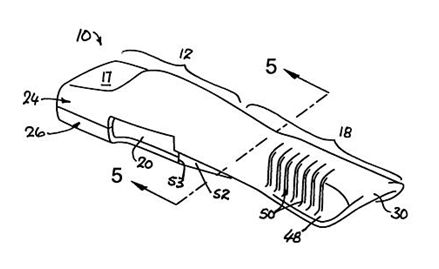 ITL's Needle guard and assembly as submitted in the PCT Application PCT/AU1998/000752 (PATENTSCOPE® search)
Background
Bill Mobbs and Jag Dillon were enrolled in an MBA program when they came up with the idea of establishing an innovative, technology-based business. Mobbs was a computer consultant and Dillon a research scientist and official in the Therapeutic Goods Administration in Australia. They anticipated their business to be global, innovative and protectable, targeting a niche market. Established in Canberra, Australia in 1994, the name ITL was chosen to represent the characteristics of the company, namely Innovation, Technology, and Licensing. It was changed later and now ITL stands for Innovating Technologies for Life.
Like many businesses, the initial focus of ITL Limited, was on identifying the right products. During the early 1990s, the risk of AIDS and Hepatitis C infection was receiving global attention. Healthcare professionals and blood collection agencies such as the Red Cross were particularly concerned with the risk of accidental infection, given that they were dealing with needle devices (syringes and blood collection needles) in their regular work. ITL was quick to realize that there was a growing need for a new product – a container where blood collection needles could safely be stored upon withdrawal from the donor, thus minimizing the risk of needle injury and infection.
It was only a matter of time for ITL to turn into a full-fledged global business involved in innovating, designing, manufacturing and commercializing medical devices and healthcare products. Over the years, ITL has grown from a small privately owned research and development venture into a multi-million dollar, publicly listed company manufacturing and supplying products in the Australian and global healthcare markets.
Financing
Initially, ITL relied upon a number of sources for its working capital. These sources included founder's equity, investors' equity and concessional loan and grants from the Australian government.
The third source made significant contribution to ITL's working capital needs, and in its ability to pursue international marketing strategies. Many such schemes focus on industries with protectable intellectual property (IP), and industries with export potential. ITL was able to demonstrate its potential in both sectors, which facilitated the firm to gain confidence and enthusiastic support from these schemes.
IP Management
While developing the container for storing blood collection needles, the company engaged a designer to implement ITL's design concept and ideas. Since the designer was working as an individual contractor and not as an employee of ITL, one of the primary questions that the company had to deal with was concerning the ownership of the IP of the product being developed.
An independent contractor owns the IP that the he or she creates. If ITL had done nothing about IP at this initial stage, the design of its product would have been owned by the designer, while the patent over it may have been jointly owned by ITL and the designer. Patent laws in most countries prohibit a joint owner from licensing or assigning its interest in the patent without the consent of the other joint owner. If the joint owners are collaborators, they manage this joint ownership. However, in case that the joint owners are an independent contractor and its client, ownership sharing could impede the client's commercialization objectives. Sole ownership of a design's copyright resting with an independent contractor could similarly impede commercialization by the client.
In order to avoid these potential conflicts, ITL adopted a policy to secure the intellectual property rights (IPRs) within the company even when an individual contractor is creating the IP for ITL. Under ITL's contracting agreements, individual contractors are required to assign the IPRs of any creation (in the course of their engagement by ITL) to ITL. These agreements require the consent of the individual contractors on the following issues:
ITL's ownership of the IP created for it; and
the independent contractors are subject to ITL confidentiality obligations.
This ensures that ITL's commercialization objectives are not impeded by an independent contractor solely owning a critical piece of IP (such as the copyright in a design), or jointly owning some other critical piece of IP (such as a patent).
The implementation of this IP Policy also ensures that there are formal employment agreements in place between ITL and each of its employees, which provide for:
the ownership of IP created in the course of employment at ITL;
confidentiality obligations, including after the end of employment; and
restrictions aimed at ensuring that employees do not use ITL's IP and confidential information should they become employed by ITL's competitors, or should they decide to commence a competitive business.
Patents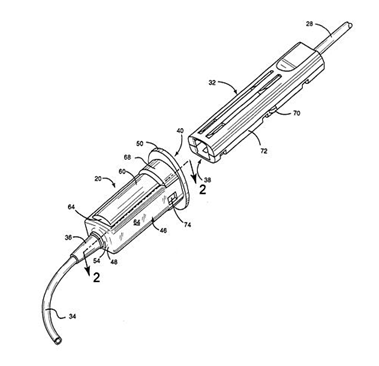 Apparatus for guarding needles in intravenous procedures, submitted in the PCT Application PCT/AU1999/000598 (PATENTSCOPE® search)
In 1994 ITL applied for its first utility model (now called "innovation patent" in Australia) over its first product, the DonorCare® Needleguard, which was later converted to a standard patent.
The DonorCare® product is a vessel with a unique design into which blood collection needles are retracted upon withdrawal from a blood donor. The patent was critical, particularly because ITL soon found competitors entering into the market with similar products. The patent protection, however, ensured that competitors' products could not match the superior design and functional characteristics of ITL's product, allowing it to stay ahead of its competitors and to discourage and deter infringers.
At present ITL has over 100 patents granted in some 12 patent families.
Trademarks
Along with the patent, DonorCare is a registered trademark of ITL, which ensures product recognition. Potential customers need to be aware of the product, and to recognize ITL products over any competing product. Such trademark branding of ITL products facilitated in generating loyalty, confidence and preference among blood collection agencies. With new products coming out gradually, ITL now has 11 trademarks registered in over 25 countries.
ITL's trademarks have enabled it to leverage off its patents. If ITL patented every product in every country, and registered every trademark in every country, it would have been a prohibitively expensive process. ITL's strategy has been to patent in its major market countries for product protection, and to trademark in a greater number of countries for product recognition.
This dual strategy of product protection and product recognition complement each other. In this way, the trademarks in countries where there are no granted patents leverage off the patents granted in other countries. This is a clever use of two different IP assets.
R&D and Invention
Since the company's inception, ITL's innovation has been underpinned by a dedicated research and development capability. The company's new product development programs are driven by the identification and satisfaction of unmet customer needs validated through market research and engagement with key customer groups. The company's in-house new product development capabilities include product design, rapid prototype development, injection molding, tool making, testing and validation, regulatory and compliance, manufacturing, assembly and packaging. ITL applies these capabilities both to the development of new products it markets and as a contract design and manufacturing service.
ITL's product range now extends beyond the DonorCare needle protector, for example, to the Platypus® needle protector, the Bladeguard™ stitch cutter, and the SampLok®, which creates a vacuum for blood collection. All of these products are protected by patents and trademarks.
Partnerships and Licensing
ITL's business strategy initially did not grant patent licenses, a decision which was based on the assumption that the company would generate greater financial returns if it sold its products by itself, because sales margins would be greater than royalties earned through a license. ITL decided that instead of licensing its IP, it would outsource manufacturing, purchase products from its contract manufacturers, and sell its products to its customers.
However, within a few years, the lack of consistent and reliable manufacturing contractors prompted ITL to take control of that part of its business. Consequently, ITL set up manufacturing facilities in Ipoh, Malaysia. The manufacturing facility now employs over 130 staff, and is the facility from which almost all its manufacturing takes place.
With its own manufacturing and tool making capability, ITL's business expansion has included:
1. licensing innovative products of others and manufacturing and selling those products, which ITL has done for its Leukocart™ and Baby Leukocart™ products, which are leuko depletion workstations;
2. manufacturing mould tools for other clients; and
3. contract manufacturing for other clients.
Environment
ITL takes a responsible approach to voluntarily protecting the environment by implementing a scalable environmental management system to prevent pollution of the environment and that complies with relevant country's regulatory and legal requirements throughout its product realization process.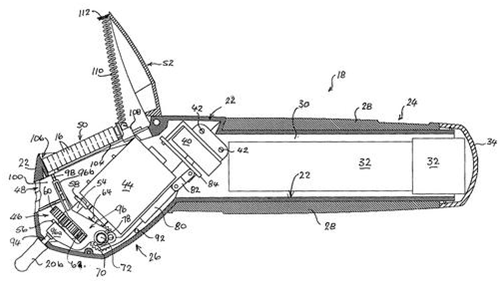 A powered hand-held device for use in stripping blood-lines (PCT Application PCT/AU2001/001400 - PATENTSCOPE® search)
Business Results
Since 1994, ITL Limited has grown from a company with two founders and no staff to a company of over 150 staff in four countries. The company revenues have grown year on year to the present US$ 43.8 million. It has some 20 staff in Australia, over 130 staff in Malaysia, and marketing staff in the United States and the United Kingdom. ITL's products are in over 35 countries and protect the lives and well-being of millions of healthcare workers. Along with the plant in Malaysia, ITL also has a manufacturing facility located in Melbourne which manufactures procedure kits for operating rooms and other target health care markets.
In 2003, ITL made a major acquisition by purchasing Surgicare, a company that had been operating for 25 years and enjoyed a high market share in customized procedure packs for various medical applications. ITL also acquired CWP Design, an industrial design company. This acquisition resulted in an integrated design-development-manufacture-market service. ITL was granted listing on the Australian Stock Exchange in 2004.
Since the launch of the first product, the DonorCare Needleguard in 1996, ITL has consistently been recognized for the quality and innovation of its products, with over 250 million sold. ITL has been the recipient of a number of awards: the 2002 ACT R&D Award, the 2000 Australian Design Mark - Platypus® Needle Guard, the 1999 ACT OH&S Overall Outstanding Award - Platypus® Needle Guard, the 1998 ACT "Emerging Exporter" Award, the 1997 Australian Design Award - DonorCare Needle Guard, the 1997 ACT OH&S Prevention Award - DonorCare Needle Guard,as well as National Finalist for the 1998 Australian Export Award and Runner Up for the 1998/99 Australian Design Award -LeeSpec® Disposable Speculum.
The Key Success Factor: Devising a Strong IP-Based Business Strategy
The success of ITL lies in devising a business strategy based on IP. ITL ensured that it owns the IP of the products upon which its business relies and developed a mechanism for leveraging its patents and trademarks. Within a very short time, ITL has established itself as a leader in designing and manufacturing innovative medical devices and procedure packs for global healthcare markets.
This case study is based on information from: