Founded by Eric Li in 1986, Geely started its entrepreneurial expedition as a refrigerator parts manufacturer under the name of Huangyan Refrigerator Parts. Over the following years, it transitioned into producing refrigerators, freezers, and construction and decorative materials.
In 1994, Huangyan Huatian Motorcycles Factory, the predecessor of Geely, was established and the Chinese trademark "吉利" (Geely in Chinese) was registered. The company eventually entered the automotive industry in 1997. Throughout its transformation, Geely has successfully managed a growing intellectual property (IP) portfolio, registering trademarks in advance, while promoting the transformation and upgrading of the company for the last decades.
In 1998, the company launched its first self-developed vehicle. A few years later, Geely began to expand internationally and to subsequently establish joint ventures and acquire other automobile businesses, thereby creating a large and diversified portfolio.
Today, Geely owns several automotive brands, including Geely Auto, Lynk & Co, Geometry, Volvo Cars, Polestar, Proton Cars, Lotus and London Electric Vehicle Company. In addition, Geely has transformed into a global innovative technology group, combining different business sectors such as mobility services, digital technology, financial services, and education.
Geely Holding has been listed among the Fortune Global 500 since 2012, with assets totaling over 480 billion RMB (60 billion EUR or 75 billion USD), and with more than 120,000 employees globally.
Innovation and social responsibility: fundamental pillars to the Chinese automobile manufacturer
Geely has been developing innovative technologies in several fields, including renewable energy, shared mobility, autonomous driving, vehicle microchips, low orbit satellites and laser communication. In doing so, the company has been laying the foundations for future multi-dimensional and ecological mobility.
The group has also established social responsibility programs, working towards the development of sustainable vehicles and green factories, and raising awareness of the need for environmental protection. As part of this, the Chinese company has increased its investment in technological innovation, especially in the areas of powertrain technology, in-car air quality, vehicle safety and new energy strategy. All car brands under Geely have committed to the electrification of their vehicles, with additional focus on the development of gas-electric hybrid and plug-in hybrid technologies.
Research into new and more sustainable products, all in an environment of fast international economic development, makes easy update and management of international trademark registrations a must. Geely relies on WIPO's Madrid System to explore all its options regarding international IP protection and layout strategies.
The benefits of the WIPO Madrid System to Geely
Geely always adheres to the corporate vision "Take Geely to the World". Geely has realized that its long-term and stable development and expansion are inseparable from IP protection. If Geely can efficiently protect its IP, then the future of the company can be assured.
That is why Geely pays very close attention to the protection and management of self-owned brands. Since its foundation, the number of domestic Chinese trademark applications has reached 7,803, 4,861 of which are registered trademarks.
In line with the development of overseas business and market expansion, Geely has needed to register trademarks internationally in over 130 countries. 51 international registrations have been granted via the Madrid System. Geely has always attached great importance to trademark protection, and firmly believes that brands and logos play a fundamental role in how a company presents itself to the world.
The first international application filed by Geely was for "GEELY with device" on February 28, 2005. Taking advantage of the Madrid System, Geely efficiently extended its geographical scope of protection, while benefitting from reduced costs and simplified procedures for trademark applications and convenient portfolio management. What's more, the Madrid System allows the registration of defensive trademarks, which has helped Geely to protect their brands even before they expand into new markets.
Geely and the WIPO Madrid System in practice
GEOMETRY® (WIPO International Registration No. 1512790)
On December 9, 2020, Geely and Union Group reached a Strategic Cooperation Agreement for the exportation of Geely new-energy car models to Israel, an agreement that marks Geely's GEOMETRY brand expansion into the overseas market.
"GEOMETRY" is an emerging new-energy auto brand targeted at the global market by Geely, which needs to be protected similarly in diverse countries. The international protection of a trademark in several countries can often be expensive and lead to complicated filing procedures that are time and budget consuming. The Madrid System helped Geely cut the registration costs of "GEOMETRY" in half, while facilitating registration in multiple countries through one application filed in one language. Currently, "GEOMETRY" has been filed in 97 countries and regions via the Madrid System, including the European Union, the United States of America, the Republic of Korea, Israel and the Russian Federation.
Objective: Take Geely to the World
Geely's corporate mission is to "Align strategies, drive change, and create value", which is why it is committed to a sustainable development strategy together with up and downstream partners. To transform and improve the global automotive industry and create mobility experiences that make an impact, international IP protection plays an undisputable role as a necessary requirement to act globally.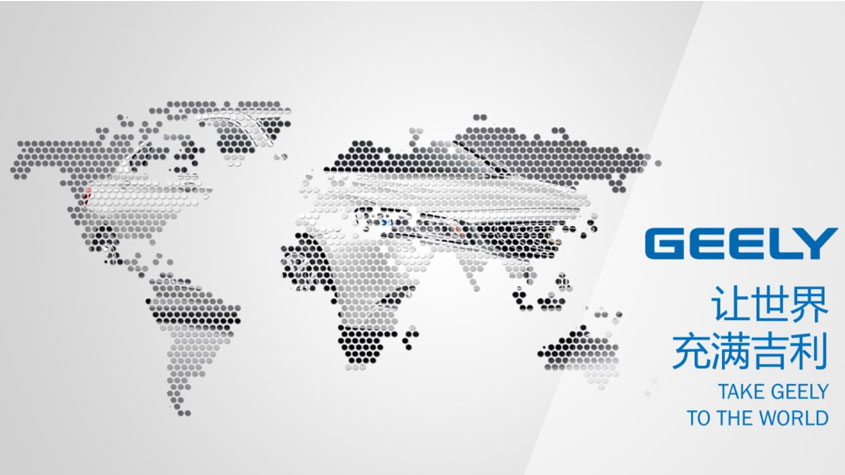 Geely, along with its partners, continues to successfully grow and bring its innovative products to new markets with the help of the Madrid System.