Annual Course on IP Asset Management for Business Professionals
November 5, 2018
A four-day face-to-face training course on intellectual property (IP) management for business managers and professionals was held in Seoul, Republic of Korea from October 23 to 26, 2018. The training course was jointly organized by the WIPO Academy, the Korea Invention Promotion Association (KIPA), the Korean Intellectual Property Office (KIPO) and the Korea Advanced Institute of Science and Technology (KAIST).
About the participants
46 IP managers and professionals, 31 of whom were women, from 27 developing and least developed countries participated in the ninth edition of the blended training course. The number of participants in 2018 increased by 50% to meet the high level of demand for the training course.
Three participants were rising talents from the L'Oréal-UNESCO For Women in Science Programme who participated in the Academy's previous training on IP and the Life Sciences in March 2018. Dr. Areej Abuhammad from Jordan, Dr. Anna Kudryavtseva from Russia, and Professor Rafaela Salgado Ferreira from Brazil were invited to participate in the training course on intellectual property (IP) management so they can gain knowledge on how to commercialize their new inventions using the IP tools and information from the various lectures held in Seoul.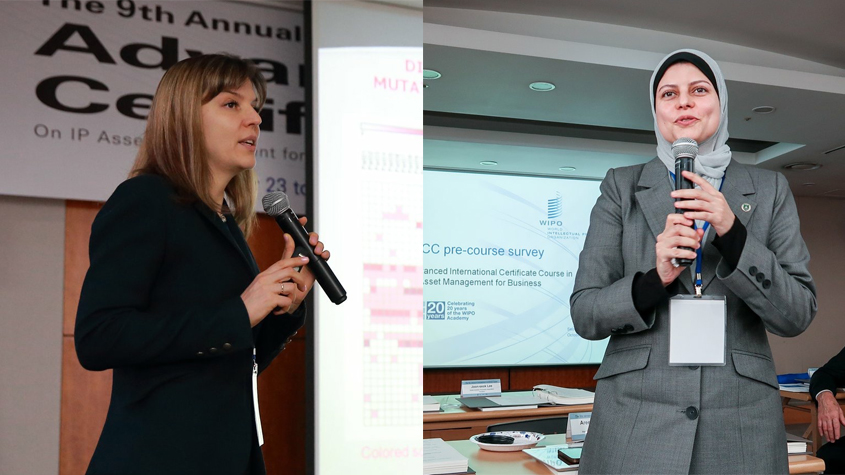 What did the training course cover?
The course started online with the joint WIPO/KIPO IP Panorama and the Advanced DL course on IP Management. This was followed by the face-to-face phase covering the latest international IP developments at WIPO and other international fora in the field of IP management. This year the training course also included for the first time topics on:
IP valuation
Intangible capital and the IP continuum
Open source licensing for economic development,
IP and the life sciences,
Case studies on patent portfolio management, and
A field visit to Samsung D'light
What our participants are saying
The participants had a very positive reaction to the training course:
The program was very enlightening; full of powerful and intellectually stimulating conversations. It is a brilliant idea to have participants from different backgrounds – academic, science & business worlds. This way, one gets to learn about IP from a holistic perspective

Ruth Wanja, Kenya
The AICC 2018 program was a great experience. It opened my eyes to the importance of IP in making business decisions. The lessons learnt and the knowledge acquired will help me advise businesses, especially start-ups to shortcut their business growth. The networking opportunities were great too.

Ayokunle Adetula, Nigeria
This training far exceeded my expectation as it allowed me to step out of my IP shell in Jamaica into a real life experience of what it means to innovate (and grow economically). I walk away from this experience with a greater appreciation for IP licensing, IP valuation and the impact of IP on economic growth.

Cecelia Waugh-Hall, Jamaica
I enjoyed all the lectures, discussions, mini-games and interactions with the lecturers and participants. I will always treasure the networks and memories built up over the past four days of the face-to-face component of the AICC in Seoul.

Lee Yew Kok, Singapore
Find out more