IT Technical Division
The IT Technical Division is responsible for ensuring the maintenance, development and secure operations of the Organization's ICT infrastructure hosting all of WIPO's internal and outward facing business systems. The Division is also responsible for supporting the desktop infrastructure, network and IP telephony services, audio-video systems deployed in the conference halls and meeting rooms, as well as the provision of the Service Desk services.
Our activities include:
Providing secure and highly available ICT infrastructure platforms (servers, backup, storage, database) for the Organization's critical business systems
Providing application integration services to the different business sectors
Supporting audio-video systems deployed in the different conference rooms and large meeting rooms
Supporting end-user facilities such as desktops, IP telephony, e-mail, mobile and network facilities
Providing Service Desk services
Further details available in the latest Program and Budget Report.
Management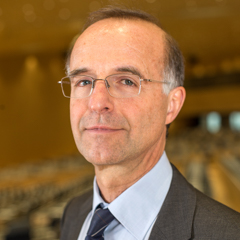 Director: MAKADI András
Program 25: Information and Communication Technology
Reporting to: KALEJS Karl