Oaxacanita Chocolate: Reviving Indigenous Mixtec cocoa traditions
The act of drinking a spicy chocolate beverage has been an integral part of Mexican culture for centuries. Mixtec Codex Zouche-Nuttall legends dating back 800 years reflect the mystical connection that the peoples of Mexico have enjoyed with cocoa. The bitter chocolate drink, served cold in special cups (xicali) flavored with a variety of spices, was a popular beverage among the upper classes of Mesoamerican societies, but today, interest in the tradition is waning.
Based in Villa de Tamazulapan del Progreso in the Mixtec region of Mexico, the social enterprise Oaxacanita Chocolate embraces Mexico's rich cocoa culture and its associated traditional knowledge (TK). The company is working with Indigenous communities to revive these traditions while spurring the social, economic and environmental development in the state of Oaxaca.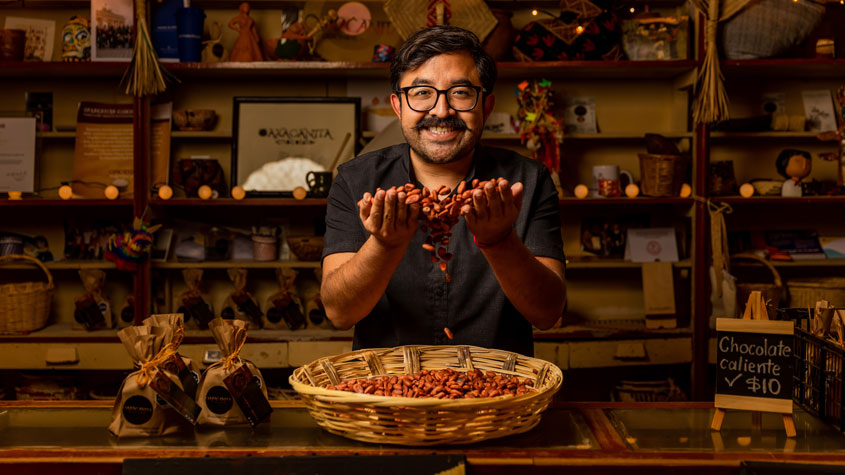 In Oaxaca's Mixtec region, cocoa drinking symbolizes unity and community at milestone social occasions, such as births, weddings and funerals. These culinary traditions and their unique connection with chocolate have been passed from one generation to another for centuries. "Our ancient Indigenous communities were among the first cultures in the world to use chocolate as a symbol of social union," says Germán Santillán, founder of Oaxacanita Chocolate. "Although ancient Mixtec traditions around how to grow, process and prepare cocoa are fading away, there is a profound love for cocoa in Mexico that is inspiring today's younger generation to revive their ancestral heritage," he explains. Santillán and his team are building on this renewed interest in traditional Mexican culture to revive the country's cocoa traditions.
Embracing the cocoa culture of Mexico
Santillán is committed to preserving Indigenous knowledge and is building a business that embraces the principles of fair trade and environmental sustainability in collaboration with local communities. "I teamed up with local Indigenous families in Oaxaca, and we began operations in an empty room in my grandmother's house. We started cultivating 20 cacao trees and now we have 5,000 under cultivation in five towns across the region," he says.
In 2022, the company sold over 2,000 kilograms of chocolate, working with 30 distributors and independent shops in nine states across Mexico, and expanding its online presence to Canada and the United States. Oaxacanita Chocolate is the first proudly Indigenous chocolate company in Mexico to form international alliances with organizations, such as the Inter-American Foundation and the US Government. "We have been working together exchanging Indigenous knowledge and connecting everyone in a chocolate production chain, and that is generating wellbeing and development in our region," Santillán explains.
Video: Founder of Oaxacanita Chocolate, Germán Santillán, talks about his work to revive the traditional chocolate-making techniques of Mexico's Mixtec region.
From the beginning of his entrepreneurial journey, Santillán has been committed to running a socially conscious business that taps into Mexican culture and empowers minorities. "I decided to become an entrepreneur because it was important for me to have a meaningful life and because of the deep love I have for my roots," he says.
Oaxacanita Chocolate works with 30 families living in the Oaxaca Mixtec communities, impacting more than 3,500 people from over 75 Indigenous and afro-communities, including cocoa farmers, cooks, and palm artisans (who create the packaging). "Our employees are mostly women. For some, it is their first opportunity to support their families financially," Santillán notes in a TED talk.
In 2021, the company won the Goula Award for the best Mexican food and beverage company with a social purpose. "You have no idea how excited I am to say that we have positioned ourselves above transnational companies through our work. Proudly Indigenous people have a lot to offer the world," noted Santillán in his acceptance speech at the Awards' ceremony.
Nurturing future generations of cocoa producers
Oaxacanita Chocolate has launched an educational program for children from vulnerable backgrounds in the Mixtec region. Known as La Escuelita del Cacao (Little Cocoa School), the program aims to promote traditional agricultural practices and train a new generation of cocoa farmers.
"Working with a community, for a community, has taught me that we can simultaneously preserve traditions, boost the local economy, and care for a product at a global scale," Santillán explains.
The company plans to expand La Escuelita del Cacao to other regions in Mexico in partnership with Unilever. The partnership aims to share "the joy of cocoa and chocolate with hundreds of kids." The United States Government, through its Young Leaders of the Americas Initiative, supports La Escuelita del Cacao. "With this program, we are empowering a new generation of guardians of the planet through chocolate," Santillán notes.
Germán Santillán has been named among the Top 10 of the Westerwelle Foundation Young Founders Programme as a representative of Latin American social entrepreneurship.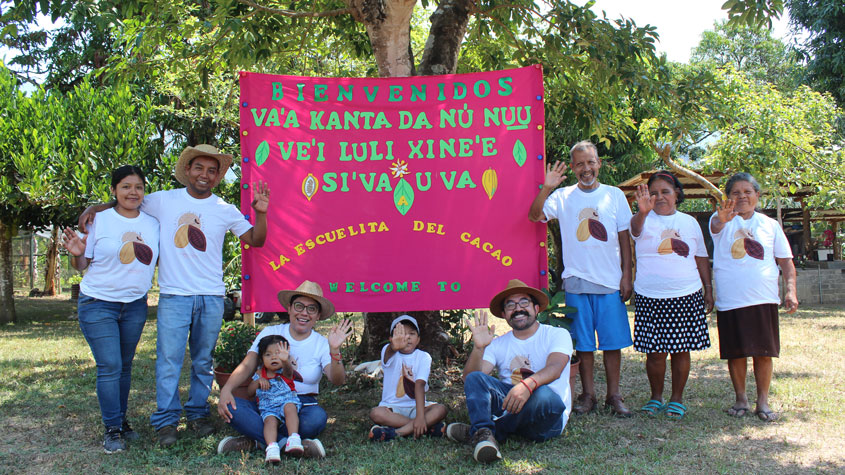 Traditional knowledge as an intellectual property asset
Building a brand that respects and embraces the traditions of Mexico's cocoa culture has been a priority for Santillán. "The priority of our business is to imprint a realistic value of the cocoa culture of the Indigenous communities of Oaxaca," he explains. "Our chocolates are round in shape, like a cookie. The round sphere dissolves in the hot milk making the richest hot chocolate drink you can imagine," he notes.
By demonstrating its appreciation for Indigenous knowledge, the company aims to inspire other businesses to support their local communities. "We are very proud and honored to collaborate with the families of our region who, for some incredible reason, thanks to our results and their flexibility, have found a light that creates a deep and proud sense of being part of the Mixtec community."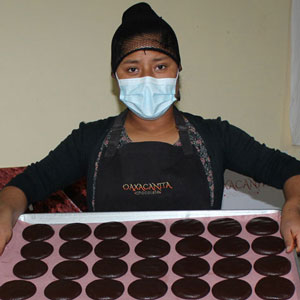 Intellectual property (IP) has played a significant role in Oaxacanita Chocolate's brand development. "The first thing we did in Oaxacanita Chocolate ̶ Oaxacanita means "the little girl of Oaxaca" in Zapotec-Spanish ̶ was to register the name of our brand. Then we opened our Facebook page where most of our marketing operations take place. That's where we make 80 percent of our total sales," Santillán explains.
Looking to the future, Oaxacanita Chocolate plans to promote its brand and increase its value in multiple markets beyond Mexico. Santillán has presented his company at TED Vancouver, Canada, the Westerwelle Foundation Annual Conference in Berlin, Germany, and the IX Summit of the Americas in California, USA. "Sharing our initiative and our work in the region is drawing attention to what is possible and will, hopefully, inspire others to replicate our model in other parts of the world and thereby strengthen the social, economic and cultural development of those rural communities," he says.
How is Oaxacanita chocolate produced?
Oaxacanita Chocolate has teamed up with cocoa farmers, traditional cooks and craftswomen in the Oaxaca region of Mexico. It produces traditional chocolate using a special process called tatemado. This Mexican roasting technique allows the cocoa beans to develop an intense flavor while making it easier to remove the husk from the bean. "Rocio, who is our roast master, knows the importance of tatemado. She makes the tatemado in clay pots (comales) and grinds it with cinnamon, almonds and cane sugar in stone mills. Finally, the hands of the traditional cooks shape the chocolate into spheres, in line with hygiene standards, ready for consumption," Santillán explains.
In working with Indigenous communities, Oaxacanita Chocolate has learned a wide range of regional recipes and has been able to create a faithful representation of this millenary tradition. "We make a hot chocolate that uses spices like cinnamon, and less sugar, creating a rich, smooth, and velvety flavor to warm people's hearts," Santillán says.
The company works with a range of local artisans to create the packaging for its chocolates. "We co-create different types of packaging, including woven baskets and clay cups with local artisans," Santillán notes.