Bhutan's YiGa Chocolate: How a six-minute cake recipe sparked business success
Advancing from a six-minute cake recipe to producing premium artisanal chocolate in Bhutan takes grit, determination and entrepreneurial creativity. That's how YiGa Chocolate's exciting business journey began. Setting up the company was the realization of Kinley Pelden and her daughter's ambitions to make chocolate and to start a craft chocolate-making business in Thimphu, Bhutan.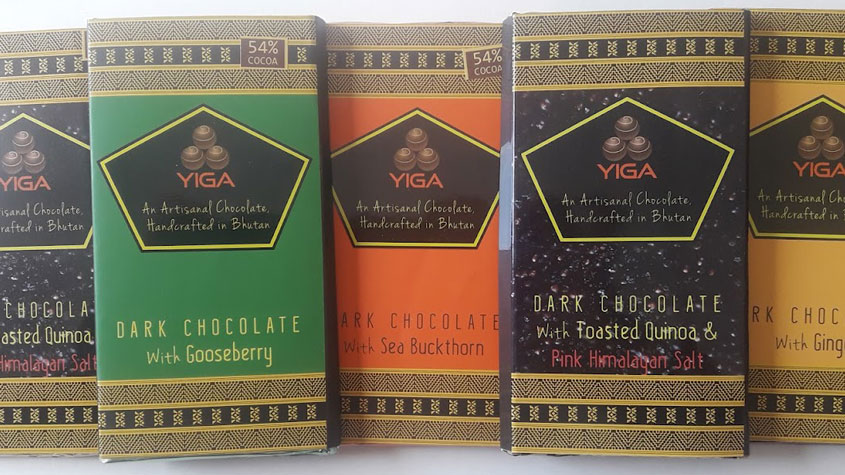 What began as an everyday task ─ baking a cake using a recipe Pelden had developed for her young daughter ─ and a suggestion from her daughter to try making chocolate using local ingredients, triggered a whirl of experiments. About three years later, Pelden set up YiGa Chocolate. The company now has four dedicated employees and an annual turnover of BTN 3 million (around USD 39,000).
Re-imagining chocolate in Bhutan
Pelden's first foray into chocolate making with her daughter involved using cocoa powder, milk and caramelized sugar. "It turned out delicious but remained gooey after three days in the freezer. Not satisfied with the outcome, I googled the basics and learned how to mold the compound chocolates normally used for confectionaries," she explains.
The whole process captured her imagination. Pelden became ever more curious and started exploring how to make fine chocolate adding popular Bhutanese wild and natural fruits, berries and spices to create super-healthy bars. YiGa Chocolate relies on a simple tempering process and the infusion of a unique blend of Bhutanese ingredients from local markets, such as chilli, sea buckthorn and walnuts from Thimphu, Bhutan's largest city; cardamom from the district of Tsirang, in southwest Bhutan; and gooseberry (amla), persimmon and citrus from Punakha in the west. Liquor from Bhutan is also used in some of the chocolates produced. The chocolate couverture and hazelnuts Pelden uses are imported.
After consulting widely to get her business idea off the ground and finding little interest, in April 2017, she decided to go it alone and began producing her own brand of local chocolate. This coincided with an emerging shift in the consumer landscape in favor of customized goods produced in small batches with minimal environmental impact and high social value, which presented significant opportunities for her company.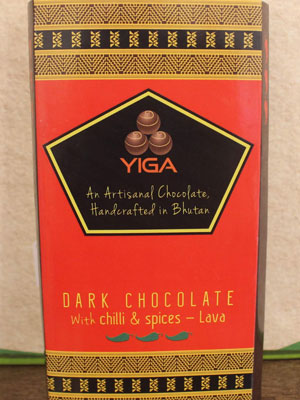 Pelden's business was rolled out with the support of Loden Foundation, a registered civil-society organization in Bhutan that promotes education, social entrepreneurship and Bhutan's culture and traditions. YiGa Chocolate received funding from the Loden-DHI (Druk Holding & Investment) Fund, which supports young Bhutanese entrepreneurs committed to building businesses around local Bhutanese cultural knowledge and ecological and ethical values. The Foundation provided Pelden with a BTN 500,000 (USD 6,000) loan. That was enough to cover the costs of a machine and basic equipment. Pelden's handcrafted range of fine chocolate, includes bars and truffles, as well as classic pralines and caraques.
We cater to the needs of chocolate connoisseurs and consumers who are mindful of food quality and the social and environmental implications of sourcing and processing chocolate.

Kinley Peldern, founder of YiGa Chocolate
YiGa Chocolate's local and global influence
By expanding the choice of high-quality chocolate for consumers, YiGa Chocolate is raising the profile and market value of Bhutanese chocolate, creating employment opportunities, and supporting local suppliers and retail businesses. YiGa Chocolate currently employs five people, including Pelden, and generates income for 10 suppliers. The company is also working with a distributor.
YiGa Chocolate has become very popular among tourists, Bhutanese travelers, travel agents and event managers. The company now sells its products in 15 retail outlets, including cafes, supermarkets, such as Chuniding Foods, and the departure area of Bhutan's Paro International Airport. The company also exports 20 tons of chocolate every year to retailers in Germany, the Republic of Korea and the United States.
YiGa Chocolate is strengthening its brand by making improvements to its packaging and strengthening its organic bean-to-bar process. The crème de la crème of the chocolate-making world, the bean-to-bar process means the chocolate makers make chocolate from scratch using raw cocoa beans, and control every step of the chocolate-making process. In the bean-to-bar process, artisanal chocolate makers clean, roast, crack, winnow and grind the cacao beans themselves, resulting in a more authentic product. Upgrading to bean-to-bar chocolate for the export market means intellectual property (IP) is now a central concern for YiGa Chocolate.
Video: As a pioneering artisanal chocolate-making company, YiGa Chocolate is gearing itself up for success in the global export market for confectionary products.
Protecting intellectual property to prepare for the future
As YiGa Chocolate expands its ability to export its products, protecting its logo, recipes and other designs has become increasingly important. Pelden filed an application for the YiGa Chocolate's trademark with the Department of Intellectual Property of Bhutan in 2018. The trademark is widely used on company's packaging, websites, stationary and social media platforms and allows consumers to easily identify and differentiate YiGa Chocolate's products from those of its competitors. By holding the rights to its IP assets, YiGa Chocolate can generate revenue through royalties and licensing.
Pelden's entrepreneurial talents were recognized in 2020, when she won the 2020 Annual National Women Entrepreneur of the Year Award from the Department of Cottage and Small Industry (DCSI) under the Ministry of Economic Affairs of Bhutan. The company's success and its approach to IP are opening doors for collaboration with other businesses. Since 2020, YiGa Chocolate has collaborated with Bhutan social enterprise Mountain Hazelnuts to produce a unique line of hazelnut confectionary. This collaboration is based on a shared commitment to achieving social and environmental impact alongside economic profitability.
YiGa Chocolate attended a workshop on the Madrid System organized by the Department of Intellectual Property of Bhutan in collaboration with WIPO. The Madrid System for the International Registration of Trademarks offers a convenient and cost-effective option for companies seeking to register and manage their trademark rights in multiple target markets. With a single application and one set of fees, applicants can apply for protection in up 129 countries and can modify, renew or expand their global trademark portfolio through one centralized system.
YiGa Chocolate plans to continue to evolve as a dynamic and innovative chocolate-making business, aligned with the essence of Bhutanese development principles and precepts.