Shenzhen Shokz: Bone conduction technology for a new listening experience
Most people equate the sounds they hear to the conduction of noise or air through their ear canal. But why can they still hear a tune when their ears are plugged or covered? Or hear the sound generated by brushing their teeth or eating crunchy food? All this is thanks to bone conduction, a field in which Shenzhen Shokz Co., Ltd., a high-tech company in China's consumer electronics industry, has been active since 2004. With a focus on professional communication audio and multimedia acoustics, Shokz's bone conduction speakers have become the preferred choice of leading global distributors in the field.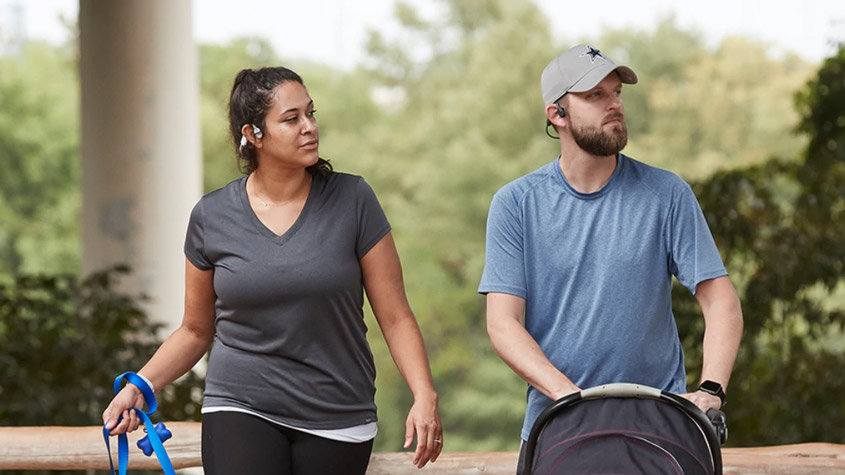 Origins
Founded in 2004 in Shenzhen, Shokz researches, develops, designs, produces and sells multi-award-winning electro-acoustic products. Since 2007, it has been focusing on bone conduction speakers to which, through its commitment to in-house research and development, it has made ground-breaking improvements. In 2011, it successfully applied the technology to consumer electronics headphones creating the brand Aftershokz, re-branded as Shokz in December 2021, which has become a leading sports headphone brand. In the last seven years, the company's revenue has increased more than 80-fold.
What is bone conduction technology?
According to the Shokz website, bone conduction is the transmission of sound vibrations to the inner-ear (cochlea) bones of the skull. This allows a person to perceive sound, which goes directly to the inner ear without passing through the eardrum. In effect, bone conduction is a shortcut to hearing sound.
How do Shokz earphones work?
Unlike traditional headphones, the speakers transmit "sound vibrations through the cheekbones," thanks to the company's patented bone conduction technology, the Shokz website explains.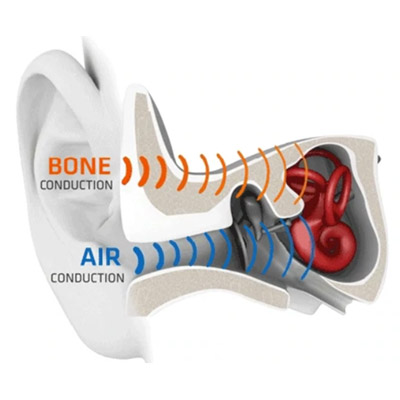 Transducers on either side of the headphones convert audio signals into mechanical energy or vibrations, which pass through the cheekbones and deliver sound directly to the inner ear bypassing the eardrum. This means that with these headphones you can listen to music while remaining aware of your surroundings, making them a safer option when outdoors.
The open-ear design of these headphones means that nothing plugs into or covers your ears, offering a comfortable, pain-free experience. It also offers the most hygienic way to enjoy music during sports. All Shokz headphones are mounted on light-weight titanium frames.
Core patents and intellectual property rights: building an unbreachable "patent moat"
Since it began producing consumer goods, Shokz has been targeting the global market. As such, the company has invested in developing a robust portfolio of intellectual property (IP) rights.
As of May 2022, Shokz has applied for more than 1500 patents, of which 570 have already been granted. Relevant core patents and industrial design rights (design patents) have been secured in China, Australia, Brazil, Europe, India, Japan, Mexico, the Republic of Korea, the Russian Federation, the USA and other countries. It is also seeking patent protection in Colombia, Israel, South Africa and Viet Nam.
In building up its portfolio of IP rights, Shokz uses the Patent Cooperation Treaty (PCT), which offers a streamlined and cost-effect route to seeking patent protection for its cutting-edge technologies in international markets. In so doing, Shokz is seeking to build an "unbreachable patent moat in the field of bone conduction." This approach will enable Shokz to safeguard its R&D achievements, maintain its leading position in the field and will enable it to defend itself effectively against any infringement of its rights.
Stream of new products: creating a "category concept"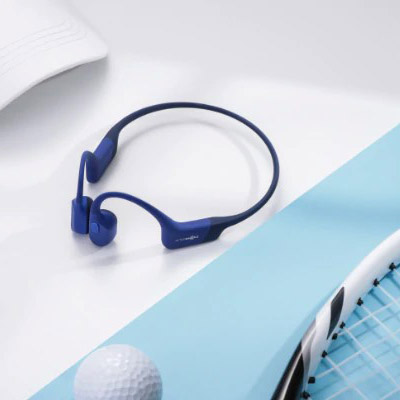 The launch of AfterShokz (now Shokz) in 2011, was the start of the new acoustical listening experience for sports enthusiasts, offering them a more comfortable and safe listening experience and allowing them to perform better. Sportz, launched in 2012, was the first bone conduction wired headset and was promptly named one of "Nine Products That Changed the World" by PCWorld magazine. Bluez followed a year later as the first bone-conduction Bluetooth headset. The brand furthered its independently researched and developed core technologies, with "Leak Slayer™" and "PremiumPitch™," to improve the product. The user experience continued to garner focus, leading to the 2017 launch of the upgraded Air sports headphones. By 2019, the brand had launched the outdoor sports series flagship Aeropex sports earphones.
In 2020, the company launched the outdoor sports series standard Openmove earphones, and four-time Tour de France winner Chris Froome signed on as brand spokesperson. This marked a shift in the company's overall brand approach towards the inclusion of brand spokespeople.
Continuing to develop its sports series, the brand launched the Openswim MP3 player for swimming in 2021, signing women's 50-metre backstroke world-record holder Liu Xiang as brand spokesperson. In the same year, it also signed Marathon world champion Eliud Kipchoge, and filed 610 patent applications and 170 trademarks applications worldwide. This year, the company launched its ninth generation bone conduction technology, Shokz TurboPitch™, which offers users enhanced bass and an improved listening experience.
Award-winning technology
Shokz has won many prestigious awards for its technological and design achievements.
They include:
the CES Technology Innovation Award (in 2020, 2019, 2017, 2014 and 2013);
the EDISON Gold Award (2014);
the Yicai Global China Best Inventions Award (2017);
the IDEA Bronze Award (2015);
the Good Design Award (in 2020, 2019, 2017 and 2016);
the Reddot Design Award (in 2021 and 2018);
the IF Award (in 2021 and 2020);
the 22nd China Patent Gold Award and Design Silver Awards (2021).
Pursuing IP pirates and cottage manufacturers
These rights have also allowed the company to effectively do battle with cottage manufacturers who illegally copy their patented technology. Shokz invests significantly in monitoring abusive use of its rights. Marketing staff and patent attorneys regularly search for similar products appearing on the market, which the company's patent staff further investigate. The company's patent engineers, technical staff and external patent attorneys jointly confirm whether these products infringe its patents. For products that do cross the line, the infringing party will be asked to cease infringement and compensate Shokz through various means for the relevant losses. This may include, for example, removing links to pirated products, a letter from the company's lawyers, or in more serious cases, litigation.
Deterring copycats
In 2021, Shokz filed more than 200 patent lawsuits against more than 20 infringing manufacturers concerning over 20 patents. So far, 29 cases involving eight defendants have been concluded with a cumulative compensation of RMB 400,000. Other cases have been settled out of court in amounts exceeding 1000,000 RMB. More importantly, this process has been a strong deterrent for copycat cottage manufacturers; it has safeguarded the company's R&D investment and protected its market position. Shokz has faced 24 patent invalidity lawsuits in the past two years, of which 20 were upheld as valid or partially valid and one was settled, fully demonstrating the robustness of the compagny's patent rights.