Japanese robotics company solves loneliness with futuristic communication
Aki Yuki, co-founder and COO of Japanese robotics company Ory Lab Inc., is developing alter-ego robots to help people living with physical disabilities, mental illness of age-related issues to communicate, interact and engage socially or in the work place.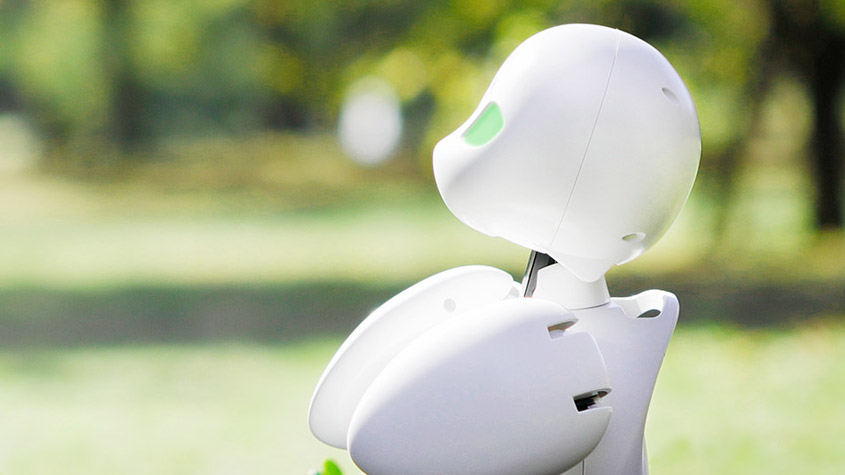 In Japan alone, millions of people live in social isolation because of physical disabilities, mental illness, or age. Aki Yuki, co-founder and COO of Ory Lab Inc., wants to tackle this problem. She is developing pioneering technology that creates new ways for these individuals to engage socially and contribute to society.
Yuki Aki's innovation journey
Yuki's creativity and innovation in this field came from her own experience of falling ill with tuberculosis and having to spend an extended period in hospital. Yuki had been keen on science from a young age. In her first year at high school, she won the top award for her research on fluid dynamics in the Japan Science and Engineering Challenge (JSEC) by the Minister for Education, Culture, Sports, Science and Technology, an article by the Government of Japan notes. This opened the door for her to enter the Intel International Science and Engineering Fair (ISEF), but her hopes were dashed, when she fell ill with tuberculosis. However, the following year, she won the JSEC prize one again, which enabled to enter the ISEF competition. That was when she met and became friends with Kentarou (Ory) Yoshifuji, another top award winner, with whom she later went on to co-found Ory Laboratory, Inc.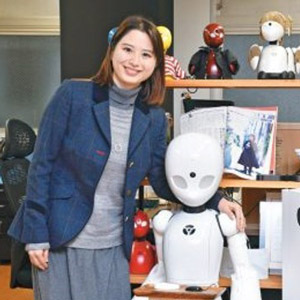 The pair hit it off and decided to launch their alter-ego robot project together with others they had befriended through JSEC. By that time, Yuki had joined the robot research program at Waseda University in Tokyo, Japan. At Waseda University, with Kentarou Yoshifuji, she developed the concept of OriHime, for which, together they won the Waseda Monozukuri Grand Prize.
In 2012, Kentarou Yoshifuji (CEO) and Yoshifumi Shiiba (CTO), Aki Yuki established Ory Lab Inc. and continued developing their avatar robot, OriHime.
They completed their first OriHime prototype in 2009, further refining it until they came up with their current model in 2013. By 2016, they began mass-producing their robots making them available through a monthly rental business model. Their goal was to make their robots as widely available as possible.
OriHime beats social isolation
OriHime is an upper-body doll-like robot with a movable neck and arms. It stands 23 centimeters high, 17 centimeters wide and weighs 660 grams. It was created to enable people to overcome restrictions on their movement as a result of hospitalization, physical disability and so on.
OriHime comes with an in-built camera, microphone and a speaker and can be operated remotely via the Internet. The robot is taken to the physical location where the user wants to be, for example, their school, their work place or the home of family members, and looks around and takes part in conversations enabling the user to feel as if they were there in person. In this way, users are able to continue to interact socially and contribute to society regardless of their age, their disability or their location. Using a personal computer or smartphone, OriHime can move its head to signal "Yes" or "No" and can express feelings like joy and anxiety with hand movements.
The name OriHime hints at the Japanese legend of the starweaver Orihime, which recounts the romantic tale of two star-crossed lovers that were forced apart. "Our wish and hope for OriHime is that she will enable people to grow and create a social sphere that allows them to fight against the loneliness that is permeating the current world," the company website explains.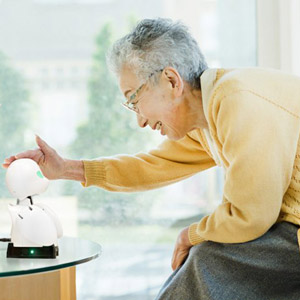 OriHime opens up and creates a bigger social sphere for users. For example, children who are hospitalized for long periods or live with physical disabilities that make it difficult for them to get around, can join their classmates as school, or elderly parents can join family members in distant locations. Similarly, OriHime offers workers with childcare issues an effective teleworking option.
For severely handicapped patients with a minimal range of movement, the company has come up with OriHime eye, an eye-tracking device that helps patients with ALS, for example, to input characters onto a screen and to read them aloud with their eyes. In this way they can connect through their OriHime avatar with the outside world via the Internet.
Ory Lab Inc. has also developed OriHime-D, for people who are working from home. OriHime-D is a 120-cm tall avatar robot with 14 joint motors in its upper body, which allows it to perform a number of physical tasks, such as carrying an object from one location to another or waiting on customers.
Currently, we provide OriHime to large companies that actively promote teleworking as well as to hospitals and individuals. Operators often tell us that as they look and hear around the office via OriHime, they feel as if they were there. People who make contact with OriHime in the office say that the personality of the operator shows in neck and arm movements as well as in their voice. OriHime is a technology that can communicate a person's presence, as well as their mind and feelings, says Yuki.
OriHime is a technology that can communicate a person's presence, as well as their mind and feelings.

Aki Yuki.
Ory Lab's award-winning social experiment
To demonstrate the social benefits of their technology, Ory Lab Inc has opened a "work remotely" café, known as the DAWN (Diverse Avatar Working Network) robot café, in Tokyo's Nihonbashi district. The venture is a social experiment that creates an environment where even people with the most severe physical disabilities can take on meaningful roles and engage with others. The café's OriHime-D robots are run remotely by differently-abled workers, including people living with ALS and Spinal Muscular Atrophy (SMA). They work remotely as waiters – and earn an hourly wage – controlling their OriHime-D avatar with their eyes. In this way, they are able to make a positive social, and economic, contribution.
"When I operate the OriHime from home, I feel like I am actually there. Yes, there are many difficulties in my daily life, but I believe my life has a purpose and is not being wasted. Being useful and able to help other people even feeling needed by others is motivating," says Shota Kuwahara, who lives with Muscular Dystrophy and works at the café via his OriHime avatar.
The social value generated by the project won the 2021 Good Design Award, sponsored by the Japan Institute of Design Promotion.
Video: Watch Japan's Dawn Avatar Robot Café created by Ory Lab to provide a working environment for people living with severe physical disabilities.
Aki Yuki holds a number of patents for her pioneering work.
Aki Yuki is featured in the World Intellectual Property Day Youth Gallery.