Getting rid of bulky plasters with 3-D printed technology
Raquel Serrano Lledó is the co-founder of FIIXIT Orthotic Lab, a Spanish manufacturer of 3-D printed orthopedic splints that are customizable and comfortable to wear. Her company, which began as a final project at university, is transforming the orthotics industry with its 3-D printed splints and other medical devices, and helping people heal their injured joints and broken bones more quickly.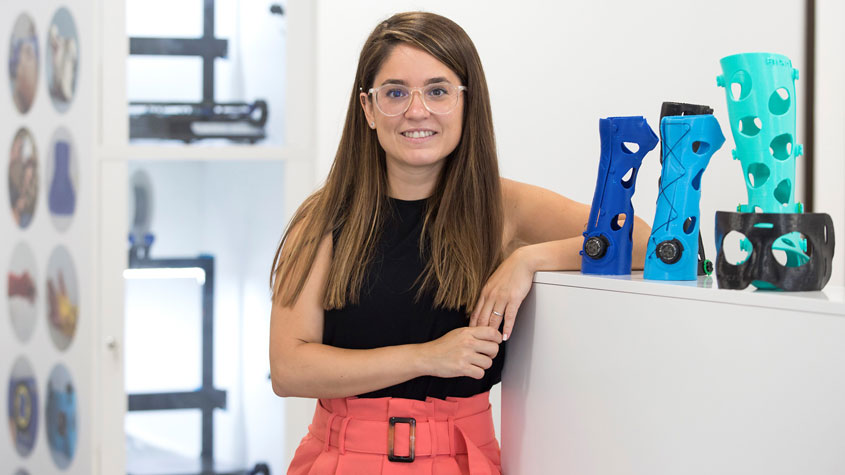 3-D printing technologies are revolutionizing the orthotics industry. With 3-D printed casts, patients with broken bones no longer have to put up with itchy, cumbersome and uncomfortable plaster casts. Young entrepreneur Raquel Serrano Lledó, co-founder of FIIXIT Orthotic Lab, is designing 3-D printed splints that make it possible to heal fractures without the discomfort and hassle out conventional plaster casts.
Serrano Lledó came up with the idea when she was studying industrial design engineering at university. "My inspiration comes from an unexpected moment during a dinner in a restaurant, when a child began scratching the inside of his cast with a knife," explained Serrano Lledó in an interview with 101 Málaga TV.
After discussing the idea with her friend, orthopedic specialist Antonio Padilla, Serrano Lledó invested in a 3-D printer and went on to co-found FIIXIT Orthotic Lab with Padilla, in 2015. "Using 3-D technology allows us to create waterproof, washable, lightweight, and comfortable orthotics for fracture recovery," she explains.
3-D printed splints weigh around 100 grams and are much lighter than conventional plaster casts. "Our 3-D printed splits are used for common fractures in legs, arms, hands and fingers. They improve the patient's quality of life," says Serrano Lledó, adding that her 3-D printed splints are adapted according to the patient's anatomy and pathology. "The 3-D printed splints are also submersible, so patients can use them when they go to the pool or the beach on vacation," she notes.
Following Serrano Lledó's motto "let's help everyone who needs it," FIIXIT Orthotic Lab has served thousands of patients and is now supplying more than 100 orthopedic shops with its 3-D printed splints. FIIXIT Orthotic Lab is the first Spanish manufacturing company certified to install 3-D printing production points in orthopedic clinics.
"With a doctor's approval, the patient goes to the orthopedic clinic where the limb, or the area to be protected, is scanned. The splint is designed on the basis of the scanned image, and within 48 hours the 3-D printed splint is ready to replace the conventional one," says Serrano Lledó.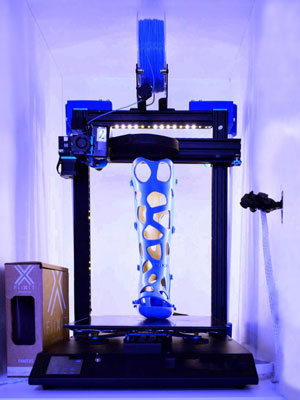 The company's 3-D printed splints are made from biodegradable or recyclable materials. "We use three materials: Polylactic acid (PLA), a very easy-to-print and environmentally friendly material derived from plants, like corn. We also use thermoplastic polyurethane (TPU), a versatile, lightweight, recyclable polypropylene with excellent mechanical and chemical resistance, making it one of the most popular materials for splints. And we use thermoplastic elastomeric polyurethane (TPE), which is tougher than standard flexible filaments and resistant to chemicals, such as acids and solvents," she explains.
To optimize the materials used in making them, FIIXIT Orthotic Lab's splints have geometric patterns on their design that provides a larger surface area for breathability. "We can leave any wound free to heal, while keeping the limb immobilized. This also speeds up the rehabilitation process compared to plaster splints," notes Serrano Lledó.
FIIXIT Orthotic Lab's devices range in price from EUR 100 to EUR 250. While the company is currently focusing on the Spanish market, Serrano Lledó expects to expand into foreign markets in the near future.
From research to business
After consulting with experts in the fields of orthopedics and physiotherapy, Serrano Lledó embarked on several entrepreneurship programs and joined various business incubators to accelerate her innovation and transform her idea into reality. "I was lucky that my city offers many opportunities for entrepreneurs, like Andalucía Open Future. The privilege of being able to participate in an entrepreneurial environment gave me the boost to take the idea I developed in my university project and turn it into a business," she said on 101 TV Málaga.
Serrano Lledó secured financial investment from the Fundalogy, a company established by the Unicaja Banking Foundation, to grow and develop "a business that a few years ago, was only a dream". In 2016, she won 'M de Málaga', award from the Provincial Council of Málaga, and in 2019, the Medal of Civil Merit for her achievements as an innovative and entrepreneurial woman.
Improving orthotics with R&D
FIIXIT Orthotic Lab holds a manufacturing license from the public administration of the Junta de Andalucía, Spain, as well as a serial manufacturing (CE) license, from the Spanish Agency of Medicines and Health Products.
For Serrano Lledó, the company's years of experience and know how are its most valuable intellectual property (IP) assets. "Our main focus is to continuously improve with new technologies. It is essential to know the sector we are working in and to improve R&D in the field of orthopedics," she notes.
FIIXIT Orthotic Lab owns a number of trademarks to protect its brand in the 3-D printing space. The company is also in the process of securing a patent. "We want to patent our ST splints, which are 2-D splints that we heat to get the third dimension. We are in the process of patenting this technology and its design," she says.
Related articles