The Banano de Costa Rica Geographical Indication: Supporting Environmental Sustainability
Banana production is extremely important to the economy of Costa Rica, which is one of the world's three top banana-exporting nations. Costa Rica exports around 120 million boxes of bananas across the globe every year.
In 2011, the Banano de Costa Rica became the country's first registered geographical indication (GI). This move allowed producers to inform consumers about the origins of their product, its distinctive quality and reputation as well as the strict social and environmental production standards they employ. With a GI in hand, they are now well-equipped to differentiate Costa Rican bananas from those produced elsewhere.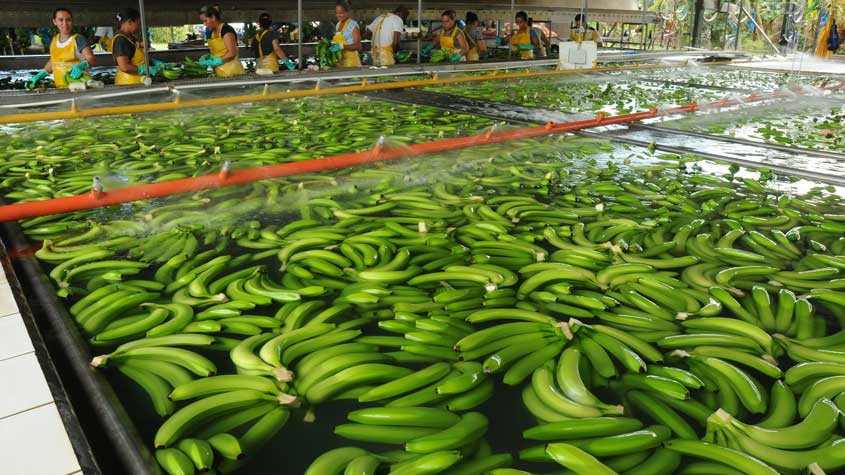 Corbana (La Corporación Bananera Nacional) is the regulatory body responsible for promoting and ensuring the quality of the GI Banana de Costa Rica. Corbana works with local producers to expand production and improve the quality of Costa Rican bananas. Its research and development projects are constantly seeking to identify new innovative methods and techniques to increase the productivity of banana plantations, while reducing their use of agrochemicals.
Keenly aware of their responsibility to safeguarding the environment, in 1992, the banana industry voluntarily agreed to establish the Banana Environmental Commission (CAB). Its role is to establish standards for sustainable banana production and to monitor the environmental performance of banana plantations in Costa Rica. To this end, the CAB is working to improve natural resource management practices across the banana industry. For example, it has introduced measures to optimize water use by banana packing plants. These have resulted in water savings of up to 90 percent. The CAB is also working to decrease the amount of water banana farmers use to wash their bananas before they go to market, for example, by encouraging them to reduce depth of their wells.
Moreover, all banana farms that produce the GI Banano de Costa Rica comply with a common policy on solid waste management and the use of plastic in the cultivation process. Accordingly, traps have been installed to prevent solid waste flowing into water courses and plastics that are used are sent to recycling centers to produce materials that can be reused in the banana industry.
Banano de Costa Rica farmers are audited regularly to ensure compliance with established environmental management practices, in particular with respect to waste management and pesticide use. This, however, tends not to be a problem given the strong environmental commitment as demonstrated by the fact that they have designated more than 12 thousand hectares of land as natural reserves and forests to protect flora and fauna and help reduce greenhouse gas emissions.
For us, this quality seal comes as recognition of the many years of work done by our country across society and in the environment to achieve sustainable production. It is also a guarantee that our cultural practices will not be lost.

Jorge Sauma, General Manager, Corbana
All producers of the GI Banano de Costa Rica are tied to a common set of production rules as set out in the GI's product specification. As such, the green policy embraced by Corbana in managing and promoting the GI has the potential to improve significantly the sustainability of Costa Rica's banana industry as a whole. In this way, a GI can serve as an important vehicle to encourage sustainable practices through the adoption of voluntary environmental standards that are often higher than national laws governing food production and trade.