Julius K9®: harnessing innovation to meet dog lovers' needs
June 2021
By Catherine Jewell, Information and Digital Outreach Division, WIPO
The Hungarian brand Julius K-9® is renowned among dog owners for its high-quality harnesses, leashes and other accessories. The founder, Gyula Sebő, started the company in his garage in Budapest, Hungary, back in 1997. Despite some highs and lows, the company has since become a leading manufacturer and distributer of harnesses and accessories supplying dog lovers around the world with innovative equipment. Gyula Sebő explains why it is so important for companies like Julius K-9® to have a carefully crafted IP strategy in place from day one.
Tell us about how you came to set up Julius K-9®.
I set up the company with my wife, Anikó Bakos, in 1997. We started from our garage in true start-up style. I had worked as a volunteer dog trainer for some time in Austria, training police dogs. During that time, I noticed that while the training was highly professional, the equipment was rather basic. Although a niche area at the time, I realized there was a gap in the market. I trained as a saddler to learn how to make harnesses and that's how I got into manufacturing dog harnesses and came to set up the company. Our first customers were the police and security companies. Working with service dogs meant that we could develop special equipment. In fact, we were the first company in Europe to manufacture bulletproof dog vests. But later on, we decided to focus on the consumer market. We didn't want to be seen to profit from conflict situations and we also recognized the emotional power of dogs and the companionship they offer people. I'm convinced that if our four-legged canine friends could speak they would tell us that people deserve to be loved! I have dedicated my life to pet welfare innovations. In my eyes, dog ownership is about caring and taking responsibility. In return, dogs bring joy to our lives. Twenty-five years ago, we recognized a need for well-designed gear that allows owners to spend the best possible time with their dog and we remain committed to that goal.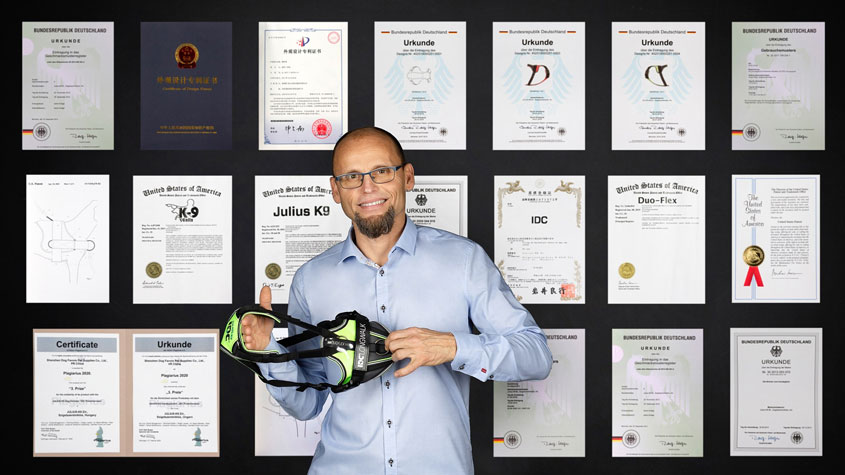 How did you come up with your company name Julius K-9®?
Choosing a name for your business is extremely important. We went about it in a very simple way. As we were exporting from Hungary to Austria and Germany, we chose Julius, the German version of my name, Gyula, and combined it with K-9, which refers to Kele Street 9, in Budapest, where we lived and where I got my first dog.
What have been some of the biggest challenges you faced in developing your company?
There have been many ups and downs. In the mid-2000s for example, the Hungarian textile and leather industry collapsed for a couple of years, which meant that the price of the materials we use for our harnesses skyrocketed. And on top of that, we were caught up in years of litigation, not least because we had the bad luck of an unscrupulous overseas representative who basically had our entire range copied by a low-cost manufacturer and replaced our entire stock in some 1,700 stores across Germany. This cost the company millions of Euros in losses. That's why we made a conscious decision to invest in our brand, implement a robust intellectual property (IP) strategy and focus on continuous innovation.
Why is it important for companies like Julius K-9® to think about IP protection?
When you start a business in today's market, you find yourself in the middle of a global trade war and you can't enter this battlefield unarmed. That was what we experienced when we started our business in 1997, and it's even more the case today. When we started developing our products, we had many technical innovations, but we didn't know which ones we needed to protect or which ones would later become global successes. We saw that our competitors were eyeing our name, so we took the first opportunity to register our trademark and protect our brand. We submitted a figurative mark, which contains the Julius K-9® brand name. I think we made a mistake. We should have protected "Julius" and "K-9" separately as well. Had we done so, we would have far fewer legal problems today. When setting up a company, it is really important to have a solid IP strategy in place and a clear idea of the IP assets you are going to protect and how you are going to protect them. In my experience, the first blow comes when you have already created value in your products and your competitors and other market players see an opportunity to profit from it. That's why companies need to have an IP strategy in place to protect and defend their business interests from an early stage.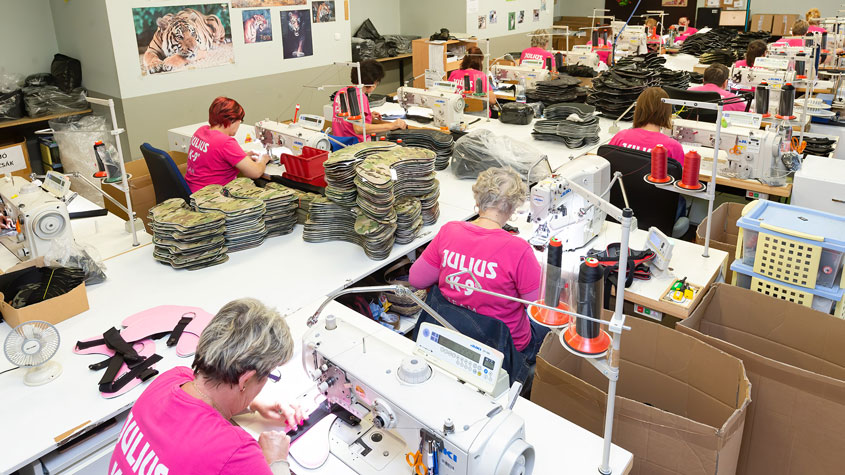 How are you using IP in your business?
After we protected our brand name, we started focusing on protecting our technical content. This was important because copycats were starting to use our designs and our technical elements and were effectively reducing our market share. We then started protecting our second largest product line with utility models, which are similar to patents but easier to secure. As the IP attorneys we approached didn't fully understand what I wanted, I took different training courses and immersed myself in the field of industrial property and learned how to write applications for patents and utility models.
Patents are important. We use them to protect our core technology in multiple markets. In fact, to do this, we used the Patent Cooperation Treaty, which simplifies the process. But in general, the patenting process is complicated and expensive and you have to wait a long time for a patent to be granted. So in our fast-moving market, we are protecting the new technical elements we create – some of which wouldn't qualify for patent protection anyway – with utility models and design rights. Securing these rights takes less time and is cheaper.
Our focus is on developing high-quality innovations and designs whether we actually use them or not. We then launch the best, most relevant designs and technical content to the market. We usually make sure that our new products have striking designs, as this makes a big difference to their performance in the market. In fact, our designs have won many awards. With design rights, we can provide our retailers with products they can't get from other sources, safe in the knowledge that we are protected.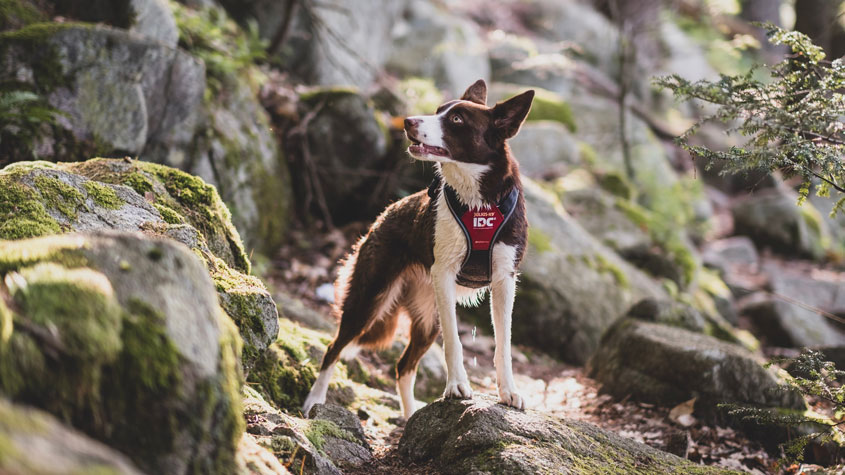 For many years, we were a victim of our own success. The extraordinary success of our traditional product line and the high production volumes involved in supplying that demand meant we couldn't launch any new products. That's why, two or three years ago, we changed direction and started to automate production. This has allowed us to improve our productivity, expand our product range and respond to dog owners' hunger for innovation, which is important because they are our main clients. We have also implemented a three-pronged approach to IP protection; we protect the brand, the design and the technical elements of our innovations. We have used both the Madrid System and the Hague System to protect our trademarks and designs, in different target markets. These systems offered us an easy and cost-effective way of doing so.
Is infringement a problem?
Yes, it is something we take very seriously. We have a small team that constantly monitors the largest 50 or so online retail platforms to identify products that may be infringing our IP rights. We have to do this to prevent lower-priced products identical to ours, and perhaps even bearing our name, from flooding the market. As our online sales increase, we need to ensure our IP strategy is effective and easily enforceable in the online world. So, for our online markets, we are focusing on trademark and design protection, which are the best way to defend ourselves against counterfeit goods.
As our online sales increase, we need to ensure our IP strategy is effective and easily enforceable in the online world.
How is your IP strategy enabling you to grow your business?
Our focus on IP protection creates new opportunities in terms of the company's valuation. The fact that our product lines are protected on all sides and can be distributed without risk is of great strategic value to us. Our IP rights mean we can actively prevent our competitors from selling similar products with comparable technical content or innovation.
What are your plans for the future?
We recently opened a new manufacturing facility in Tiszafüred in Hungary. That brings our staff numbers up to around 500. There is no shortage of ideas at Julius K-9® so we will continue to innovate. I feel sure that our innovations will continue to gain support and that our products will prove themselves in the markets of the future. Take for example, our smart-dog harnesses with built-in sensors to measure an animal's vital functions and track daily activity.
What are the main lessons you have learned in commercializing your products?
The main take-away from my experience in launching new products over the past decade is to protect innovation on all fronts, if possible, especially in terms of their design and technical content. Failure to do so makes you vulnerable. We've also learned how important it is to be well-informed about the markets in which we want to sell our products given the perils of global online trade. Before we launch any new product, we thoroughly research the market to have a clear understanding of the available products. We also research existing patent and design rights to avoid infringing any pre-existing rights.
Our IP rights mean we can actively prevent our competitors from selling similar products with comparable technical content or innovation.
If you were to start again, what would you do differently?
If I had to start over today, I would probably have started developing customizable products far earlier. We've learned that as securing IP rights can be very costly, the most efficient approach is to protect our core technologies and to supplement them with customizable accessories and variations, which may also be eligible for protection. This is our current approach and it's working well. The diversity of our IP portfolio is one of our strengths, but we don't have the capacity to translate all of our ideas into products. That's why our goal is to develop and expand our licensing program. We have already concluded a number of successful licensing deals and will do more in the future. Licensing is a good option for companies that don't have the capacity to convert their ideas into innovations. By advertising licensing opportunities on the appropriate platforms, we hope to attract potential investors.
The WIPO Magazine is intended to help broaden public understanding of intellectual property and of WIPO's work, and is not an official document of WIPO. The designations employed and the presentation of material throughout this publication do not imply the expression of any opinion whatsoever on the part of WIPO concerning the legal status of any country, territory or area or of its authorities, or concerning the delimitation of its frontiers or boundaries. This publication is not intended to reflect the views of the Member States or the WIPO Secretariat. The mention of specific companies or products of manufacturers does not imply that they are endorsed or recommended by WIPO in preference to others of a similar nature that are not mentioned.