Managing intellectual property rights in innovation: the key to reaching the market
March 2021
By Maria del Coro Gutierez Pla and Lynn Burtchaell, EUIPO SME Programme, European Union Intellectual Property Office (EUIPO), Alicante, Spain
The EUIPO offers insights from its recent studies about the positive relationship between intellectual property (IP) rights and economic performance. Whether developing technology in-house or acquiring it from external sources, IP rights have a central role to play in every company's journey to the market.
A recently published study
, Intellectual property rights and firm performance in the EU, from the European Union Intellectual Property Office (EUIPO) and the European Patent Office (EPO), confirms the strong, positive relationship between a company's ownership of different types of IP rights and its economic performance. The analysis, which uses data from over 127,000 companies from all EU member states, shows that this relationship is even more pronounced for SMEs, the basis of Europe's economy.
SMEs that own IP rights have a 68 percent higher revenue per employee than those that do not own any IP rights.
According to the European Commission, SMEs represent 99 percent of all businesses in the EU. When controlling for relevant factors, such as country or industry sector, SMEs that own IP rights have a 68 percent higher revenue per employee than those that do not own any IP rights. Moreover, SMEs that own a combination of patents, trademarks and registered designs generate almost double (98 percent) the revenue per employee compared with companies that do not own any of the three IP rights. A previous study
by the EPO and the EUIPO, published in 2019, found that SMEs that make use of IP rights are more likely than other firms to achieve high growth in turnover in subsequent years.
Taken together, these studies offer compelling evidence of the positive association between ownership of IP rights and the economic performance of individual companies. Although this correlation should not be interpreted as having a direct causal effect – the mere registration of an IP right is not sufficient to trigger growth – it can signal an SME's stronger ability to succeed in its innovation process – a key factor for growth – and to survive in the highly competitive business world.
Innovation, a major force for SME growth
Innovation, understood as the complex process of taking an idea to market, has proven to be a major challenge for entrepreneurs and SMEs. For this reason, there exists the concept of the "valley of death," the period where most companies collapse due to lack of external support.
All innovation processes involve two main phases:
the research and development (R&D) phase, when a company acquires technology; and
the commercial phase, when products are launched on the market.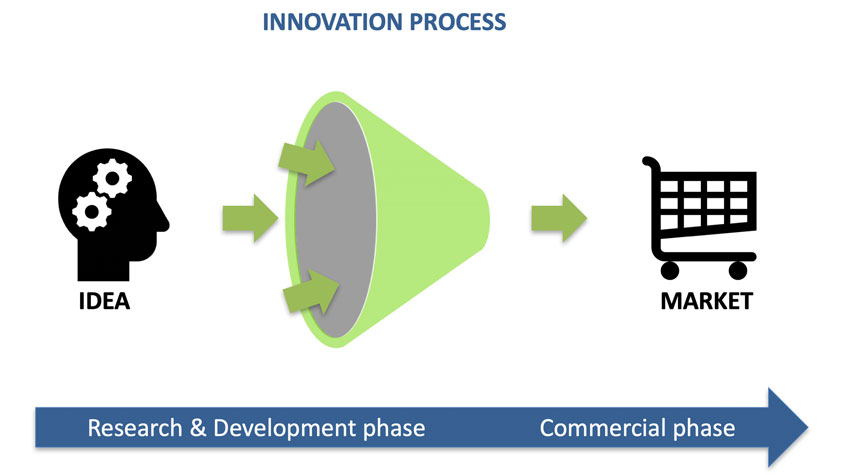 During the innovation process, the legal protection of the knowledge that will finally materialize in a product or a process is crucial. For this reason, IP protection is a strategic tool in the innovation process of companies.
Patents, copyright and confidential information, such as trade secrets, play an important role during the R&D phase. They are decisive before launching a product to the market, where competitors may try to infringe on a company's innovative effort. Trademarks and designs come into play in the commercial phase of the innovation process, when products must be distinguished from those of competitors. Protecting the identity of products with a trademark and their appearance with a design is critical in the event of unauthorized use by a third party.
Closed and open innovation models
Not all companies operate under the same circumstances. Some have enough technological resources to complete the innovation process internally, but others need to collaborate with external sources of knowledge.
In a closed innovation model, where the entire innovative process is carried out internally by companies, the exclusivity and protection provided by IP rights can be fundamental for innovative SMEs to appropriate the value of their ideas and ensure a return on their investments in intangible assets. But it is in an open innovation model where IP rights become fully strategic as the development of innovative solutions is made using external knowledge in collaboration with other companies, research and technology organizations or universities.
Let's see an example. Company A wants to launch a new product on the market and they need technology already patented by another company, Company B. Company A has two options:
to develop its own technology, or
to use the technology belonging to Company B through a licensing or purchase agreement.
When companies select the second option, we call it "open innovation".
The benefit of IP rights to prevent others from misappropriating trademarks, designs or other innovations is well known. In open innovation, however, there is another less well-known benefit: it allows companies to share their technology and solutions in a safe way.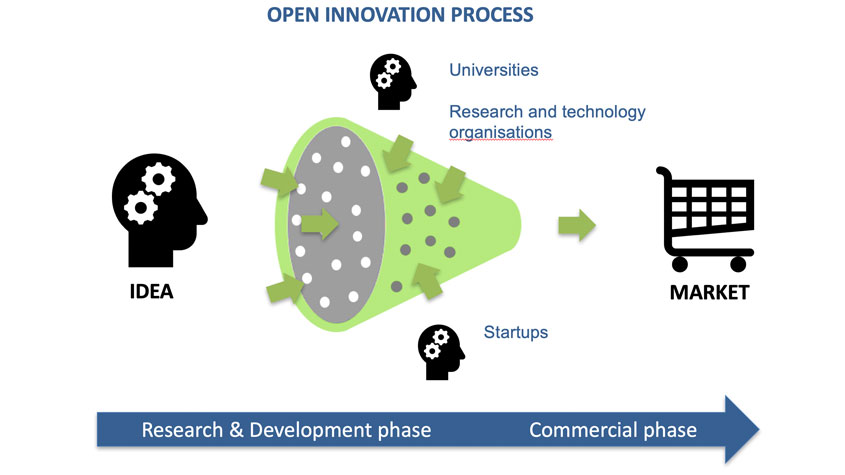 In the context of open innovation, IP rights reduce operational risks, facilitate knowledge sharing and play a key role in enabling appropriate technology transfer, or in other words, the selling or licensing of the IP rights to another organization.
The EUIPO's SME Programme
Whether involved in open or closed innovation, it is clear that SMEs should start managing IP at the early stage of the innovative process and need to develop an IP strategy to make proper use of IP rights from the start. With this in mind, the European Commission asked the EUIPO to spearhead a number of initiatives to support SMEs through their startup and scale-up journeys. The response from the EUIPO was to create the SME Programme, as part of the EU's Action Plan on Intellectual Property, to empower SMEs within the EU and beyond. A series of initiatives under the Ideas Powered for Business brand are the first results of the EUIPO SME Programme implementation.
EUR 20 million SME Fund offering financial help to SMEs
The Ideas Powered for Business SME Fund opened for applications from EU-based SMEs on 11 January 2021. Applications will be distributed in five phases, or windows, between January and September 2021.

European SMEs can benefit from this fund in two non-exclusive ways:
reimbursement of 50 percent of their trademark and design basic application fees at national, regional and EU level; and
reimbursement of 75 percent of the IP pre-diagnostic service (IP scan).
One application per service is permitted and SMEs can apply for both services. Each SME can be reimbursed up to a maximum of EUR 1,500.
Applications for the grant should be made via the SME Fund web page before applying for the trademark and/or design and/or IP pre-diagnostic service.
The territorial level of protection will depend on each company's business strategy and growth plans. SMEs may decide, therefore, to have an IP scan carried out before deciding which trademarks or designs rights to apply for.
Why an intellectual property scan?
We have highlighted the importance of developing a strategic plan for when and how to make appropriate use of IP rights in the initial stage of the innovation process. An IP pre-diagnostic service or IP scan of your business may be a good first step.
SMEs should start managing IP at the early stage of the innovative process and need to develop an IP strategy to make proper use of IP rights from the start.
The IP scan can be compared to a medical check-up, where the patient is a company and the doctor an IP expert. By looking at an SME's business model and its existing products and services, the IP experts can help an SME formulate a plan, anticipate future growth and build an IP strategy. This service can help SMEs decide:
which intangible assets can be protected by IP rights;
to develop their IP portfolio if they already have registered rights;
how to plan their strategy for the future.
Through the SME Fund, SMEs can apply for the reimbursement of 75 percent of the costs of the IP pre-diagnostic service. The service is offered in some EU member states and others will join soon. Before applying, SMEs should check the list
to ensure that the service is offered in their member state.
For more information on the SME Fund and applications, visit the SME Fund web page.
Ideas Powered for Business hub and website
In response to Covid-19, last year the EUIPO launched the Ideas Powered for Business hub. The hub promotes the benefits of IP protection and provides information on trademarks and designs using clear, jargon-free language. It offers step-by-step fast-track routes to registration with the new EasyFiling tool that guides first-time applicants in their trademark application and e-learning courses tailored to SMEs. In addition, it is the access point from which SMEs can sign up for free, personalized intellectual property support in their own language. Depending on the case, this can include:
pro bono / free, personalized consultations: this service pairs SMEs with providers of free IP consultations to provide swift, tailor-made and practical solutions to questions on IP. The service is offered by IP experts from all over the EU. The EUIPO matches the SMEs with suitable IP experts based on their needs.
effective dispute resolution (EDR) service: this service is aimed at SMEs currently involved in opposition or appeal proceedings at the EUIPO. If requested, our mediators will get in touch to find a solution that will be acceptable to both parties, saving time and money for all involved.
Coming soon is the launch of the Ideas Powered for Business website, especially developed for SMEs in collaboration with national IP offices and other stakeholders. The website will aim to put IP in the business context where it is relevant to SMEs. It will offer new tools and services specifically tailored to the SME sector, such as a visualization map to find useful services, a multi-language chatbot, a training area and a section with selected useful tools.
The stronger the IPR portfolio, the better the business performance
IP protection is critical to fostering innovation. A company that owns IP rights will have a higher competitive advantage and legal protection against counterfeiting. Such legal protection is critical, in particular, for those companies wishing to export to new markets. In addition, companies with IP rights can license or sell their IP rights, thereby reducing operational risks and facilitating knowledge sharing in open innovation scenarios.
A company that owns IP rights will have a higher competitive advantage and legal protection against counterfeiting.
As the studies confirm, there is a positive association between owning IP rights and economic performance. Intellectual property can be considered a reliable predictor of whether an SME will survive or even experience high growth. In this context, potential investors and business partners will be mindful of IP rights as a valuable source of information when determining SMEs with economic potential. It is clear that SMEs need to protect and make smart use of their intangible assets.
The EUIPO recommends that SMEs talk to the experts and make the most of the discounts available during 2021, from the Power your business with the SME Fund.
The WIPO Magazine is intended to help broaden public understanding of intellectual property and of WIPO's work, and is not an official document of WIPO. The designations employed and the presentation of material throughout this publication do not imply the expression of any opinion whatsoever on the part of WIPO concerning the legal status of any country, territory or area or of its authorities, or concerning the delimitation of its frontiers or boundaries. This publication is not intended to reflect the views of the Member States or the WIPO Secretariat. The mention of specific companies or products of manufacturers does not imply that they are endorsed or recommended by WIPO in preference to others of a similar nature that are not mentioned.