Energysquare makes wireless recharging a reality
March 2021
By Catherine Jewell, Information and Digital Outreach Division, WIPO
Energysquare, founded in 2015, by three young French entrepreneurs, Daniel Lollo, Matthieu Poidatz and Timothée Le Quesne, is reinventing the way we charge our electronic devices. Their wireless-charging technology, Power by Contact®, offers a smart solution for charging several devices simultaneously. Power by Contact® matches the performance of conventional chargers, optimizes energy use and means we will soon be able to say goodbye to the tangle of cables we need to power-up our electronic devices.
The company has built its business model around its expertise and know how. Thanks to its large portfolio of patents, it is licensing its award-winning technology to major international electronics manufacturers.
In 2020, Energysquare signed its first technology partnership with electronics giant Lenovo. The company's CEO, Timothée Le Quesne, shares Energysquare's experience in taking its technology to the market.
You can't license a technology if you don't own it and it isn't protected and managed effectively.
Tell us about your technology.
Unlike the induction charging solutions that are currently on the market, Power by Contact® operates by conduction, that is, the charge is made through direct contact between the device and the surface. This makes for a more efficient charge because there is no interference, no overheating, and no energy loss. Charging speeds are comparable to traditional methods.
Power by Contact® is a concentration of advanced microelectronics and algorithms. It allows users to charge all their electronic devices simultaneously on a single surface, without having to find the right cable or adapter to do so. Power by Contact® is the first technology to allow wireless charging of laptops. It also gives users access to data about which devices are being charged, when and where.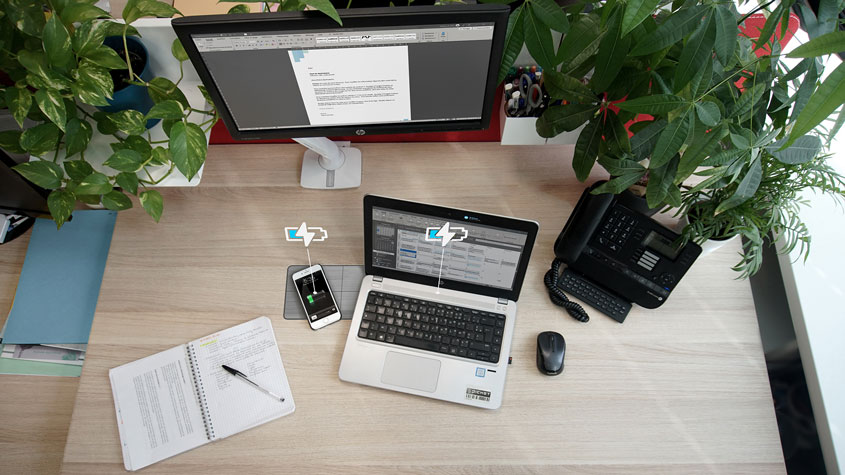 What prompted you to develop Power by Contact®?
Over the past decade, we've seen a huge increase in the number of battery-powered small electronic devices, and with that, an increase in the number of cables we use every day to charge them. Technology should make our lives easier, but the tangle of cables we need to charge our electronic devices – a consequence of poor ergonomic design – has created a poor experience for users. To resolve this problem, we set about building a seamless charging technology that allows users to power up their devices effortlessly, without the need to find and plug-in the right cable to do so.
What challenges did you face in breaking into the electronics market?
Convincing large industry players to adopt a brand-new technology is not easy, and bringing technology from the laboratory to mass production is always challenging. We have spent years developing a technology that meets the highest industrial standards and the needs of electronic device manufacturers.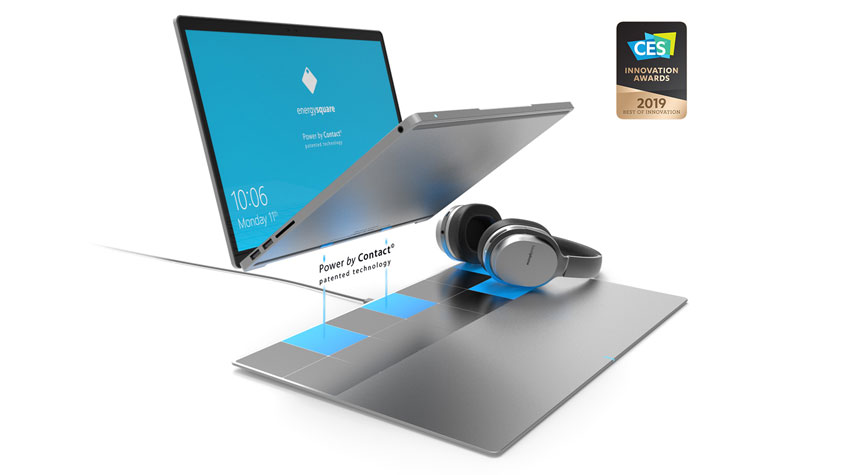 We also had to face long sales cycles. It's also quite a challenge to introduce a new technology into products like cell phones and laptops, which involve complex production processes.
Since we license our technology to manufacturers – we don't actually sell any products, as such – we had to put a strong technology transfer service into place. This required a particular focus on protecting and managing our intellectual property (IP) assets. After all, you can't license a technology if you don't own it and it isn't protected and managed effectively.
At what stage did you realize the importance of intellectual property for your business?
When we first talked about licensing-out our technology to customers, we realized we needed a strong patent portfolio. Our ability to protect our R&D from A to Z is critical to our business model. That's why we have developed a strong portfolio of IP rights. We realize that patents are not enough and, certainly not the only way to build a strong IP strategy, so we have a holistic approach to IP. Our portfolio encompasses a range of different IP rights, including patents, trademarks, trade secrets and copyright.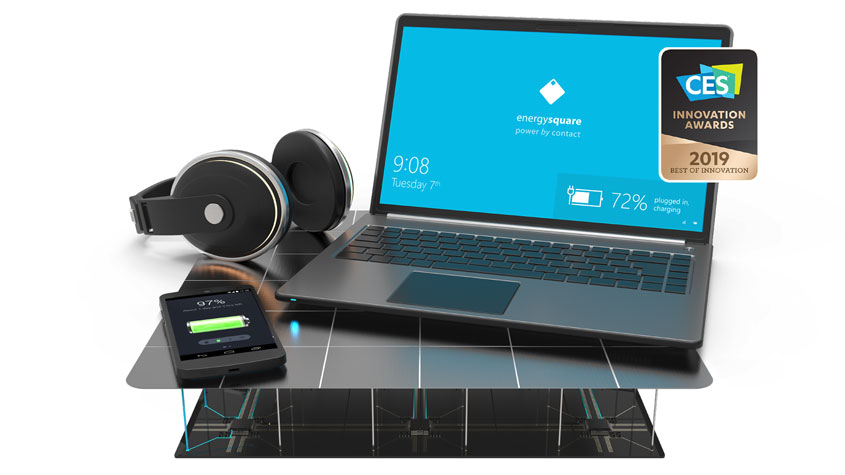 How are you using IP rights and how are they helping your business?
In our drive to build the next charging standard, we decided to build our company around a licensing business model so that as many device manufacturers as possible can adopt our technology. IP rights lie at the heart of a licensing business model and are crucial in terms of convincing and protecting both clients and investors.
We invested in developing our patent portfolio at a very early stage. IP is central to all our strategic, commercial and technical decisions. We have always benefitted from the support of external IP experts, but in September 2020, we decided to bring that expertise in-house. Our new Head of IP, Catalina Olivos, is now handling the many IP questions we are dealing with and ensuring that our business strategy and our IP are fully aligned and complementary. Every new move in our business strategy must be followed by a strategic move on the IP side.
What was the biggest challenge you faced in building your IP portfolio?
The most difficult challenge we faced was financing our patent portfolio, particularly when it came to protecting our technology in other countries. We faced a chicken and egg situation: to pay for our patent portfolio, we needed financing from investors, but investors needed to see that our technology was well protected before they would back us. This is a challenge that all young companies face. In our case, thanks to the support of French institutions, especially France Brevets, we were able to move forward. They saw the potential of our idea and supported us in building our dream.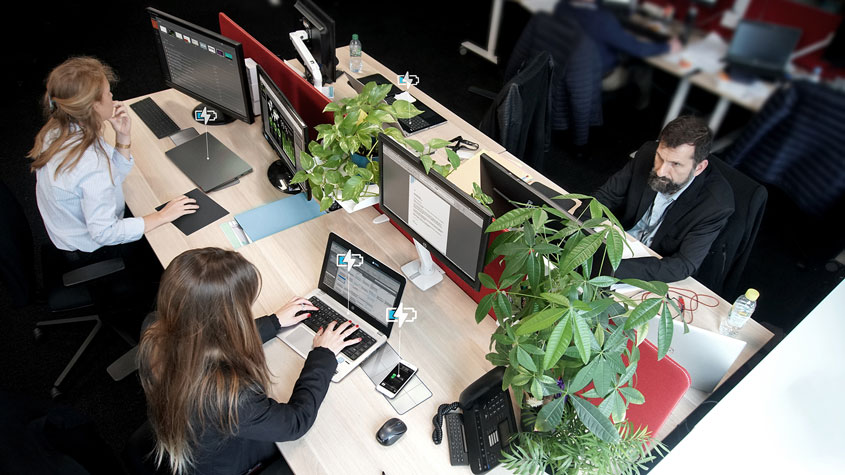 What can IP offices do to support businesses like Energysquare?
IP offices play a key crucial role, especially in terms of supporting and encouraging young companies to invest in IP. Startups are often caught in a vicious circle, where without IP, nobody wants to invest in them, but without investment it's impossible to implement an IP strategy and for the business to survive. We would like to highlight the work of the national IP Office of France (INPI). We are beneficiaries of INPI's PASS PI program, which provides financial support to SMEs and offers assistance in areas of interest to them such as developing technology landscapes, expert advice on contracts, and registering IP rights. In that sense, all the support that IP offices can offer entrepreneurs and innovators to guide them in the early stages of their development is always welcome.
What are some of the main lessons you have learned?
Investing very early in IP brings exponential value down the line. Your IP strategy is a long-term and structural approach that needs to be in place from day one. In the beginning, it seems to make no sense to invest so much time and money in something that offers no immediate return, but when you sit down and negotiate with a big company, you are very happy that you invested in your IP portfolio. It's impossible to attract the interest of a big investor if you haven't protected your innovations and creations, and aren't forward-looking in your IP strategy.
Investing very early in IP brings exponential value down the line. Your IP strategy is a long-term and structural approach that needs to be in place from day one.
Why it is important for SMEs to focus on IP?
In specific markets, IP is the only way to compete with tech giants with much greater marketing and commercial strength. We decided not to produce our technology but to license it. Without IP, our business would not exist and we would not be able to compete. Our core business is our technology, our know-how, and our trademarks. Like many startups, we have faced a lot of difficulties and have had to invest a great deal. But now that our product is being launched by one of the biggest companies in the laptop sector, we know we made the right decision. Startups and SMEs, in general, are based on innovations that are the result of research and findings, which for the most part, change our lives. These endeavors must be protected so companies can get an equivalent return for all the time, energy and expense they put into developing them.
In specific markets, IP is the only way to compete with tech giants with much greater marketing and commercial strength.
What advice do you have for other SMEs when it comes to IP?
Invest in IP from day one. It's hard, but it's the way to move forward. And don't only invest in patents, think about protecting your trademarks, which play a key role in the marketing side of your business. If you choose the wrong name, you can have a lot of problems protecting it around the world.
What are your plans for the future?
We have many plans. From the IP viewpoint, we are implementing a comprehensive IP strategy to cover everything from the research stage through to the marketing phase. We are always thinking about new features and applications for our technology and exploring new markets. We are very excited about the product launch of our first clients in 2021.
Despite the Covid-19 crisis, we have managed to continue our R&D work. Many new improvements are in the pipeline, but we can't talk much about them until the patents are published. Our short-term goal is to bring cableless charging and connectivity technologies to workstations and meeting rooms. And in the longer term, our aim is for our technology to be the wireless-charging standard in the workspace and for other applications.
The WIPO Magazine is intended to help broaden public understanding of intellectual property and of WIPO's work, and is not an official document of WIPO. The designations employed and the presentation of material throughout this publication do not imply the expression of any opinion whatsoever on the part of WIPO concerning the legal status of any country, territory or area or of its authorities, or concerning the delimitation of its frontiers or boundaries. This publication is not intended to reflect the views of the Member States or the WIPO Secretariat. The mention of specific companies or products of manufacturers does not imply that they are endorsed or recommended by WIPO in preference to others of a similar nature that are not mentioned.