Pokémon Go: augmented reality tests IP
February 2017
By Dr Andres Guadamuz, Senior Lecturer in Intellectual Property Law, University of Sussex, United Kingdom
Pokémon Go is an augmented reality app produced by U.S. developer Niantic. With over 500 million downloads worldwide and an impressive number of active users, it has quickly become the most popular mobile game in history.
Beyond its success as an app, the game marks a milestone in technology history in that it is the first successful mainstream example of augmented reality – a technology that combines "real and virtual objects in a real environment".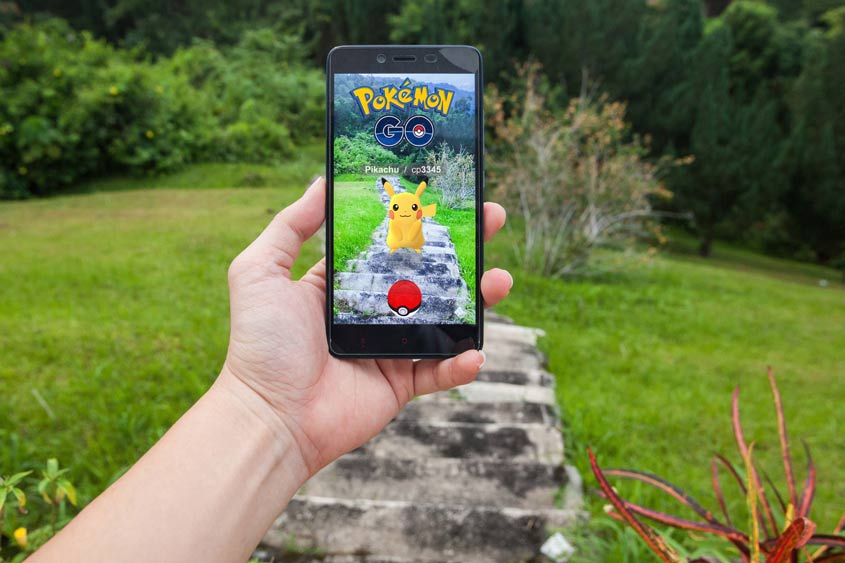 The game
The game consists of monster-like characters called "pokémon" which players try to catch by throwing a "poke-ball". Through augmented reality, the game encourages players to interact with their environment using realistic maps of their surroundings that highlight or tag landmarks, monuments and public buildings. These locations are called stops and contain in-game goods, such as pokémon eggs and potions, for use in battling opposing teams. The game also features "gyms", where users can combat other pokémon for control over a location, usually a church, park or business.
Legal questions
The tagging element of the game has prompted a number of interesting legal questions about the role of augmented reality. Niantic, the developer of the game, is using a combination of data from Google Maps and user-generated tags collected from an earlier augmented reality game called Ingress. This data is used to identify real-life spots as either a stop or a gym. So far, many of the legal questions arising from the game have centered around privacy, but it also raises a number of interesting issues relating to intellectual property (IP). For example, the game relies on user-generated content to populate the "Pok" world with locations and points of interest, but who owns that content? And perhaps more importantly, do individuals have any right over virtual spaces? Could someone object to their house being used as a Pokémon gym on IP grounds?
Who owns the content?
As outlined above, geo-location is an integral part of Pokémon Go. Players search out Pokémon characters in the real world using maps of their immediate surroundings which tag specific locations and points of interest. But who owns those data? While it is not clearly stated in the Pokémon Go documentation, these maps appear to be generated using data from Google Maps.
Beyond ownership of the map data, of greater interest is who owns all the valuable geo-location data, including the pictures and place names that are an integral part of the game. Most commentators agree that initially Niantic collected the data for Ingress, which predates Pokémon Go. Ingress is a futuristic geo-location game where players take over portals in another dimension. These portals are the same points of interest used in Pokémon Go. Some websites even suggest that players who want a new gym established in their location simply submit a portal request through Ingress. Portal data can be quite detailed, and can include a place name, its GPS coordinates and a picture of the location. Again, the question is: who owns these data?
In its terms of service for Ingress, Niantic has included the following clause covering data and content uploaded by players:
"By making any User Content available through Services you grant to Niantic a nonexclusive, transferable, sublicenseable, worldwide, royalty-free license to use, copy, modify, create derivative works based upon, distribute, publicly display, publicly perform, and distribute your User Content in connection with operating and providing the Services and Content to you and to other Account holders."
This language is very much like that used by most services that rely on user-generated content. It means that while players retain all copyright in the content they upload, they grant Niantic a non-exclusive license to that content, and more importantly, they allow Niantic to make derivative works out of that content, and even to sub-license it to other users. By including this clause in its terms of service, Niantic has been able to include thousands and thousands of user-generated photos in Pokémon Go without paying a single penny to those who took them. It also explains why Niantic has been able to use this content in its new programs.
Ownership of virtual spaces
Beyond the question of the ownership of user-generated data, the issue of the locations tagged as game stops or gyms could also have important legal implications. For example, what happens if someone objects to their property being tagged as a gym or a stop in the game?
This was the case when U.S. web designer Boon Sheridan's house was tagged in Pokémon Go. Mr. Sheridan lives in an old church in Massachusetts, USA. As the location had been marked as a church in an old database, it was tagged as a gym in the game. Following the game's release a large number of visitors began hanging around Mr. Sheridan's home. He expressed his frustration on Twitter, saying "Do I even have rights when it comes to a virtual location imposed on me? Businesses have expectations, but this is my home." His experience raises an important question about the rights ordinary citizens have in the virtual world.
On top of legal implications relating to privacy, data protection and tort, IP issues arguably also arise in relation to rights over data held about an individual's property in a database.
The content of databases can be protected under copyright law as a literary work. In the UK, for example, the Copyright, Designs and Patent Act of 1988 (Section 3A) defines a database as a collection of independent works which "are arranged in a systematic or methodical way" and "are individually accessible by electronic or other means". In other jurisdictions protection of databases is a sui generis right. For example, the European Union Database Directive creates an exclusive right for database producers if "there has been a substantial investment in obtaining, verifying or presenting the contents of the database".
However, both the copyright in databases and the sui generis database right are held by the creator of the database and do not cover the interests that the owner of a physical space may have over data held about a particular property or location.
The commercial value of data
This may sound like a non-issue today, but as augmented reality gains traction, data about a business held in a database is likely to become very valuable, and any misrepresentation could compromise the reputations of businesses.
The commercial value of these data is already evident. For example, Niantic recently entered into an agreement with Starbucks for thousands of its coffee shops in the United States to be tagged as Pokémon Go stops. Other companies are following suit, with mobile telephone companies Sprint and Radio Shack also becoming points of interest in the game.
These developments hint at a future where virtual spaces will have considerable commercial value. They also give some indication of the types of problems that could arise when this occurs. Imagine a future where your house is tagged in a global database without your permission; or imagine a commercially sensitive database where your business is identified by incorrect or outdated data that are not fit for purpose and you cannot reach the developers; or worse, you contact them but they refuse to act. Such problems are likely to be further compounded by the inevitable launch of additional user-generated content platforms, which may well heighten potential for abuse of third-party interests.
While such concerns do not directly infringe IP rights, business reputation is one of the values protected by IP through trademarks. At present, Niantic offers people the chance to highlight any problems with a location, making it possible to resolve many of the potential data problems associated with augmented reality. But Pokémon Go is just the beginning. It is the proof of concept of a technology that will have far-reaching implications which we have not yet even started to think about. The wild success of location-based gaming may well give rise to a horde of "me too" games, so expect a new generation of augmented-reality gaming to hit the app stores soon.
The potential for augmented reality
The potential for augmented reality goes well beyond gaming, and we can expect many future applications built around geo-tagging. The possibility for innovation in this area is staggering in areas such as wearable technology, car displays and Internet of Things devices, to name a few.
To avoid future problems of the type discussed here, we need to start thinking about potential ways to help businesses and individuals safeguard their data. Something akin to moral rights, which are perpetual and which allow the creator to dictate the non-economic use of a work, or even a right over metadata, along the lines of existing arrangements under copyright laws could be helpful. In particular, rights management information, an element introduced by the 1996 WIPO Copyright Treaty, could provide a framework, as it protects information about the author and the rights held over a work.
History shows that IP law changes in response to technological developments. Games like Pokémon Go offer a glimpse of the shape of things to come and are likely, once again, to test the flexibility of IP law in the future.
The WIPO Magazine is intended to help broaden public understanding of intellectual property and of WIPO's work, and is not an official document of WIPO. The designations employed and the presentation of material throughout this publication do not imply the expression of any opinion whatsoever on the part of WIPO concerning the legal status of any country, territory or area or of its authorities, or concerning the delimitation of its frontiers or boundaries. This publication is not intended to reflect the views of the Member States or the WIPO Secretariat. The mention of specific companies or products of manufacturers does not imply that they are endorsed or recommended by WIPO in preference to others of a similar nature that are not mentioned.