African entrepreneurs lead the way in climate change adaptation
December 2016
By Maëli Astruc, Global Challenges Division, WIPO
Developing and deploying green technologies to mitigate and adapt to the worst effects of climate change are crucially important dimensions of efforts to build resilient and sustainable societies. They are particularly important in Africa, one of the continents that will be most adversely affected by climate change.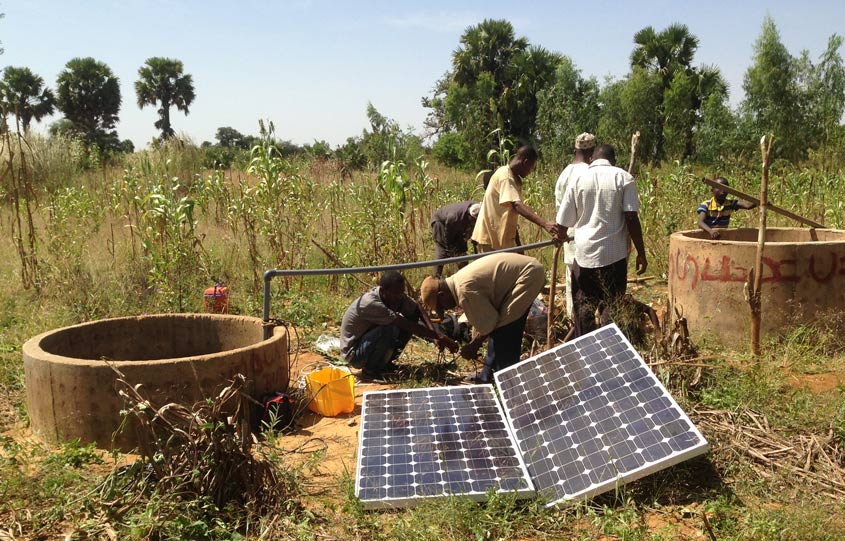 The good news is that many initiatives are being developed across the continent to meet the formidable challenges that lie ahead. Businesses are leading the way in tackling local challenges across Africa. This is evident from an exhibition showcasing Africa-focused green technologies that was held on the sidelines of the Conference of the Parties to the United Nations Framework Convention on Climate Change (UNFCCC COP22) in Marrakesh in November 2016.
The exhibition was co-organized by WIPO's green technology platform, WIPO GREEN (see box), the French National Institute of Industrial Property (INPI) and the Moroccan Industrial and Commercial Property Office (OMPIC). It featured the innovations of 44 small and medium-sized enterprises (SMEs) that are based in Africa or focused on the African market.
"Participation in the exhibition has given these companies international exposure. This networking opportunity contributes to their technology promotion efforts and speeds up the deployment in areas where solutions are most needed," notes Anatole Krattiger, who oversees the WIPO GREEN platform at WIPO.
"This exhibition gave me the opportunity to show Africans that we have the capacity to find solutions to the problems we are facing. All we need is to connect with each other and give ourselves the confidence that we can succeed," says Isidore Nzeyimana, CEO of Tekatangije in Rwanda, one of the exhibitors.
Against the backdrop of the recent entry into force of the landmark Paris Agreement (see box), and alongside important policy discussions at COP22 to further galvanize the global response to the threat of climate change, the exhibition demonstrated in very practical terms what businesses are doing on the ground to drive innovation to mitigate and adapt to climate change.
More than 180 companies applied to take part in the exhibition, with 80 percent of them coming from 22 African countries, reflecting the dynamism of African SMEs in developing technologies for clean energy, agriculture and water. These have been identified as priority areas by the UNFCCC.
The following two cases offer an example of the types of technologies that are under development in Africa to tackle local environmental challenges. The first relates to the development of a bio-latrine in Uganda and the second to a mobile phone-enabled tele-irrigation system from Niger.
About WIPO Green – The Marketplace for Sustainable Technology
WIPO GREEN is an interactive marketplace that promotes the innovation and diffusion of green technologies. It does this by connecting technology and service providers with those seeking innovative solutions.
About the Paris Climate Change Agreement
The landmark Paris Climate Change Agreement entered into force on November 4, 2016. So far, according to the UNFCCC, it has been signed by countries that account for over 55 percent of global greenhouse gas emissions.
UNFCCC's Executive Secretary, Patricia Espinosa, heralded the Agreement as "an extraordinary political achievement which has opened the door to a fundamental shift in the way the world sees, prepares for and acts on climate change through stronger action at all levels of government, business, investment and civil society."
Bio-latrine technology from Uganda
Soil degradation, inadequate sanitation and lack of access to clean energy are important challenges facing African farmers and those living in rural areas. According to the Bill and Melinda Gates Foundation, 40 percent of the world's population lacks access to adequate sanitation facilities, a situation which contributes to around 700,000 children dying from diarrhea each year. At the same time, the use of solid fuels such as wood, crop waste, charcoal and coal for cooking and heating contributes to high levels of household air pollution, causing 4.3 million premature deaths every year according to the World Health Organization (WHO).
Recognizing the interrelationship between soil degradation, inadequate sanitation and clean energy, Rachael Nabunya Kisakye, project engineer at the Ugandan company Tusk Engineers, has developed a bio-latrine.
"The bio-latrine concept was inspired by the heavy burden borne by African women to bring food to the table when in fact they have a source of energy that is readily available but largely unexploited. The solution is the bio-latrine," Ms. Nabunya says.
The concept
"A bio-latrine is an environmentally friendly toilet that is connected to a biogas digester that converts human excrement into a quality fertilizer that is safe to handle and can be used for agriculture. In the same process, combustible gas (biogas) is also produced and can be used for cooking, heating and lighting. This complete system addresses energy, sanitation, environment and agricultural production in a single cycle, and we are very proud of that," Ms. Nabunya explains. Her bio-latrine improves hygiene, community sanitation, living standards and the environment in general, through better waste management and the production of high-quality fertilizer and biogas.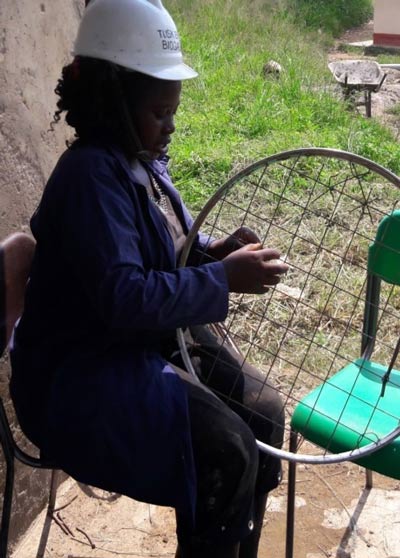 Biogas digesters and bio-latrines are located in communal areas – community centers, schools, churches and hospitals – to ensure ready access. Single units are also set up in locations that serve 20 or more households, with each family contributing to the total monthly cost of running the bio-latrine. "Each homestead is connected to the biogas digester through an electronic gas meter that relays information to a central processor for billing purposes," Ms. Nabunya notes.
Using available resources to tackle local challenges
The bio-latrine is made from a combination of off-the-shelf products, including biogas digesters from India and China, as well as biogas lamps, pressure gauges and stoves from China.
With aspirations to develop a perfect digester, the company is planning further developments to enhance the performance of its bio-latrine. "We plan to introduce an agitator to facilitate proper digestion and remove maximum biogas from the digester. We will also introduce a system that automatically circulates water from the slurry back to the mixing chamber. There are still many technical challenges to overcome before we come up with our 'dream' bio-latrine, but when we do we intend to protect our innovation," Ms. Nabunya says, noting that the company is documenting all aspects of the bio-latrine's design, operation and maintenance. "If our innovation is copied at this stage, there are no guarantees of performance," she warns.
"Innovation is about utilization of the available resources like technologies, manpower and machines to address our immediate challenges. It is not only about being new; it is also about having the capacity to address local challenges and making this world a better place to live in," Ms. Nabunya observes.
Aspirations to go nationwide
The company is currently testing its technology within communities and has built and connected bio-latrines to more than 150 domestic biogas digesters and 40 institutional digesters ranging in size from 6 to 70 cubic meters of fixed dome design.
"We are currently working in Gulu in North Uganda, where we have connected a 50-cubic meter digester to 10 bio-latrine stances," Ms. Nabunya says. "Our aim is to reach all of Uganda's rural population."
With a 45-cubic meter bio-digester, it is possible to generate 15 cubic meters of biogas in 24 hours. "The biogas stoves currently on the market consume 0.15 cubic meters of biogas per hour at maximum opening. That means the 45 cubic meter bio-latrine has an installed capacity of 100 appliance hours providing biogas to over 20 families," Ms. Nabunya explains.
Having completed installation of its demonstration sites, Tusk Engineers is now looking to roll out a market awareness campaign across Uganda. "Our campaign will focus in particular on Uganda's off-grid market to ensure that our technology is widely adopted and used," Ms. Nabunya says.
A smart water management solution from Niger
Mobile telephony has transformed the lives of millions of Africans. Half the continent's inhabitants have a mobile phone, and mobile innovation is one of its fastest-growth sectors, particularly in the areas of e-health and e-banking. But disruptive "e-green" innovations are also emerging with significant potential to promote more efficient use of natural resources.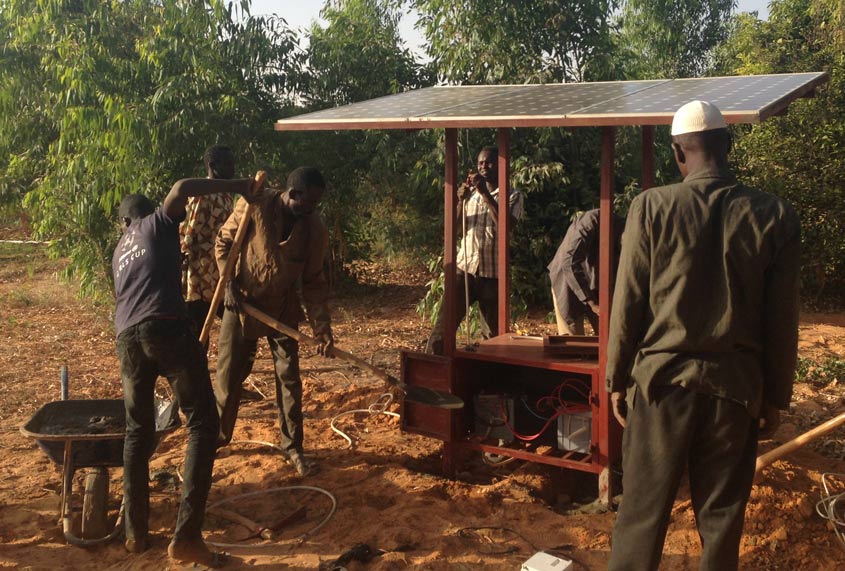 Abdou Maman, an ICT expert from Niger and the founder of Tech Innov, has developed a solution that enables farmers to control their irrigation systems remotely using their mobile phone.
Water scarcity is a major challenge and improving agricultural practice, including for irrigation, is a top priority for many countries in the region, as indicated in the UNFCCC's Climate Technology Centre and Network technology needs assessment reports.
Information technology is a powerful development catalyst for Africa because it can help the continent catch up in record time. Entrepreneurs should make good use of it and should also protect their innovations.

Abdou Maman
"From a very young age I realized that the way farmers irrigated their land was rudimentary and relied on physical energy," says Mr. Maman. "This is still the case today, despite the availability of advanced technologies. As an ICT enthusiast, I decided to draw on the region's natural and technological strengths to solve the recurring difficulties surrounding irrigation."
Improving agricultural practice
With Abdou Maman's tele-irrigation system farmers can control their irrigation systems remotely from anywhere, at any time. Farmers control the flow of water from their phone and can also collect and share real-time and remote meteorological and hydrological data, including temperature, soil moisture content, rainfall, solar radiation and wind speed. The system integrates and synchronizes a solar or wind station, a pumping mechanism (solar pump), a standardized water distribution network and telecommunications equipment. The system promises to improve agricultural productivity and water management in Africa. It will also make farming a more attractive option for young people, help to increase mobile telephone penetration rates, generate more traffic for mobile operators, and relieve young girls of their water-carrying responsibilities, freeing up time for them to attend school.
"Most Sahel and Saharan countries have similar climatic and ecological characteristics and they experience the same difficulties in relation to water management. Our solution can be deployed easily in these areas. There is high demand for our system from countries like Burkina Faso, Cameroon, Côte d'Ivoire, Mali, Senegal and Togo," Mr. Maman explains.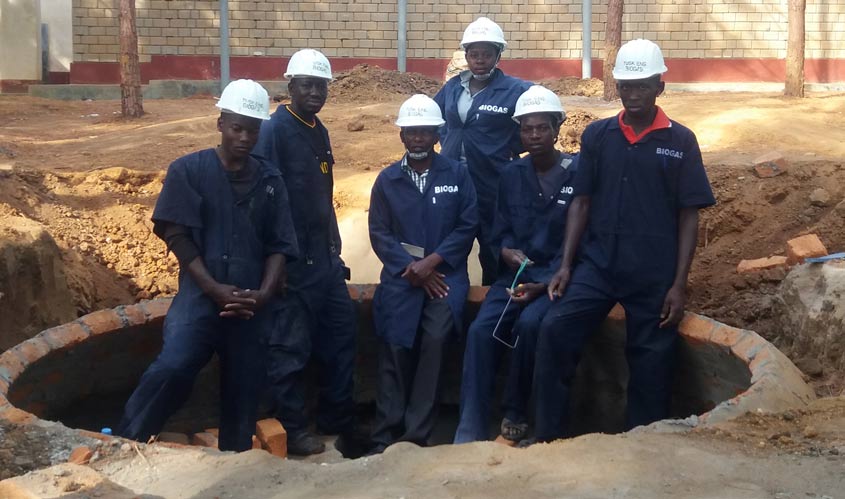 Why IP is important
Mr. Maman developed his tele-irrigation concept in 2010 and his first prototype a year later. He was a winner of the Social Entrepreneur in Africa competition organized by France Telecom, and has received various other prestigious awards for his work. In partnership with Orange Niger and two local banks, Mr. Maman began marketing his application in 2013. "Our system is patented and protected through the African Intellectual Property Organization (OAPI) under Patent No. 16025 BOPI No.07BR / 2013. This protects my invention and means that I can generate some revenue from it. The patent is also supporting my efforts to commercialize the application on a large scale," Mr. Maman says. "Information technology is a powerful development catalyst for Africa because it can help the continent to catch up in record time. Entrepreneurs should make good use of it and should also protect their innovations."
"The intellectual property system plays a key role in that it encourages inventors to invest in the development of new technologies," notes Anatole Krattiger of WIPO GREEN. "The IP system recognizes and rewards innovators for new products and services that are commercially successful if they are commercially successful. More specifically, technical information made freely available through the publication of patents offers many opportunities to inspire innovators to build on existing inventions and push technological boundaries. Importantly, the IP system also serves as one of the means to structure the transfer and diffusion of technologies."
These two cases are just a tip of the iceberg, in terms of what is happening in Africa's green tech scene. They do, however, offer some insight into the vision, determination and genius of African innovators, and their recognition of the importance of protecting their innovations, in developing new, more effective technologies to support efforts to adapt to and mitigate the worst effects of climate change.
The WIPO Magazine is intended to help broaden public understanding of intellectual property and of WIPO's work, and is not an official document of WIPO. The designations employed and the presentation of material throughout this publication do not imply the expression of any opinion whatsoever on the part of WIPO concerning the legal status of any country, territory or area or of its authorities, or concerning the delimitation of its frontiers or boundaries. This publication is not intended to reflect the views of the Member States or the WIPO Secretariat. The mention of specific companies or products of manufacturers does not imply that they are endorsed or recommended by WIPO in preference to others of a similar nature that are not mentioned.