Reggae: Jamaica's gift to the world
By Catherine Jewell, Communications Division, WIPO
International Reggae Day, which takes place every year on July 1, is a worldwide celebration of Jamaica's gift to the world, Reggae music. The event marries the power of music, media and technology and is a global invitation to celebrate Jamaica's creativity and to showcase the many dimensions of Reggae lifestyle around the world.
Andrea Davis, who was instrumental in establishing the first International Reggae Day and who has been producing the event every year since it premiered in 1994, shares her views on the importance of Reggae music and the challenges facing Jamaica's creative sector today.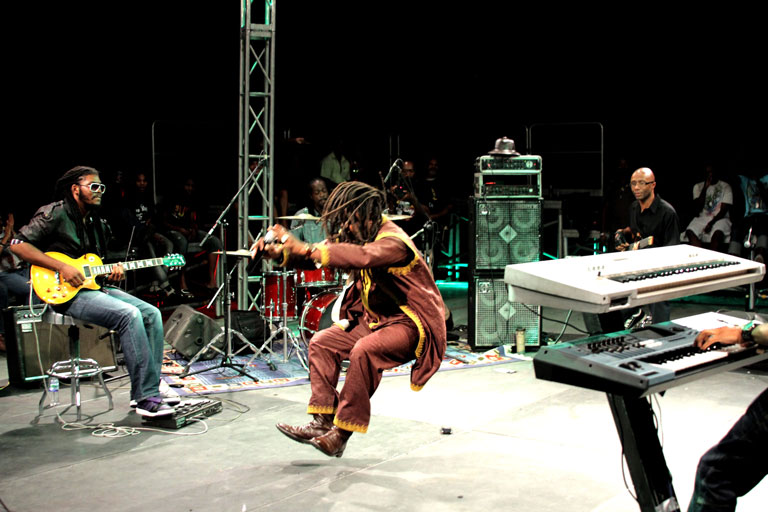 What prompted you to establish International Reggae Day?
Reggae Day was inspired by Winnie Mandela's speech during her visit to Kingston in 1992, in which she spoke about the power of Reggae music to "uplift, inspire and unite" the people of South Africa in their struggle against apartheid. When Reggae Day premiered on July 1, 1994, the idea was to mobilize radio stations in Jamaica to showcase the roots and branches of Jamaican music; to promote quality standards in music and media; to establish a Jamaican Music Hall of Fame; to showcase the best of Jamaica; and to help the people of Jamaica overcome their own struggle for social equality.
With the birth of the Internet in 1996, the event was recast as International Reggae DayTM and our goals expanded: to "unite, inspire and uplift" the global Reggae community through the power of music, media and technology; to showcase Kingston as the Home of Jamaican Music; to highlight the impact of Jamaica, Reggae and Rastafari on global pop culture; and to promote support for music and arts education in Jamaica.
What are the origins of Reggae music?
Jamaica is known around the world for the diversity and rhythmic originality of its folk and popular music genres. These include Mento, Ska, Rock Steady, Reggae of course, Dub and Dancehall (see box). Few countries have had such a major impact on the global music scene over the past 65 years. Jamaica is the birthplace of the global Reggae lifestyle phenomenon, and the culturally authentic home of Reggae music.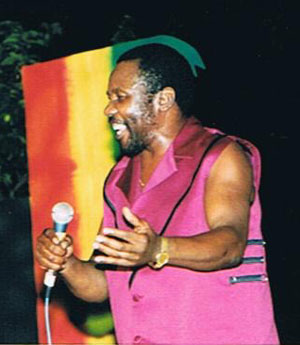 Reggae grew from this exceptionally rich musical culture, and especially reflected the growing influence of Rastafari in urban Jamaica in the 1960s. The country's music scene became infused with Rastafari philosophy, drumming and style, including the signature dreadlocks that have become the image of Reggae music.
Reggae's heartbeat rhythm and lyrics about love, redemption and natural living continue to captivate audiences worldwide. Reggae music, which accents the second and fourth beats in each bar, has been the soundtrack for the "One Love" global movement led by Reggae king Bob Marley and artists such as Jimmy Cliff, Peter Tosh, Dennis Brown and Toots & the Maytals, whose recordings and international tours introduced Reggae music, Jamaican culture and Rastafari "livity" to the world.
Jamaica's distinctive sounds, fashion, style, dance and language continue to influence global culture as artists, musicians, visual artists and dancers showcasing the Jamaican sound travel the world, spreading the message of "One Love" through the power of Reggae music.
How would you characterize its importance?
Like other lifestyle genres, including Hip Hop, Country and Jazz, Reggae has its own sound, fashion, dance, language, philosophy, cuisine, visuals and attitude. "One Love", a philosophical affirmation inspired by Marcus Garvey and popularized by Rastafari, is at the heart of Reggae's worldwide movement, resonating across borders and generations. Arguably the first true world beat, Reggae music enjoyed a global audience well before the age of music videos and the Internet.
Jamaica's brand identity and value are intrinsically tied to its music and culture. Reggae music is its soundtrack and the signature genre in the diverse Sounds of JamaicaTM. As a core part of Jamaica's creative industries, which contribute 4.8 percent of GDP, music is one of country's most valuable assets. Since the 1960s Jamaica's remarkably innovative and resilient creative entrepreneurs have independently added to the country's export value. And creativity continues to be a significant driver of inclusion and empowerment of young people and marginalized groups within the national economy. The economic, social, cultural and environmental value of Jamaica's music has strengthened Jamaica's brand value significantly and continues to add resonance to its brand internationally.
What challenges did you face in establishing International Reggae Day?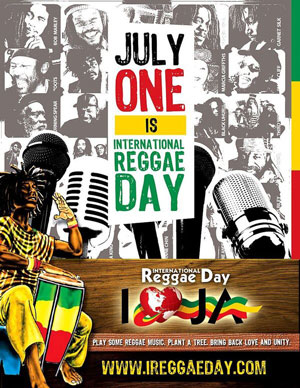 Building a 24-hour global celebration of Reggae with limited capital resources has had its challenges. Jamaica has had the good fortune to produce several distinct genres of globally appealing music but has suffered from underinvestment in creativity, arguably its most valuable asset and greatest competitive advantage. One of our objectives in establishing International Reggae Day was to reinforce Jamaica's position as the culturally authentic source of the global phenomenon that Reggae music has become.
Chronic underinvestment in the country's human and creative capital has proven the biggest challenge to sustaining this vision. The creative sector is venture capital intensive so it is an uphill struggle to ensure that it flourishes in a country where venture capital is in short supply. Venture capital financing is a prerequisite to building Jamaica's creative economy and developing and marketing its creative assets.
What role does intellectual property have in producing the festival?
Intellectual property (IP) is the foundation on which to build value as ideas move from concept to reality. International Reggae Day was one of the first trademarks to be registered within Jamaica's creative industries sector. Our trademark rights enable us to issue event licenses to prospective overseas partners interested in hosting official International Reggae Day events on July 1 as part of the global Reggae party network.
International Reggae Day has been at the forefront of efforts to shape and strengthen Jamaica's copyright laws, especially with respect to amendments for the extension of the copyright term, recognition of performers' rights, derivative works and modern filmmaking which is increasingly important in today's world where people "watch music".
Have levels of intellectual property awareness improved in Jamaica?
There is definitely an improvement in IP awareness in Jamaica and the region as a whole, thanks to efforts by the Jamaican IP Office (JIPO), local and regional collective management organizations, such as the Jamaican Association of Composers, Authors and Publishers (JACAP), and other professional organizations, such as the Jamaican Federation of Musicians (JFM). Compared to past generations, today's creative entrepreneurs are far more familiar with IP concepts and the importance of protecting their rights as well as the connection between IP protection and income generation.
What are the main challenges facing Jamaica's creative industries?
Like other developing economies, Jamaica faces many challenges in its efforts to strengthen its creative economy. These include limited access to financial resources, a fragmented public and private sector, gaps in the legal and regulatory framework and skilled management resources, an informal business culture, inadequate education and training opportunities and the absence of strategic industry focus, to name a few.
All too often, decision-makers are taken up with immediate day-to-day social and economic concerns, with little time devoted to the long-term vision of strengthening Jamaica's creative economy and creating an enabling environment in which the country's creative industries can thrive. The competitive advantages inherent in Jamaica's creative industries, our considerable strengths in the areas of hospitality and wellness, our location and our burgeoning information and communications technology sector offer an opportunity for Jamaica to create wealth in the global knowledge-based economy where the country brand enjoys broad recognition and appeal.
What message do you have for young musicians?
Learn all you can about your craft and practice it daily because success comes when preparedness meets opportunity. It is an exciting time to be a creative entrepreneur. Music production, distribution and dissemination are more affordable and audiences are more accessible and mobile than ever before thanks to advances in and the convergence of digital technology, social media and global communication.
Respect and value your gift but also listen to others and learn from their experience. Never take yourself too seriously. Surround yourself with a trusted team of professionals that you respect and who respect you, and always make sure your lawyer reviews any document before you sign it. Believe in yourself, tell your stories from your heart and through your art, and as we say in Jamaica: Walk good!
What does Reggae music mean to you?
Reggae music, like water, is life. It mixes well with everything and with it the world is a better place.
Jamaica's rich musical tradition
Mento features acoustic guitar, banjo, hand drums and the rhumba box and emerged in the 1940s. Renowned Mento recording artistes include the mother of Jamaica's culture, the Honorable Louise Bennett (Ms. Lou), Count Lasher, Lord Flea, Lord Fly, Laurel Aitken and Harry Belafonte, a New Yorker of Jamaican origin. Belafonte's wildly popular 1950s hits from his "Calypso" album, the first to sell one million copies, included Mento songs Day-O (The Banana Boat Song) and Jamaica Farewell, originally recorded by Ms. Lou.
The sound system movement also emerged in the 1940s, led by the pioneering "Tom the Great Sebastian" sound system and others, such as Clement Dodd's Downbeat, Duke Reid's Trojan, King Edwards' The Giant, and Prince Buster's Voice of the People, where the latest recordings (initially from the US and thereafter from Jamaica) were played at local dances. Sound systems were the primary source of entertainment in Jamaica and are an integral part of Jamaican life, at home and abroad. The movement's distinctive heavy bass bottom and popular pop-up dance events fueled the expansion of Jamaica's recording industry and launched many successful music careers including that of Jamaica's first deejay, Count Matchukie. Leading sound systems including the "big three" – Coxsone Dodd's "Downbeat Sound", Duke Reid's "The Trojans" and King Edward's "The Giant" – became top producers in the late 1950s and leading music labels by the 1960s. The movement had a significant impact on the development and internationalization of Jamaican music, playing a central role in the start of the Notting Hill Carnival and the rise of urban music in the UK, and of Hip Hop in the US. Today Jamaican-styled sound systems have gained global popularity, from King Jammy's to Stone Love, spawning international offspring like Japan's Mighty Crown, Germany's Sentinel Sound and the UK's David Rodigan.
The art of toasting – talking or chanting, usually in a monotone, over a rhythm or beat by a deejay – was introduced by Count Matchukie and later championed by artists such as U Roy, Big Youth, Super Cat, Shabba Ranks and Buju Banton. Like the sound system movement, toasting shaped the development of Rap and Hip Hop music in the US.
Ska music from Studio One and the legendary band the Skatalites exploded in the early 1960s. Jamaicans embraced the genre's infectious horns and hypnotic dance beat. It became the soundtrack of the nation and rapidly gained popularity in the UK and the US thanks to innovative artistes like Desmond Dekker, Prince Buster and Millie Small, whose top selling "My Boy Lollipop" launched Island Records and introduced Ska to the world.
Rock Steady, which puts heavy emphasis on the bass line with the rhythm guitar playing on the upbeat, followed for a brief two-year period in the mid-late 1960s, producing a flood of singers and groups such as Alton Ellis, Delroy Wilson, John Holt, Ken Boothe, Phyliss Dillion and The Heptones. Amid the political turmoil of the 1960s, Rock Steady hits such as No No No, Tide Is High and By The Rivers of Babylon enjoyed broad appeal, and introduced a new cadre of talent that took Jamaica's music to the world stage.
Dub music, which heralded the dawn of the remix and has been credited with later shaping the evolution of punk rock, pop, disco, house, techno, trip hop, dub step, drum and bass, dance music and electronic dance music, emerged in the 1970s with innovators like Lee Scratch Perry, King Tubby and Errol 'ET' Thompson.
Reggae first appeared as a musical term in print with the 1968 hit Do the Reggae by Toots & The Maytals. Reggae, like many African beats, is characterized by a heavy backbeated rhythm known as the heartbeat, made popular globally by Reggae king Bob Marley. The 1973 release of The Harder They Come starring Jimmy Cliff introduced Jamaican music to cinema audiences around the world. Reggae music is synonymous with equal rights and justice and has earned Jamaica international respect and reinforced the country's image. It has also had a huge impact on international pop culture.
Dancehall evolved from its original definition as a place where music was played into a genre in the early 1980s with the introduction of King Jammy's Sleng Ting rhythm first popularized by the artiste Wayne Smith. Dancehall music dominated in the 1980s as a minimalist approach to the new digital recording process gained traction. Like all genres of Jamaican music, Dancehall is a lifestyle experience with a diverse roster of talent including Beenie Man, Bounti Killa, Lady Saw, Sean Paul and Shaggy, to name a few.
The WIPO Magazine is intended to help broaden public understanding of intellectual property and of WIPO's work, and is not an official document of WIPO. The designations employed and the presentation of material throughout this publication do not imply the expression of any opinion whatsoever on the part of WIPO concerning the legal status of any country, territory or area or of its authorities, or concerning the delimitation of its frontiers or boundaries. This publication is not intended to reflect the views of the Member States or the WIPO Secretariat. The mention of specific companies or products of manufacturers does not imply that they are endorsed or recommended by WIPO in preference to others of a similar nature that are not mentioned.