Adding value to Chile's heritage products with the Sello de Origen
June 2016
By María Catalina Olivos and Francisco Carrasco, Cabinet of National Institute of Industrial Property (INAPI), Chile
Chile's climate, geography and culture are as rich as they are diverse. The country is home to the world's driest desert, the Atacama Desert, to the north, and fertile grasslands to the south. A multitude of lush valleys nestle at its center between its 4,300 kilometer-long Pacific coastline and the snow-capped peaks of the Andean cordillera. But beyond the mainland, Chile's territory includes clusters of ocean islands and Antarctica, and spans three continents.
This unique landscape with its staggering natural resources is home to over 17 million people who over the years have forged a wide range of cultural expressions – a rich patrimonial identity that underpins the distinct traditions of each individual community.
Adding value to traditional products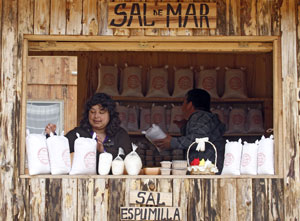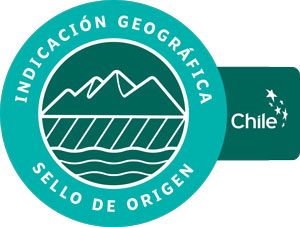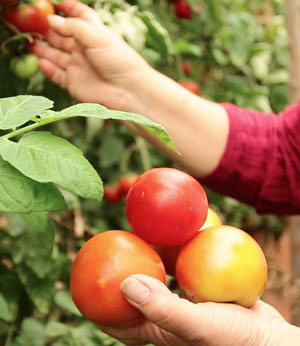 In an endeavor to promote the many high-quality products developed by these communities, and to preserve and add value to local manufacturing traditions, in July 2012 the Ministry of Economy, Development and Tourism and INAPI launched the Sello de Origen (Seal of Origin) program.
The initiative complements long-standing efforts led by the Ministry of Agriculture to protect and enhance the value of Chile's high-quality wines and spirits.
The program's aim is to promote and protect unique traditional products through the grant of exclusive industrial property rights. The Sello de Origen itself is a certification mark designed to encompass a broad range of traditional Chilean products and to render them more easily recognizable in the market. Each product that bears the Sello de Origen, however, is protected in its own right by one of four types of intellectual property right used to protect distinctive signs, namely appellations of origin (AOs), geographical indications (GIs), collective marks and certification marks.
"The Sello de Origen serves first and foremost as a clear and easily recognizable guarantee that the products bearing it are genuine, high quality goods, with characteristics which are intimately linked to the place in which they are produced," says INAPI's Director General, Maximiliano Santa Cruz. "Today, customers attach increasing importance to the origins of the goods they consume and the way they are made. Thanks to the Sello de Origen, these links are becoming increasingly visible. Consumers are paying greater attention to these products and demand for them is rising, and this is helping to promote our local industries."
By organizing and bringing producers together to protect their origin-based products, the program is helping to create new value chains and business models to ensure that Chile's traditional products are more competitive and better protected against unfair competition. With the Sello de Origen on their products, it is easier for producers to take legal action against any misuse. The Sello de Origen gives them an extra layer of protection above and beyond their national registration of GIs and AOs. "We are convinced that the granting of exclusive rights makes it possible for rights holders to earn a return on their investment because it prevents unauthorized manufacturers from using protected products," says Mr. Santa Cruz.
Identifying candidate products
Travelling the length of the country, it is hard to overlook the juxtaposition of flavors, aromas, customs and practices that mirror the unique identity of the communities from which they originate. Examples abound. They include hand-crafted products such as Quinchamalí's distinctive jet-black ceramic-ware in the south and the colorful, clean lines of the intricately woven blankets and chamanto cloaks worn by the huaso ranchers and made by the artisans of Doñihue in the central O'Higgins region. They also include the aromatic and flavorful olives of the Azapa Valley and the delicious Pica lemons. And for something really special, we must not forget the traditional pastries made by bakers in La Ligua (dulces de La Ligua) near Valparaíso, and the tuna from Easter Island which draws its exceptional flavor from the temperature, purity and plentiful food supply of the local waters.
While many of Chile's handmade and cultivated products are worthy of protection under the Sello de Origen program, for practical purposes, and to get the project off the ground, in its initial phase only a fraction of these were identified for protection.
As a first step, INAPI launched an extensive consultation with key actors to determine how best to identify candidates for the project. This resulted in inviting representatives from the country's 15 regions to submit a shortlist of traditional products from their respective areas. In total, 52 products were singled out as potentially worthy of industrial property protection.
In a second phase, a public bid called for technical studies to examine the links between the hallmark characteristics of each product and their place of origin. The studies, along with the precise delineation of the geographical zones concerned and relevant governance regulations provided a solid basis for applying to INAPI for an AO, a GI or a certification or collective mark.
The whole process was supported by the private sector. The "Hacer Chile" Foundation, for example, is actively supporting associations applying to protect their products with GIs, AOs, collective marks and certification marks.
The salt of Cáhuil, Boyeruca and Lo Valdivia: a success story
The salt of Cáhuil, Boyeruca and Lo Valdivia acquired AO status under the Sello de Origen program in 2013. It is one of the program's success stories.
Cáhuil, Boyeruca and Lo Valdivia located in Chile's O'Higgins central coastal region, are well-known for their sea salt which has been produced there for the last 450 years.
While some claim the Spanish first developed salt extraction in these areas, others believe indigenous peoples produced it for their own consumption long before the Spanish arrived. Either way, the settlers understood that salt was an excellent preservative and started extracting and trading this rare commodity with other regions. The production methods first used remain unchanged today: the same ponds mixing salt and fresh water and where salt accumulates naturally, the same wooden tools and even the same structures to divide the ponds.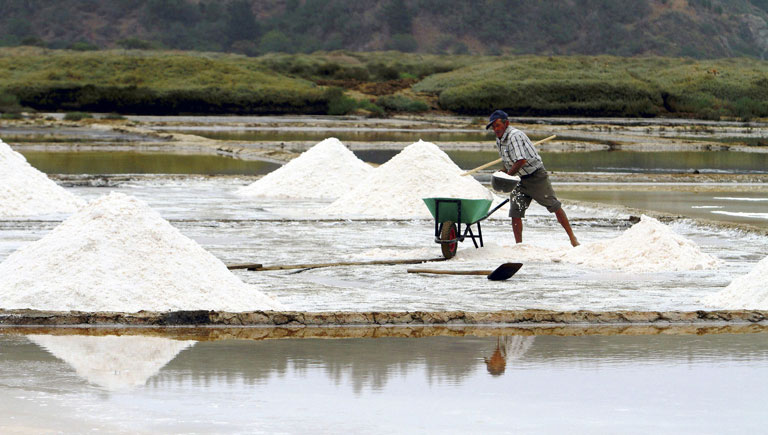 The salt trade sustained livelihoods in these areas for many generations. But by 2011, most of the salt produced was sold in bulk, typically to mining companies to clear snow-covered roads. With declining prices – a 50 kg sack falling to just USD4.00 – it became impossible to cover extraction costs. Many young people had to give up on the idea of following in their ancestors' footsteps. With the oldest salt miner celebrating his 80th birthday and the youngest already 45 years old, passing the baton to the younger generation seemed improbable.
But thanks to the Sello de Origen, salt extraction in these areas is taking on a new life. Salt producers are beginning to enjoy better returns as new trade horizons open up to them.
Things began to turn around when the local trade association secured funding to establish a processing plant, which, while not part of the historically and culturally significant extractive process, makes it possible to store the salt in suitable conditions.
Today the salt is widely recognized as of gourmet quality and its market value has soared.
"Salt producers from Cáhuil, Boyeruca and Lo Valdivia have realized that their product is not only distinctive and unique, but also historically rooted and firmly grounded in the region where it is produced. All of these qualities are highly prized by consumers and the Sello de Origen means that they have become visible and identifiable. In 2015, they received their first two export orders and the salt made its way onto the shelves of Chile's largest supermarket chains. This was the cause of great celebration," says Mr. Santa Cruz.
Now, local salt producers are looking to develop tourism in the area, aiming to capitalize on their traditional salt extraction activities, to encourage younger generations to get involved and help guarantee their future.
Positioning the Sello de Origen
So far, INAPI has awarded the Sello de Origen to 21 products and has built a close relationship with the beneficiaries, giving them practical guidance on how to use the GI, AO or trademark effectively.
Four years after the program's initial launch, on September 2, 2015, Ms. Michelle Bachelet, President of the Republic of Chile, unveiled the new image of the Sello de Origen. It was designed with input from INAPI and the Image of Chile Foundation and aims to boost the brand's strength and visibility. "The trademark echoes the dedication and care of Chilean producers and is a means to perpetuate tradition and quality," Ms. Bachelet said at the event.
The campaign includes placing signposts in the areas that have acquired Sello de Origen for their products. The aim here is to attract tourists to the areas concerned and to add greater value to the work of local communities.
Finally, INAPI is encouraging producers to participate in national gastronomy trade fairs to take advantage of the interesting business opportunities they offer, proving once again the benefit of the Sello de Origen as a tool for adding value to the products of Chile's rich heritage.
So far 21 products have been granted protection under the Sello de Origen program. They include:
Geographical indications
Pica lemons (2010)
Juan Fernández lobster (2011)
Easter Island tuna (2012)
Juan Fernández golden crab (2012)
La Ligua pastry (2014)
Chilote lamb (2015)
Lluta corn (2015)
Paine watermelon (2016)
Appellations of origin
Cáhuil, Boyeruca and Lo Valdivia salt (2013)
Pomaire pottery (2013)
Doñihue chamantos and blankets (2014)
Quinchamalí pottery (2014)
Capitán Pastene prosciutto (2015)
Certification trademarks
Fresh Atacama table grapes (2012)
Chiloé Globally Important Agricultural Heritage System (GIAHS) (2013)
Quality standard of Aysén, Patagonia, Chile (2014)
Limachino tomatoes (2015)
Isla Negra embroidery (2015)
Pacific black jewelry (coral) (2016)
Collective marks
Corazón de Paine watermelon (2014)
(N.B. The GI for Paine watermelons was previously covered by the collective trademark Corazón de Paine, which itself served to strengthen the technical instruments used to verify the links between the product, its reputation and its place of origin, as well as to enhance the regulation for use and limitations.)
Casa Blanca Route winemakers (2016)
Valdiviana beer (2016)
The WIPO Magazine is intended to help broaden public understanding of intellectual property and of WIPO's work, and is not an official document of WIPO. The designations employed and the presentation of material throughout this publication do not imply the expression of any opinion whatsoever on the part of WIPO concerning the legal status of any country, territory or area or of its authorities, or concerning the delimitation of its frontiers or boundaries. This publication is not intended to reflect the views of the Member States or the WIPO Secretariat. The mention of specific companies or products of manufacturers does not imply that they are endorsed or recommended by WIPO in preference to others of a similar nature that are not mentioned.