Sony Interactive Entertainment (SIE) on the future of gaming
April 2016
By Jonah Asher, WIPO Japan Office
Video games, where high art meets cutting-edge technology, have become one of the most popular forms of mass entertainment in the world. Perhaps best known for PlayStation®, Sony Interactive Entertainment LLC (SIE) has been a key player in shaping the global multi-billion video game market for over 20 years. First launched in 1994, the Sony PlayStation® is now in its fourth generation, and with a planned launch of the PlayStation®VR (PS VR) in October 2016, users are looking forward to an entirely new gaming experience. In this interview, Ryosuke Senoguchi, Vice President for Intellectual Property and Saori Ikeda from Corporate Communications at Sony Interactive Entertainment talk about the rapid growth of the global industry, where video games are going and the importance of intellectual property (IP) to the company
What factors have enabled the growth of video games?
Saori Ikeda: Smartphones have had a major impact on the popularity of games, creating a whole new community of gamers. Many people start out with smartphone games and then migrate to gaming consoles for a richer immersive experience. Video game streaming is also gaining traction, especially in the US, and has a lot of potential. SIE recently launched PlayStation™Now, a streaming game service that leverages cloud-based technology, where players can access a library of PlayStation®3 (PS3™) games from the cloud either through a subscription or on a per-game rental basis. This service gives users the possibility to play games from various interconnected devices, including selected TVs, without having to own a dedicated gaming console; as such it is opening the PlayStation® world to many more consumers.
What factors are driving change in the video game industry?
Ryosuke Senoguchi: The time and energy companies like SIE invest in making and developing new technologies, such as streaming game services and virtual reality (VR), to give different groups of users new gaming experiences, are important change drivers. This, of course, has been made possible by the rapid evolution of computer technology – faster computer processing units and graphics processing units, better infrastructure and, in the case of VR, higher-definition screens and enhanced camera and head-tracking technologies.
Prior to the original PlayStation®, most video games were released in cartridge format but PlayStation® used optical discs, one of our most important IP assets.
It was really the evolution of the media that allowed for the evolution of the software content. We started with CD-ROMs and then DVDs set a new standard. It took us a while to integrate these technologies into the hardware, but disc media allowed us to be one of the first companies to use polygons and 3D environments in our games. That, I think, was one of the keys to PlayStation®'s success.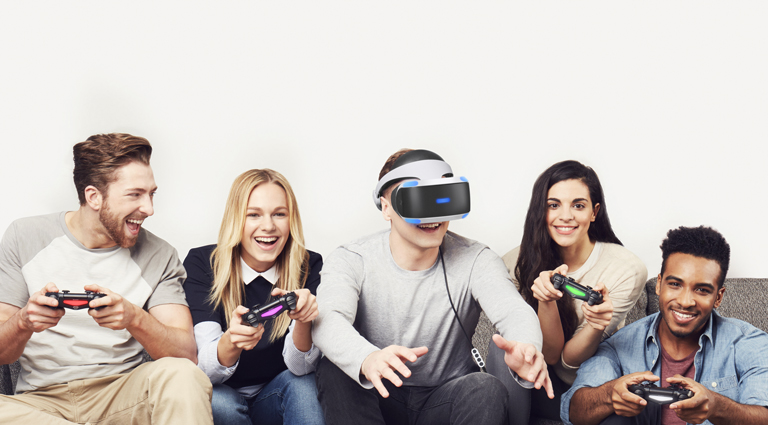 Saori Ikeda: Technology is ever-evolving, and continues to transform games and the industry itself. The new features and services that are coming on stream are also driving change. For example, social integration and interaction are central to PlayStation®4 (PS4™). The PS4™ system's game controller features a "SHARE" button that allows users to share their victories at the press of a button. Gamers are no longer simply playing games, they are connecting with others through online communities and social networking services. This is also significantly changing the gaming landscape.
What will be the next big breakthrough in video game development?
Saori Ikeda: Like many others who are planning to release VR equipment this year, we believe that VR gaming will be the next big evolution in the video game market. We think it is going to be very popular. We are launching PS VR this October and are very excited about that.
Ryosuke Senoguchi: One of the biggest challenges in developing PS VR was to find a solution to "VR sickness". Some people may feel nauseous when they play VR content, and though the level of nausea varies from one person to the next, we have worked to develop the hardware and the software content in a way that minimizes the problem. After all, we don't want to make our customers sick!
Saori Ikeda: Another challenge that we – and our competitors – face with VR, is that you have to try it to fully understand it. Playing a video game on a flat screen is a completely different experience from wearing a headset and playing a VR game. Right now PS VR can only be experienced at large industry or related events, but we hope to eventually bring the system to locations closer to consumers, such as retailers, so customers can experience VR for themselves. At first, it is likely that only hardcore gamers and enthusiasts will adopt the really cutting-edge technologies like VR, but we hope their excitement will filter through to the masses and that VR will become a new gaming experience that everyone can enjoy.
Ryosuke Senoguchi: Initially, the content available on PS VR will be mainly video games, but the system has potential applications in many different fields. This is something we have been keeping in mind when developing the IP strategy for PS VR.
Will there be enough VR content available?
Saori Ikeda: SIE has put a lot of effort into making it easier for developers to create software for our hardware, and over many years we have developed strong relationships with them, so we don't think this will be a problem. Developers can develop games for PS VR fairly easily because the PS4™ system that runs the PS VR content is based on PC architecture. Throughout the R&D process we talk directly with developers to be sure to develop the architecture and features that make it easier for them to create software for our hardware.
Why is IP important to SIE?
Ryosuke Senoguchi: We use IP to reduce the risk of lawsuits and of course to protect our own products from being copied by others. IP really is very important to SIE and plays a key role in enabling us to expand our market share and build new markets. One of the biggest IP challenges facing the industry is in the area of copyright, given the need to protect creative content. We protect all of our own technologies, including PlayStation®, with patents. Doing so increases our success. But we have more trademark applications than anything else, especially for our hardware. Creating and protecting a successful brand is a key challenge.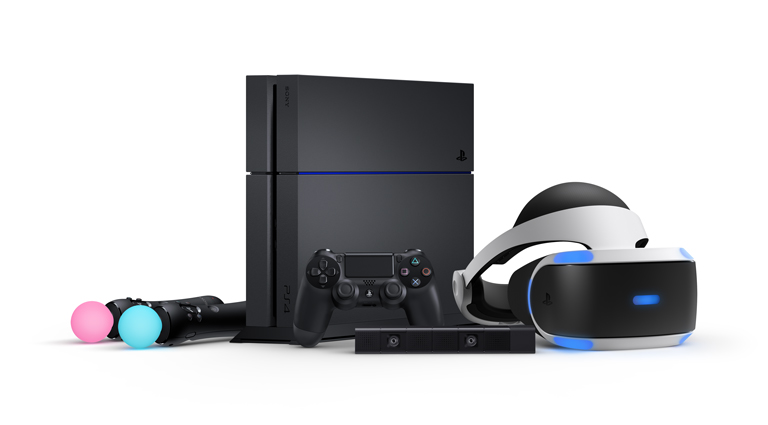 While we provide both the hardware and the software titles that run on it, we are in the business of offering a complete platform. In general all of our IP activities are focused on delivering "the world of PlayStation®" to our consumers. The PlayStation® brand is extremely important to SIE.
Can you tell us about some of the key challenges facing video game developers?
Ryosuke Senoguchi: Developing video game hardware and titles that everyone appreciates and enjoys is a real challenge. PlayStation® products are now sold in 124 countries. Each country has its own national identity and culture, and each has its own economic situation and income level. When we develop a product, we have to take this into consideration. We can't just assume that because a game is popular in Japan it will be popular in other markets.
Creating software and developing products with lasting appeal, offering technology that people want to buy and use now and a decade down the road, is a real challenge. Unlike other consumer products, the life cycle of PlayStation® hardware can last 10 or more years. That was the case with the original PlayStation®. R&D takes a very long time because we have to think of ways to develop and release technology that will not only be the latest now, but which can also be built upon or combined with other technologies that have not yet even been developed.
From an IP perspective, because of the length of our product life cycle, it is essential that we secure effective IP protection for our products and services. I can't emphasize the importance of that enough. Our IP strategy is central to the continued success of the PlayStation® business. This is especially so these days when video game hardware is becoming increasingly commoditized. An effective IP strategy enables us to leverage further value from our products.
Have you had significant problems with IP infringement?
Ryosuke Senoguchi: Generally speaking, a few years ago, it was hard to protect creators because the copyright laws of different countries varied so much. But a lot has changed since and there has been greater international harmonization of these laws. There is a much friendlier legal environment for protecting the industry's creative output and at a macro level there has been a lot of progress in combating IP infringement. Of course, malicious online activities are becoming an increasingly common threat, and we are taking steps to mitigate these activities. We are focusing on damage control and have put the best possible technical and legal countermeasures in place to fend off such attacks.
Do you think the IP system needs reforming?
Ryosuke Senoguchi: When it comes to copyright, I think it will continue to evolve in line with technological and market developments. In the area of design rights, we welcome WIPO's continued efforts to simplify the Hague System for the International Registration of Industrial Designs and to make it more cost-effective. But in the area of patent law, the global video game industry in general is facing a challenge in relation to legally protecting network and server innovations in all countries in which it operates.
Do you have a favorite video game?
Ryosuke Senoguchi: I really enjoy the first-person shooter (FPS) genre of video games. Destiny for the PS4TM is one game that I got particularly into. I also really enjoyed STAR WARS TM Battlefront TM. My son purchased it last year, but I think I ended up playing it more than him!
The WIPO Magazine is intended to help broaden public understanding of intellectual property and of WIPO's work, and is not an official document of WIPO. The designations employed and the presentation of material throughout this publication do not imply the expression of any opinion whatsoever on the part of WIPO concerning the legal status of any country, territory or area or of its authorities, or concerning the delimitation of its frontiers or boundaries. This publication is not intended to reflect the views of the Member States or the WIPO Secretariat. The mention of specific companies or products of manufacturers does not imply that they are endorsed or recommended by WIPO in preference to others of a similar nature that are not mentioned.