Changing global disease patterns and the need for medical innovation
February 2016
By Catherine Jewell, Communications Division, WIPO
Dr. Peter Hotez is an internationally recognized expert in neglected tropical diseases (NTDs) and vaccine development. Among many roles, he is President of the Sabin Vaccine Institute in Houston, Texas, USA, (one of over a hundred members of WIPO's global health initiative, WIPO Re:Search), a member of and founding dean of the National School of Tropical Medicine. In 2015 he was appointed by the State Department as US Science Envoy.
Dr. Hotez reveals how NTDs are a massive problem not just in the developing world but also for developed countries, and explains how scientists and policymakers – and WIPO – can work together to eliminate some of the world's most debilitating diseases.
What are neglected tropical diseases?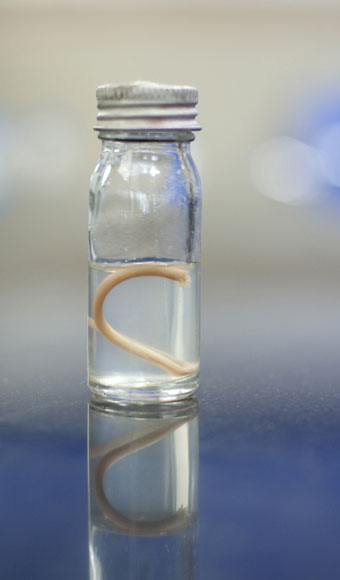 The concept of NTDs was established after the launch of the 2000 Millennium Development Goals. At the time, HIV/AIDs, malaria and tuberculosis were priority action areas, but given the huge health burden caused by parasitic diseases, my colleagues and I led global efforts for a cluster of the most common, chronic and debilitating conditions to be recognized as NTDs. Our aim was to draw attention to the human suffering these diseases cause and to attract funding for the development of new, more effective therapies to treat them.
Today, the NTDs include at least 17 chronic parasitic and related infections recognized by the World Health Organization. Almost everyone living in poverty has at least one of them. NTDs are diseases of poverty, of social stigma and of conflict. I often say that they are a reason why the bottom billion cannot escape poverty.
What progress has been made in treating NTDs?
Over the last 15 years we have made a significant impact through the use of "rapid impact packages" of low-cost generic drugs or drugs donated by multinational pharmaceutical companies, for example Zithromax (Pfizer), Ivermectin (MSD) and Praziquantel (Merck KGaA). We estimate around one billion people in low and middle-income countries have received this treatment so far. In some cases, we have matched achievements recorded for HIV/AIDS, malaria and TB and are on the point of eliminating trachoma, lymphatic filariasis, onchocerciasis and ascariasis. But similar progress has not yet been achieved for other NTD drug targets such as hookworm and schistosomiasis.
Despite these successes, the full impact of NTDs is still seriously underestimated. For example, NTDs account for a hidden burden of illness ordinarily attributed to the non-communicable diseases (NCDs). Take Schistosoma haematobium infection in Sub-Saharan Africa. According to a paper published in Acta Tropica, the eggs of the Schistosoma parasite are deposited in the bladder of 112 million people in Africa every day, producing 70 million cases of blood appearing in urine, 18 million cases of major bladder wall pathology, 9.6 million cases of hydronephrosis, 1.7 million non-functioning kidneys, one-third of all bladder cancers in Sub-Saharan Africa and 150,000 deaths from renal failure or bladder cancer. These diseases, however, are often classified as non-communicable renal diseases and not as NTDs.
Similarly, studies show that female genital schistosomiasis – possibly Africa's most common gynecological condition, affecting tens of millions of girls and women – is one of the most important co-factors on the African continent for HIV/AIDS, and yet it is almost completely ignored.
Again, hookworm is the stealth cause of so much iron deficiency anemia in the world. The more worms an individual has, the greater the loss of intelligence. Studies show it can lead to a 40 percent reduction in wage-earning capacity. It is also one of the most common morbidities of pregnancy in Sub-Saharan Africa.
What key challenges do you face?
Perhaps the greatest challenge is ensuring that NTDs command the attention of policymakers so the necessary resources are available to fund the development of new treatments. The recent Ebola outbreak in West Africa was devastating and attracted much media attention, but it affected less than 0.1 percent of the population. So far, very little attention is being paid to the fact that most the population of the Ebola-affected countries suffers from at least one NTD schistosomiasis, hookworm and ascariasis, or dengue. This is an "inconvenient truth" that the world continues to ignore.
Poor understanding of the link between NTDs and NCDs such as diabetes, pulmonary heart disease and cancer, which are rising steeply in emerging economies, also poses a risk to funding for NTD drug research. While lifestyle changes are fueling increases in NCDs in emerging economies, many of these diseases are in fact caused by NTDs; for example, the link between schistosomiasis and renal disease highlighted above, but also Chagas disease and heart disease, paragonimiasis and lung disease, clonorchiasis/opisthorchiasis and cancer – the list goes on.
The prevalence of NTDs is widespread in sub-Saharan Africa but paradoxically, most of the world's NTDs are found among the poor living in wealthy countries, that is G20 countries and Nigeria. In the United States, for example, we estimate that more than 10 million Americans living in poverty are infected with at least one NTD. Along with HIV/AIDS, malaria and TB, NTDs disproportionately affect the poor. Poverty is without doubt an overriding determinant of NTDs regardless of where they occur, including better-off nations, a phenomenon I call "blue marble health".
The vulnerable populations in blue marble health countries (the G20 and Nigeria) are getting a double hit – from NTDs and from NCDs. In fact, we are now seeing new co-morbid states emerging. In India, for example, high rates of dengue superimposed on diabetes are producing a unique co-morbid syndrome that requires new treatments. Another example is melioidosis and NCDs.
Blue marble health has important policy implications. The prevalence of NTDs in wealthy countries means tackling them is not a resource issue but an allocation issue. It means these countries will need to take greater responsibility in supporting the development of new NTD medicines. WIPO Re:Search, established to catalyze new research and development for NTDs, is particularly well positioned to make a difference in this space.
Why should policymakers take blue marble health seriously?
Governments now recognize that health has far-reaching economic and security implications. The recent Ebola outbreak was massively destabilizing for many governments, so in the end I think enlightened self-interest will push NTDs up the political agenda.
We cannot wait for catastrophic epidemics to happen and only then start making vaccines. We need to start anticipating the threat. Had a vaccine for Ebola been available earlier we could have prevented thousands of deaths.
Why was there a delay in producing an Ebola vaccine?
It was delayed because the vaccine was built using an outdated drug development model. Papers on the Ebola vaccine were first published in 2003, but the technology didn't move because the business model is broken. Typically, scientists make a discovery and license it to a big pharmaceutical company which will produce it, but only if a viable market exists. Only when the US government put up funding to accelerate development of the Ebola vaccine through the Biomedical Advanced Research and Development Agency (BARDA) did it become available, and in record time.
We need to think differently about drug development. Pharmaceutical companies are always going to play a critical role. They have enormous expertise and a proven track record. We are always going to need them. But we also need to start thinking about broadening the field. We need to bring in new players like product development partnerships (PDPs) and developing country pharmaceutical companies to help advance medical innovation and global access to healthcare.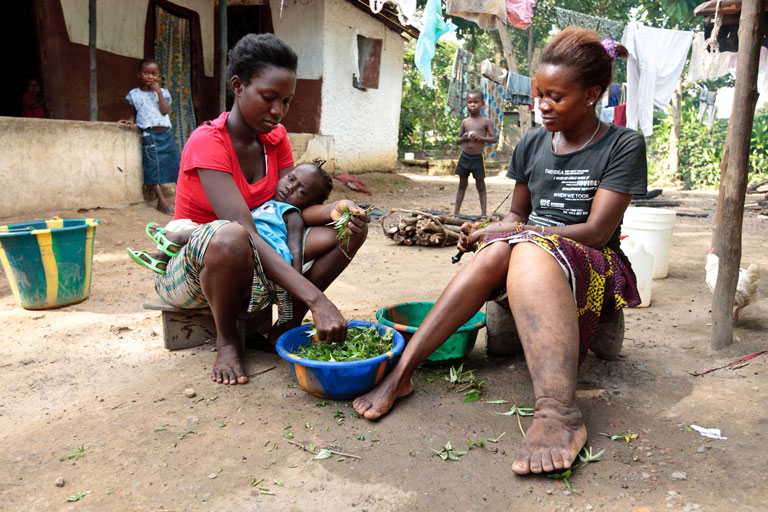 What role do Product Development Partnerships play?
PDPs emerged in the late 1990s to develop products for diseases affecting those living in extreme poverty. PDPs use industry approaches and practices, but operate as non-profit organizations and have successfully developed innovative methods for identifying drug leads and product development programs.
In 2000, I created a PDP at the Sabin Vaccine Institute to create the first human hookworm vaccine, which is currently in clinical trials. Today, the Sabin Institute is developing a portfolio of vaccines, including for schistosomiasis, onchocerciasis, Chagas disease and leishmaniasis (www.sabin.org/programs/vaccine-development).
PDPs can make the technologies needed to tackle NTDs upfront in response to public health needs rather than market forces. By supporting them and public-private partnerships like WIPO Re:Search, there is an opportunity to better anticipate and manage global health needs.
Where does WIPO Re:Search fit in?
Since it began in 2011, WIPO Re:Search has achieved some important successes. In particular, it has demonstrated that intellectual property is not a barrier to early-stage research into NTDs, malaria and TB. Since its inception, Bio Ventures for Global Health (BvGH), the WIPO Re:Search partnership administrator, has facilitated over 100 research collaborations among WIPO Re:Search members, which include many of the world's leading pharmaceutical companies and medical research institutes.
The type of international collaboration among scientists that is being actively fostered through WIPO Re:Search is a critical element in building global drug, diagnostic and vaccine capacity. In fact, how we collaborate and scientifically develop new antipoverty vaccines is as important as the vaccines themselves. Supporting the development of new products to treat NTDs in endemic countries helps ensure their availability to others in need elsewhere in the world.
WIPO has huge convening power and can bring key players to the table to shape the policies needed to foster innovation in the NTDs space. WIPO Re:Search is making a valuable contribution to global public health preparedness by helping to build – in collaboration with its partners, there is no value in working in silos – a pipeline of NTD research and development. WIPO Re:Search is already demonstrating its capacity to help fill the PDP pipeline by catalyzing the discovery and identification of new product leads through its expanding global network.
I would also like to see WIPO Re:Search focus on exploring ways to support the development of innovative technology funds like the Global Health Innovative Technology (GHIT) Fund of Japan. Established in 2003, the Fund facilitates international partnerships that use Japanese technology and expertise to help alleviate the impact of infectious diseases. Innovative financing models are vital if we are to generate the funds needed to tackle these pernicious diseases.
The stark reality is that today we are facing a crisis in innovation. We are not seeing the level of innovation needed to tackle NTDs. So we need to think out of the box to find alternative ways to stimulate the development of new and improved technologies. There is certainly an important role here for WIPO Re:Search.
Is there a role for the IP system in stimulating anti-poverty technologies?
Protecting patents is a very labor-intensive, difficult and costly exercise, especially in the poverty-related diseases space. So it could be very useful if the systems for obtaining patent protection were cheaper and easier to use.
If I have hundreds of thousands of dollars, I do not want to spend it on foreign patent filings, I want to use it to hire scientists and to buy the equipment needed to make and test vaccines. So I think the cost of patenting needs to be looked at. I also think that sometimes organizations unnecessarily overinvest in IP. At the Sabin Institute, for example, we focus on publishing our results in open peer-reviewed literature. This eliminates the possibility of someone blocking our research. While this does not offer the same level of protection as that of a patent, it is a useful, low-cost defense strategy.
Going forward, we do have to be very clever about how we generate revenue from our technical ability to make medical products. The fact is our technical ability to create medical technologies has outpaced the social, political and financial innovations available to make them into useful products. That is why we need as much innovation in the area of economics and social and political sciences as we do in the biological and physical sciences. This is where an organization like WIPO has a comparative advantage because it has experience in this type of social innovation.
The WIPO Magazine is intended to help broaden public understanding of intellectual property and of WIPO's work, and is not an official document of WIPO. The designations employed and the presentation of material throughout this publication do not imply the expression of any opinion whatsoever on the part of WIPO concerning the legal status of any country, territory or area or of its authorities, or concerning the delimitation of its frontiers or boundaries. This publication is not intended to reflect the views of the Member States or the WIPO Secretariat. The mention of specific companies or products of manufacturers does not imply that they are endorsed or recommended by WIPO in preference to others of a similar nature that are not mentioned.