A Fair Deal for Authors
April 2014
By Catherine Jewell, Communications Division, WIPO
Like us all, authors have to put food on the table and pay bills. However, in an increasingly digitized market and amid expectations, in some quarters, that all content should be free, it is a struggle for many authors to support themselves and to finance their creative endeavors. The official launch of the International Authors Forum (IAF), a new organization representing authors (writers and visual artists) globally, took place at WIPO in December 2013. A number of successful writers and artists – including Maureen Duffy, Joanne Harris, Robert Levine and Roberto Cabot – attended the event to support the new Forum and explain why copyright is important to them.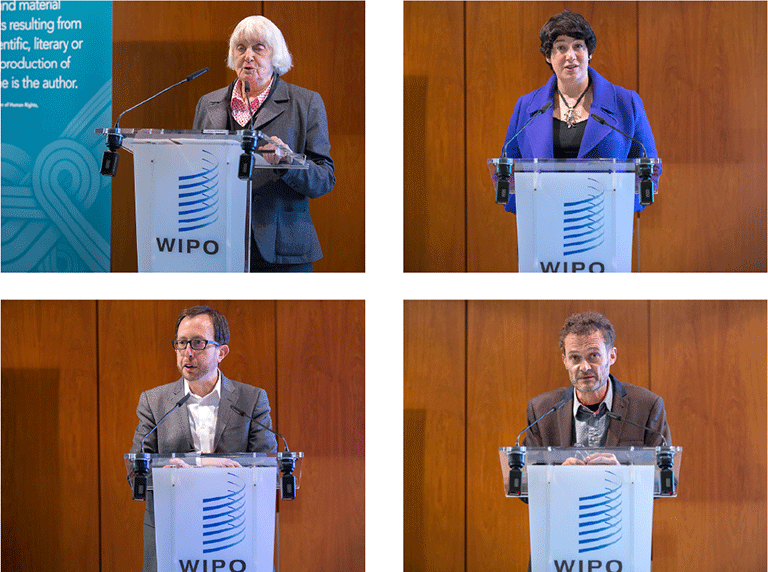 The IAF is seeking to introduce a global authors' perspective to international copyright policymaking circles – something that has been acknowledged as missing from these discussions for some years. By inviting authors' organizations from around the world to become members, the IAF aims to give all authors the opportunity to take part in the discussions about their rights.
"The global problems are now so immense that we really need something which can support creators globally," said the author, Maureen Duffy, who has been instrumental in galvanizing support for the IAF. "There are far too many countries with no organizations to support their local authors and they tend to get ripped off and they will be increasingly ripped off if they are not made aware of what their rights are and how they should be protected."
Joanne Harris, author of the acclaimed best-seller, Chocolat (see page 16), explained that for her the value of copyright lay in the ability it gives the creator to choose how their work is used. Ms. Harris underlined the importance of "respect for the creator of a work, be that a piece of literature, a photograph, a painting, a piece of music. I want to know where and by whom my work is being used and reproduced," she said. "I don't want it used without my permission, or plagiarized or misrepresented. That's why copyright exists; to protect the work and its author from abuse. We want the public to read our books. We want to help schools and libraries. But we also want to have the choice to say yes or no to these requests".
Representing the voice of visual artists, Roberto Cabot, called for the broader application of the Artists' Resale Right (ARR) as part of an on-going campaign to ensure that artists and their families benefit, under certain conditions, from any appreciation in the value of their works as they change hands within the marketplace.
Robert Levine, a journalist who is fiercely engaged with the impact of the internet on creativity, also endorsed the IAF as a welcome addition to the international copyright scene. "With so many organizations advocating for publishers and distributors it's nice to have one at WIPO that can also support authors," he said.
About the IAF
The IAF is a global platform to ensure that the voice of authors is heard among others with rights and interests in creators' work, such as publishers and libraries, who already have globally representative bodies. It is a membership organization that supports the interests of artists and writers worldwide, and would be pleased to hear from organizations representing them. For more information, contact katie.webb@internationalauthors.org.
What IAF does
IAF's partners
IAF's concerns

IAF organizes events, publications and discussions

IAF collaborates with other organizations representing authors to complement each others' work and promote the importance of creative work, financially, socially and culturally

IAF recognizes the differing needs of creators in individual locations all over the world.

IAF collaborates with key partner organizations around the world to support and complement each others' work in areas of mutual interest.

A list of Members can be found on the IAF website:

Contracts: Promoting recognition that creators should have a voice in negotiating and agreeing fair contracts.

Remuneration: Ensuring authors' rights are protected in the digital age and that authors are fairly remunerated.

Copyright: Promoting the importance of copyright.

Exceptions: Ensuring exceptions enable a balance between access and the author's right to fair payment
The WIPO Magazine is intended to help broaden public understanding of intellectual property and of WIPO's work, and is not an official document of WIPO. The designations employed and the presentation of material throughout this publication do not imply the expression of any opinion whatsoever on the part of WIPO concerning the legal status of any country, territory or area or of its authorities, or concerning the delimitation of its frontiers or boundaries. This publication is not intended to reflect the views of the Member States or the WIPO Secretariat. The mention of specific companies or products of manufacturers does not imply that they are endorsed or recommended by WIPO in preference to others of a similar nature that are not mentioned.