A Peek Inside Nigeria's Film Industry
April 2014
By Sandra Oyewole, Partner, Olajide Oyewole LLP
In April 2012, it was reported that the US hedge fund, Tiger Global Management, had invested US$8 million in iROKOtv, the world's largest online distributor of licensed Nollywood films. This substantial injection of funds to scale-up iROKOtv's video streaming operations was testimony to the growing international prominence of Nigeria's film industry. Nollywood, as Nigeria's film industry is popularly known, produces on average 1500 films per year. This makes it the largest film industry in Africa and globally, second only to Bollywood. The industry's phenomenal growth in the last two decades is nothing short of incredible.
The stories and the films
Nigeria's film industry was born many decades ago. It comprises English language films (Nollywood), the Yoruba film industry, the Kano film industry (Kannywood) which produces films in Hausa, Igbo language films as well as those in other indigenous languages of Nigeria. The direct-to-video (VHS, VCD and DVD) distribution system which is a hallmark of Nollywood was triggered in 1992 with the film Living in Bondage, the first commercially successful movie shot straight-to-video. It heralded a new era of Nigerian filmmaking demonstrating what could be achieved with few resources and lowering barriers to entry for many talented filmmakers.
Nigeria's diverse cultural traditions and lifestyles (180 million people, 300 tribes and some 500 languages), offer a wealth of material from which the country's filmmakers skilfully draw to recount simple stories of daily life that resonate with Nigerians, as well as audiences sharing a similar culture and heritage across Africa and the African diaspora. These colorful and entertaining stories capture the imagination of audiences; they echo their life-experiences, feature a strong moral theme and yes, juju (black magic). Newer generations of filmmakers, however, are focusing on harder-hitting social issues such as rape (Tango with Me), domestic abuse (Ije) and cancer (Living Funeral). Nollywood is recognized as an expression of the depth and breadth of Africa's cultural diversity. It is enabling Africans to tell their own story.
Although Nollywood's distinctive story-telling holds broad appeal, the films produced have tended to be of low technical quality. Films with predictable storylines have been churned out according to tried and tested formulae. For many years, filmmakers made films without a formal script, with actors simply making up their lines as they went along. In recent years however, filmmakers are working hard to shed amateur practices and placing greater emphasis on enhancing the quality of films produced.
An informal structure
To a large extent, the Nigerian film industry remains informal with a structure that is understood and that works for its filmmakers. It is a notorious fact that in spite of Nigeria's copyright law, which expressly provides for written contracts to prove ownership of films, chain of title (the bundle of documents that prove ownership of the rights in a film) has not been an important factor in raising film finance in Nigeria. This can be attributed to the operations of Nigerian film marketers who have for many years monopolized the business of financing, producing and distributing English language films in Nigeria. The marketers operate networks of shops and other outlets and wield significant influence over which films are made and sold. Revenues are almost exclusively derived from home video rentals and sales and this has, to a large extent, worked in their interests. It is this model that helped catapult Nollywood on to the world stage.
The industry's informality and the absence of a plan, outlining how to capture a return on investment, has deterred other forms of private financing and closed the door on potentially lucrative distribution opportunities in overseas markets where chain of title is a prerequisite. However in recent years, filmmakers, independent of the marketers have begun to emerge. These filmmakers, with business proposals, the right contacts and perseverance, are able to secure finance from public and private sources. Several of films produced by these independent filmmakers also have the required chain of title agreements in place. Quite a few are now being premiered in Nigerian cinemas and selected countries around the world. The theatrical release means that filmmakers can now derive revenue from ticket sales.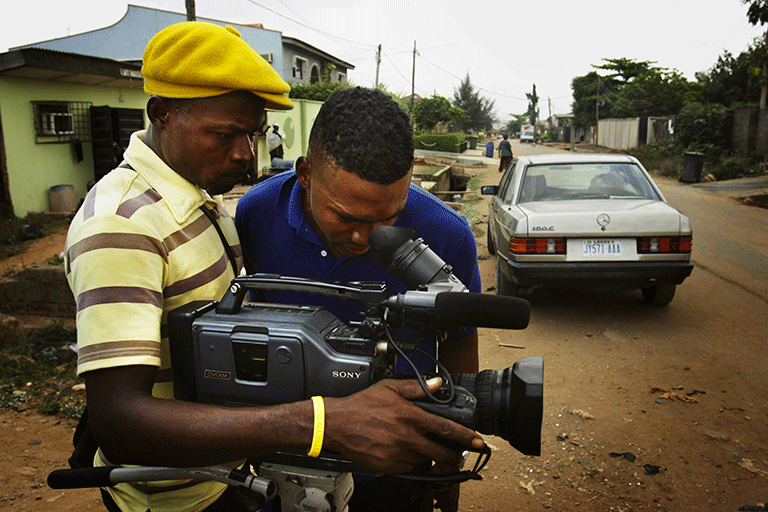 Distribution matters
In the 1980s, Nigeria's cinema-going culture went into decline, triggering the phenomenal growth of direct-to-video production mentioned earlier. At that time, television broadcasting of Nigerian films was very limited. This, coupled with rampant piracy and the poor quality of outputs, significantly dampened revenue generating opportunities. The launch of the first Africa Magic Channel on Digital Satellite Television (DStv) in 2003 and the opening of Silverbird Cinemas in 2004, however, went a long way in improving the distribution channels and revenue streams available to Nigerian filmmakers. The National Film and Video Censors Board has to date licensed up to 80 fee paying cinemas and DStv now has 8 Africa Magic fee-paying channels broadcasting Nigerian films in the languages of 53 countries. In 2011, the launch of iROKOtv's video streaming platform created additional income-generating and distribution opportunities for filmmakers.
The anti-piracy war
The embryonic nature of Nigeria's cinema infrastructure and the informal nature of film distribution have opened the door to rampant film piracy. Within hours of a film's release pirates are selling bootleg copies for a fraction of its retail price. Huge demand for Nollywood films among the African diaspora has also fuelled a surge in the export and sale of Nigerian films without the permission of right owners. The Nigerian Copyright Commission (NCC) has stepped up its drive to shut down illegal printing presses and prosecute infringers, but much still remains to be done.
The advent of the internet gave rise to another form of piracy, namely, the unauthorized, illegal streaming of films. However, iROKOtv's video streaming platform for licensed films has gone some way in addressing this problem. Well-crafted and targeted public awareness campaigns are essential to educate the public about the damage piracy causes and to encourage them to stop buying pirated films.
Recognizing its huge economic potential, in recent years, Nigeria's government has worked to improve IP awareness within the film industry. Through a range of training courses, seminars, and practical workshops, filmmakers are becoming more IP-aware. A new IP savvy generation of filmmakers is emerging; one that ensures that IP rights are recognized and protected and that appropriate contracts are in place. Access to such formal training is fostering a more business-oriented approach among filmmakers, and enhancing the quality of scripts, acting and other technical aspects of Nigerian film, making it an increasingly attractive investment proposition.
The law
Copyright law (and contract law) underpins the relationships arising from the filmmaking process. Last amended in 1999, Nigeria's Copyright Act is of particular relevance to Nigerian filmmakers. For example, it states that:
a film is a work that is eligible for copyright protection;
the owner of the copyright in a film is the producer unless otherwise stated in an agreement;
a film is a bundle of copyrighted works, including for example, the story, the acting, the music, etc. For copyright in these works to pass to the producer, a written assignment must made;
infringement occurs when any of the following acts is done without the permission of the producer:

making a copy of the film;
causing the film to be seen and heard in public;
making and using a recording of the sound track of the film;
distributing copies of the film for commercial purposes by way of rental, lease, hire, loan or similar arrangement.

penalties for infringement include damages, injunctions, and account of profits, fines or imprisonment.
Effective implementation of the law, however, is impeded by very limited penalties, a slow judicial process, high legal costs and a lack of funds on the part of filmmakers.
As the arm of government responsible for strengthening the policy and legislative framework for more effective copyright protection, the NCC is driving the current review of Nigeria's copyright law. The objective is to ensure that the law keeps pace with technological advances, is effective in clamping down on copyright infringement and is responsive to present-day operating realities of, among others, Nigerian filmmakers. Reform of the Nigerian Copyright Act will go a long way in creating an enabling regulatory environment to support the continued development of Nollywood and Nigeria's creative sector as a whole.
With respect to contract law - the mechanism for recording the transfer of copyright from one party to another - in the absence of a codified law of contract, Nigeria relies on common law principles and case law.
The role of the government
The industry received a welcome boost in 2011 with the establishment by the administration of President Goodluck Jonathan of a US$200 million fund for the film industry. The fund is available in the form of loans and statutory corporate documentation is required to qualify. The fund has made it possible for two film distributors to establish new distribution channels; a move that is expected to help combat piracy and increase revenues from cinema and DVD releases. These are set to commence business this year
In March 2013, President Jonathan announced a 3 billion Naira (approx. US$17 million dollars) grant scheme, Project ACTNollywood, to support training and skills acquisition for film production, production and distribution. In addition to Federal initiatives, various State governments are supporting the industry. For example, the Kano State Sponsorship Board has to date backed 3 Kannywood films; the Bayelsa State Government is a major financial contributor to the Africa Movie Academy Awards (AMAA), an annual ceremony established in 2005 to reward the industry excellence; the government of Cross River State has built a state-of-the-art movie studio in Tinapa; plans are also afoot for the much anticipated Lagos Film Village.
Nollywood is a major employer of labor, reportedly second only to agriculture and generates millions of dollars every year. Its importance to the Nigerian economy cannot be over-emphasized. However, while it is the second largest film industry in the world in terms of volume, when it comes to revenue it falls far behind Bollywood and Hollywood. In order to create a more enabling environment, the Government of Nigeria, therefore, still has much to do. For example by:
introducing tax breaks for filmmakers;
devising incentives for co-productions with both Nigerian and international partners;
fast tracking the revision of the copyright law;
executing co-production treaties;
supporting the Nigeria Film Corporation, established in 1979, to fulfil its mission and purpose, that is, the creation of an enabling environment for Nigeria's film industry;
setting-up robust and vibrant units to fight piracy and infringement; and
focusing on improving security.
Nollywood today
The passion for Nollywood films and the indigenous stories they recount, is widespread. Nigeria's entertainment pages are full of news about the latest star-studded film premiere, and with iROKOtv reporting a global audience of 6 million in 178 countries – the hunger for Nigerian movies is evident. Recognizing its huge growth potential, public and private sector investors are now investing heavily in the industry helping it to shed many of its informal characteristics. This has helped to improve quality and increase the production of films with international appeal.
In just 20 years, against all the odds, Nigeria's low-budget film industry has become an increasingly influential multi-million dollar business. A growing number of quality productions are making their way to international film festivals and enjoying premieres screenings in major film markets and leading Nigerian actors are gaining international prominence. Despite the industry's many on-going challenges, the resilience, creative ingenuity and entrepreneurialism of Nigerian filmmakers coupled with the industry's unique style and broad popular appeal mean that it is no longer a question of whether a Nollywood film will become an international box office hit, it is simply a matter of when.
The WIPO Magazine is intended to help broaden public understanding of intellectual property and of WIPO's work, and is not an official document of WIPO. The designations employed and the presentation of material throughout this publication do not imply the expression of any opinion whatsoever on the part of WIPO concerning the legal status of any country, territory or area or of its authorities, or concerning the delimitation of its frontiers or boundaries. This publication is not intended to reflect the views of the Member States or the WIPO Secretariat. The mention of specific companies or products of manufacturers does not imply that they are endorsed or recommended by WIPO in preference to others of a similar nature that are not mentioned.