Nigerian Innovators Get Connected
February 2014
By Sunday Daniel, freelance journalist, Nigeria
In a quiet room away from the heat and hustle of the Nigerian capital's streets, a half-dozen African innovators peer into computer screens, lost in concentration as they work on making their dreams come true.
They are using networked computer equipment to search overseas intellectual property (IP) databases, gleaning insight into the worldwide usage of patents, trademarks, industrial designs and other IP. The Technology and Innovation Support Center, or TISC, where they are working is one of many similar public-resource offices set up by governments in developing countries in collaboration with WIPO. The goal: help make the international IP system accessible to as many users as possible.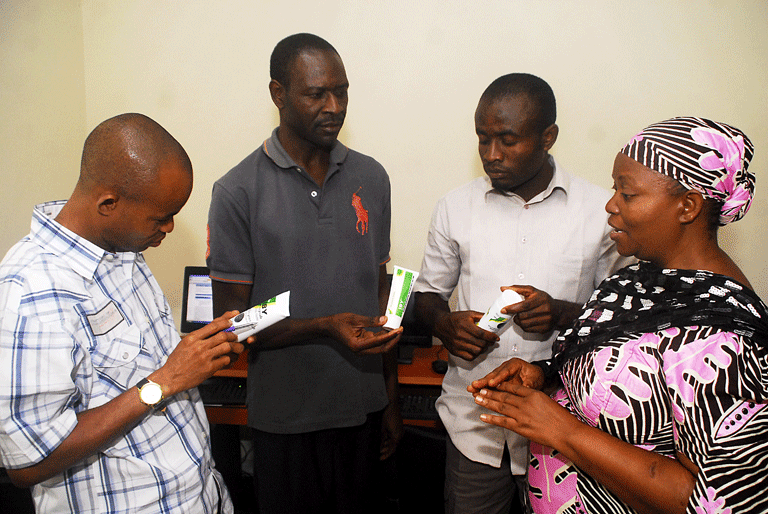 Making IP accessible to all
Ididunni Annette Roberts has been using the Abuja TISC, inaugurated in December 2012, in a quest to bring to market her "IBY Nature Pride Black Soap." Ms. Roberts has submitted the soap for testing by Nigeria's food and drug-safety unit and is now "seeking to register her trademark internationally."
"I am happy to have discovered this Center, which has given me the information I needed," she said and this has given me the confidence that what I am doing is scientific and global. I am satisfied that the product I have developed using the information from TISC, is entirely mine and is not being claimed by anyone else," she said.
Promoting best practices
WIPO launched the TISC project in 2009 (see Providing premier international IP systems & services). In the context of a joint engagement with national and regional industrial property authorities, WIPO supports the TISCs by facilitating access to databases and training (both of trainers and of local users, on-site and through distance learning); providing information and training materials; supporting awareness-raising activities; and disseminating best practices and experiences among TISCs.
TISCs are usually hosted within national and regional patent offices, universities and other academic institutions, science and research centers, local and regional technoparks, chambers of commerce or other similar public institutions.
The TISCs host Internet-enabled computers that access WIPO's international databases of intellectual property information, including PATENTSCOPE for patent information and the Global Brand Database for trademark-related information free of charge. TISC users can also access a range of scientific journals, technical literature and other commercial patent resources for free, where they may be fee-based for users in developed countries.
Free access to databases for developing countries
The goal is to help people like Edwin Nicholas Uwa and Mark Ogochukwu Abia turn their ideas into products that will boost their earnings. The pair, who are researching a dual-purpose air conditioner and refrigerator, used to spend time – and hard-earned cash – at local cybercafés. But without the guidance offered by the staff of the Abuja TISC, the duo found themselves adrift in a sea of confusing information.
"Since we started using the TISC we have been able to download the kind of information we needed and this has really helped us in our research work," Mr. Uwa said. "The most exciting thing about this place is that we can access valuable strategic information and it is all free-of-charge."
"Before now, we used to go from one cybercafé to the other without really getting any value for our money. But now, we are happy to say that TISC has provided us with the kind of information we need for our research at no cost at all," said Mr. Abia.
"The world will one day celebrate us"
"We have been provided with fresh ideas on how to go about our research and development. Because of the information we are getting from the TISC, the world will one day celebrate us," said Mr. Uwa.
Since its inauguration in December 2012 by Nigeria's Trade and Industries Minister, Dr. Olusegun Aganga, dozens of Nigerians have made use of the facility inside the Federal Ministry of Trade and Investments. The users are normally researchers, students and potential inventors.
The Abuja TISC staffers, like Therie Essien, also communicate with the public via dedicated Twitter and Facebook pages. "I am happy that Nigerians have really shown interest in this Center and used it to improve their lives," Ms. Essien said.
Staffers also organize training sessions for users, in the hope they can spread their knowledge further. One of the users already trained by the TISC, Ekwesilesi Nnam, is tutoring fellow Nigerians on how to develop their own products and become self-reliant in a country where unemployment runs high, especially among Nigeria's youth.
Create innovative products, be your own boss
Users and beneficiaries can be found throughout Nigeria, Africa's most-populous nation with 160 million people.
Each week, Sunday Apeji travels to the TISC in Abuja from his home in Jos, some 200 kilometers away. He is researching food and drug development from local plants known to have medicinal properties. He says he has already created four products he hopes to patent and is researching ten others.

"The knowledge I have acquired through the TISC has broadened my perspective on research and development and changed my whole outlook to patents and intellectual property," he says.
Broadening perspectives
The Registrar of the Trademarks, Patents and Designs Registry in the Federal Ministry of Trade and Investments in Nigeria, Nima Salman Mann, said that the Center had helped to open the eyes of Nigerians to their rights relating to IP and patents, emboldening them to seriously develop patents.
"We have done our best to educate Nigerians to understand the importance of protecting their product patents and intellectual property. Intellectual property is wealth for life as nobody can take it away from the owner."
"Intellectual property is a way of life"
The Chairperson of the TISC Project and Head of the Patent Department in the Federal Ministry of Trade and Investment, Aisha Salihu explained that the number of users of the Center has been on the increase.
Ms. Salihu said that the TISC had made it possible for Nigerians to approach their research and development with a sense of confidence and hope in themselves.
"What Nigerians never knew existed has now been brought by TISC to their doorsteps and I do know that they are very happy with the facility's existence in Nigeria," she said.
Gabriel Joseph, who hopes one day to hold a patent, says he is happy to have been linked up with WIPO through the TISC on Facebook.

He said that the Center had driven away his initial fears of developing a product only to lose it to piracy: "Now I know that once I come up with my own product, I can protect it and benefit from it. The information we get here is indeed an eye-opener and a morale booster."
The WIPO Magazine is intended to help broaden public understanding of intellectual property and of WIPO's work, and is not an official document of WIPO. The designations employed and the presentation of material throughout this publication do not imply the expression of any opinion whatsoever on the part of WIPO concerning the legal status of any country, territory or area or of its authorities, or concerning the delimitation of its frontiers or boundaries. This publication is not intended to reflect the views of the Member States or the WIPO Secretariat. The mention of specific companies or products of manufacturers does not imply that they are endorsed or recommended by WIPO in preference to others of a similar nature that are not mentioned.