Georgia's National Ballet "Sukhishvili"
December 2013
By Catherine Jewell, Communications Division, WIPO
For decades, audiences around the world have been mesmerized by the elegant athleticism, energy, skill and originality of the Georgian National Ballet "Sukhishvili". Since it was formally established in 1945, the company has performed in 98 countries, undertaken more than 300 tours and over 20,000 performances, entertained an estimated 60 million people and put Georgian dance on the world map. The Georgian National Ballet "Sukhishvili" is a unique company with a unique history, offering a reminder that creativity does not occur in a vacuum but is a dynamic process that evolves in tandem with society and the spirit of the age.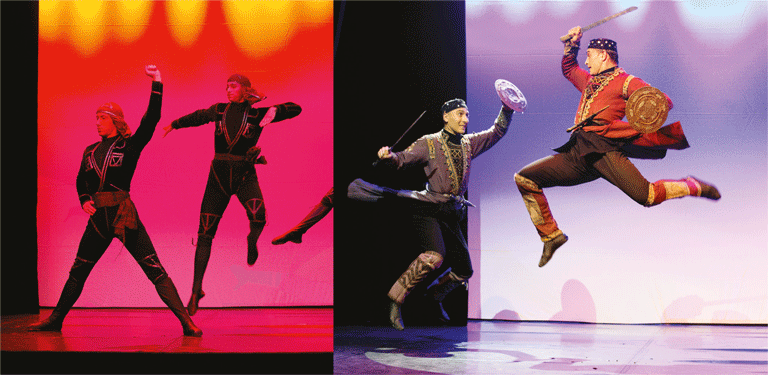 A unique style of dance is born
At the crossroads of Western Asia and Eastern Europe, Georgia boasts an ancient, rich and varied folk tradition. The story of the Georgian National Ballet "Sukhishvili" began back in the 1920s when Ilia Sukhishvili, Sr. and Nino Ramishvili met in the Tbilisi Opera and Ballet Theatre. The two dancers shared a dream of creating a dance troupe to combine the diverse folk dance traditions that existed in different regions of the country. Their interest, however, was not purely ethnographic. They took the essence of these dances, refined and improved their choreography adding their own brand of artistry. By fusing classical, modern and folk dance elements they created a unique hallmark dance style that continues to inspire new generations of dancers and to captivate and thrill audiences around the world.
An exciting and varied choreography combines perfectly synchronized movements of the troupe with the stunning technical prowess of individual performers. It captures the vitality and daring athleticism of warring male dancers who fly nimbly through the air clashing swords, as well as the tender romanticism of courting couples who float gracefully across the stage.
Over the last 70 odd years, "the choreography has evolved rapidly and has become more complicated. We take folk movements but we infuse them with our spirit and give them our own "Sukhishvili" personality," explains Ilia Sukhishvili, Jr., chief choreographer and artistic director, who together with his sister, Nino Sukhishvili, runs the company today.
Dance: a living art
"It is very important for dance to evolve. Like any art it needs to develop otherwise it becomes something for a museum. You have to add modern elements and mix them with traditional classic movements to keep the performance fascinating and interesting for the audience," he said.
Captivating costumes
Just at the choreography is inspired by the country's wealth of folk traditions, so too are the troupe's colorful costumes. "Our costumes reflect the traditions of different regions of the country. In the same way that we create our choreography, folk tradition is my inspiration, but, depending on the dance we adapt the shape and the colors to make it more theatrical. I usually see the dance and then create the costume using colors inspired by nature and the style of the region," explains Ms. Sukhishvili who in addition to acting as the company's General director and producer is also its costumer designer.
Protecting the Sukhishvili brand
"There are many dance companies in Georgia, but the Sukhishvili choreography and style is distinctive, it has a unique signature or brand. In every art the author needs to be recognized. It is our intellectual property and it is important that we protect it," Ilia Sukhishvili said. The Sukhishvilis trademark was first registered in Georgia in 2005.
While the company is willing to turn a blind eye to children and teenagers who emulate their dance style, they are not happy when other dance companies exploit their work commercially without their authorization. "When I see kids dancing my choreographies, honestly, I am proud, because I see that it is helping to keep Georgia's folk culture alive. Dance is in the DNA of Georgians, it is still very popular among teenagers, even in night clubs, so when our moves are used in this way, we have no problem with that. It is very important for a country to keep its folk dances and if we can help to do that that is OK. It is good for the country and gives us a sense of patriotism. But when companies use our work without permission and exploit it commercially that is another story," explains Ilia Sukhishvili, Jr. "These people are like common thieves stealing our ideas," his sister added. "There is no logic to copying," notes Ilia Sukhishvili, "dance is so alive, it breathes and every performance is unique and authentic. Dance is not a commodity made in a factory."
Pragmatism versus ideology
In the 1940s under a communist regime, the folk heritage of the company's work was its trump card. At a time when folk art was the only palatable form of artistic expression – any individual artistic expression being deemed bourgeois and decadent - the Sukhishvilis emphasized the folk aspects of their work, and refused to lay claim to any copyright. The Georgian State Folk Dance Company, as it was named at the time, was thus permitted to exist. "This was one of the most brave and elegant mystifications in Georgian arts of the 20th Century," notes Nino Sukhishvili.
This same folk heritage, however, is today proving a challenge for the company. "When it comes to folk culture, people think that the folk style belongs to everybody," Ms. Sukhishvili explains. "We have to explain that while our dances are folk in style, we - our grandparents, our parents and now us - have refined them and created a new choreography. The folk dances that we perform are nothing like those that existed before, but other Georgian dance companies like our work and copy it claiming that it's folk and belongs to everybody. This is really very difficult," she said.
Breathing new life into folk dance traditions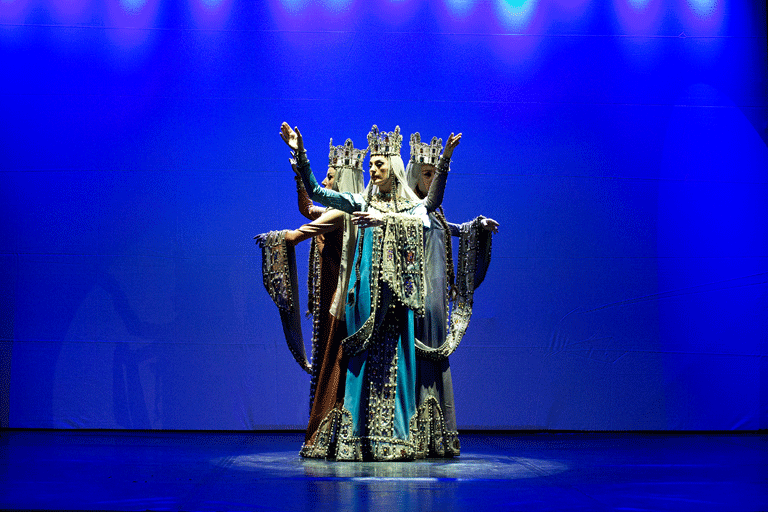 The Georgian National Ballet "Sukhishvili" is also unique in that it is state-owned but run by the Sukhishvili family. "Three generations of our family have dedicated their lives to the company, and to creating our distinctive folk-based choreographies," notes Nino Sukhishvili. "We have given new life to folk dance, helped maintain our folkloric traditions and have made Georgian folk dance popular in Georgia and all over the world." The methodology developed by Ilia Sukhishvili Sr. and Nino Ramishvili has inspired new generations of dancers across Georgia and beyond, with Georgian dance troupes being established in countries such as France, Greece, Israel, Turkey, Russia and the USA. In 1970, the troupe was officially registered as an academic ensemble and in 1998 the company set up a private dance school with an annual intake of some 800 aspiring dancers of different ages. "The culture of dance in Georgia is in our blood. It's physically demanding and not well paid but it's still very popular," Ms. Sukhishvili said.
"Dance is a language and Georgian dance is a tale about my country," she said. "When you watch Georgian dance you can feel the spirit of Georgia, its history, customs, traditions, it's very positive. It is a visiting card for my country."
In keeping with the company's search for constant renewal, the Sukhishvilis are currently developing a totally new style, modern dance ballet called the Ramishvilis. This new program will be dedicated to their grandmother Nino Ramishvili.
The first ensemble was made up of 8 girls and 12 boys. Today, the company boasts over 100 skilled performers and musicians and enjoys global recognition. The Georgian National Ballet "Sukhishvili" is living proof that, as noted by New York Times reporter, Ann Kisselfogg, "there is a place for high art in dealing with national traditions.
The WIPO Magazine is intended to help broaden public understanding of intellectual property and of WIPO's work, and is not an official document of WIPO. The designations employed and the presentation of material throughout this publication do not imply the expression of any opinion whatsoever on the part of WIPO concerning the legal status of any country, territory or area or of its authorities, or concerning the delimitation of its frontiers or boundaries. This publication is not intended to reflect the views of the Member States or the WIPO Secretariat. The mention of specific companies or products of manufacturers does not imply that they are endorsed or recommended by WIPO in preference to others of a similar nature that are not mentioned.