Why update the IP rights of broadcasters? – A view from Asia
June 2013
By John Medeiros, Chief Policy Officer, Cable and Satellite Broadcasting Association of Asia (CASBAA)
Take the smartphone out of your pocket, and look it over. Imagine that the rules for making and using such devices today were the same as those in effect 50 years ago. But wait…..that's not possible. Fifty years ago, nobody had mobile phones! The first handheld public-subscriber telephones were launched in the early 1970s. The first commercial communications satellite was launched in 1962, with direct broadcasting of television from satellites to homes following in the late 1980s. And in the 1960s, the Internet was not even a dream.
So when the current international treaty governing the intellectual property (IP) aspects of broadcast programming, the Rome Convention for the Protection of Performers, Producers of Phonograms and Broadcasting Organizations, was agreed in 1961, no one could foresee the evolution of the global broadcasting environment – or the many ways in which broadcast programming could be grabbed and misused without the broadcaster's consent. The Rome Convention set the international baseline for broadcasters' IP with reference to a world of analog, closed-border, black-and-white broadcasting. That world is long gone, and the treaty protections for broadcasting organizations are in dire need of updating.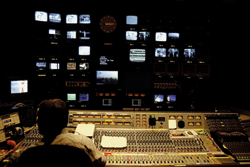 (Photo: istockphoto Jitalia17)
Asian broadcasters, like others around the world, believe this need is becoming ever-more urgent as the ways in which Asian broadcast signals are hijacked and sent flashing around the globe - polluting many markets and damaging the interests of broadcasters, creative industries and governments - continue to multiply. Asia is enjoying a huge boom in television consumption, as more and more people are connected to an increasing number of networks and consuming more programming. Broadcast streams are the foundation of that growth, but broadcasters who finance, generate and aggregate those streams are forced to stand by helplessly as others relay their broadcasts – live or deferred, by many different technical means – without their consent and without paying for that use.
Widespread misuse of broadcasts
The "traditional" means of broadcast signal theft were bad enough – for example, where individual cable companies captured satellite broadcasts intended for paying customers residing in other countries, and distributed them to their own customers at a profit. Now we are seeing the misuse of broadcast programming in a myriad of new ways.
Today we find people riding the subways in Singapore, watching broadcast dramas from the Republic of Korea on their handheld devices in real time – from pirate websites. We find Hong Kong (SAR) dramas and Hollywood movies being streamed to Vietnamese mobile phones. And Malaysian dramas are being rebroadcast across the border in Indonesia, without any compensation paid to the Malaysian broadcasters who create the content.
It is not just individual works that are being downloaded and stored in "cyberlockers" for mass download at a later date. Increasingly, entire streams of broadcast programming are being pirated and rebroadcast over new types of networks emerging from the growth in global broadband connections and web-enabled "connected TVs" that make it much easier to obtain and consume the pirated programming.
Legal protection is a challenge
In many countries, legal regimes based on the minimal standards outlined in the Rome Convention make it difficult or impossible for broadcasting organizations to obtain protection for their program streams. Since broadcasters as such do not qualify for protection in those countries, any legal recourse depends not on the local broadcasting organization, but on the far-off movie studio, drama producer, historical documentary creator or sports league that owns the original copyright in the content. It is quite frankly neither reasonable nor commercially viable for Asian broadcast generators to have to depend on others to enforce what should be theirs by right.
"The ability of multinational piracy syndicates to grab broadcast streams and distribute them globally with impunity means that developing-country broadcasters are robbed of actual and potential markets around the world. "
At the same time, there are a rapidly rising number of websites that simply take broadcasts from a satellite, or from digital free-to-air transmissions, and relay them onto the Internet. These websites are typically located in countries with weak IP protection, but they target audiences in other countries, so are clearly set up for commercial purposes. The stolen programming is used to buttress a host of different business models – with some online operators streaming stolen broadcasts in order to generate page views and advertising revenue on their websites. Others use the programming to drive equipment sales, marketing "connected" devices that enable consumers to view the pirated streams. A growing number seek to monetize the content by charging subscription fees, thereby competing with legitimate broadcasting organizations – and weakening the ability of tech start-ups to compete within the legal ecosystem.
One such start-up went bankrupt not long ago in Japan. Its business model was to sell legal, authorized Indian entertainment to ethnic Indians resident in Japan, who had both the disposable income and the hunger for home programming that should have made the business a success. However, it ran into competition from websites based in neighboring countries that used accomplices in India to steal the programming without the broadcaster's consent and relayed it to Japan, charging much lower prices. They were leeches, feeding off the creative energies of the legitimate Indian producers.
Far-reaching impact of IP theft
This type of IP theft affects premium broadcasters who seek to repay their investment in programming by charging subscription fees. It also badly damages free-to-air commercial broadcasters and public TV stations whose advertising revenue is siphoned off by web pirates. Government tax receipts also suffer, as the pirates are usually based offshore, outside the tax net.
In today's interconnected world, even state-owned broadcasters are seeking additional revenue by selling their program streams beyond their home markets. Asian public (and private) broadcasters from places as diverse as China, India, Japan, the Philippines, the Republic of Korea, Thailand and Viet Nam are looking to earn revenue from their ethnic audience pools outside of Asia – in places like Australia, North America and Europe - but are finding it much harder to get through the door, because the broadcast streams are already being relayed by Internet-based pirates.
The final irony, and one which should be of great concern, is that growing global broadband connectivity should be acting to strengthen global cultural exchange and improve exports of cultural goods from developing nations. However, just the reverse is happening. Those markets have economic affluence and sociocultural affinities that should make them fertile ground for sales of home-country cultural products. But the ability of multinational piracy syndicates to grab broadcast streams and distribute them globally with impunity means that developing-country broadcasters are robbed of actual and potential markets around the world.
In addition, in most developing countries, broadcasters also include leading indigenous content producers, so the piracy leaves the creative economy in poor countries even more starved of resources. Domestic cultural creation suffers and, in those countries in which the government chooses to devote its scarce revenue to promoting exports of cultural products, the presence of so much new-style piracy means it is the public treasuries in developing countries that risk subsidizing affluent ethnic consumers overseas, when the flows should move in the other direction.
For all of these reasons, the international broadcasting industry – in all its commercial, technological and cultural diversity – hopes and expects that governments will expedite conclusion of a treaty to protect the rights of broadcasting organizations in the 21st century.
The WIPO Magazine is intended to help broaden public understanding of intellectual property and of WIPO's work, and is not an official document of WIPO. The designations employed and the presentation of material throughout this publication do not imply the expression of any opinion whatsoever on the part of WIPO concerning the legal status of any country, territory or area or of its authorities, or concerning the delimitation of its frontiers or boundaries. This publication is not intended to reflect the views of the Member States or the WIPO Secretariat. The mention of specific companies or products of manufacturers does not imply that they are endorsed or recommended by WIPO in preference to others of a similar nature that are not mentioned.