Collaboration in intellectual property: an overview
November 2012
By Josh Lerner, Harvard Business School and National Bureau of Economic Research and Eric Lin, Harvard Business School
Over the past two decades there has been an explosion in the number of patent awards across a wide variety of technologies, and a dramatic increase in the volume of patent litigation between rivals. Numerous commentators have suggested that this proliferation of patent rights has socially detrimental consequences insofar as multiple, overlapping intellectual property (IP) rights create "patent thickets" which make it expensive for manufacturers to commercialize innovative products and difficult for inventors to extend the frontiers of technology. Knowledge-sharing organizations, such as patent pools, alliances and standard-setting organizations - where owners of IP share patent rights with each other and third parties - have been proposed as a way for firms to work around the problem of patent thickets. This article explores the merits of knowledge-sharing organizations, and outlines a number of policy considerations that may serve to eliminate some of the tensions that can arise from such IP-focused collaborations.
Evidence suggests that companies are recognizing the benefits of participating in IP collaborations. In 2001, for example, sales of devices based in whole or in part on pooled patents were estimated to be at least US$100 billion. While the information and communication technologies (ICT) industry, broadly defined, has accounted for the majority of patent pools over the last 20 years, there are indications of more widespread interest in such arrangements. The biomedical research community, for example, has expressed a keen interest in the development of patent pools for biomarkers for cancer, HIV/AIDS and severe acute respiratory syndrome (SARS), as well as for biotechnologies applied to agriculture and animal cloning.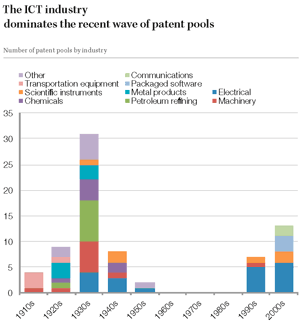 Source: Updated from Lerner
et al.
(2007)
Note: Based on information for 75 documented pools.
We may well be returning to the days of the early 20th century when many (if not most) important manufacturing industries had a patent pooling arrangement. At that time an extremely laissez-faire approach prevailed, as reflected in the 1902 US Supreme Court ruling in Bement v. National Harrow Co. (186 U.S. 70), which stated that "the general rule is absolute freedom in the use or sale of rights under the patent laws of the United States."
The more stringent regulatory environment of the mid-20th century, which viewed patent pools with outright hostility, has, however, given way to a more favorable stance in recent years. Although patent pools are no longer frowned upon by competition authorities as collusive agreements among potential competitors, they continue to raise a number of concerns. These need to be addressed if patent pools and similar arrangements are to continue to be adopted by the business community and viewed favorably by regulators as an effective means of promoting technological innovation.
Advantages of collaboration
Patent pools present compelling reasons for firms to cooperate insofar as they can offer attractive "complementaries". For example, it may be far more efficient for multiple firms - each working to their own strengths - to work together to produce a complex technology. This has been particularly true within the ICT industry, where many different firms develop complementary and interoperable technologies. Take, for example, the respective roles of Dell, Intel and Microsoft in the sphere of personal computing, or Apple and its iPhone application developers. Collaborating with developers of such technologies can help coordinate investment schedules and promote interoperability in new product releases.
More generally, acquiring the foundational knowledge needed to produce cutting-edge technologies is a costly affair. Taking advantage of the experience of others can be much cheaper than gaining such experience firsthand. Collaborating with another firm can be a way to leverage its experience without locking in to a commitment to build up the required knowledge internally. This is a particularly useful option when exploring new markets, geographies or technologies.
Teaming up to divide effort can also provide efficiency gains where two firms want to explore the same area of technology. Cost sharing is frequently cited as an important reason for joining forces. Investments in research and development (R&D) - the cost of labs, instrumentation, testing equipment and technical specialists - can be substantial. In some industries, such as those producing semiconductors or telecommunications equipment, the cost of a single R&D project can be beyond the reach of most companies. In more typical smaller-scale R&D operations, effective facilities not only require lab equipment but also ancillary services such as administrative support, staff to maintain specialized equipment or hazardous materials and testing technicians. Collaborating with a player that has similar needs helps spread these costs. It also allows firms to share development risks and undertake projects that might otherwise be considered too risky.
Aligned objectives and conflicts of interest in R&D alliances
Aligned objectives
Conflicts of interest
Among producers of technologies

Sharing experiences
Spreading costs
Coordinating the production of complementary products
Spreading development risk

Free riding
Risk shifting and moral hazard
Holdup risk

Between technology producers and consumer

Cost reduction
Ensuring compatibility among products

Higher prices/less variety due to market power
Possible collusion to slow introduction of new technologies
Potential for anticompetitive behavior
There is, however, a dark side. Alliances, pools and standard-setting organizations can open the door to anticompetitive behavior. Alliances can be problematic when they seek to maximize their return at the expense of consumers. They can reduce the commitment of participating firms to invest in R&D and thereby delay the introduction of improved versions of their technologies. The social welfare costs of such behavior can be considerable. Not only do consumers face higher prices, they are also deprived of new and improved technologies because pool members continue to charge higher prices on older products which means there is little incentive to innovate. The market power of pool members can also hinder other companies outside the alliance in stepping forward with better alternatives.
These collaborations can lead to complex strategic games. Joint development of complementary assets can provide mutual benefits, but partners may also shape technological development in a way that locks in their technologies to the exclusion of other players. Strategic maneuvers to embed switching costs (i.e., the cost to the consumer of switching to an alternative technology) also represent a loss in social welfare, since consumers may be offered an inferior technology.
Monitoring a business partner's behavior can be difficult if not impossible. The recent lawsuits between Apple and Samsung, a key supplier of Apple's processor chips (the two companies have also reportedly collaborated on other products) provide a cautionary tale about the pitfalls of contractual joint collaborations and the disputes that can arise between market rivals operating within a complex strategic context.
A thought for policymakers
IP rights affect collaboration and competition in a complex way. The wealth of recent studies on this subject seems to generate more questions than answers. What is clear, however, is that the circumstances surrounding individual collaborative arrangements can have a dramatic effect on whether they have a positive or negative impact on the collective welfare.
The clear-cut lessons that have emerged from research and experience, though few in number, can, nevertheless, help policymakers map the major dynamics at work. While the devil is often in the details, there are a number of areas on which policymakers can focus their attention.
Mandatory independent licensing
One of the key lessons drawn from the economics literature is the importance of requiring patent pools to engage in independent licensing. Such an obligation makes it possible for any pool member to license its patent outside the pool.
The option to license patents independently outside the pool or alliance can work in the public interest in four ways:
It puts a ceiling on the fees that the pool can charge, insofar as the cooperation inherent in a pool avoids royalty stacking - the separate payment of royalties on each patented technological component - which can result in consumers paying higher prices.
Patents may have alternative uses outside the patent pool. Independent licensing encourages alternative applications of multiuse patented technologies rather than restricting them to pool-related licensing.
Independent licensing reduces incentives for "socially wasteful" inventive efforts. Consider, for example, the following scenario: Inventor A is a member of a patent pool and cannot license out; Inventor B, operating outside the patent pool, produces a "me-too" innovation very similar to a technology in that patent pool. Inventor B pursues this marginal invention knowing that Inventor A will purchase it to remove any threat of having its position in the patent pool weakened. The effort to develop a me-too invention and prosecute such a buyout strategy is socially wasteful. It generates little new knowledge and seeks to blackmail pool members. Mandated independent licensing can check such practices by limiting opportunities for accumulating excess profits within the pool and effectively reducing the viability of innovation as a buyout strategy.
Independent licensing can serve as a screening device for policymakers to separate anticompetitive pools with duplicative patents from beneficial pools comprising complementary patents. In anticompetitive pools that do not include provisions for independent licensing, the freedom of members to license their technology independently would break the pool's ability to fix prices above the competitive rate. Such provisions, however, do not negatively impact pools comprising complementary patents since external licensing of any component is either not valuable without the remaining complements or occurs in a market that does not compete with the pool.
Mandatory independent licensing provisions may prove to be valuable in allowing regulators to "select out" harmful pools before they come into existence. In a more limited application, the absence of such terms can alert regulators to collaborations that may harbor anticompetitive motivations.
Advantageous policy options
Rather than focusing solely on regulating harmful, anticompetitive alliances, there is much to be gained from actively encouraging socially beneficial collaborations. There are instances in which regulatory authorities treat publicly-spirited IP collaborations favorably - in France, for example. Similarly, in Germany and the UK patent renewal fees may be reduced in exchange for making patents available for licensing.
Beyond these measures, regulatory agencies could consider granting temporary safe-harbor status to firms that wish to explore the feasibility of collaborating. It is difficult to estimate the number of potentially fruitful collaborations that go unexplored because of the fear of a negative regulatory reaction. Creating conditions in which potential partners can discuss terms more openly may promote increased collaborative activity.
Historically, US regulators have taken (and continue to take) a strong stance against any discussion of pricing among SSOs. This unequivocal prohibition makes any discussion of price per se illegal. This, in turn, makes it difficult for potential collaborators to assess the viability of partnering. A great deal of time is wasted in avoiding discussion of the topic directly, even though all collaborators will ultimately have to agree on the matter in order to form a pool.
Although regulators' preference for clear rules is understandable, finding ways to provide firms with a safe harbor to explore the merits of collaborating may encourage more beneficial alliances without dismantling the rules for prosecuting harmful ones. In particular, allowing firms greater flexibility to commit to caps (not floors) on patent royalty rates as part of the standardization process could prove highly beneficial.
Further research needed
A number of additional questions in relation to standards need further scrutiny. The link between standards and patent pools arises from the fact that many standards are based on complementary technologies often developed by different firms. As suggested in Standards and Public Policy by Greenstein and Stang (2007), key questions include:
Under which circumstances should governments consider intervening in market processes for selecting standards?
How well do non-market mechanisms perform?
What trade-offs do policymakers face when choosing standards or shaping the legal restrictions faced by participants in standard bodies?
Further enquiry into IP collaborations more generally is also warranted. We need to ask, for example, whether joint R&D efforts are underutilized? Are there social benefits in encouraging their use, or are institutions such as universities more effective intermediaries for diffusing knowledge? We also need to ask how specific institutional structures and decision-making rules affect the speed and quality of standard-setting groups as well as how ongoing patent reform in the US and Europe will affect incentives to share IP and the effectiveness of these collaborations.
IP collaborations represent both a regulatory challenge and a fertile area for research. Improved understanding of the economic forces at work will provide better guidance to those seeking to balance competition and cooperation in the quest for innovation. Further investigation of specific institutions, their roles and their decision-making processes will be critical to advancing our understanding of the questions raised here.
The WIPO Magazine is intended to help broaden public understanding of intellectual property and of WIPO's work, and is not an official document of WIPO. The designations employed and the presentation of material throughout this publication do not imply the expression of any opinion whatsoever on the part of WIPO concerning the legal status of any country, territory or area or of its authorities, or concerning the delimitation of its frontiers or boundaries. This publication is not intended to reflect the views of the Member States or the WIPO Secretariat. The mention of specific companies or products of manufacturers does not imply that they are endorsed or recommended by WIPO in preference to others of a similar nature that are not mentioned.