Innovative licensing expands access to HIV treatments
November 2012
By Catherine Jewell, Communications Division, WIPO
For more than two decades, the US research-based biopharmaceutical company, Gilead Sciences (Gilead), has been at the forefront of innovation in the battle against the human immunodeficiency virus (HIV). Its commitment to innovation has produced safer, more effective treatments for HIV and other life-threatening diseases. It has also significantly expanded access to more affordable HIV treatments in developing countries. Through its groundbreaking access programs, Gilead has demonstrated how creative use of intellectual property (IP) can help advance public health policy objectives. WIPO Magazine recently met with Gregg Alton, Executive Vice President for Corporate and Medical Affairs at Gilead to find out more about the programs and ongoing challenges.
The beginning
With regulatory approval of Viread® (tenofovir disoproxil fumarate), its first antiretroviral (ARV), in 2001, Gilead realized there was a desperate need for its HIV therapies in developing countries where the virus is most prevalent. Delivering these drugs to those most in need, however, proved quite a challenge. "We spent a lot of time looking at what was being done, but there was no model that made sense to us - so we had to think outside of the box," Mr. Alton explains.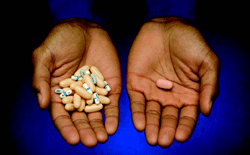 While much has been achieved, in terms of access,
affordability and the development of more effective
single dose combination therapies, changing the
course of HIV infection still remains a daunting
challenge.
In 2003, Gilead established its global ARV access initiatives which sought to "sell ARV products at no-profit prices in developing countries." The efforts first focused on Viread, followed by Truvada® in 2004 and covered 53 African countries and 15 least developed countries.
After various iterations, by 2006, some 30,000 patients in developing countries were receiving Gilead's ARV products. Eager to enhance its impact, Gilead undertook a further restructuring exercise in 2006 which proved pivotal. Today, using this same model, Gilead delivers HIV treatment to some 2.9 million people in over 130 developing countries.
Key lessons
Recognizing the importance of a local presence, Gilead began establishing partnerships with regional distributors to leverage their knowledge of how things worked in target countries - to register drugs, handle supply chain logistics, undertake pharmacovigilance and medical education activities. This enabled them to avoid the cost and complexity of establishing separate operations in each country. By 2010, Gilead had established partnerships with 11 local distributors and was servicing 130 countries. Gilead sells its branded products to these local business partners at cost and allows them a 15 percent mark-up.
The 2006 restructuring exercise also introduced licensing agreements with Indian generic drug manufacturers. Their proven ability to consistently produce high volumes of quality drugs at low cost made them an ideal partner, complementing Gilead's strengths in innovative research and development. "We essentially offer licenses to any company in India that wants to manufacture our products. We provide our licensees with the know-how to produce our drugs, and they can sell them at a price they determine in over 100 countries around the world," Mr. Alton explains. Royalties received by Gilead are then used to support product registration, medical education and training, safety reporting and the range of activities undertaken by Gilead's local partners in developing countries.
Gilead's access initiatives created competition in the market for generic versions of its products and, in boosting generic manufacturing capacity, ensured there was an adequate and cost-effective supply of ARV drugs. "The beauty of the access model is that true business competition creates innovation in the supply chain. Our partners compete with Gilead and with each other. Everyone is incentivized to continue to make advances in manufacturing to drive sales. For global health funds, those efficiency innovations lower prices, and that means more patients receive treatment."
"In 2003, the best we could do was US$39 per month for Viread. Today, because of the dramatic improvements in manufacturing efficiency led by our partners in India, we can treat patients with generic versions of Viread for US$4.49 per month," Mr. Alton explains.
The access programs have also achieved financial sustainability. "In 2006 we were reaching 30,000 patients and losing US$20 million a year. We made some fundamental changes and today the program is absolutely financially viable," Mr. Alton notes.
Expanding access further
"Our expectation is to continue down this path because it seems to be successful," Mr. Alton says. "However, we continue to evaluate what works and to adapt and hopefully, in the future, will make not only HIV drugs widely available but other much-needed medicines, using creative approaches." Gilead is also working on innovative treatments for hepatitis C, a curable disease affecting some 160 million people, many of whom live in developing countries.
Gilead is seeking to deliver its recently approved HIV treatment, Stribild®, to developing country patients within 12 months - an unprecedented feat. In the 1990s the time lag between when a drug became available to patients in developed countries and when it reached developing country patients was around 15 years. Today the average is 2 years.
The role of IP
Predictable and enforceable IP protection has played a central role in the development of Gilead's medicines. Mr. Alton explains, "We spend years researching and developing these products. Our patents drive our innovation. When there is no medicine and our scientists are spending years in trial and error to develop essential new therapies, our investors invest because they believe we will receive a patent for our invention, and that patent will deliver a return on that investment. Nobody would give us the capital required for research if they thought we could not protect our investment."
"There is a view that IP allows a company to have exclusivity and raise prices in the developing world," Mr. Alton continues. "It does. But you don't have to do that, and I think we've proven that IP allows us to meet the needs of the developing world as well. Without the functioning system of intellectual property law that governs our licensing deals, we would not be able to safely transfer our technology to partners. These partnerships are the foundation of Gilead's access efforts, and they are built entirely on the strength of US, Indian and international intellectual property law."
In 2011, Gilead became the first pharmaceutical company to join the Medicines Patent Pool (MPP). Mr. Alton is hopeful this will help "narrow polarizing views on IP and access. We all share the same goal: we want to treat patients. So let's figure out how we can do that better. The MPP is an exciting idea. MPP and Gilead's access programs demonstrate that IP and access can not only coexist, but that IP can actually empower access. Without our partnerships, we would still be selling at $39 per month and reaching few patients. Because of a more creative use of IP in global markets, we drove down the cost of manufacturing by more than 75 percent. So we can now treat more patients, and that's our goal."
Challenges
While adequate international funding to purchase HIV medicines is a persistent concern, Gilead faces a number of IP-specific challenges. Principal among these is the uneven global environment for patents. Take, for instance, the variable treatment of incremental innovation within national patent law.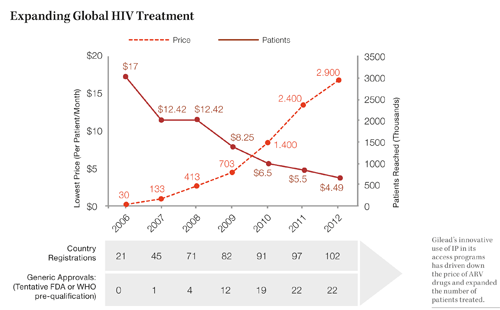 Gilead's innovative use of IP in its access programs has driven down the price of ARV drugs and expanded
the number of patients treated.
"There are a lot of people that believe innovation has to result in a brand new chemical entity with a whole new structure, as opposed to innovation in advancing and improving on existing structures. This belief is inconsistent with how science develops, in particular with respect to pharmaceuticals. I think it is very dangerous to say that incremental innovation does not qualify for IP protection when such improvements may in fact be what would benefit humans more than a whole new chemical structure or a whole new class of drugs. Again, the goal is to efficiently drive investment to what we actually need. Redirecting capital to chase new chemical entities just for the sake of chasing new entities wastes precious resources that can otherwise deliver more innovation for patients," Mr. Alton notes, referring to the company's experiences in relation to tenofovir.
Tenofovir disoproxil fumarate is a prodrug of tenofovir in that it improves its bioavailability or uptake b0y the body.. "The problem with tenofovir is that you can't administer it orally because it won't go through the gut. It has to be injected, and injectables are off the table in HIV. By prodrugging tenofovir with disoproxil fumarate you can take it as a pill and, because it targets the lymphatic system more directly, it is significantly more potent than tenofovir. We actually overcame a lot of scientific hurdles to develop it," he observes, "and in doing so we delivered a therapy, Viread, that has literally saved millions of lives. Would it have been a better outcome to signal to capital markets that nobody should invest in improving tenofovir? Unfortunately, when a patent office declares a blanket policy that so-called 'incremental innovation' is not patentable, that's exactly the signal they are sending."
Another challenge facing Gilead is the reality of transparent and tiered pricing. Similar to a progressive tax code - where wealthier citizens pay a higher percentage of income in taxes than the "middle class," and the middle class pays a higher rate than the poor - some wealthy countries try to claim poverty to qualify for lower rates. "All countries want the lowest possible price, but we have to agree that there is a difference in what China or Brazil should pay and what Haiti or Lesotho should pay."
Ensuring the access programs remain a financially viable proposition for its licensing partners is a priority for Gilead. "If profit margins are squeezed too much, Indian generic companies will start to lose interest, as was the case in producing generic versions of the antifungal, amphotericin B," Mr. Alton observes. Gilead is looking for new ways to incentivize its generic partners by, for example, adding selected semi-exclusive markets - where generic competition is less fierce - to its licensing agreements with them. This offers them a chance to discount Gilead's access price and "make a little more money," Mr. Alton explains. "Our hope is that this will give our Indian partners the viability they want, but it's still experimental." Longer-term contracting of drugs by countries would also help address this problem by enabling generic companies to fine-tune production schedules.
Future objectives
While much has been achieved, changing the course of HIV infection still remains a daunting challenge. Mr. Alton is clear that "a lot still needs to be done." Current treatment guidelines, he explains, significantly underestimate the number of HIV treatment-eligible people in the developing world. While there are limits to how far the cost of Gilead's generic treatments can fall, there is scope for optimism as safer, more effective and better tolerated drugs come on stream, such as Gilead's new prodrug of tenofovir - 7340 - which could further reduce prices.
Greater emphasis on early treatment is also needed, he notes, to stem HIV infection rates in light of the recent understanding that when the viral load of HIV patients is undetectable "it becomes incredibly difficult, if not impossible, to transmit the virus." Treating patients to prevent further infection is essential "if we want to change the course of HIV." A medically-driven and more open discussion about how much money is being spent in the developing world on HIV and whether it is being spent in the right way is another "must" going forward, Mr. Alton notes.
While Gilead's access initiatives "are not perfect," and continue to evolve, they are without doubt "a step in the right direction." Mr. Alton hopes that "as people see it is not hurting the commercial side of our business, we will see more companies following suit." The good news is that, in addition to expanding access to affordable HIV treatments, Gilead's innovative access programs are already encouraging other companies and entities such as the MPP to adopt similar approaches.
Related Links
The WIPO Magazine is intended to help broaden public understanding of intellectual property and of WIPO's work, and is not an official document of WIPO. The designations employed and the presentation of material throughout this publication do not imply the expression of any opinion whatsoever on the part of WIPO concerning the legal status of any country, territory or area or of its authorities, or concerning the delimitation of its frontiers or boundaries. This publication is not intended to reflect the views of the Member States or the WIPO Secretariat. The mention of specific companies or products of manufacturers does not imply that they are endorsed or recommended by WIPO in preference to others of a similar nature that are not mentioned.