Sports, Sporting Goods and the Sports Business
September 2012
by Dr. Jochen M. Schaefer, Legal Counsel, World Federation of the Sporting Goods Industry (WFSGI)
Sports fans around the world have been spellbound by the achievements of athletes participating in the 2012 Olympic and Paralympic Games in London. In previous issues, WIPO Magazine has offered a variety of perspectives on the importance of intellectual property (IP) to different sports organizations. This article explores the importance of IP protection from the perspective of the sporting goods industry.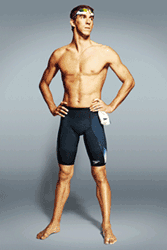 Michael Phelps, the most decorated
Olympian of all time, has partnered
with Speedo since 2001. Speedo's
IQ Fit technology developed by
Aqualab, the Fastskin3 Cap and
Fastskin3 Super Elite and Elite
Goggles, ensure optimal hydrodynamics.
Worn together, full body drag force
can be reduced by up to 5.7 percent
which can result in improved
performance. (Photo: Speedo)
The sports industry is a wide-ranging business encompassing the sale of food and sports memorabilia as well as the sale of media rights and sponsorship deals. Many players are involved, from clubs, leagues and sponsors to media broadcasters and, of course, those that produce all the equipment that make high-performance sport possible – the sporting goods industry. A 2011 study by management consultants A.T. Kearny estimates that the global sports industry is worth as much as US$620 billion.
Sporting goods companies, large and small, spend millions of dollars each year developing new and improved products to benefit not only elite athletes, but also amateurs and those who enjoy wearing comfortable trainers and sportswear on a day-to-day basis. Many of these companies also invest significant sums in supporting talented young athletes in communities around the world – youngsters with the promise of becoming the sporting heroes of the future. The IP system and the protection it affords play a key role in enabling sporting goods manufacturers to continue to invest in researching and developing ever more effective and affordable equipment for the athletes of today and tomorrow.
The technology race
Nearly all sports have benefitted from advances in materials and engineering processes. The natural materials (wood, twine, gut, rubber) used to make the equipment of yesteryear have been progressively replaced by a wide range of highly sophisticated, man-made materials, including alloys and polymers. Equipment made from these lighter, more durable materials has allowed athletes around the world to minimize injury and to push the boundaries of their performance.
German entrepreneur Adolf "Adi" Dassler, who founded adidas was one of the first to successfully market a technologically enhanced sporting good in the form of his innovative semi-cut football shoe with a lightweight nylon sole and screw-in studs. Wearing these boots, the German team clinched victory from Hungary in the 1954 World Cup final in Bern, Switzerland. As heavy rain had made conditions very slippery, the German team opted to use Adi Dassler's innovative boots. Their longer studs gave the players improved grip and better ball control, an advantage that helped them win the match.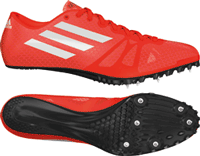 Adidas founder Adi Dassler's belief that "light
equals fast" is encapsulated in the concept
of adizero. Developed in Japan, the adizero
range incorporates traditional hand-crafted
techniques and uses breathable high-tech
fabrics. Developed with American sprinter
Tyson Gay and British heptathlete Jessica
Ennis, it features a 1.3mm carbon plate to
minimize energy loss and permanent nano-
ceramic compression pins to optimize
propulsion for greater speed. (Photo: Adidas)
Since then, developments in the design of shoes used in all sports have been dramatic thanks to significant investment in research and development (R&D). Today, leading sporting goods manufacturers – such as Nike, Puma, Asics and others – spend more than one percent of their annual global turnover on R&D.
In high-tech (and tightly guarded) test labs equipped with the very latest technology, sports brands work closely with top athletes, measuring and recording their movements to develop equipment for optimal performance. Some even have purpose-built facilities to develop and test equipment under varying conditions.
Speedo's global R&D facility, Aqualab, for example, worked with athletes, coaches, sports scientists, global hydrodynamics experts, optical engineers and psychologists to develop its groundbreaking Fastskin Racing System®. This comprehensive range of swimwear and equipment works together to enable swimmers to cut through the water with maximum efficiency. It is in these sophisticated labs that the sports technology race is run.
The world's lightest sports shoes are featherweight and crammed with technology. The neon-yellow Nike Zoom Victory Elite spikes – part of the Nike Volt Collection that was specially designed for the Olympic Games – worn by 10,000 meter and 5,000 meter champion Mo Farah, along with some 400 other athletes, weigh a lean 98 grams. Adidas' adizero Prime SP sprint spike developed with American sprinter Tyson Gay and British heptathlete Jessica Ennis also comes in at under 100 grams.
High technology is the name of the game – the key formula driving the development of sophisticated new products. These, in turn, result in the inspiring record-breaking performances that the media and sports enthusiasts all over the world love to see.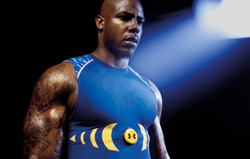 The Under Armour® Biometric Compression Shirt
measures various aspects of performance during sports
activity, such as heart rate and G-force. The data can
also be broadcast in real time on stadium display screens.
Smart wear
Technology convergence and smart sportswear are the latest buzz in sporting goods innovation. The growth prospects for sport high tech are such that many non-sports brands are eager to capture a slice of the market. Leading manufacturers of consumer electronics, including Apple, Nokia and Samsung, are working closely with top sports brands to develop new sports-related technologies (and new revenue streams). Apple Inc., for example, has already made inroads into the sector with its Nike + iPod sports kit which, thanks to sensors in the Nike+ shoes, enables iPod users to obtain real-time feedback during workout sessions and to track their performance.
In January 2012, Apple obtained a patent (US Patent 8,099,258) for a "smart garment" on which advanced sensors are affixed that transfer data - such as location information, physiometric data of the wearer, garment performance and wear data - to an external data processing device such as a portable digital media player linked to a computer server.
Estimates suggest that sport sensor sales will rise from 20 million in 2011 to around 170 million by 2017. Little wonder that there is such interest in this buoyant market which promises to give rise to new joint ventures and licensing arrangements. The success of such ventures will hinge, in large part, on effective IP asset management and access to affordable, efficient and user-friendly IP services, such as WIPO's Patent Cooperation Treaty (PCT).
Winning designs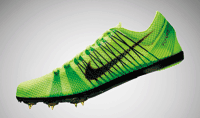 The neon-yellow Nike Zoom Victory Elite
spikes – part of the Nike Volt Collection that
was specially designed for the Olympic Games
- worn by 10,000 meter and 5,000 meter
champion Mo Farah, along with some 400
other athletes, weigh a lean 98 grams.
(Photo: Courtesy of Nike)
The sporting goods of the 21st century symbolize sport, lifestyle and fashion. Product design, whether it is retro or forward-looking, is pivotal to a product's commercial success. Protecting the rights in those designs is equally important. Design rights (referred to as design patents in the US) are an important tool enabling sporting goods manufacturers to defend against infringement. Earlier this year, for example, Nike filed a complaint in the US District Court of Nevada against an Asian footwear manufacturing company, claiming that 23 of its registered design patents had been infringed.
The importance of IP in the business strategies of sporting goods companies cannot be overstated. It is a key factor in enabling companies to remain competitive, as well as an essential element in the battle against counterfeiters, to which sporting goods manufacturers all too often fall prey. The Sporting Goods Manufacturers Association (SGMA), the trade association of leading industry sports and fitness brands, estimated that the retail value of fake sporting goods seized by customs and enforcement authorities in 2010 in the US alone was some US$1.4 billion.
Making a mark
While patents and design rights are extremely important in safeguarding cutting-edge technologies that have broad consumer appeal, sporting goods companies live by the trademarks that underpin their brand identity. The ability to obtain trademark protection rapidly and cost-effectively in multiple markets is essential in today's commercial environment. WIPO's international trademark registration services can be particularly useful in this respect. They offer sporting goods companies, large and small, a quick, easy and affordable way to register their trademarks in multiple countries. This, of course, is a key first step in building brand recognition and value.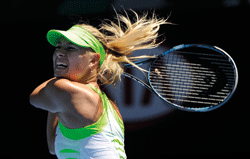 Russian tennis star Maria Sharapova signed a sponsor-
ship deal with leading tennis racket manufacturer HEAD
in January 2011. Ms. Sharapova uses the YouTek™
Instinct IG Series of tennis racket which features HEAD's
innovative hybrid-composite Innegra™ technology for
reduced vibration on ball impact allowing greater
control. The slim aerodynamic frame geometry of the
racket head also increases the manoeuvrability of the
racket allowing for higher swing speeds. (Photo: HEAD)
In its 40-year existence, Nike and its iconic swoosh has captured the imagination of consumers and become one of the world's best known sports brands, enjoying near universal appeal with 97 percent global recognition. This simple and memorable mark – valued in 2011 by Interbrand at some US$14.528 billion – contributes significantly to the company's image, value and performance.
A key advantage enjoyed by sports brands in major sporting events is the fact that, unlike other official sponsors, sports brands hold center stage. In these high-profile events, all eyes fall on the athletes wearing or using branded equipment. Some brands seek to further enhance their visibility by, for example, adopting striking colors – such as the luminous yellow Nike Volt Collection - that stand out against a team's strip. This practice, however, is not always looked upon favorably by leading sports event organizers and right holders.
Such "free-of-charge" exposure seems inappropriate to them in light of the large sums paid – an estimated US$1 billion at the London 2012 Olympic Games alone - by official sponsors in order to be associated with high-profile sports events. Periodic attempts are made by some sports governing bodies to limit such exposure by, for example, reducing the size and visibility of logos on sports apparel or equipment. Efforts are also made to temporarily suspend advertising campaigns featuring top athletes prior to, during and shortly after a major sports event, even if such advertising is unrelated to it.
The sporting goods industry and its representatives, however, believe that the visibility of their logos at these events is merited and should not be curtailed, particularly in light of the substantial investments the industry continues to make – both in kind and concretely in supporting sports federations, clubs and the athletes themselves. Without the industry's continuous investment in developing better products, the attractiveness of top-tier sporting events would diminish, and consumers in general would no longer benefit from innovative benchmark developments, primarily in the field of continuous product improvements.
Sporting goods are present in almost every sporting pursuit. They can help competitive athletes reach their full potential, inspiring new generations to take part. They also make community-based sports a more comfortable, fun and rewarding experience. As the global interest in sport grows, the business relationships that characterize the industry will become more complex. Strategic and effective IP asset management is a critical factor in forging fruitful intra-industry cooperation and fair trade.
Related Links
The WIPO Magazine is intended to help broaden public understanding of intellectual property and of WIPO's work, and is not an official document of WIPO. The designations employed and the presentation of material throughout this publication do not imply the expression of any opinion whatsoever on the part of WIPO concerning the legal status of any country, territory or area or of its authorities, or concerning the delimitation of its frontiers or boundaries. This publication is not intended to reflect the views of the Member States or the WIPO Secretariat. The mention of specific companies or products of manufacturers does not imply that they are endorsed or recommended by WIPO in preference to others of a similar nature that are not mentioned.