A glimpse into the future of paralympic sports
August 2012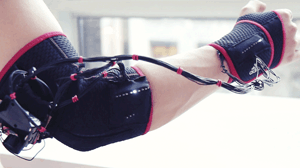 Ghost, the winning design, is a personal para-athlete training
device worn on the wrist and elbow. It uses sounds and vibrations
to tell the wearer when they are performing a particular
movement correctly. (Photos: Igor Safronov, Javier Soto &
rb-create 2012)
by Catherine Jewell, Communications Division
In the run-up to the London 2012 Paralympic Games, engineering and design students from Imperial College London and the Royal College of Art in London recently unveiled a selection of exciting prototypes that offer a glimpse of what the future of paralympic sports might look like. The devices were developed in the context of the Sports Innovation Challenge, funded by Rio Tinto, which is providing the precious metals for the 4,200 gold, silver and bronze medals awarded at the London 2012 Olympic and Paralympic Games, and with the support of Ottobock, a leading prosthetics manufacturer. Ottobock is the official prosthetic, orthotic and wheelchair technical service provider of the London 2012 Paralympic Games.
The Challenge is part of a five-year program that seeks to harness the creativity of leading engineering and design students to make sports more accessible to those with disabilities and to offer students experience in managing real-life projects. WIPO Magazine takes a closer look at some of the potentially game-changing innovations the students came up with.
Ghost
In the world of elite sport, every fraction of a second counts. "A bad turn or an error in the kick may mean the difference between first and third place in a race", notes Donovan Tildesley, blind swimming bronze medalist.
Visually impaired swimmers face enormous challenges in correcting and refining the mechanics of their strokes for improved performance because they simply cannot see whether they are moving optimally. They rely on physical interaction and auditory feedback from their coaches to refine their movements. Ghost is a personal paraathlete training device developed by Shruti Grover, Benedict Copping, Idrees Rassouli and Jason Cheah. Worn on the wrist and elbow, the device uses sounds and vibrations to tell the wearer when they are performing a particular movement correctly. The system also allows athletes to train using the movement data of the world's top Olympic athletes.
Haptic Vision
Students Chin-Wei Liao, Daniel McLaughlin and Igor Safronov came up with Haptic Vision, a chest strap device that promises to give blind or visually impaired athletes greater autonomy. Athletes are guided and kept on course during races using a series of vibrations - potentially eliminating the need for a sighted guide.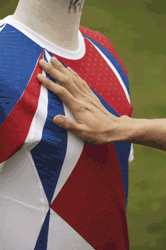 Rainbow Touch uses textures based
on dots and lines in variable sizes
and thicknesses representing different
colors to enable visually impaired
athletes and fans to recognize the
color of team stripes.
Rainbow Touch
A number of devices to enhance the experience of visually impaired sports fans were also developed. These include Rainbow Touch, described as a "color-to-texture translation system" that enables athletes and fans to recognize the color of their team stripes. Rainbow touch "uses textures based on dots and lines in variable sizes and thicknesses, to represent color based on the continuous spectrum of visual light", the team (Mi Eun Kim, Martin Jaere and Noriyaki Maetani) explains. They are convinced that Rainbow Touch "can be the basis of a new universal color-to-texture translation language".
Augestra
While many paralympic sports are fun to play, they are not necessarily the most exciting for spectators. Goal Ball, for example, involves blindfolded teams competing against each other to hit a ball into a goal at either end of the court. Spectators have to remain silent to enable players to locate the ball which has a bell inside. Yuta Sugawara, Tim Bouckley and Jenny Shih have come up with an augmented-reality device, Augestra, that lets spectators tap into what athletes experience in this game by connecting them with players, using sensors that wirelessly transmit the vital signs of players (heart beat and breathing) to audio devices worn by spectators. "Our aim has been to use technology to connect the audience to the athletes, to let spectators share in the experience of elite competition and be inspired and excited by paralympic sport as a whole", the team notes.
Endura
The prosthetic limb, Endura, developed by Millie Clive-Smith, Sebastiaan Wolzak and Seitaro Taniguchi, seeks to overcome the inconvenience and discomfort experienced during training by athletes who wear prostheses. Currently, athletes need to halt training sessions every 30 minutes or so to remove the prosthesis and drain accumulated sweat. The team has overcome this problem by developing a strong, open structure for maximum support and ventilation using Bone Algorithm Technology making an optimal fit possible. This enables efficient dissipation of heat and perspiration. Endura's design also enables athletes to adjust the tightness of the prosthesis to accommodate any muscle expansion arising from intense physical activity, making it a more comfortable fit than contemporary devices.
About the Paralympic Games
The Paralympic Games are the world's second largest sporting event. The London 2012Games, to be held from August 30 to September 9, will bring together some 4,200 athletes from 150 nations participating in 20 different sports. The first organized athletic event for disabled athletes took place on the opening day of the 1948 Summer Olympic Games in London, when Dr. Ludwig Guttman of Stoke Mandeville Hospital hosted the 1948 International Wheelchair Games for war veterans with spinal cord injuries. His aim was to create an elite sporting event equivalent to the Olympic Games for people with disabilities. The first official Paralympic Games were held in Rome in 1960, attracting 400 athletes from 23 countries. The first Winter Paralympic Games were held in 1976 in Örnsköldsvik in Sweden.
Removing barriers to competition
Students also came up with a number of innovations that enable able-bodied and physically impaired athletes to compete side by side using the same equipment and following the same rules.
Headshot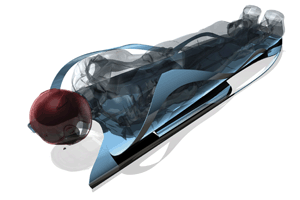 Brainsled offers a way for individuals living with severe physical
impairments to compete on equal terms with able-bodied
competitors. The athlete steers the sled using brain impulses
captured in a special headset. (Photo: Igor Safronov, Javier Soto
& rb-create 2012)
Headshot, for example, offers a new take on clay pigeon shooting. The device enables athletes to move, aim and fire a gun mechanism with their head and mouth. Competitors sit on a platform with their shotgun mounted in front of them. A specially designed headset tracks the movement of their head – as it moves right, left, up and down, the platform also moves - allowing them to take aim. The gun is fired by blowing into a mouthpiece on the headset. "Anyone with mobility from the neck up can potentially compete at the highest level. I think the most valuable aspect of this technology is that… disabled and able-bodied sports do not need to be separate and that we can introduce sports that allow a much broader section of the population to participate together", observed Colin McSwiggen who, along with Jeffrey Gough and Juhye Lee, developed the device to demonstrate how people living with quadriplegia could compete with able-bodied people in clay pigeon shooting.
Brainsled
Brainsled also offers a way for individuals living with severe physical impairment to compete on equal terms with able-bodied competitors. The athlete steers the sled using brain impulses captured via a special headset. This innovation is a test of courage, concentration and skill. "Strength is not a key factor any more," the team notes. Even the most severely impaired individuals can "experience the adrenaline and physical excitement of an extreme activity", they said. Brainsled was conceptualized and designed by Michele Tiberio, Victor Monserrate, Javier Soto and Sangwoo Park.
Turning insights into design opportunities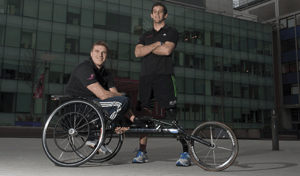 Paratriathlete Jimmy Goddard and javelin thrower
Scott Moorhouse at Imperial College London for the athlete
workshop. (Photos: Igor Safronov, Javier Soto & rb-create 2012)
In developing these novel innovations that promise to broaden participation in sport by athletes with physical impairment and boost athletic performance generally, the students worked closely with top parathletes, including Iain Dawson, Jimmy Goddard and Scott Moorhouse. This enabled the students and staff to gain key insights that were vital to ensuring that the devices developed matched the needs of the athletes. "Without the input of the user to validate the decisions made, there is a real danger of producing a solution that is completely inappropriate", notes Rolf Thomas, one of the design tutors.
"What we have done is try to engage students to develop devices that might help paralympic athletes to compete in the future", said Preston Chiaro, Group Executive, Technology and Innovation at Rio Tinto. "The competition has really gone beyond our original intention in the sense that students have been so creative; they thought not only of devices that can help paralympic athletes but that also get the audience more involved in the sport taking place before their eyes. It's really absolutely amazing", he added.
The challenge offered students an opportunity to "explore the design possibilities and develop functional and form prototypes using the inspiration of London 2012 to help the future of the Paralympic Games and the wider disabled community", noted Professor Peter Childs, Imperial College's Innovation Design Engineering Joint Course Director. "Creative leadership has been identified repeatedly by business surveys as a critical component to success", he said. "We wanted an exciting project area that encouraged generative activity. This is important in the development of designers, engineers and innovators who can think in a disruptive enough fashion to help form future product directions for industries", he added.
Challenge winner
This year's Sports Innovation Challenge winner, the Ghost project, has now successfully secured additional funding and a mentor, Andy Brand, to take the project forward with the support of Imperial Innovations. Many of the other students are also working on further developing a number of other promising innovations, such as Rainbow Touch, Augestra and Haptic Vision.
About Imperial Innovations
Imperial Innovations was founded in 1986 as a wholly-owned subsidiary of Imperial College London. It was one of the first technology transfer offices to be established in Europe. Today, Imperial Innovations is a leading international technology commercialization company based in the UK and one of the most prolific investors in early-stage companies. Its integrated approach covers all aspects of the commercialization process. In 2005, the company signed a 15-year agreement with Imperial College to commercialize technology derived from its research.
Changing perceptions
The inspiring achievements of modern-day record-breaking parathletes are changing perceptions about disability. As noted by Aimee Mullins - athlete, actress, fashion model and double amputee - disability "is no longer a conversation about overcoming deficiency. It's a conversation about augmentation. It's a conversation about potential." While technological innovation cannot take the credit for the phenomenal sporting achievements of elite paralympians, it undoubtedly plays a key role in translating the dreams of many into reality. It also carries the promise of making sport more accessible to all people living with physical impairment. The Sports Innovation Challenge offers a tiny glimpse of the rich possibilities for the evolution of sport in the coming years. It will undoubtedly be an interesting and exciting journey. CJ
The WIPO Magazine is intended to help broaden public understanding of intellectual property and of WIPO's work, and is not an official document of WIPO. The designations employed and the presentation of material throughout this publication do not imply the expression of any opinion whatsoever on the part of WIPO concerning the legal status of any country, territory or area or of its authorities, or concerning the delimitation of its frontiers or boundaries. This publication is not intended to reflect the views of the Member States or the WIPO Secretariat. The mention of specific companies or products of manufacturers does not imply that they are endorsed or recommended by WIPO in preference to others of a similar nature that are not mentioned.