WIPO GREEN: Facilitating Dissemination of Green Technology
June 2012
By Anja von der Ropp, Legal Officer, Global Challenges Division, WIPO
Climate change is one of the defining challenges of our time. Extending the use of environmentally sound technologies (ESTs) is a key component in mitigating and adapting to climate change. WIPO, along with industry partners, recently launched the pilot version of a new platform known as WIPO GREEN, which seeks to accelerate the adaptation, adoption and deployment of green technologies. WIPO GREEN is a sustainable technology exchange that promises to help facilitate the adaptation, adoption and deployment of climate-friendly technologies, particularly in developing countries and emerging economies.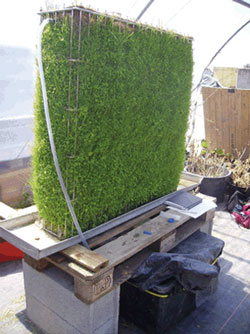 One of the technologies available in wipo green is
the vertical green biobed for the efficient degradation
of pesticides and soil improvement from the University
of Geneva, Switzerland. (Photo: Hepia)
Challenges
Access to ESTs is a priority for many countries confronting the challenges of climate change. Efforts to promote the diffusion of these technologies, however, are often hindered by a country's capacity to absorb them. Barriers to technology diffusion are many and varied. They may be economic in nature, for example related to a country's openness to trade and foreign direct investment, or they may result from an inadequate regulatory framework in relation to environmental or intellectual property (IP) policy.
Misconceptions or a lack of knowledge about how technology transfer actually works and the role that IP plays in the process can also inhibit effective collaboration. Creating markets that support the exchange of knowledge across a broad range of stakeholders helps reduce transaction costs and thereby supports the diffusion of these technologies. IP rights play a key role in terms of attracting investors, facilitating entry into new markets and enabling effective collaborations. By injecting greater transparency into the market for ESTs, WIPO GREEN is poised to facilitate the broad global dissemination of green technologies.
How is WIPO GREEN different?
WIPO GREEN is unique for a number of reasons. First, unlike other initiatives, it goes further than facilitating access to relevant patent information. WIPO GREEN makes it possible to offer packaged technological solutions that include complementary elements, such as the know-how and technical expertise crucial to the effective configuration of a licensed technology for a specific operating context.
Second, unlike commercial databases, there are no fees associated with its use.
Third, WIPO GREEN is embedded in the United Nations (UN) system-wide response to climate change. The United Nations Framework Convention on Climate Change (UNFCCC) is calling on all parties to cooperate in promoting the development, application, transfer and diffusion of ESTs to mitigate the impact of and adapt to changing climatic conditions. To this end, at the Climate Change Conference in Cancún in 2010, the international community agreed to establish a "technology mechanism" which includes the establishment of a climate technology center and network. WIPO GREEN will be a valuable tool in supporting the work of this mechanism.
How it works
WIPO GREEN is designed to improve knowledge of and access to existing ESTs and to help in the search for solutions to specific climate change-related technology challenges on the one hand, and to provide additional marketing and partnership opportunities on the other hand. It achieves this by matching the available technologies, know-how and expertise of "technology providers" with the expressed needs of "technology seekers". It is, in sum, a hub that makes it easier for would-be partners to connect with each other. The process of populating the WIPO GREEN database with the details of relevant technology providers and technology seekers is now well under way.
The idea for establishing WIPO GREEN was first floated by members of the Japan Intellectual Property Association (JIPA) which has, from the outset, along with other industry partners, played a key role in shaping its development. Industry plays a pivotal role in bringing about green innovation and fostering its broad diffusion and is, therefore, a natural partner in this endeavor.
While the mechanism is designed to facilitate the exchange and diffusion of ESTs, its role does not extend to establishing specific agreements for technology transfer. Any transactions that take place will be the subject of individually negotiated agreements between the parties concerned, allowing for greater flexibility in business decisions. Such an approach is also more suited to the multifaceted reality of the technology transfer environment.
WIPO GREEN's built-in flexibility means it can be used by a wide range of actors operating with diverse business models. A small or medium-sized enterprise (SME) operating in a niche market but looking for new opportunities in other geographical regions, or for new partners with specific skills, will find the database useful in the same way as a university with a portfolio of promising early stage ESTs might find partners with the capacity to develop, adapt or commercialize their technologies. Larger companies with established connections can use this platform to identify new opportunities for business development. Participation is low risk, but the potential benefits in terms of new business opportunities and enhanced environmental credentials are significant.
Emerging economies have an important role to play in stimulating the WIPO GREEN marketplace, not only as technology seekers but as technology providers, because technologies from these countries are often better suited to the needs of developing countries. As technology seekers, they have access to better information about available technologies and can enhance the chances of a successful outcome by submitting a clear outline of their technology needs to the WIPO GREEN platform.
Complementary services
In addition to the database, users of WIPO GREEN also benefit from a range of additional services. These include:
access to supplementary information relating to the patenting of ESTs and the technology transfer process;
case study materials illustrating the different types of agreements arising from the many different circumstances in which technology transfer occurs;
training on, for example, technology licensing;
tailor-made dispute resolution procedures;
information on possible funding sources (e.g., national governments, international organizations, foundations or philanthropic institutions, private sector entities);
licensing tools, such as model clauses, to support licensing negotiations, which can be a complex and tricky undertaking, especially for those with little or no experience.
Defining "green technologies"
The scope of the technologies to be traded under WIPO GREEN corresponds to the definition of ESTs outlined in Chapter 34 of Agenda 21 (The United Nations Programme of Action from Rio, 1992). According to Agenda 21, "Environmentally sound technologies protect the environment, are less polluting, use all resources in a more sustainable manner, recycle more of their wastes and products, and handle residual wastes in a more acceptable manner than the technologies for which they were substitutes.
"34.3 Environmentally sound technologies are not just individual technologies, but total systems which include know-how, procedures, goods and services, and equipment as well as organizational and managerial procedures."
This definition deliberately encompasses a wide range of technologies in line with the recognition that the search for alternatives to fossil fuels and the broad use of renewable energy are pivotal to the process of "greening" the economy.
WIPO GREEN already contains ESTs covering a diversity of activities ranging from waste management, water purification and wastewater treatment technologies, to energy management, alternative energy production and transportation.
The way forward
With the planned launch of the fully-fledged platform later this year, the process of finalizing and fine-tuning its modalities and services is well under way.
WIPO GREEN's impact in terms of supporting the exchange and broad dissemination of ESTs hinges in large part on the active participation of stakeholders. The greater the number of users, the greater the chances of successfully matching technology providers with technology seekers to resolve environmental challenges. WIPO GREEN offers an opportunity to translate environmental rhetoric into reality and to make a real difference.
The Japan Intellectual Property Association (JIPA) has played a key role in the conceptualization and development of WIPO GREEN. Mr. Y. Kawamura (General Manager, Intellectual Property Division, Honda Motor Co., Ltd.), who led the JIPA project team, explains why the Association has been such an active force in the development of WIPO GREEN.
What triggered the idea of a database for ESTs?
At JIPA, we believe that the IP system is there to foster the development and dissemination of technology. Amid the persistent misunderstandings about the role of IP expressed in various high-level international climate change discussions, we decided to take action to demonstrate how IP can make a difference. Words did not appear to be good enough, so we said why not build something that would illustrate this? If developing countries wanted green technologies, why not create a mechanism to move green technologies around the world?
Why did you approach WIPO?
We believe that WIPO is ideally placed to manage the WIPO GREEN initiative. As a UN specialized agency dedicated to promoting, protecting and developing IP systems worldwide, it is a neutral forum that has strong links with both developed and developing countries. Its global reach, coupled with its IP expertise make it a perfect home for this initiative. Personally, I cannot think of anyone else with whom to work in building this platform.
What do you expect from WIPO GREEN?
WIPO GREEN is a simple database system designed to create matchmaking opportunities among people interested in green technology transfer. It looks simple and is as yet not fully developed, but with strong support from stakeholders – including UN agencies, investment banks, international banks, governments, the private sector, consultants, academia, SMEs and individuals – WIPO GREEN can become a global platform for technology transfer.
To really get the ball rolling, we need people to understand how WIPO GREEN works. We also need people to use WIPO GREEN and to populate it with information about their technologies and their specific needs. Not only does WIPO GREEN offer a practical way forward in tackling climate change, it will also help strengthen and expand technology networks. It may take some time, but I am confident that the efforts of WIPO and JIPA will pay off in the long run.
The WIPO Magazine is intended to help broaden public understanding of intellectual property and of WIPO's work, and is not an official document of WIPO. The designations employed and the presentation of material throughout this publication do not imply the expression of any opinion whatsoever on the part of WIPO concerning the legal status of any country, territory or area or of its authorities, or concerning the delimitation of its frontiers or boundaries. This publication is not intended to reflect the views of the Member States or the WIPO Secretariat. The mention of specific companies or products of manufacturers does not imply that they are endorsed or recommended by WIPO in preference to others of a similar nature that are not mentioned.