Filipino Design: Breaking New Ground
June 2012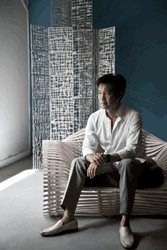 Designer Kenneth Cobonpue
Cutting-edge Filipino furniture designer Kenneth Cobonpue has earned international acclaim for his modern signature designs using natural fibers such as rattan, bamboo, abaca (a species of banana) and buri palm. Since the launch of the Yin & Yang chair in 1998, Mr. Cobonpue has won multiple international awards for his unique, eye-catching designs. In a recent interview with WIPO Magazine, Mr. Cobonpue talks about his work and the important role that intellectual property (IP) rights play in protecting it.
What inspires your work?
I am inspired by the forms and structures found in nature, the different cultures of the world and the skills of my people. Through my work, they eventually take on a life of their own.
How did you become involved in design?
My mother was a furniture designer and an inspiration for me. From a young age, she brought me to all the exhibits she took part in. I wanted to follow in her footsteps and to make designs that give joy to the people who use them. Although I am a designer, I am also part artisan because my work is organic and made by hand.
Why is design important?
Everything that surrounds us in our daily lives has been designed by a human or divine being. Its significance is beyond our comprehension. I try my best not to have a design philosophy, because I believe that puts creativity in a box.
What in your view makes a good design?
A design must be comfortable, beautiful and valuable enough for others to buy. Yes, it's that simple.
What is your favorite design?
My favorite design is always my next one.
Who has had the greatest influence on your work?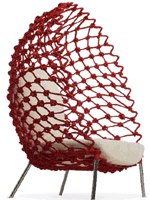 Dragnet Dining Lounge Chair –
inspired by fishermen's nets and
created from fabric and wrapped
around a steel frame. (Photo:
Kenneth Cobonpue)
My wife is my aesthetic critic, my designers and craftsmen turn my dreams into reality, and my business partners keep my feet firmly rooted to the ground. Living in Europe and the US helped me to understand how the rest of the world lives. This is necessary when designing furniture for those markets. Our furniture company was started by my mother, so the people were already there. I only had to work with them on the designs.
What makes your designs stand out?
I wish I could define it, as that would make my work easier. Over the last decade, my designs have evolved. They never follow a formula. What is common to them all, however, is the high level of craftsmanship required to make each one and the striking simplicity that brings it close to art. My designs have textures, forms, materials and elements born from the handmade production process we use. That makes them warmer, tactile and more human. Southeast Asian design used to be characterized by the use of materials indigenous to the region but today, with the use of plastics and fabric, it's hard to tell if a design is Asian or Western.
How do you account for your design success?
I think it's the uniqueness of each design, and the marketing infrastructure that supports it.
Do you think it is easier for someone to become a designer today than it was when you started out?
It's harder to make a living as a designer today, because there are more and more people who want to be designers, and fewer positions to fill. The rate at which companies need new designs is lower than that at which schools churn out design graduates each year.
What inspired you to design the Phoenix concept car?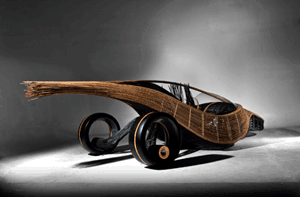 Phoenix explores the possibility of using sustainable natural
materials in transportation design. The designers wanted to create
a lightweight yet economically viable concept car made of
bamboo, rattan, steel and nylon and powered by green technology.
A team of skilled weavers and craftsmen constructed the Phoenix
by hand in just 10 days. (Photo: Kenneth Cobonpue)
I always try my best to challenge myself and, one year, I decided to bring to life a recurring dream of mine – a lightweight, bamboo and carbon-fiber car powered by an electric engine. It was timely, because there was a design exhibition in Milan. I wanted to challenge the automotive industry with an idea. My woven bamboo car, the Phoenix, is made by hand, so it consumes minimal energy in production. It is light so it requires only a small engine, and it is biodegradable so it doesn't need to rot in some junkyard long after serving its purpose. The response has gone far beyond my expectations. We are working on an actual car right now with an international consortium.
What challenges do you face?
The challenges I face are common to every designer working in Asia today - how to erase the stigma of low-cost manufacturing and rising costs in our part of the world, coupled with the lack of technology and infrastructure. But of all the challenges we face, intellectual piracy is the biggest.
Why is it important for creators to be able to protect their designs?
It's frustrating and discouraging, to say the least, when our designs are stolen by others. The amount of research, testing and hard work that goes into a design is negated when a design is copied. For design to be treated seriously in Asia, it must be protected and promoted.
Today, I protect my work right away. I learned my lesson the hard way when I saw my mother's designs being stolen in the 1980s. It caused the whole family to suffer. We have successfully filed court cases in the last two years, and I foresee many more as the popularity of my work grows. It's important for me to go after the infringers in the country in which they manufacture, as well as the resellers. We get a lot of support from our dealer networks. Today, the Intellectual Property Office of the Philippines also has the necessary legal mandate to go after violators swiftly and decisively. It's never been better for IP enforcement.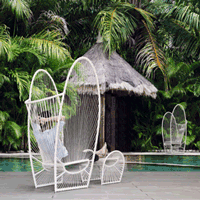 Papillon – easy chair and ottoman
(Photo: Kenneth Cobonpue)
Why is design important to a country like the Philippines?
Design is a key competitive advantage for a country like the Philippines as it moves up the value ladder. I dare say, in some sectors, it's the only advantage left.
Is your work helping to preserve traditional Philippine crafts?
Craft is dying in the Philippines, just like in other parts of the world. My work allows the craftsmen to make a good living from their skills. As long as this continues, the tradition of craftsmanship will live on. I have considered setting up operations elsewhere and explored this option a few years ago, but I find myself returning to my hometown because the skills needed to make my furniture can only be found here.
You describe yourself as the leader of a new movement incorporating new technologies with crafts. Can you explain this?
Today, so many cheap things are produced by machines, and their designs reflect that. All over the world, there is a resurgence in craftmaking and a rekindling of the love for handmade things. At the same time, there are so many new materials and technologies that are exciting and beautiful. I would like to be at the forefront of a movement that combines innovative handmade production processes and new materials. That is the future.
The WIPO Magazine is intended to help broaden public understanding of intellectual property and of WIPO's work, and is not an official document of WIPO. The designations employed and the presentation of material throughout this publication do not imply the expression of any opinion whatsoever on the part of WIPO concerning the legal status of any country, territory or area or of its authorities, or concerning the delimitation of its frontiers or boundaries. This publication is not intended to reflect the views of the Member States or the WIPO Secretariat. The mention of specific companies or products of manufacturers does not imply that they are endorsed or recommended by WIPO in preference to others of a similar nature that are not mentioned.