WIPO Lex: IP law at your fingertips
February 2012
Top 10 WIPO Lex user countries: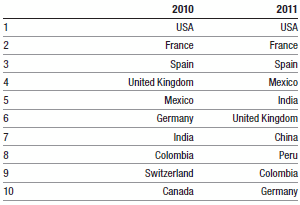 If you are an inventor, creator, entrepreneur or investor seeking to break into new markets, quick, easy and cost-free access to information about how the law protects your work, your intellectual property (IP), or your freedom to operate in different countries offers distinct advantages. For this reason, WIPO is spearheading the development of WIPO Lex, a publicly available, online database that makes information about the current status of IP laws and treaties in 197 countries and jurisdictions easily accessible.
The international IP landscape is constantly changing as countries pass new laws, rules and regulations to spur innovation and creativity for economic growth; address prevailing needs; and meet international commitments. WIPO Lex makes it possible for everyone – from IP users, policymakers and lawyers to researchers and students – to keep abreast of the latest developments in IP law around the world. Access to this information means that entrepreneurs can better adapt their operations to new legal developments and avoid any negative impacts; policymakers can more easily identify and fill gaps in existing systems; and researchers and students can access a treasure trove of data to analyze and probe.
WIPO Lex currently contains over 10,000 legal documents. "It is a work in progress and is expanding every day," notes the project leader, Jessamyn Honculada. "WIPO Lex is opening up a whole universe of IP legal systems," she said, "making it possible to compare national IP regulatory frameworks and to identify their common and unique features at the touch of a key." Another team member added, "the database provides many useful insights into the legal basis on which IP systems are shaped and IP rights protected and promoted both nationally and internationally."
WIPO Lex page views rose sharply in 2011
________________________________________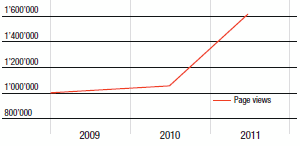 Building the resource
WIPO Lex was initiated in 2010 in the context of a broader drive by the Organization to narrow the global knowledge gap by providing quick and easy access to its extensive collection of searchable IP data and tools. The unveiling, in June 2010, of the WIPO GOLD platform, marked a significant step towards fulfilling this goal. It facilitates universal access to a broad range of valuable information not only relating to IP laws and treaties (through WIPO Lex) but also to technology, brands, designs, statistics and more.
The enthusiastic collaboration of hundreds of individuals from across the globe has fuelled the expansion of WIPO Lex's data resources which will eventually include all relevant treaties, statutes, laws and regulations relating to IP. "The willingness and desire among information providers to make WIPO Lex a success has been palpable," the team notes. "Their shared belief that credible, complete and authoritative data favor the development of a knowledge environment that can enhance innovation and creativity has made it possible for us to develop a comprehensive and reliable IP legal resource accessible to all," they added.
The roll-call of all who have helped make WIPO Lex a reality is long. National institutions, including IP offices, government printing offices and libraries are key in identifying and verifying relevant data sources. Users also play a vital role. Their commentaries help ensure the quality and accuracy of available content. Last, but by no means least, the contribution of the multicultural groups of interns who have worked on WIPO Lex has left a lasting imprint. Young lawyers from Azerbaijan to Viet Nam, China to Colombia, Peru to Portugal, worked painstakingly for months on the legal and technical aspects involved in bringing WIPO Lex together.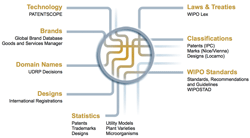 WIPO GOLD is a one-stop gateway to WIPO's global
collections of searchable IP data, including WIPO Lex.
It is a free public resource that aims to facilitate
universal access to IP information.
"WIPO Lex continues to develop, and there is still a great deal to do," the team notes. National IP offices are currently reviewing and giving feedback on content relevant to them. "These push-pull dynamics help ensure the quality of entries and build trust in the resource," they explain. Even after all national IP legal systems have been incorporated WIPO Lex will continue to be a work-in-progress as its canvass continuously shifts to reflect the ongoing evolution of legal systems.
WIPO Lex contains documents in some 69 languages, including Dzhongkha (Bhutan), Romansh (Switzerland) and Tetum (Timor Leste) and currently offers user-friendly search interfaces in English, French and Spanish. Arabic and Chinese interfaces are under development, with completion scheduled for mid-2012. Documents cover the main IP legislation of 197 countries and jurisdictions. WIPO Lex is a unique and free IP legal resource and, as such, is increasingly included by university law libraries in their suite of legal resources.
WIPO Lex is a publicly available online database that provides access to the IP laws and treaties of 197 countries and jurisdictions easily accessible.
As WIPO Lex continues to evolve and usage grows, so too will the benefits it offers multiply. After all, information shared is power multiplied. Policy makers will enjoy unprecedented opportunities to grasp the nuances of the international IP landscape and ensure that it serves wealth creation and economic development goals. Researchers and students will have access to a dynamic and rich reference tool that will help tomorrow's policy makers and lawyers. WIPO Lex will also save companies time and money, enabling them to avoid costly legal liabilities. In this way it supports robust business development built on respect for IP. In sum, WIPO Lex offers a compass by which to navigate the maze of rules and regulations governing IP in different jurisdictions around the world. It is a free and unique public good that puts IP law at our fingertips.
The WIPO Magazine is intended to help broaden public understanding of intellectual property and of WIPO's work, and is not an official document of WIPO. The designations employed and the presentation of material throughout this publication do not imply the expression of any opinion whatsoever on the part of WIPO concerning the legal status of any country, territory or area or of its authorities, or concerning the delimitation of its frontiers or boundaries. This publication is not intended to reflect the views of the Member States or the WIPO Secretariat. The mention of specific companies or products of manufacturers does not imply that they are endorsed or recommended by WIPO in preference to others of a similar nature that are not mentioned.