Technology Transactions: Managing Risks Arising from Disputes
September 2011
The successful development and commercialization of technology requires effective cooperation between lawyers, technology transfer professionals and scientists. A carefully integrated dispute resolution strategy is a key factor in securing the value of technologies and associated intellectual property (IP) rights developed in research and development (R&D) collaborations and their subsequent commercialization. In this article Alicia Blaya of the TransKnowlia Project at the University of Alicante, Spain, and Ignacio de Castro and Judith Schallnau of the WIPO Arbitration and Mediation Center explore the advantages of mediation and arbitration in managing IP and minimizing risks in an R&D context.
Interests in R&D collaboration
The decision to collaborate in R&D projects is often driven by an interest in sharing knowledge and an endeavor to reduce financial risks through the joint development of products or processes. In some cases, joint development is the only way to generate new technology or to further improve existing products or processes particularly when one partner does not have the technical expertise, financial or human resources or when existing patents block independent development activities.
Alternatively, companies award R&D contracts to other companies, research organizations or universities to develop a product or component against remuneration. Here, the principal party exercises quality control by determining who develops and delivers which products or components for its business; the developer, in turn, is remunerated for the work undertaken and as a consequence is able to finance further activities, including other research. A developer may also seek to obtain rights in the technologies developed, if it is interested in using these in the future.
In publicly funded research, parties invest considerable time, human and financial resources in preparing bids to obtain financial contributions. Their success in attracting these funds often determines their ability to undertake R&D activities. These resources are often limited in scope and duration and often carry stringent compliance conditions. Fund recipients are therefore keen to ensure the efficient application and use of these resources and to avoid any negative impact on their ability to commercialize their research results.
IP issues and when to think about a dispute resolution strategy
Disruptions – such as disputes arising in relation to IP assets as critical elements of economic value – can cause serious damage. A strategy to manage such risks and to resolve any potential disputes rapidly and cost-effectively, therefore, is vitally important.
The IP created with contractual partners during the R&D phase usually underpins subsequent commercial agreements, including those outlined here.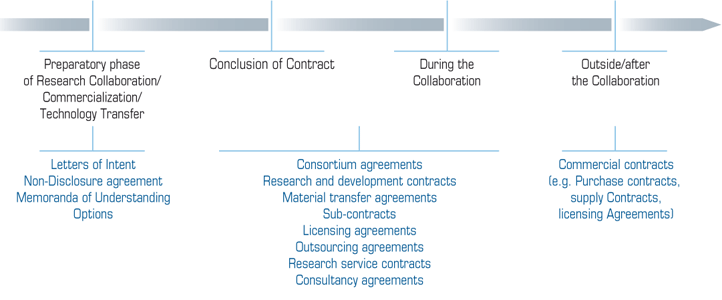 While parties may have conflicting views on a wide variety of IP issues, they need to agree on, in particular, the issues of (joint) ownership of IP and the allocation of rights for commercial purposes.
Decisions relating to IP ownership and use of research results in both the R&D and the subsequent commercialization phases need to be taken at an early stage. Option contracts, R&D contracts or consortium agreements, should, for example, include provisions regarding the possible use of IP rights for commercial activities after the research has been conducted, including the production and sales of resulting goods, use of processes for further development of products, or licensing out of technologies to third parties . They may also define responsibility for filing, prosecution, opposition, maintenance, and enforcement of foreground patents where patentable technology has been created in a R&D project, and who bears the associated costs. Such an approach significantly reduces the scope for disputes and facilitates their resolution should they arise.
WIPO alternative dispute resolution (ADR) mechanisms
Companies and R&D entities are increasingly turning to alternative dispute resolution (ADR) mechanisms to resolve issues that were previously directed to the courts. ADR mechanisms include several procedures that allow parties to resolve their disputes out of court in a private forum, with the assistance of a qualified neutral intermediary of their choice.
WIPO's Arbitration and Mediation Center (WIPO Center) is an international not-for-profit provider of a range of services to facilitate the resolution of IP and related disputes. These include:
Mediation: A non-binding procedure where a neutral intermediary (the mediator) helps the parties settle their dispute.
Arbitration: A procedure where parties submit a dispute to a tribunal of one or three arbitrators, who issue an internationally enforceable binding decision.
Expedited arbitration: An arbitration carried out in a shortened time and at reduced cost.
Expert Determination: A procedure used to determine issues of a scientific or technical nature. Parties may choose a binding determination or a non-binding one.
The WIPO Center offers case administration services, recommended clauses, rules, and specialized mediators, arbitrators, experts for each of these procedures. The WIPO Mediation, Expedited Arbitration, Arbitration and Expert Determination Rules contain specific provisions particularly suitable for IP and related disputes, such as on confidentiality and technical evidence.
Advantages of ADR in an R&D context
The advantages of ADR and its use in a R&D context are now widely recognized. They include:
Neutrality: ADR is neutral to the law, language, and institutional culture of the parties. This is particularly significant in cases involving research partners from large companies, small and medium-sized enterprises (SMEs), universities and research organizations with different institutional cultures, economic expectations and operating in different jurisdictions. For example, a minimum condition for funding under the Seventh Framework Programme (FP7)1 of the European Union is that at least three participants from at least three different countries (including entities outside the European Union) participate in a collaborative project to obtain funding.
A single procedure: Parties can resolve IP disputes covering technology protected in several jurisdictions in a single proceeding making it possible to avoid the expense of multi-jurisdictional litigation and eliminating the risk of inconsistent results across national borders. Such cost savings are important for all R&D collaborations.
Party autonomy: Parties can select a mediator, arbitrator or expert who is a specialist in the subject matter in dispute and in ADR. Parties can also select the applicable law, location, and language of proceedings and can determine their time frame. Timing is of particular importance for R&D projects where the speed of technological progress makes delayed research obsolete or when funding is time bound.
Confidentiality: Under the WIPO Rules the arbitration, mediation and expert determination proceedings and their results are confidential. This confidentiality allows parties to focus on the dispute, frees them from concerns about its negative publicity, and by encouraging good-faith negotiations often facilitates settlement. This is particularly important in highly sensitive research activities where scientific results must be kept confidential. In facilitating mutual trust, ADR procedures contribute to longstanding, fruitful collaboration.
ADR clauses in R&D contracts
Parties involved in R&D collaboration often use model agreements as a basis for drafting and negotiating their research contracts. Such model agreements usually contain dispute resolution options. For example, a large number of companies, research organizations, universities and individuals involved in FP7 projects use the DESCA model consortium agreement2 which has been developed for such multi-party collaborations.
The DESCA model agreement now includes an option for WIPO Mediation followed by WIPO Expedited Arbitration. The following case examples administered by the WIPO Center illustrate the efficiency of these procedures.
A WIPO mediation of a pharma patent license
A European university holding pharmaceutical patent applications in several countries negotiated a license option agreement with a European pharmaceutical company. The pharmaceutical company exercised the option and the parties started to negotiate a license agreement. After three years of negotiations the parties were unable to agree on the terms of the license, at which point they submitted a joint request for WIPO mediation.
At the parties' request, the Center appointed as mediator a lawyer who had worked in the pharmaceutical industry for many years and had considerable licensing experience. The parties requested that the mediator help them reach an agreement on the terms of the license.
A one-day meeting session allowed the parties to identify the issues and deepen their understanding of the legal circumstances and to continue direct negotiations to reach a settlement agreement.
A WIPO arbitration of a biotech/pharma dispute
A French biotech company, holder of several process patents for the extraction and purification of a compound with medical uses, entered into a licensing and development agreement with a large pharmaceutical company. The latter had considerable expertise in the medical application of the substance related to the patents held by the biotech company. The parties included in their contract a clause stating that all disputes arising out of their agreement would be resolved by a sole arbitrator under the WIPO Arbitration Rules.
Several years after the signing of the agreement, the biotech company terminated it, alleging that the pharmaceutical company had deliberately delayed the development of the biotech compound. The biotech company filed a request for arbitration claiming substantial damages.
The Center proposed a number of candidates with considerable expertise of biotech/pharma disputes. One of these was chosen by the parties. Having received the parties' written submissions, the arbitrator held a three-day hearing for the examination of witnesses. This not only served for the presentation of evidence but also allowed the parties to re-establish a dialogue. In the course of the hearing, the arbitrator developed the view that the biotech company had not been entitled to terminate the contract and that it would be in the interest of the parties to continue to cooperate towards the development of the biotech compound.
On the last day of the hearing, the parties accepted the arbitrator's suggestion that they should hold a private meeting in the course of which they agreed to settle their dispute and continued to cooperate towards the development and commercialization of the biotech compound.
Consistent dispute resolution clauses in related agreements
To fully benefit from these advantages, parties to R&D agreements also need to consider the dispute resolution clauses in their commercialization agreements. Figure 1 illustrates the close relationship between the different agreements concluded in the R&D and commercialization stages3. It is advisable to ensure that these agreements are consistent in terms of outlining how disputes are to be resolved. For example, if the parties to one of the initial agreements choose to resolve potential disputes through mediation followed by expedited arbitration, they will want to use the same dispute resolution clause for any subsequent disputes relating to similar subject matters. This should allow for the consolidation of such disputes based on the parties' advance consent to treat related disputes together. More specifically, in each of the related contracts, arbitration clauses should provide for the possibility to appoint the same arbitrator, with potential jurisdiction to deal with all related disputes. This could be, for example, the arbitrator in the arbitration first filed.
The WIPO Center is available to assist parties should they have any queries on the issues discussed above.
________________________
1 Decision no. 1982/2006/EC of the European Parliament and of the Council of 18 December 2006 concerning the Seventh Framework Programme of the European Community for research, technological development and demonstration activities (2007-2013); For more information about FP7 see: ec.europa.eu/research/fp7/index_en.cfm
2 DESCA stands for "Development of a Simplified Consortium Agreement". For more information about DESCA see: www.desca-fp7.eu/
3 For example: letters of intent, non-disclosure agreements, options, consortium agreements, R&D contracts, joint venture agreements, material transfer agreements, sub-contracts, licensing agreements and purchase contracts to supply contracts.
The WIPO Magazine is intended to help broaden public understanding of intellectual property and of WIPO's work, and is not an official document of WIPO. The designations employed and the presentation of material throughout this publication do not imply the expression of any opinion whatsoever on the part of WIPO concerning the legal status of any country, territory or area or of its authorities, or concerning the delimitation of its frontiers or boundaries. This publication is not intended to reflect the views of the Member States or the WIPO Secretariat. The mention of specific companies or products of manufacturers does not imply that they are endorsed or recommended by WIPO in preference to others of a similar nature that are not mentioned.