The Manga phenomenon
Since the late 1980s, Japanese manga has taken the world by storm to become Japan's most popular cultural export. In this article, the WIPO Japan Office traces the origins of this global cultural phenomenon and explores its economic significance.
The origins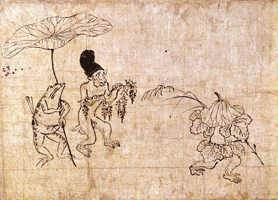 The Choju Giga picture scrolls by the Japanese Buddhist
monk Bishop Toba in the 12th century – an early example
of Japanese sequential art. (Photo: Tokyo National Museum)

Like most comics, manga (roughly translated as "whimsical pictures") is rooted in sequential art - a narrative made up of images and presented in sequence. The earliest examples of Japanese sequential art are thought to date from the 12th century Chōjū Jinbutsu Giga1 animal scrolls.
The term "manga" is believed to have been first used by the renowned 16th century woodblock print (ukiyo-e) artist, Katsushika Hokusai (1760-1849).
Together Chōjū Giga and ukiyo-e influenced the production of the low-cost illustrated kibyōshi (yellow-backed) novels from the late 18th century, in which the beginnings of modern manga first appeared. Kitazawa Yasuji's well-known early 20th century contributions to Jiji Manga, a weekly comic page in the daily Jiji Shimpo newspaper, did much to popularize the use of "manga" to describe this emerging art.
In the mid-1940s, low-cost akabon (red books) became very popular among adults. Osamu Tezuka, one of akabon's most popular authors, came to be known as the grandfather of Japanese manga because of his work in implementing cinematic techniques, sound effects, long story arcs and deep character development across many different genres of manga. The appearance of more serious manga gekiga volumes in the 1950s fuelled the expansion of manga which, by the 1970s, had grown into an unparalleled mass media industry.
Manga's economic and cultural significance
Manga is a major part of Japan's publishing industry, accounting for over 25 percent of all printed materials in the country. They offer something for everyone and can be purchased from a wide range of retail and online stores. As Mr. Teiji Hayashi, former Director of the Public Diplomacy Planning Division, Public Diplomacy Department, Ministry of Foreign Affairs (MOFA) of Japan explains, "manga has a wide range of fans, from small children to senior citizens, because its storylines are clear and the characters are rich in humanity." This is why they are often "utilized not only for entertainment but also to provide simple explanations about difficult matters like history, natural science and social issues."
Popular manga have a far-reaching influence. Many become books, television shows, anime2, collectable figures and video games. Nearly every aspect of Japanese popular cultural production can trace its roots to the industrial complex that is manga which has become a mainstay of the Japanese economy and culture.
A cultural pillar of Japan's economy
Manga's striking artistic and thematic styles have transcended cultural barriers, making an important and lasting impression on audiences across the globe. As a gateway to Japanese culture, it has attracted a global fan base and fuelled interest in Japanese culture. It remains one of the country's most economically and socially profitable exports and has helped Japan become one of the world's largest exporters of cultural products.
North America is one of manga's largest foreign markets worth an estimated US$300 million in early 2011. Sizeable markets also exist in many European and Asian countries. The Pokemon series, launched in 1996, is perhaps one of the most profitable manga exports with earnings in excess of US$150 billion.
An industry under threat

The Great Wave off Kanagawa by Hokusai who is believed to
have first used the term "manga". (Photo: United States Library
of Congress)
Manga continues to enjoy a broad global appeal but the industry is suffering acutely from the scourge of piracy. Manga is at the heart of Japanese media, feeding nearly every aspect of it with new and innovative content. If manga is under threat, so too is practically every other form of media in Japan.
When it was first launched internationally, manga occupied a niche market in many countries. However, it soon captured the imagination of readers around the world, spawning an enthusiastic international fan base that became increasingly frustrated by the inability to access the same content as their Japanese counterparts. The need to translate manga from Japanese meant there were inevitable delays in their international release. Moreover, many titles were never released internationally because they were deemed inappropriate for specific markets, were unsuccessful in Japan, or were only published locally by independent publishers.
The Internet offered fans a wonderful solution. Many learned Japanese, acquired the original manga, then scanned, translated, edited and posted them on the Internet for free downloading. Alas, what began as a practice driven by enthusiastic fans has become a serious blight on the industry. So-called scanlation - the act of scanning, translating and posting manga on the Internet - is, in fact, striking at the heart of manga and threatening its very existence.
Unauthorized scans or "raws" are typically generated by individuals who scan books into electronic format, a practice known as jisui, which translates as "to cook for one's self." With the uptake of e-book readers and computer tablets, jisui has become a fully-fledged business with the emergence of popular scanlation aggregator websites hosting thousands of manga episodes and making them available free of charge. Those who do scanlation rake in profits through advertising on their own websites and also earn points which can be turned into cash for each download made from an aggregator website.
Scanlation groups, of which there are now well over a thousand, are perpetuating a highly corrosive form of piracy that is threatening the industry, causing global manga sales to plummet and forcing publishers to lay off staff. From 2007 to 2009, for example, U.S. manga sales fell by 30 percent forcing a leading publisher to lay off 40 percent of its workforce.
But major manga publishers are fighting back by reaching out to manga fans in new ways. This year, Kadokawa Group Publishing Co. Ltd. (Kadokawa) simultaneously released a large number of popular titles in key Asian markets. Companies like Tezuka Productions are making available legal, electronic English-language versions of popular manga for tablet computers and, earlier this year the Japan Book Publishers Association launched a series of initiatives to clamp down on unauthorized scanlation activities.
Killing the art
Rampant manga piracy is making it increasingly difficult for manga artists (mangaka) to earn a living from their work. Many rely on royalty payments to survive. These are modest at the best of times, especially for new artists, and are generally insufficient for most to make ends meet. Of Japan's estimated 3,000 professional mangaka, only around 10 percent earn enough to be able to devote all of their time and energy to their art. The simple truth is that if manga artists cannot earn a living from their art, there will be no manga.
The WIPO Manga Competition
Given its global appeal, manga is an ideal vehicle for raising public awareness about intellectual property (IP) and why it is important to respect IP rights. Last summer, the WIPO Japan Office launched a "Real" Manga Competition. Sponsored by MOFA and the Japan Patent Office (JPO) and with the support of Kadokawa, the competition invited Japanese manga artists to create an original work highlighting the health and safety risks associated with purchasing counterfeit products.
Explaining the rationale for the manga competition, Mr. Ken-Ichiro Natsume, Director of the JPO's Multilateral Policy Office said, "It is often the case that what you read in a textbook slips away from your mind, no matter how many times you read it. But information that is presented as a manga stays with you even if you have only read it very quickly. I am a firm believer that manga is one of the best tools for teaching people about the risks of counterfeit goods."
Entrants were required to submit original artwork, a storyline and characters to explain the health and safety risks related to counterfeit products. Submissions were received from across the country, and after a rigorous selection process involving industry experts, Ms. Emiko Iwasaki's manga was selected as the winning entry. Her manga, "Honmono – the Secret that Changes your Life," tells the story of how a young shop employee witnesses first hand the menace of fake products, how easily customers are duped into buying them and the serious harm they can cause.

The completed manga by
Ms. Emiko Iwasaki (Photos: WIPO)

Ms. Iwasaki made the manga
easy to read, exciting and educational.

The WIPO "Real" Manga Competition
won the 2010 Koubo Award for Best
Outreach Activity
"Ms. Iwasaki…drew a fantastic manga," Mr. Natsume observed. "I hope that by reading it, more people will have a better understanding of the dangers of purchasing fake goods and realize that they can make a difference and help reduce the harm these goods cause. I truly believe that this is possible with the power of manga."
Ms. Iwasaki won a contract worth ¥1,200,000 (approximately US$15,000) and the chance to work with a professional manga editor to develop her entry into a full-length manga. Japanese and English versions are currently available. Arabic, Chinese, French, Spanish and Russian versions are foreseen in the coming months. The manga will be made available free of charge in print and electronic formats.
In March 2011, Koubo Guide, an established Japanese monthly reporting on competitions in Japan, awarded its 2010 Koubo Award for Best Outreach Activity to the WIPO "Real" Manga Competition. It hailed the contest as a "brilliant method to appeal to a wide range of people" to achieve the goal of increasing awareness about the risks of counterfeit products through manga.
Mr. Hayashi of MOFA said, "I am hopeful that readers will enjoy this manga work and that many more people will become familiar with IP rights." He added, "the public's general understanding of the importance of protecting IP rights will help build support for creative activities which will enrich all our lives."
The winning artist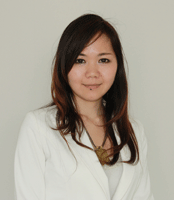 Ms. Emiko Iwasaki
Ms. Emiko Iwasaki is both a manga artist and one of a very few successful female video game designers to break into Japan's male-dominated video game industry. She has also created and developed her own video game project. The WIPO Japan Office caught up with Ms. Iwasaki to find out more about this talented creator.
How did you get involved in drawing?
As a child, I loved oil painting. When I found out that computers have enormous potential for creating art, I started using them in my work. Working in the video game industry also gave me an opportunity to develop my manga drawing skills.
What attracted you to the WIPO Manga Competition?
I wanted to create something that would help people and is easy to understand. Throughout my career, I have focused on developing my skills to create manga, video games and similar works, and recently I have felt driven to use my skills for something that could make a real difference in society. I wanted to use the power of manga to introduce people to socially important issues in a fun and easily understandable way. Just when I was looking for a way to do this, I learned about the competition. It was a perfect opportunity.
What was most challenging about the project?
Mainstream commercial manga and video games target an established market, and because consumers have certain expectations, we have to make sure that our creations match what people want to buy. In the WIPO competition, the main challenge was to convey the manga's educational message in a way that was interesting, engaging and easy to understand. I wanted to create a manga that readers could relate to and that piqued their interest.
As the manga is aimed at an international audience, I had to get a better grasp of the issue and familiarize myself with the different perspectives young people in different parts of the world have about fake products. It wasn't easy, but it was something I needed to do so I could write a story that means something to young people around the world.
How is creating a manga different from your other work?
When people read manga, watch anime or play video games, they often only remember specific high-impact scenes. These help catch a reader's attention, so when I make a new video game or other work, I start with these scenes in mind and work out the rest of the story from there. I then think about the overall tempo of the manga and incorporate scenes that will leave a lasting impression on the reader.
With the manga I created for the WIPO competition, the process was a little different. I first had to understand the target audience and work out how to make the manga mean something to them. Because the subject matter is quite difficult and unfamiliar to many, I had to think about the story as a whole and then make it simple and easy to understand. Traditionally, super powers are a key feature of manga stories, so I had to think about how I could incorporate this into the storyline. I really wanted the manga to make people think more deeply about the harm caused by counterfeit products, so I had to create a manga that starts out slowly but builds to create a big impression on the reader.
What inspires you?
My travels abroad have been my biggest inspiration. This opened me up to many different people, places, cultures, viewpoints and artistic styles, and yes, I also came across a lot of counterfeits. This really helped me to make the manga a lot more relevant.
Have you been the victim of IP infringement?
Yes. In one of the video games I was working on, I created a character based on the likeness of my father, who had recently passed away. Unbeknown to me, another team in the company copied the character, changed it slightly and used it in their project. I think it is very sad when people steal something and use or sell it as their own. People should make their own creations instead of just copying something and selling it as their own work. The same is true for counterfeit products. I have seen many excellent copies, and if people have the ability to make such good copies, I think they should use that creativity to make their own products and brands. Wouldn't that be more interesting and cool?
What are your future plans and goals?
I would really like to expand the range of characters that appear in traditional manga and to write documentary-type manga stories, but there isn't yet much demand for them. I also want to work on developing my talents as an artist in a broader range of media and to find a way to balance my personal interests with the economic imperatives and demands of a professional career.
Contributors: Jonah Asher and Yoko Sola
_______________________
1 Usually shortened to Chōjū Giga
2 Animated television programs or movies
The WIPO Magazine is intended to help broaden public understanding of intellectual property and of WIPO's work, and is not an official document of WIPO. The designations employed and the presentation of material throughout this publication do not imply the expression of any opinion whatsoever on the part of WIPO concerning the legal status of any country, territory or area or of its authorities, or concerning the delimitation of its frontiers or boundaries. This publication is not intended to reflect the views of the Member States or the WIPO Secretariat. The mention of specific companies or products of manufacturers does not imply that they are endorsed or recommended by WIPO in preference to others of a similar nature that are not mentioned.