Modern masters under threat
A booming global art market, worth an estimated 43 billion euros in 2010, has given rise to an alarming increase in the circulation of counterfeit works of art. As the commercial value of art has grown, so too has the number of illegal copies of highly priced works entering the market place. Gallery owners and right holders alike agree that this trend is a cause of great concern. Counterfeit art1, the unauthorized reproduction of a work of art or any portion of it, undermines the economic and moral rights of visual artists and threatens public trust in the integrity of museums and other custodians of cultural heritage – not to mention the distress caused when art lovers and collectors are duped into spending hefty sums on what were believed to be authentic and original works.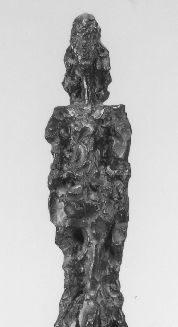 Alberto Giacometti, Femme de Venise
IX, 1956, bronze. Fake copies of this
original work have been seized at the
request of the Giacometti Foundation.
(Photo: Giacometti Foundation)
While the illegal copying of music and film and its corrosive effect on employment and the economy regularly make headline news, the plight of individual artists and the threat to their intellectual property (IP) rights resulting from the unauthorized reproduction of their works often go unnoticed. The Giacometti Foundation and the Picasso Succession, responsible for managing rights in the works of two of the 20th century's creative geniuses, Swiss sculptor Alberto Giacometti and Spanish artist Pablo Picasso, have recently stepped up their efforts to raise public awareness about the need to respect the IP rights - economic and moral - of artists in their works.
The works of Alberto Giacometti (1901-1966) and of Pablo Picasso (1881-1973) consistently command top market prices. As such, they regularly fall prey to unscrupulous fraudsters seeking to cash in on their popularity and reputation. In 2009, for example, in one of the most elaborate scams of recent times, the German police recovered some 1,200 sculptures – with a market value in excess of a billion euros - crafted in Giacometti's iconic style. In April 2011, Stuttgart's regional Tribunal charged the defendants not only with commercial fraud and the falsification of original documents but also, thanks to the Foundation's input, with violating copyright, making it the first-ever judgment in which the original artist was recognized as a victim of copyright infringement.
A growing problem
For Véronique Wiesinger, Director and Senior Curator of the Giacometti Foundation, the production of counterfeit art is a growing problem that has reached "industrial" proportions. "Today we are seeing fakes and forgeries infiltrating even museum collections where they are corrupting the way visitors understand the artists' legacies," she noted. "It is urgent that measures be taken to protect the cultural heritage of future generations, [to promote] respect for artists, their works and their IP rights, and to defend the interests of art lovers and collectors," she added. "The prices achieved by authentic art reflect the growing importance of cultural heritage in society and in the cultural economy. The proliferation of counterfeit works that these prices bring about is a stranglehold on the market for authentic works and corrupts the cultural heritage of humanity," she noted. Ms. Wiesinger is convinced that art counterfeiters' sole interest is lucrative. "For them it is simply a case of making easy money on the back of the creative reputation of others," she said. "They are vampires and parasites, and their work will slowly but surely suffocate creativity if we do not act."
While fakes and forgeries are not a new phenomenon, a number of factors shaping the global art market over the past 20 years have exacerbated the problem. Today, many more people are buying art than ever before – some commentators estimate as many as 20 times more than in the 1990s. Amid the volatility of financial markets, art has become a place of refuge for those seeking a secure investment. As values have soared, and interest in art has grown, a parallel market in fake art works has emerged.
New technologies
The widespread availability of digital technologies and the low cost of producing traditional art works – painting, drawing, sculpture – have also made it easier for counterfeiters and con artists to enter the art market and to dupe overeager art lovers into buying their fake wares.

"Millions of counterfeit art works are circulating in the online environment", explained Ms. Wiesinger. While the Internet has provided customers "with invaluable tools to locate and buy all kinds of goods …it has also created ways to sell counterfeits anonymously on a professional and global scale", she noted.

For both the Giacometti Foundation and the Picasso Succession there is little doubt that the notion which took root in the early days of the Internet that content can be downloaded "for free", is undermining the interests of artists and of creativity in general, and poses a significant threat to the cultural sector. They each point to the need to work closely with Internet service providers (ISPs) and online auction sites to identify and develop effective means of stamping out the circulation of illicit copies of art works. Current practices, they note, make it extremely difficult for right holders to effectively monitor the online art market and to track down counterfeit art works.

The absence of organized artists unions means the artistic community is ill-equipped to combat the alarming growth in this illegal trade – a situation further compounded by low levels of IP awareness in relation to visual arts. Ms. Wiesinger explains, "artists rarely mobilize; they are often solitary, concentrated on their creations, whereas counterfeiters are well-organized and typically linked to global criminal networks."

original
Alberto Giacometti, [Annette], 1960, oil on canvas. This fake work, bearing a fake signature, dates from the 1970s and was seized at the request of the Giacometti Foundation. (Photo: Giacometti Foundation)

fake
Collective management societies are the closest thing artists have to an organized union, and these typically "operate on a territorial basis less and less adapted to the global marketplace," notes Ms. Andrieu, Head of Legal Affairs of the Picasso Succession. In her view, the scale and complexity of the global counterfeit art scene requires a more comprehensive IP strategy. Collective management societies, she noted, "have a much reduced sphere of intervention, one that is strictly limited to copyright." She said these entities often do not have the resources to take up the time-consuming and costly fight against fake art.
The recent experience of the Picasso Succession, Ms. Andrieu explains, is prompting it to develop a more direct and comprehensive approach to managing and protecting the Picasso Estate. The Succession's overriding aim is to safeguard Picasso's legacy as a great artist. The fame and reputation of the artist's name is such that this involves a multi-pronged IP strategy that also focuses on trademark and personality rights. Not only is the Succession tackling the unauthorized reproduction of Picasso's works, it is also taking concerted action against unauthorized use of the artist's name to brand products.
Picasso's name is synonymous with modernity and inventiveness, values on which society sets great store. Many economic operators, both legitimate and otherwise, have recognized that by associating the artist's name with their goods they can cast their products in a positive light. Some have, therefore, sought to acquire private rights – by registering a trademark - over the name "Picasso", without the authorization of the Picasso Succession. Similarly, Picasso-related domain names, Ms. Andrieu notes, "serve as a motorway leading online users to sites that have nothing to do with Picasso and often involve unauthorized Picasso products".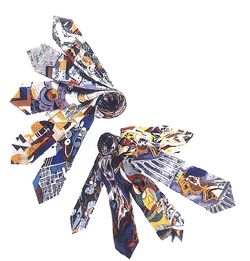 An example of the non-authorised reproduction of
Picasso's work on a manufactured product.
(Photo: Succession Picasso, Paris 2011)
In an endeavor to combat this "parasitism", the Picasso Succession seeks to secure trademark rights where possible and to identify and quash unauthorized use of the artist's name. But this is an uphill struggle, not least because, in many jurisdictions, it is not possible to oppose a trademark registration without having previously held a trademark in the class of goods for which it is being registered.
Tackling these problems requires a substantial financial investment. Considerable resources are devoted to continuously monitoring the online market and to collecting archival data to establish the authenticity and provenance of art works. The Giacometti Foundation and the Picasso Succession have spent millions of euros in recent years to combat counterfeits. For Ms. Andrieu, these sums are wholly inadequate to pursue each and every instance of infringement.
In a bid to put this issue on the map, these two rightholders are joining ranks with other counterparts to share information and mount a coordinated defense of the rights and legacy of the artists whose estates they manage. There is growing support to establish an international association to represent these interests. "Visual arts need to be as well organized as music and cinema to protect their rights." Ms. Wiesinger asserted.
While the battle to combat the proliferation of counterfeit art is a mammoth task, Ms. Wiesinger is unequivocal about the responsibilities of right owners. "Holders of the rights of an artist also have obligations. One of them is to enforce the respect of his or her name or heritage. We do not want the reputation of the artist to suffer. We do not want the public to be cheated by looking at second-rate copies and mockeries. We do not want collectors to get swindled, and we want museums to better understand the copyright issues associated with the exhibition, reproduction and conservation of art works" she commented.
Art fraudsters and counterfeiters go to great lengths to give themselves an air of legitimacy. Anyone tempted to enter the art market should remember the well-known caveat, let the buyer beware, because the chance of encountering fake art works has gone up in tandem with the rising value of art.
The scale and complexity of the counterfeit art scene and its destructive impact on individual artists and right holders as well as on our common cultural heritage underline the need to find effective ways to tackle the problem. The visual arts, according to Ms. Andrieu, are particularly hard hit by a widespread lack of awareness on the part of public authorities, the general public and the media, of the damage caused by counterfeit art. She notes, "it is a complex form of counterfeiting which is linked to the intrinsic character of a work. It must be seen not only from the viewpoint of the need to suppress artistic fakes, but from the perspective of copyright protection, a dimension which is often forgotten."
The Annette Giacometti Prize
In a drive to raise public awareness about the plight of individual artists and the challenges confronting right holders, the Giacometti Foundation launched the first Annette Giacometti Prize in 2011. The prize, in honor of the untiring efforts of the sculptor's wife to combat counterfeits, was awarded to the Victoria and Albert Museum in London, U.K., for its exhibition entitled "The Metropolitan Police Service's Investigation of Fakes and Forgeries", shown in January and February 2010. The exhibition, which featured confiscated counterfeit art works that, had they been authentic, would have had a value of 4 million pounds sterling, examined the financial and cultural consequences of counterfeit art on contemporary culture.
The Foundation also awarded a cash prize of 10,000 euros to two students, Florian Harribey and Lucas Perrinet, for their short documentary tracing the creation of an art work and its subsequent unauthorized reproduction.
Forgeries and fakes
What is the difference between a fake and a forgery? When is it possible to copy an art work legally, and when is it a crime? Enter the world of counterfeit art and you soon encounter a plethora of confusing terms. The recent exhibition by the Victoria and Albert Museum in London, U.K. offers some useful insights into these questions.
What is a fake?
… an object that has been tampered with – e.g. a signature has been added or false indications of the object's history have been introduced with the intention to defraud and increase the item's value.
What is a copy?
… a direct replica of a pre-existing work or a work that imitates or was created in the style of a given artist. If the work is in the public domain, it is not illegal to make a copy of it provided there is no attempt to deceive or make anyone believe it is an original work. To reproduce a contemporary work protected under copyright law requires the permission of the artist whose work is being copied.
What is misattribution?
… this arises when a mistake is made in determining the original artist of a work and typically occurs when works have been restored and original details masked. This is considered a genuine mistake as there is no intention to deceive.
What is a forgery
… an object that is created from scratch with the intention to deceive – it is a fraudulent imitation of an existing work.
What is fraud?
… "the act of making people believe something is not what it really is for criminal benefit."
________________________
1 From an IP law perspective, the term "counterfeit" is usually associated with infringements of trademarked goods while "piracy" often is used in the context of copyright violations – see Article 51 (footnote 14) of the Agreement on Trade-Related Aspects of Intellectual Property (TRIPS) of the World Trade Organization (WTO).
The WIPO Magazine is intended to help broaden public understanding of intellectual property and of WIPO's work, and is not an official document of WIPO. The designations employed and the presentation of material throughout this publication do not imply the expression of any opinion whatsoever on the part of WIPO concerning the legal status of any country, territory or area or of its authorities, or concerning the delimitation of its frontiers or boundaries. This publication is not intended to reflect the views of the Member States or the WIPO Secretariat. The mention of specific companies or products of manufacturers does not imply that they are endorsed or recommended by WIPO in preference to others of a similar nature that are not mentioned.