In the news
June 2011
Denmark & China named top green-tech producers
Denmark was named the world's top green technology producer in a recent report commissioned by the World Wide Fund for Nature (WWF) according to a report by the Associated Press. Denmark earns some US$9.4 billion – 3.1 percent of its gross domestic product (GDP) – from renewable energy technologies and energy efficiency. Growth of green technologies in China, however, outstripped the performance of other countries with a remarkable 77 percent annual growth rate according to WWF. China is the largest producer of green technologies in monetary terms, with earnings of some US$64 billion or 1.4 percent of GDP. Germany, Brazil and Lithuania are also among the top five clean-tech producers in terms of percentage of GDP, after Denmark and China. The report was compiled by Roland Berger Strategy Consultants (Germany).
_________________
African parliamentarians focus on science
In early May, Africa Online News reported the launch of the African Inter-Parliamentary Forum on Science, Technology and Innovation (AIPF-STI). An initiative by African parliamentarians, the Forum seeks to give science, technology and innovation a more central role in policymaking across the continent. Membership of the Forum includes all national African parliaments, the Pan-African Parliament and all regional parliamentary assemblies. According to Ms. Opoku-Mensa of the UN Economic Commission for Africa (UNECA), the move by parliamentarians to stimulate interest in STI "will help push its agenda within their governments so it gets due attention". The aim is to help improve research and development structures across the continent to address Africa's development challenges.
_________________
Paper-thin smartphone debuts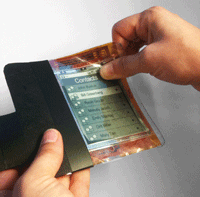 (Photo: Queen's University, Canada)
Researchers have recently unveiled a prototype, interactive paper-thin smartphone that can do everything bulkier smartphones can – make and take calls, send messages, store books and play music – according to a recent BBC News report. The flexible PaperPhone is made of electronic paper which, when bent, folded and flexed at its corners or sides, triggers different functions or features. "This is the future. Everything is going to look and feel like this within five years," said one of its creators, Dr. Roel Vertegaal. "This computer looks, feels and operates like a small sheet of interactive paper" he said; "you interact with it by bending it into a cell phone, flipping the corner to turn pages, or writing on it with a pen."
The PaperPhone's display, just millimeters thick, consists of a 9.5 cm diagonal thin-film, flexible E-ink display. Larger versions of these computers promise to eliminate the need for paper and printers. "The paperless office is here," said Dr. Vertegaal in a statement; "everything can be stored digitally and you can place these computers on top of each other just like a stack of paper."
The new appliance was created by a team of researchers from The Human Media Lab at Queen's University, Canada and the Motivational Environments Research Group at Arizona State University in the U.S. The inventors of this super lightweight device are seeking international patent protection for it using WIPO's Patent Cooperation Treaty (WO/2011/005318).
The WIPO Magazine is intended to help broaden public understanding of intellectual property and of WIPO's work, and is not an official document of WIPO. The designations employed and the presentation of material throughout this publication do not imply the expression of any opinion whatsoever on the part of WIPO concerning the legal status of any country, territory or area or of its authorities, or concerning the delimitation of its frontiers or boundaries. This publication is not intended to reflect the views of the Member States or the WIPO Secretariat. The mention of specific companies or products of manufacturers does not imply that they are endorsed or recommended by WIPO in preference to others of a similar nature that are not mentioned.