Medicines Patent Pool: Facilitating Access to HIV Treatment
Access to HIV treatment is beyond the reach of millions in resource-poor settings and many patients already on treatment cannot afford the newer medications they require to stay alive. Ellen 't Hoen, Esteban Burrone and Kaitlin Mara1 explain how a new foundation aims to change that. Using an innovative licensing mechanism, the Medicines Patent Pool aims to make HIV medicines more affordable in developing countries and to facilitate the development of new medicines, including formulations for children.
The Medicines Patent Pool, the first of its kind for HIV drugs, could have a significant impact on the lives of the estimated 33.3 million people living with HIV, as well as those who become infected in the future.
Established with the support of UNITAID in July 2010, the Medicines Patent Pool recently concluded a license agreement with the United States National Institutes of Health (NIH) and is currently in negotiations with several other patent holders who have shown interest in collaborating with the Pool.
Averting a treatment crisis
Today, only a third of the people requiring treatment for HIV/AIDS have access to it. Drug resistance means that such treatment may not be effective forever. New drugs are, therefore, required to treat the condition, but these are often unaffordable for the most affected communities.
"We are sitting on a treatment time bomb," states a 2009 report by the United Kingdom's All-Party Parliamentary Group on AIDS2, as the future needs of people with HIV will overwhelm the resources allotted to treat them, threatening to "cripple developing economies, or place unbearable strains on richer countries trying to support them." The number of people needing medicines is expected to rise dramatically, and the medicines needed are often too expensive.
Increases in the number of people receiving treatment offer some hope. In 2009, some 1.2 million people (a 20 percent increase on figures for 2008) were treated for the first time meaning that treatment is now reaching a much greater proportion of the infected population than ever before. Recent research and development (R&D) efforts have also resulted in the development of new antiretroviral medicines and new therapeutic classes of drugs that enhance the treatment options available to people living with HIV.
That said, some 2.6 million new HIV infections were recorded in developing countries in 2009 alone. Increasing numbers of patients are also developing resistance to first-line drugs and need access to second-line medicines that are significantly more expensive. Special formulations - such as fixed-dose combinations (FDCs), where several medicines are combined into one pill - are also needed, particularly in developing countries, to simplify treatment and support treatment adherence in resource-poor settings. Perhaps most striking is the plight of children infected with HIV. As of 20093, an estimated 2.5 million children were infected with the virus and some 85 percent of them did not receive any treatment. Children with HIV live almost exclusively in developing countries, where few market incentives exist to develop the adapted formulations required to treat them.
The 2009 U.K. parliamentary report called on pharmaceutical companies to sign up to mechanisms like the Medicines Patent Pool to avert the "treatment time bomb." The report said, "we must not sleep walk into a situation where treating even a small proportion of those with HIV is unaffordable."
Ensuring that this does not happen will require sustained efforts from a wide range of stakeholders, as well as innovative approaches to treatment delivery and sustained international funding for HIV treatment. Another important element will be the development of new ways of managing the intellectual property (IP) associated with HIV medicines to ensure people in developing countries benefit without delay from innovations in HIV treatment.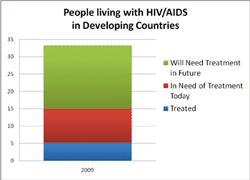 The changing IP landscape
In recent years, the IP landscape has changed significantly in developing countries, in particular following the implementation of the WTO TRIPS4 Agreement. Prior to this, many developing countries did not provide patent protection for pharmaceuticals, meaning that many early first-line antiretroviral medicines were not patented in those countries. In some developing countries, a number of factors, including the presence of manufacturing capacity, low production costs, an effective commercial strategy and the absence of patents on pharmaceuticals supported the development of a strong generic drugs industry. The resulting large-scale competition among generics manufacturers around the world led to lower prices for HIV medicines, pushing the cost of first-line treatments down by 99 percent over the past decade.5
A recent study published in the Journal of the International AIDS Society found that over 80 percent of donor-funded antiretrovirals available in developing countries since 2006 were produced by generic drug manufacturers in India.
New IP legislation allowing for pharmaceutical product patents has been enacted in many countries, and patenting of medicines has become more widespread, particularly in developing countries with the capacity to produce low-cost generic versions of HIV drugs.
This changing IP landscape and the persistent need to maintain robust generic competition underlines the need for a framework that facilitates the conclusion of licensing agreements in a way that both addresses the public health needs of developing countries and ensures a fair return for patent holders. The Medicines Patent Pool provides just such a framework. It plays a key role in securing licenses to produce the low-cost treatments required in resource-poor settings – particularly in relation to second and third-line drugs, the next generation of first-line drugs and the development of adapted formulations, including paediatric formulations needed in many developing countries.
How can the Patent Pool help?
The Medicines Patent Pool solicits voluntary licenses from patent owners of antiretroviral medicines to create a pooled resource. Drug manufacturers, developers and innovators can then access the rights they need to manufacture or develop the new and adapted formulations required for sale in developing countries. The Medicines Patent Pool solution works for both public health and pharmaceutical manufacturers and innovators.
This arrangement eliminates the uncertainty and expense of negotiating licenses in a context where several different patent holders may hold rights in a single drug or treatment.
For right holders, it offers royalty streams from a wide variety of different countries and provides a collaborative platform for enhancing access, and developing the formulations required, in developing countries. The Pool operates within the existing IP framework on which pharmaceutical companies have built their business models, and its scope of work is limited to developing countries. As such, it does not affect higher-income markets.
For innovators focused on developing country markets, such as drug development partnerships, the Patent Pool brings down the price of licensing knowledge to create the new medicines required.
For people living with HIV/AIDS, most importantly, robust competition for the products they need helps make the medicines more affordable. Licensing through the Patent Pool also promises to promote the development of adapted formulations such as heat-stable products, lower-dose formulations, paediatric medicines and fixed-dose combinations.
Patent pools and pharmaceuticals
While patent pools are well established in some technological areas, such as telecommunications, they are relatively new in the pharmaceutical field. In 2008, the World Health Organization (WHO) recognized the important role patent pools can play and called for an examination of "the feasibility of voluntary patent pools… to promote innovation of and access to health products and medical devices."6
Other patent pools in the pharmaceutical field include attempts to establish a patent pool for the viral illness SARS (severe acute respiratory syndrome), a patent pool for neglected tropical diseases by drug manufacturer GlaxoSmithKline and one for diagnostic genetics by the MPEG-LA, which creates patent pools for technical standards and other technology platforms.
The Medicines Patent Pool was established with the support of UNITAID. The world's largest donor for the purchase of paediatric HIV treatment, UNITAID is a key player in the market for second-line HIV therapy. The Medicines Patent Pool has attracted support from a wide range of national governments, civil society groups and international organizations. Collaboration with WIPO has also been central to the Pool's development (see box).
About UNITAID
The mission of UNITAID, an innovative financing mechanism hosted by the WHO, is to contribute to scaling-up access to treatment for HIV/AIDS, malaria and tuberculosis, primarily for people in low-income countries. It leverages price reductions for quality diagnostics and medicines thereby accelerating the pace at which these are made available.
Terms and conditions
While licensing terms and conditions of the Patent Pool are the subject of negotiations with patent holders, the Pool has defined certain guiding principles. For example:
licenses will be made available on a non-exclusive basis to enhance competition and to facilitate the development of new formulations, including paediatric formulations and fixed-dose combinations;
licensors will receive royalties that may be adjusted in line with a country's disease burden and its capacity to pay;
the scope of work of the Medicines Patent Pool is limited to low and middle income countries, and reasonable rates of remuneration will be explored to expand the benefits of the licenses to as many low and middle income countries as possible;
the Pool will rely on existing mechanisms , such as the WHO's Prequalification Program for quality assurance; and
the terms and conditions of licenses will be made public.
The Medicines Patent Pool has the potential to help save and improve the lives of millions of people living with HIV. But it can only do so if all stakeholders collaborate, in particular patent holders and pharmaceutical manufacturers. The need is urgent – and growing. Spiraling treatment costs if left unaddressed risk threatening even those currently receiving treatment. Now is the time to avert the "treatment time bomb" – before it is too late.
WIPO and the Medicines Patent Pool
WIPO's collaboration with the Medicines Patent Pool has been essential. In September 2010, WIPO and UNITAID organized a workshop that brought together licensing experts from around the world to highlight different options for structuring the terms and conditions of Medicines Patent Pool licenses. WIPO has also provided significant assistance in identifying the status of patents on antiretrovirals in a large number of countries, and is currently mapping patent landscapes for specific HIV medicines in the context of a WIPO Development Agenda project.
The Medicines Patent Pool is committed to making available on its website all of the patent information on antiretrovirals it has collected in partnership with WIPO for the benefit of other public health actors. The "Patent Status Database for Selected HIV Medicines" was launched on April 4, 2011 and is available at www.medicinespatentpool.org.
The NIH license
In September 2010, the NIH, the world's largest biomedical research institution, became the first entity to license patents to the Medicines Patent Pool. The license relates to the protease inhibitor class of HIV medicines used primarily to treat drug-resistant HIV infection. While the license does not by itself clear the way for the production of any product, because additional licenses are required from other patent holders, it does represent a critical first step. The license stipulates that this technology is to be available for the benefit of all low and middle income countries (as defined by the World Bank) and is royalty-free.
"One of the most gratifying outcomes for a scientist is to see that our work has made a real difference in people's lives," explained John Erikson, co-inventor of the technology licensed by the NIH, as well as CEO of Sequoia Pharmaceuticals, a company that owns IP rights over promising pipeline drugs for the treatment of HIV. "I applaud the NIH, and hope that other pharmaceutical companies and public research institutions will follow its lead," concluded Erikson7.
Prioritizing HIV medicines
The initial selection of products to be targeted by the Medicines Patent Pool was developed in 2009 by UNITAID and the WHO, and presented to the WHO Expert Committee on the Selection and Use of Essential Medicines. The prioritization included 19 current and pipeline antiretrovirals, as well as other formulations that could be developed through the patent pool.

In February 2011, the Medicines Patent Pool, UNITAID and the WHO revised the list, and work is ongoing to further prioritize and identify those products that could have the greatest impact in developing countries (see: http://www.who.int/selection_medicines/committees/expert/18/policy/policy4/en/index.html).
________________________
1 Ellen t'Hoen, Executive Director, Esteban Burrone, Policy Advisor and Kaitlin Mara, Communications Manager, Medicines Patent Pool
2 http://www.aidsportal.org/repos/APPGTimebomb091.pdf
3 UNAIDS
4 The Agreement on Trade-Related Aspects of Intellectual Property (TRIPS) is administered by the World Trade Organization (WTO)
5 For an overview of the impact of generic competition, differential pricing and other policies/strategies on the price of antiretrovirals in developing countries, see: Waning, B., et al, (2009) "Global strategies to reduce the price of antiretroviral medicines: evidence from transactional databases" in Bulletin of the World Health Organization.
6 WHO Global Strategy and Plan of Action on Public Health, Innovation and Intellectual Property, 2008.
7 https://c--www-ip--watch-org.ssl.wipo.int/weblog/2010/11/05/sharing-us-drug-patents-with-neglected-patients-a-scientists-view/

The WIPO Magazine is intended to help broaden public understanding of intellectual property and of WIPO's work, and is not an official document of WIPO. The designations employed and the presentation of material throughout this publication do not imply the expression of any opinion whatsoever on the part of WIPO concerning the legal status of any country, territory or area or of its authorities, or concerning the delimitation of its frontiers or boundaries. This publication is not intended to reflect the views of the Member States or the WIPO Secretariat. The mention of specific companies or products of manufacturers does not imply that they are endorsed or recommended by WIPO in preference to others of a similar nature that are not mentioned.